Written by Marisa of Food in Jars.
I was born in Southern California and spent my first nine years living in a little town called Eagle Rock. We had guava trees in the front yard and towering palm trees in the grassy strip between the sidewalk and the curb.
Nearby, my grandmother grew Meyer lemons and had a four foot high hedge of rosemary. Of course, in those days, I had no appreciation for absurd bounty that grew all around me. I longed for winter and days of heavy, deep snow.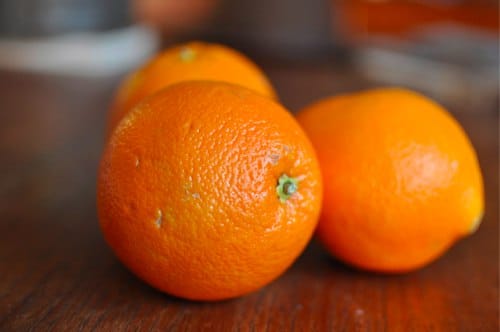 These days, I'm quite contentedly tucked into a life in Philadelphia. We get more than enough snow to satisfy my longings, but in true grass-in-always-greener fashion, I miss the warm winters of Los Angeles and all that gorgeous citrus.
While I can't beam all that sun my way, I can still get the citrus. I buy box upon box of those easy to peel clementines. I order Meyer lemons direct from Florida. And I make jars of Orange Cardamom Curd as an occasional treat.
If you've never had homemade citrus curd, it is paradise in a jar. Creamy, sweet and just a bit tangy, it's a dream stirred into Greek yogurt or heaped atop a freshly baked scone.
If you need a quick dinner party, serve it with store bought shortbread cookies. I promise, your guests will swoon.
The yield should be right around a pint. It keeps up to 14 days in the refrigerator, but can also be frozen in smaller containers, should you not want to eat it all in just two weeks.
Orange Cardamom Curd
Make sure to read the instructions clearly before starting to cook your curd. Once you begin, it comes together quickly, so you'll want to have all your tools and ingredients ready.
Print
Pin
Rate
Ingredients
2

large

navel oranges

zested and juiced.

1-1/4

cups

sugar

1

teaspoon

ground cardamom

4

egg yolks

2

eggs

6

Tablespoons

cold unsalted butter

cut into cubes
Instructions
Set up a double boiler (I use a saucepan and a stainless steel mixing bowl), add 2 inches of water to the bottom pan and bring to a simmer.

In a small bowl, stir together the orange zest, sugar and cardamom.

Remove the top half of the double boiler and let it cool briefly. Once it has returned to room temperature, add the egg yolks and whole eggs and whisk them together. When they are well beaten, add the sugar mixture and orange juice. Stir to combine.

Place the top of the double boiler on the steaming bottom pan and add the butter.

Switch to a rubber or silicone spatula and stir continually as the orange curd begins to cook.

Using an immersion thermometer, monitor the temperature of the curd while you stir. As it approaches 190 - 200°F, it should start to thicken. One sign of doneness is that it will coat the back of your spoon without running or dripping.

If it is slow to thicken but is approaching 210°F, remove the top portion of the double boiler and let it cool for a moment before returning to the heat for an additional minute or two of cooking. It typically takes 6 to 9 minutes for a curd to cook through.

When the curd has thickened to the consistency of sour cream, it is done. Remove the top half of the double boiler and stir off the heat. During this time, it will continue to thicken a bit.

Strain the curd through a fine mesh sieve into a bowl. The straining removes both the zest (which will have imparted a great deal of flavor to the curd during cooking time) and any bits of scrambled egg.

Pour the strained curd into jars for storage. When it has cooled to room temperature, store in refrigerator.

If you plan to freeze your curd, make sure to leave plenty of headspace, so that when it expands, it doesn't cause breakage.
Nutrition
Calories:
81
kcal
|
Carbohydrates:
6
g
|
Protein:
2
g
|
Fat:
6
g
|
Saturated Fat:
3
g
|
Cholesterol:
81
mg
|
Sodium:
11
mg
|
Potassium:
42
mg
|
Fiber:
1
g
|
Sugar:
5
g
|
Vitamin A:
270
IU
|
Vitamin C:
10.3
mg
|
Calcium:
18
mg
|
Iron:
0.3
mg
How do you use citrus to combat the January blahs?