If you've got a pepper mill, then you are off to a great start to grinding your own spices. Why grind your own? Well, we've already discussed the benefits of buying whole spices, so now you've got to break them down. Fortunately it's easy to do and well worth your time. One sniff of freshly pulverized cinnamon will likely convert you forever.
As with most kitchen equipment, a simple tool is best for grinding spices; here are my recommendations for three different types.
1. Mortar & Pestle
I love pulverizing whole spices by hand in a mortar and pestle, because I feel like I am connecting with women all throughout history who have done the same thing. It's like kneading bread by hand, it brings a satisfaction that only working ingredients by hand can provoke.
Photo by stevendepolo
On a practical side, a mortar and pestle offers instant results, a fast clean, and a perfumed kitchen. It is ideal for crushing small amounts of spices, and also works well for pestos, curry pastes, or sauces like the Mojo below, with the mortar taking the place of a mixing bowl.
Choose a mortar and pestle for bruising herbs, the occasional guacamole (yes!), and small amounts of spices here and there. For serious spice grinding, however, you will want this…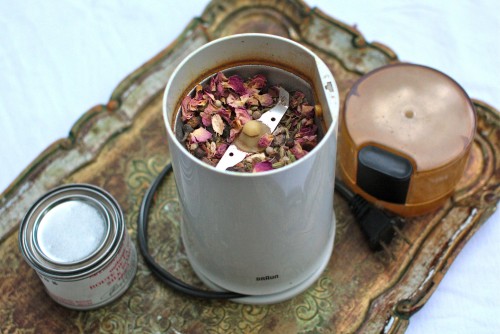 2. Coffee Grinder
If you do a lot of cooking, I recommended you purchase an inexpensive coffee grinder and dedicate it to a lifetime of spices. (You won't want it to go back to grinding coffee once those blades connect with their first curry blend).
It's an affordable investment that will simplify your cooking. I think I paid $19.99 for my 200 watt Braun and that was, oh, six or seven years ago.
Nothing beats a little coffee grinder for pulverizing large amounts of spices, such as blends, or bark spices, like cinnamon, which tend to just shred under the pestle.
Cleaning
A coffee grinder is not quite as easy to clean as a mortar, but here are a few ways it can be done efficiently and thoroughly. Note: one of these methods is usually sufficient depending on the type of spice ground. Safety first: always unplug the grinder before cleaning.
Use a stiff bristled pastry brush to remove all spice residue. (keep this brush labeled 'spices' and keep it dry.)
Wipe with a damp sponge or even a heel of bread.
Pulse a few tablespoons of rock salt through the grinder, discard and wipe clean. This doesn't have to be done every time, but helps to eliminate excess odors and flavors when switching from savory to sweet spices.
For a deep clean, pulse 1/4 cup of rice through and discard rice. This helps remove stuck particles and oil residues.
3. Microplane
This kitchen tool is useful for large nuts such as nutmeg, tonka bean and some types of cinnamon or casse. A gourmet's best friend, it is also very handy for grating ginger, garlic, chocolate, citrus rind and many other ingredients.
For years I went without a microplane, and made do on an old box grater; however, one recent Christmas I happily found myself in possession of one and now reach for it nearly every day. It is definitely an essential kitchen tool for the scratch cook.
A Word on Toasting Spices
No matter what method you use to grind them, almost all spices can benefit from a slight toasting before grinding to bring out their flavors.
Nope, you don't use a conventional toaster, so put away that 4-slice T-Fal; all you need is a small pan! Cast iron works well. Heat the pan gently over medium heat, add spices and give the pan a shake. Toast for 2-3 minutes, watching carefully that nothing browns or burns. You will smell the spices releasing their natural oils.
Remove from heat, cool and use as directed in recipe.
Recipe: Quick Mojo Sauce for Grillables
Don't skim or ignore this recipe, because you would be bypassing my go-to summer grilling sauce! Forget sugary barbecue blends, this vibrant citrus-based sauce can be paired with almost anything that you're grilling.
Based on a  traditional Cuban sauce, my mojo uses cumin seed, fresh garlic, limes and oranges to create a pungent sauce that is essential for summer grilling. The best part? It can be mixed up in advance.
I love spooning my Mojo over grilled and sliced pork tenderloin, tossing it with grilled shrimp, or dousing chicken kebabs. You can even use mojo over grilled vegetables or toss it with greens for a salad. Don't forget the sliced avocado!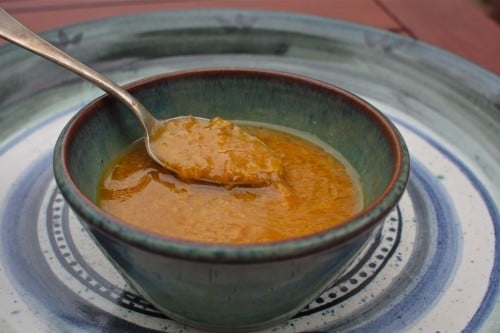 Quick Mojo Sauce
3 small oranges, scrubbed
3 limes, scrubbed
1 clove garlic, peeled
1 teaspoon whole cumin
6 Tablespoons extra virgin olive oil
1. Toast cumin gently over medium heat for 2-3 minutes. Transfer to a mortar and allow to cool. Pulverize with pestle.
2. Add garlic to cumin and smash to a paste.
3. Zest and juice citrus and add to mortar. Add olive oil and mix well. Transfer to a jar with a lid. Marinade 6-8 hours. Can keep 2-3 days refrigerated.
4. Use liberally over grilled meats and seafood. Garnish with fresh coriander and sea salt.
Do you use whole spices? How do you grind them?