A stout bottle of pure vanilla extract and a dozen, foot-long sticks of cinnamon were among the treasures I carted back to my kitchen from our recent adventures in Mexico. Yes, I also imported the requisite tequila, a pottery piece or two, and a selection of colorful table linens, but I was most excited about the aromatics.
I've been eager to pair the vanilla and the cinnamon together in an authentic, merit-worthy dessert – and that pot of rice pudding I scorched a while back doesn't count. Although it hardly fits into the 'whole foods' recipe bracket that I usually aim for, today's coconut tres leches cake was just what I was looking for and most deserving of my precious Mexican ingredients.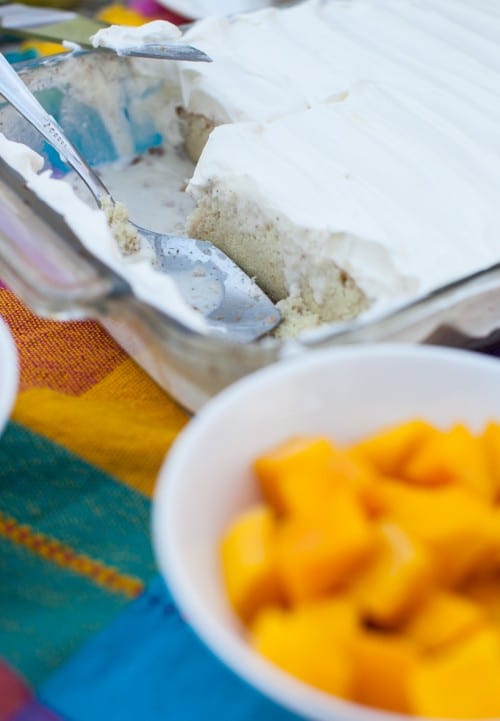 Translated as 'three milks cake', Tres Leches is a buttery sponge cake that is soaked in a rich blend of milk varieties, in this case, coconut, evaporated, and thick cream. Before yesterday, I was quite unaware of its qualities, having never tasted it in my 34 years. Now, here I am, inviting you to put a fork to its sweet, cool sponge and be seduced for yourself.
Spotted on Shutterbean (who adapted it from Martha) nearly a year ago, this simple sheet cake has been in the back of my mind to make for ages. I left the flaked coconut out of the original recipe (Danny's not an enthusiast), and added a generous pour of my Mexican vanilla extract to the cake batter instead.
I also ground one of the cinnamon sticks (I grind my spices myself when possible) and sifted it into the coconut milk and cream. It gave a pretty speckled appearance to the soaking mixture.
As a finishing touch, I tipped a little more pure vanilla into the whipped cream and spread it generously on the chilled cake. The end result was cool, creamy and dreamy. And it totally reminded me of Mexico.
Paired with silky cubes of mango, this Coconut Cinnamon Tres Leches Cake was the perfect sweet ending to our little Cinco de Mayo weekend party. My boys asked for seconds, which I conceded, then thirds, which I refused.
Everyone needs a solid sheet cake recipe in their back pocket for the summer. Ideally it should  feed a crowd, keep overnight, and be easily decorated in about two minutes flat – even when the cook is slightly buzzed on a fruity summer beverage (although, I can't think why I would happen to know that fact).
This is such a cake.
I could happily enjoy this cake all over again next weekend. In fact, I think I may bake it and soak it on Saturday, then leave it in the refrigerator for the boys to finish off on Mother's Day. They are fully competent to whip cream and wash berries, and they would thrilled to be able to fix dessert for me.
A little Mother's Day do-ahead has always been my game plan and it works like a charm every year.
Coconut Cinnamon Tres Leches Cake with Mexican Vanilla Whipped Cream
Cool, creamy and dreamy, this traditional Mexican dessert wraps coconut, cinnamon and vanilla flavours together for a simple and memorable summer dessert. Recipe adapted from Martha Stewart via Shutterbean.com.
Print
Pin
Rate
Ingredients
6

large-sized

eggs

separated, room temperature

1/4

teaspoon

baking soda

1/4

teaspoon

fine salt

1

cup

sugar

3

teaspoons

pure vanilla extract

divided

1/2

cup

unsalted butter

melted and cooled, plus more for baking pan

1

cup

cake flour

divided

2 1/2

cups

heavy cream

divided

1

can

unsweetened coconut milk

(13.75 ounce can)

1

can

sweetened condensed milk

(14 ounce can)

2

teaspoons

cinnamon

2

ripe mangoes

peeled and diced

1

cup

mixed seasonal berries

for serving
Instructions
Preheat the oven to 350F and butter an 8x11 baking pan.

In the bowl of a stand mixer, combine egg whites, baking soda, and salt. Beat on medium speed with the whisk attachment until soft peaks form, about 3-4 minutes, depending on the strength of the mixer.

Add the egg yolks to the mixer and continue beating until well combined. Add sugar in a slow, steady stream and whisk until well blended. Add the vanilla and mix to combine.

Stop the mixer, remove the whisk, and fold in the melted butter with a spatula.

Sift 1/4 cup flour onto mixture and fold to combine. Repeat with remaining flour, folding in 1/4 cup at a time. Pour batter into the prepared pan; bake until golden and a toothpick inserted into the center comes out clean, 20 to 25 minutes.

While the cake is baking, whisk together 1 cup heavy cream, the coconut milk, the condensed milk and the cinnamon. As soon as cake is removed from oven, pour cream mixture over cake. Let cake cool in the pan on a wire rack. Cover cake with plastic wrap, and refrigerator at least 5 hours and up to 8 hours.

Just before serving, whisk the remaining heavy whipping cream (1 1/2 cups) until soft peaks form and add remaining 1 teaspoon pure vanilla extract.

Spread the whipped cream over cake and smooth with a spatula. Serve cake with diced mango or seasonal berries.
Notes
The original recipe calls for a 9x13 baking pan, which you can totally use. The 8x11 in this recipe gives you a slightly taller cake, that is all.
Nutrition
Calories:
581
kcal
|
Carbohydrates:
51
g
|
Protein:
8
g
|
Fat:
39
g
|
Saturated Fat:
25
g
|
Cholesterol:
181
mg
|
Sodium:
170
mg
|
Potassium:
341
mg
|
Fiber:
1
g
|
Sugar:
40
g
|
Vitamin A:
1475
IU
|
Vitamin C:
12.5
mg
|
Calcium:
155
mg
|
Iron:
1.2
mg
And finally…
I had quite a few people on my Facebook page asking for a gluten-free version of tres leches cake. Although I am not sure why they are asking me, with zero food intolerances to my name, I happen to have an answer for them. I am also sharing my source here in case you are on a similar hunt.
The amazing Kelly, of Kelly Bakes, recently developed and posted a Gluten-Free Tres Leches Cake. So there you have it. I'm sure you could substitute coconut milk in for the evaporated milk in her recipe and have something similar to what I have shared with you today. Happy Baking!
Do you have a favorite sheet cake for easy summer entertaining?