I've been on the pie train all summer long, picking up steam as we head into autumn towards the ultimate pie weekend: Thanksgiving.
Fruit pies are my favourite and over the years I've realized that if I am not intentional about making them in season, it's altogether too easy to miss out. And so I baked strawberry-rhuharb in June, blueberry-ginger in July, blackberry-meringue in August and peach-streusel in September.
Now Canadian Thanksgiving is just around the corner and I come to you with pie recipes for your own gatherings. From stone fruit to sticky pecan, classic apple to pumpkin spice, you're sure to bookmark a future baking project from this list.
Pie is one dessert that benefits from a bit of do-ahead prep. You can mix together the pastry, prep the fruit, blind bake a crust and even stir together a streusel topping in advance if needed. Then bake it up fresh, give it plenty of time to set (fruit pies) or chill (cream pies) and serve it with a side of ice cream.
Remember, if you like variety, consider hosting an old fashioned pie social. It's a fun fall event that brings together bakers of all kinds and pies of every flavour.
Alright. On to the recipes!
A Pie Recipe Round-Up
Strawberry Rhubarb Pie is one of my all-time favourite desserts. I tested a recipe thoroughly for The Simple Bites Kitchen – sometimes showing up to family functions with three whole pies for side-by-side taste testing. The final result is perfection, using instant tapioca to combat the juicy berries and just enough sugar to enhance – not mask – the tanginess of the rhubarb. Find the recipe in my cookbook; it doesn't exist online.
Marmalade Pecan Pie is for those who like to change up a classic once in a while. Sweetened with coconut sugar, spiked with bourbon and finished a hint of chocolate – the flavours in this festive pie blend together in harmony instead of competing with each other.
Wild Blueberry Pie was inspired by the incredible Lac St Jean berries available here in Quebec. It was a fantastic summer for berries of all kinds, and although this pie was a splurge, it was well worth every penny. I followed this recipe from Epicurious and added a teaspoon of freshly grated ginger to the filling. Divine.
Lime & Blackberry Italian Meringue Pie hits all the right notes in a pie – flaky crust, tangy curd, marshmallow meringue and sweet berries. I brought this sumptuous one to a summer pot-luck because it is perfect for sharing. Original recipe via the fantastic Bon Appetit.
Peach Bourbon Pie is a recipe I'm still perfecting. I like it deep dish, not too sweet and not too soupy. I haven't decided yet if I prefer a streusel topping or a double crust. What say you? Perhaps next summer I'll have the final recipe ready for you.
Apple Almond Galette – This seasonal tart is often my go-to dessert for pot-luck dinners when I don't have a lot of time to play with pie dough. It uses beautiful fall apples and makes the whole house smell amazing.
Maple Pumpkin Spice Pie or winter squash pie is my children's favourite pie. They are already asking for it, and so I'll be roasting off pumpkins soon for homemade purée. I use a homemade spice blend and maple syrup for maximum flavour. Bonus: this pie freezes very well after it has been cooked and cooled.
Red Currant and Blueberry Puff Pastry Galette was a quick dessert I created for a July barbecue with friends. It you love that tangy-versus-sweet contrast in desserts, then top this galette with plenty of vanilla ice cream. Folks at FeedFeed asked to share the recipe so you can find it there.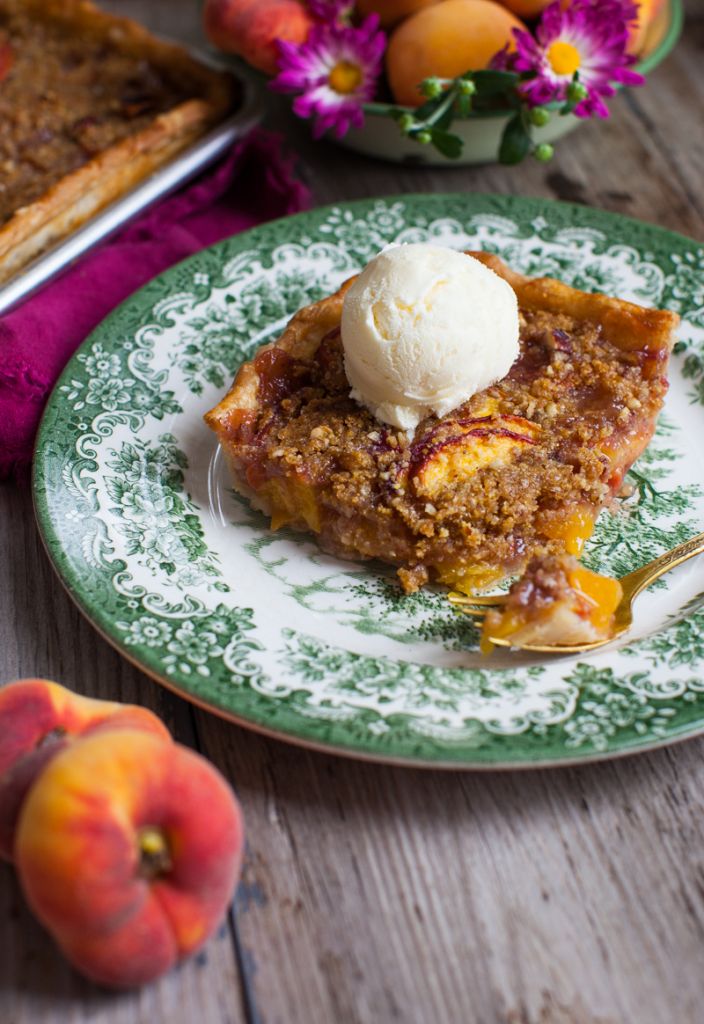 Peach Slab Pie with Cornmeal Pecan Streusel : 
A fabulous seasonal dessert, with plenty of do-ahead options.
Mocha Pie with Espresso Whipped Cream is the perfect way to adapt coffee to dessert form. This most excellent do-ahead pie will not only steal the show on the dessert table, but it will keep everyone awake long enough to help with the dishes.
Sour Cream Pear Pie with Cornmeal Pecan Streusel lives in my first book, Brown Eggs and Jam Jars, and is the ultimate fall pie. Quebec pears shine in this deep-dish dessert and a cinnamon-spiked cornmeal and pecan streusel topping brings a necessary crunch.
Fresh Strawberry Pie is in case you missed out on summer berries and need to make up for lost time with the fall varieties of strawberries. This one has just three ingredients and is as easy as, well, pie.
Pie from the archives: the photos aren't as pretty, but the recipes are solid.
If you love baking gadgets, check out these fun fall leaf cookie cutters for making decorative pie crusts. This pastry cutter is also super handy for mixing up pie dough by hand.
What sort of fall baking projects do you have planned? Any pie favourites?