I couldn't tell you when the craving for a mocha pie originated, only that it is a desire I have been trying to ignore for the better part of a year.
My affections lie firmly in the fruit pie camp, which is why the urge for a rich pudding of dark chocolate and coffee, tucked into a flaky crust and topped with mounds of espresso whipped cream was a mystery to me. I'm usually all about the rhubarb pie in the spring (three recipes and counting), but this year, I'm serving up mocha.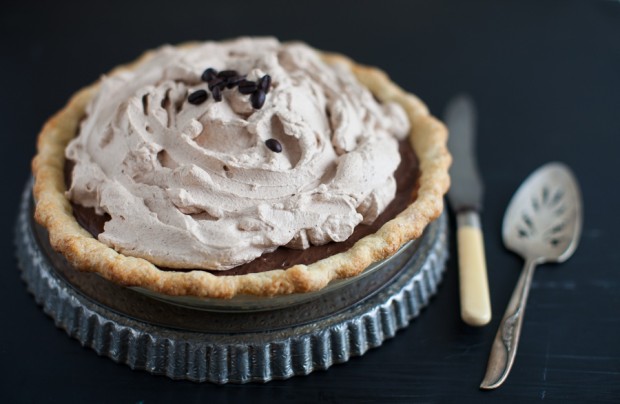 Fortunately, Easter is just around the corner, and chocolate is usually on the menu in many shapes and forms. I'm going to go ahead and suggest that this cream-topped mocha pie make an appearance on your table for the holiday. And if it is, please invite me over.
Mocha Pie with Espresso Whipped Cream: The Breakdown
Before you deem this recipe too complicated and click away, let me quickly walk you through the three steps. Yes, that's right, just three.
Step 1: Blind bake a pie crust. Which we totally already learned how to do last Monday! Follow the tutorial and keep it wrapped in the fridge or freezer until you are ready to proceed with the pie. Do-ahead food prep is always good, especially on holidays like Easter when you may be entertaining.
Step 2: Make the mocha pudding. This is the most challenging part because, yes, we are using real chocolate, eggs and cream instead of a pudding mix. But it is terrific fun and I've laid out the recipe clearly below. It's adapted from the fantastic cookbook, Bakeless Sweets
by Faith Durand.
The pudding can be made a day in advance, poured into the pie shell and chilled. In fact, it's much better that way.
Step 3: Whip and flavour the cream. About as simple as it sounds. Then mound it up on that rich custard and call it a pie!
If you want to decorate the top with shaved chocolate, mini chocolate eggs or chocolate covered espresso beans, that is totally up to you. Just be sure to share it with friends, because this mocha pie is Decadent with a capital 'D'.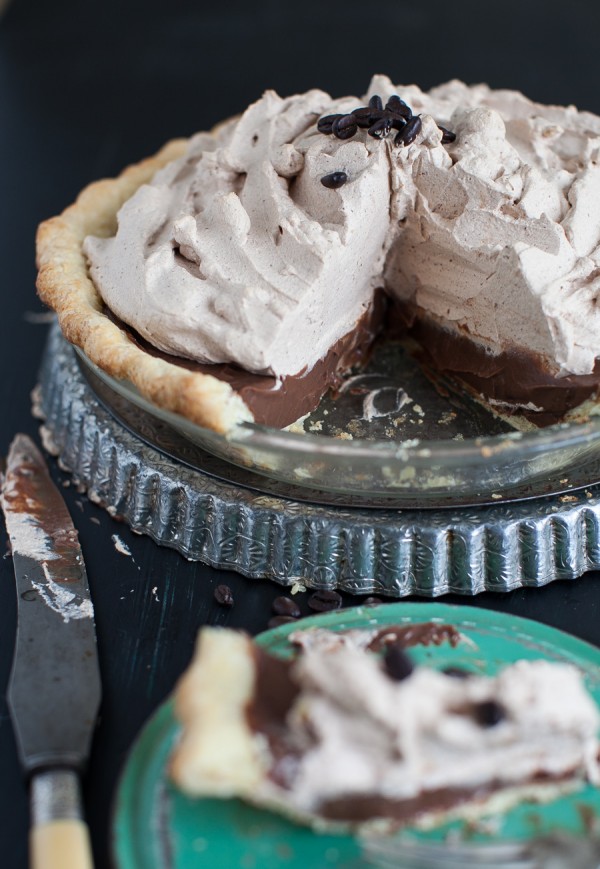 Mocha Pie with Espresso Whipped Cream
A decadent, do-ahead pie, perfect for the Easter season. Pudding adapted from the fantastic cookbook, Bakeless Sweets by Faith Durand.
Print
Pin
Rate
Ingredients
1

9-inch

blind baked pie crust

completely cooled

4

Tablespoons

cornstarch

1/4

teaspoon

fine sea salt

4

Tablespoons

espresso powder

divided

3

cups

whole cream

35%, divided

3

large egg yolks

1 1/2

cups

2% milk

1/2

cup

black coffee

freshly brewed

1/2

cup

raw cane sugar

2

teaspoons

pure vanilla extract

6

oz

semisweet chocolate

finely chopped

2

Tablespoons

unsweetened cocoa

2

Tablespoons

pure maple syrup
Instructions
In a medium bowl, whisk together the cornstarch, salt, and 3 tablespoons espresso powder. Slowly whisk in 1 cup cream. Slide in the egg yolks and beat well to combine.

In a 3-qt saucepan over medium heat, combine the milk and the coffee. Sprinkle the cane sugar over the top and stir with a heat-proof spatula to combine. Heat for several minutes until it begins to bubble slowly and is very hot.

Pour 1 cup of the hot milk into the bowl with the cream and egg yolks, whisking constantly. Then pour everything slowly back into the pot, whisking vigorously as you pour.

Bring the mixture to a simmer, whisking all the time, and cook for 5 minutes until the mixture begins to bubble and boil. Boil for two minutes. Do not leave the stove; keep whisking!

Remove pot from the heat. Pour in 1 teaspoon vanilla and sprinkle the chopped chocolate on top. With a spatula, gently fold the chocolate into the hot pudding until it is dissolved and the pudding is smooth.

Let the pudding cool to lukewarm, whisking it occasionally, then pour it into the pre-baked pie shell. Cover the top with plastic wrap and press down so the wrap is touching the surface of the pudding. Chill for at least 4 hours and up to overnight.

In a chilled bowl, combine the remaining 2 cups whole cream, 1 tablespoon espresso powder and 2 tablespoons cocoa. Beat until cream is stiff. Fold in 1 teaspoon vanilla and the maple syrup. Mix well to combine.

Remove the plastic wrap from the pudding and heap the espresso whipped cream onto the pie. Mound it up tall. Garnish with espresso beans or chocolate shavings. Slice and serve or chill, well wrapped, for up to three days.
Nutrition
Calories:
674
kcal
|
Carbohydrates:
50
g
|
Protein:
7
g
|
Fat:
50
g
|
Saturated Fat:
28
g
|
Cholesterol:
200
mg
|
Sodium:
237
mg
|
Potassium:
406
mg
|
Fiber:
2
g
|
Sugar:
25
g
|
Vitamin A:
1465
IU
|
Vitamin C:
0.5
mg
|
Calcium:
148
mg
|
Iron:
2.5
mg
Do you have a favourite cream pie?