My neighbor has given me carte blanche with his handsome rhubarb patch, although at the time he probably had no idea just how close of an affection I have for rhubarb. While most of you have moved on to strawberries, blueberries and other summer fruits, I'm still hung up on puckery stalks of pink.
I tend to like this late crop of rhubarb best; it may be just my imagination, but it has a more pronounced flavor than its watery spring equivalent. Perhaps the summer heat contributes to a more intense flavor? All speculating aside, I'm still pushing back the leaves to get at the tender red shoots.
For this pie, I decided to marry the saucy rhubarb with the sweeter raspberries and the result, I am convinced, is a seasonal pie to rival any other. It is reminiscent of one of my favorite simple desserts, rhubarb compote with custard, only served up much more elegantly in a rich pie crust.
The words Cream Pie by themselves bring a smile to my face; couple them with the season's most delicate berry and a brazen vegetable and you have a perfect pie. While some may argue that a classic strawberry-rhubarb pie can't be beat – and indeed it is not a simple conquest – after this pie, I think I new classic should be established.
Why pie?
Why not? Actually, several hundred (thousand?) other food bloggers and bakers are all baking, eating and writing about pie today, July 5. It's a pie party.
Lead by Shauna of Gluten Free Girl (who I'm going to meet this month at Big Summer Potluck), we're making pie because, well, as Shauna puts it, "pie makes people happy".
So join us. Follow the #pieparty hashtag on Twitter, check out the Facebook group for some sweet pie inspiration, then bake a pie of your own and enjoy it with friends. It's summer. What else do you have going on?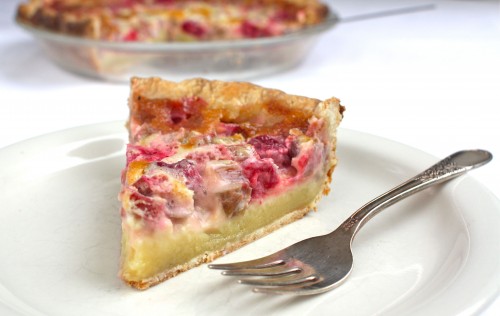 Tips for success with your rhubarb-raspberry cream pie
Choose the reddest rhubarb you can find to give the pie a lovely rosy color.
Use a glass pie pan and you won't have any problems with soggy bottom crust. Glass is a wonderful heat conductor – plus you can always take a peek at the bottom and see if it is getting too dark – or not dark enough.
If a pie crust is indeed getting too dark, place the pie onto a baking sheet and finish the baking time on the middle shelf.
I use organic cane sugar, but you can substitute white sugar, if that is what you have. It will result in a truer cream-colored pie.
Be sure to cool the pie (chilled is best) before slicing.
Recipe: Rhubarb-Raspberry Cream Pie
Adapted from Jennifer Murch.
ingredients:
1 9-inch pie shell. I use my reliable Rich Pie Crust, and freeze half of the recipe.
1-1/2 cups chopped rhubarb
1 cup raspberries
1 cup organic cane sugar
2 Tablespoons all-purpose flour
2 eggs
3/4 cup 35% cream (whipping cream)
method:
Roll pie crust and fit into 9-inch glass pie pan. Crimp the edges and refrigerate while you prep the filling. This rest period is important to the overall flakiness of the crust.
Preheat oven to 350°F.
Wash, dry and chop rhubarb to measure 1-1/2 cups. Place in the bottom of the pie pan and sprinkle raspberries on top.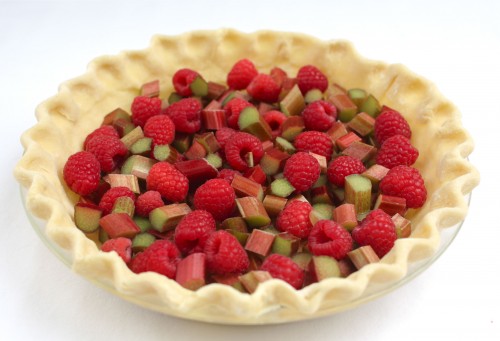 In a medium bowl, whisk together sugar and flour, followed by the eggs. Beat well, then pour in the cream and mix to combine.
Pour cream mixture over the fruit and place in the center rack of the oven. Bake, rotating once or twice, for 35-45 minutes. The center will jiggle just slightly, but it will set up as the pie cools.
Cool pie on a wire rack until room temperature, then refrigerate until chilled. Best enjoyed on the same day it is baked.
What's your favorite summer pie?