Written by Elizabeth of Guilty Kitchen.
I've been challenged before by people to create foods or meals that are unique and intriguing, being not the norm but having the same or similar appeal. It's not a challenge I take lightly. I was once challenged by a pregnant women (while also being pregnant) to create a vegan brownie that you could not tell was vegan. After only one try, I had it in the bag and it is definitely one of my proudest achievements in the kitchen.
So when Aimée, my editor for Simple Bites, asked me what I thought of whole wheat pie crust, I didn't skip a beat in replying. "Challenge accepted!" What could be so difficult about it? I use whole wheat flour in just about everything from baked goods to breading for chicken and fish. I grew up with nothing but brown bread and never knew any better, so it doesn't phase me one bit to rule out white flour.
The challenge of working with whole wheat
Everyone knows that whole grain whole wheat flour is better for you because it contains the germ and the bran, retaining all the vital nutrients (like protein, fibre, calcium, iron, etc.) of the original plant.
The biggest problem when using whole wheat flour in baked goods is the way it rises. It is denser and therefore requires the use of more liquid and longer rising times when using it in breads, muffins, etc.
Most commercially produced bread products that contain whole wheat flour also contain some amount of white flour to aid in giving the end product that typical light and airy feel to it.
All photos by Elizabeth Nyland
I wanted this pie crust to be 100% whole wheat and I think it works really well, as it is only a single crust pie. I don't believe it would be as successful in a double crust pie as the flavor of the whole wheat is strong.
A simpler technique for shaping pie crust
The other part of this crust that makes it appealing is the way in which the crust is formed and placed on the pie.
A lot of people avoid making pie simply because they don't know how to properly roll it out and get it onto the pie. Some techniques involve folding the top crust in quarters and unfolding it over the filling, or wrapping it around a rolling pin and then laying it over, but all the methods are similar in that they take precision.
Pie dough is usually fragile and temperamental; one wrong move and you've ruined a good hour's worth of work!
Anyone can use the patchwork technique laid out in this recipe from beginners to the seasoned pie maker and it still allows for a beautiful finished product.
Recipe: Strawberry-Rhubarb Pie with Whole Wheat Crust
For the filling:
2 cups rhubarb, 1/2″ dice
1 lb fresh strawberries, quartered
2/3 cup brown sugar, loosely packed
1/4 cup cornstarch
1 large vanilla bean or 1 teaspoon pure vanilla extract
pinch of cinnamon
zest from half a lemon
1. In a large bowl, combine the fruits with the sugar, cornstarch, cinnamon and lemon zest.
2. Split the vanilla bean vertically, scraping out the seeds with the pointed end of a small knife. Stir into fruit.
3. Set aside for 15-20 minutes to allow the juices to come out of the fruit and mingle with the rest of the ingredients.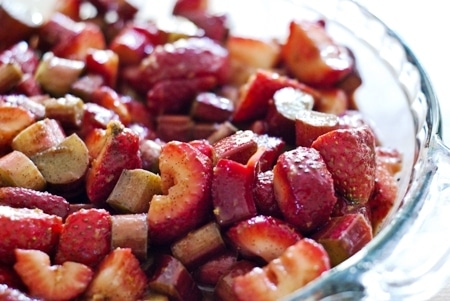 For the whole wheat crust:
4 oz unsalted butter, chilled and cut into small cubes
6 oz whole wheat flour
2 tsp sugar
1/2 tsp salt
1/4 cup + 1 Tbsp buttermilk
1. In a small bowl, stir together the flour, sugar and salt.
2. Using a pastry cutter, cut the butter into the flour. It should resemble a coarse sandy gravel when done.
3. Pour in the buttermilk and work with your hands, squeezing the liquid into the flour.
4. Form into a ball, flatten into a disc, wrap in plastic and refrigerate for at least one hour.
To assemble your pie:
1. When thoroughly chilled, roll the disc out on a floured surface until it is between 1/8 to 1/4″ thick. I like it a bit thick compared to most pies, as it a single crust pie.
2. Cut the dough into rough squares (approximately 2 1/2″).
3. Pour your filling into a 9″ glass pie plate and cover with the dough squares. Simply lay the squares over the filling and overlap slightly as you go
4. Brush the pastry with an egg wash (1 egg + 1 Tbsp water) and bake in a 400°F oven for 15 minutes. Reduce the temperature to 350°F and continue to bake for another 35 minutes.
5. Remove from oven and cool on a cooling rack for at least a couple of hours before consuming to allow filling to set.
Delicious served with vanilla bean ice cream or freshly whipped cream.
[print_link]
Try this crust on your next pie, tart or galette, and let us know what you think!