Yesterday, a glance at the weather for the remainder of the week convinced me to abandon the dishes and the laundry and head outdoors. If I was to get only one day of sunshine, I'd better make the most of it.
Today there is a slight stiffness to my shoulders from the garden work and my fingernails need attention, but the raised beds are half planted. The roots of the small seedlings will be kept damp with the coming rain and that is one less chore for me. It feels good to be a step ahead of things, at least in the gardening department. Let's not speak of the state of my house. The kitchen alone is shell-shocked from Danny preparing two meals on Mother's Day, bless his heart.
While I worked around our homestead and Clara amused herself by poking grass (and the occasional stick, yikes!) into the chicken coop, I kept a bowl handy to collect edibles. Salad ingredients don't always show themselves as lettuce leaves and cucumber slices; sometimes you have to think outside of the box.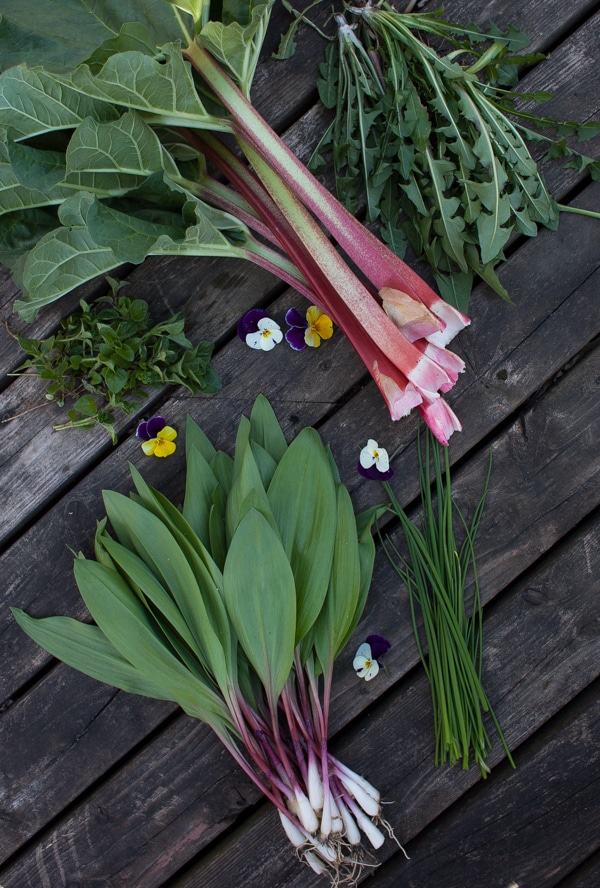 I found more than I anticipated. By the time I was ready to step indoors for a second cup of coffee, I had gathered the ingredients above and was already planning lunch.
What is this spring produce? It is truly the first fruits of the property, both foraged and harvested from the garden. Clockwise from the top:
Dandelion greens: great for adding to salads. Pick them young and wash them well. My mother's favourite.
Chives: new and tender, used in everything from omelettes to cornbread, chicken salad to guacamole.
Ramps: those wild leeks, foraged from the forest floor. Delicious in potato salad, pesto, eggs and soup.
Oregano: the first perennial herb to revive in the garden. Thank goodness, because I am ready for our favourite chicken recipe.
The ramps are clearly the delicacy of the bunch in yesterday's harvest. They grow wild on my property and over the past four springs I have seen the patch more than triple in size, thanks to my harvesting them in a sustainable and respectful fashion.
Ramps, or wild leeks, are bulbs that grow in clumps. They multiply quickly through bulb division, but I have found that the age-old garden technique of thinning the patch has contributed tremendously to the spread of ramps.
Clara is always game for a short trek into the woods and we're both relieved that we can finally leave boots and snowpants behind. She trails behind me, taking her time and frequently bending over to pick up small stones, sticks or wildflowers. One morning she poked at a little frog, who was motionless on a leaf, and she jumped back, a little startled. Now, she's always on the lookout for froggie friends.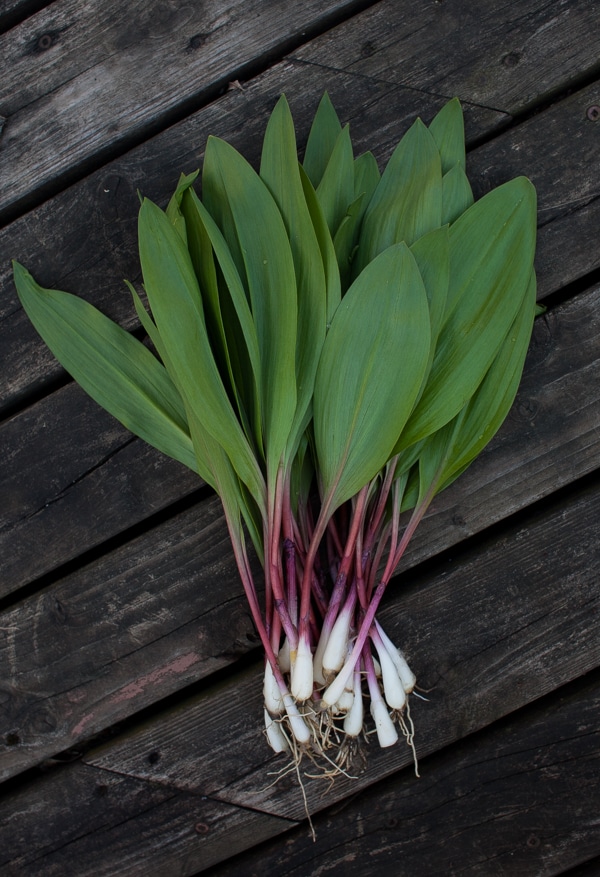 The flavour of a ramp hints of garlic, but is most like the tender yellow interior stalks of a leek. In previous years we have spoiled ourselves by adding chopped ramps to our morning egg scramble, blitzing the tender greens into pesto for pasta, and roasting them with mushrooms. 
This spring, however, I'm onto something new: the Cheesy Ramp Pull-Apart Bread. I prepped it for a recent Sunday dinner with friends, stuffing the crevices of cut loaf with sliced ramps and drizzling a little olive oil in there too. I baked it while we sipped our Raspberry-Rhubarb Collins and served it up, crispy and laden with melted cheese alongside lasagna and Caesar salad.
Please excuse these poor excuses for photos, but I had waiting guests and an iPhone snap was all I took time for. I think it's says enough: make me now.
Gaby's recipe was my inspiration, her version a tantalizing combination of Colby, chipotle chilies and ciabatta. I decided on a country loaf, mostly because a local bakery makes a mean miche (no, I did not bake the bread) which I topped with with additional ramp greens. It was as entirely scrumptious; seasonal comfort food at its finest, I dare say.
Parmesan and mozzarella are my cheeses of choice for this side dish; mozza adds the necessary stretch and Parmesan brings the flavour. Feel free to use whatever cheese you have in your refrigerator.
Cheesy Ramp Pull-Apart Bread
Garlic bread gets an update in this irresistible loaf scented with fresh spring ramps and loaded with Parmesan cheese.
Print
Pin
Rate
Ingredients
6

ramps

1/3

cup

olive oil

1

loaf

whole grain miche

or country loaf

1

cup

grated mozzarella

1/2

cup

shredded Parmesan cheese
Instructions
Preheat the oven to 400F.

Trim the ends of the ramps and discard. Slice off the greens and reserve. Mince the bulbs finely or pulverize in a mortar and pestle.

Mix olive oil and the crushed ramps together and let infuse while you prepare the bread.

Using a sharp bread knife, slice 1-inch grid lines into the loaf, stopping before you cut through the bottom crust.

Place the bread on a foil-lined pan. Using a pastry brush, rub the ramp-oil into the cut sections of the bread, getting into all the crevasses. Wrap the loaf in foil and bake for 10 minutes.

Mix the two cheeses together in a small bowl. Remove the loaf from the oven and open the foil. Use a fork to separate the cross-hatches in the bread and sprinkle the cheese evenly in the cuts. Leave the foil open and return the bread to the oven.

Bake cheesy ramp pull-apart bread for an additional 15-20 minutes or until the exterior is crispy and the cheese is melted. Meanwhile, slice the tops of the ramps.

Remove bread from the oven and sprinkle generously with chopped ramps. Serve at once.
Notes
Green onions and garlic may be substituted for the ramps in this recipe. Pulverize the garlic with the olive oil and use the green tops of the onion to finish the bread.
Nutrition
Calories:
207
kcal
|
Carbohydrates:
3
g
|
Protein:
7
g
|
Fat:
18
g
|
Saturated Fat:
5
g
|
Cholesterol:
22
mg
|
Sodium:
245
mg
|
Potassium:
24
mg
|
Vitamin A:
455
IU
|
Vitamin C:
1.8
mg
|
Calcium:
196
mg
|
Iron:
0.5
mg
Got more ramps?
Try these recipes:
Warm Potato Salad with Grainy Mustard, Bacon & Ramps
Butter Roasted Mushrooms & Ramps with Lemon
Spring Ramp, Radish & Spinach Soup
#EatSeasonal
A group of us are kinda into eating seasonally, inspired by Becky's seasonal eating guide. If that sounds cool with you, check out participating bloggers this week for a wave of delicious new recipes featuring May produce.
What is in your produce drawer this month?