Sometimes a recipe crosses my path and makes it onto my table that is so good, I feel a moral responsibility to share it with the world.
A few weeks ago, my mom showed up to Sunday dinner with this Skillet Amaranth Cornbread and I knew, I really knew, that this recipe needed to be made again and again and shared as widely as possible. It is just that good.
This whole grain bread is a far cry from the spongy yellow cafeteria impostor that posed as cornbread on my childhood school lunch tray. For years, as a result of said sponge bread, I thought I didn't even like cornbread.
This delicious gluten free bread, however, stole the Sunday dinner show and over shadowed even my favorite chili recipe.
I attribute a lot of this recipe's success to the Amaranth, a healthy whole grain that doesn't really get the attention it deserves. Without adding any flour or gluten, the amaranth in this recipe combines with the corn to make a really tender, moist, light bread. Cooking it in a preheated cast iron skillet gives it a crunchy crust that my kids and I all agree earns this bread a shining gold star.
Although you can purchase cornmeal and amaranth flour for this recipe, it is simple, cheap, and healthy to grind your own grains. I grind my own popcorn and amaranth and I think the freshly ground grains add a lot to this delicious bread. In my experience, it is also easier to find whole grain amaranth. (Check out Aimee's introduction to grinding grains for flour.)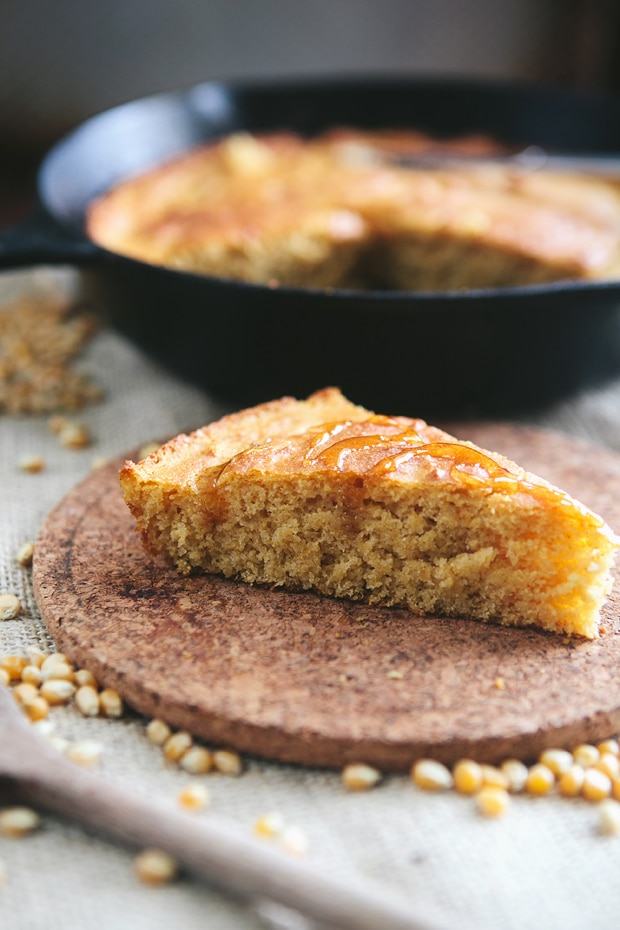 Dip it in your favorite soup for dinner, eat it plain for a snack, or smother it in honey and call it dessert. However you enjoy your cornbread, I assure you, this particular cornbread won't disappoint.
Skillet Amaranth Cornbread (Gluten Free)
A delicious gluten free bread featuring amaranth and guaranteed to steal the show.
Print
Pin
Rate
Ingredients
2

cups

freshly ground cornmeal

2

cups

freshly ground amaranth

1/2

cup

sugar

1

teaspoon

salt

2

tablespoon

baking powder

1/3

cup

dry milk powder

2

cups

water

2

eggs

1/2

cup

oil

2

tablespoons

clarified butter
Instructions
Preheat oven to 400 degrees Fahrenheit. Place a large cast-iron skillet in oven while oven is heating.

In a large bowl, combine all of the dry ingredients. In a small bowl, whisk together the water, eggs, and oil. Make a well in the center of the dry ingredients and pour in the water mixture. Stir until just combined, being careful not to over mix.

Add the clarified butter to the hot skillet in the oven. When the butter has melted completely, pour in the batter. Return skillet to oven and bake for approximately 15 to 20 minutes, or until bread is golden brown and cooked through.
Nutrition
Calories:
766
kcal
|
Carbohydrates:
102
g
|
Protein:
18
g
|
Fat:
32
g
|
Saturated Fat:
6
g
|
Cholesterol:
68
mg
|
Sodium:
459
mg
|
Potassium:
1049
mg
|
Fiber:
9
g
|
Sugar:
22
g
|
Vitamin A:
235
IU
|
Vitamin C:
3.2
mg
|
Calcium:
379
mg
|
Iron:
7.1
mg
Do you use Amaranth, or any other lesser known grains in your every day cooking?