November is the season of comfort food, which for me roughly translates into coffee and cake – at least today it does.
Lately I've taken to retreating into my warm kitchen in the morning with a stack of the fall's latest baking books and only emerging when I feel adequately caffeinated and something delightful is cooling on the counter. We can only eat so much, and I gift a good portion of my baking, but it is always welcome to have a little assignment.
So last weekend when a few close friends and I teamed up on an (actual, not virtual, although today's is virtual) baby shower, I volunteered to bake the cake. I'd been thumbing through both Homemade Decadence
and Butter Baked Goods
dreaming of layer cakes and fluffy frosting and this was the opportunity I needed  to break out the cake pans. I chose a recipe from each book and both were so spectacular, I requested permission from the publishers to share them with you here.
The recipes can be scaled up or down, should you one day find yourself committed to making a wedding cake or just want a crumb of something sweet for Sunday dinner.  I think you'll agree, few things in life are as enjoyable a frosted slice of cake, so read on for the tutorial, recipes and virtual baby shower you can join, too!
The Naked Cake
Call it 'exposed', 'rustic' or 'naked', this new cake trend merely means an unfrosted cake. It's a down-to-earth approach that fits well with my simple baking style and I've been itching for an excuse to whip one up.
It's almost too obvious to be mentioned, but this naked cake trend has just made our lives a lot easier. I couldn't believe how fast this cake came together (scroll down to see the finished dessert); basically, I'm sold. Now of course you can still dress up a naked cake to the nines – just take a peek at Pinterest and you'll get the idea. But be they truly naked or adorned with flowers, I think they are stunning.
Visually, a naked cake needs to be able to stand alone, meaning it needs neat and tidy sides, even layers, that sort of thing.  Remember, there are no mounds of frosting to hide behind. Also, the cake must taste superb on its own. If it's dry and crumbly, it's just going to be one big disappointment.
Thankfully, we have Joy the Baker to guide us to success on these points. Have you seen her latest book, Homemade Decadence
? Oh. My. Heck. It's worth the price just for the brunch chapter alone, but is obviously out to win hearts and minds with an impressive line up of cookies, bars, pies, crumbles and, of course, layer cakes.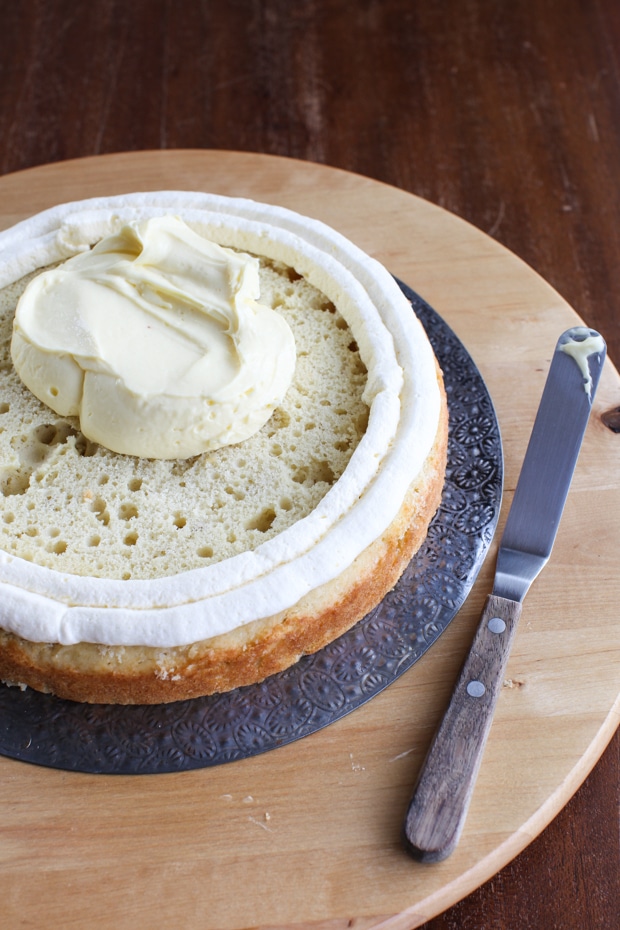 Basic 3-Layer Yellow Cake
Print
Pin
Rate
Servings:
1
9-inch layer cake
Ingredients
4

cups

cake flour

2

teaspoons

baking powder

1 1/2

teaspoons

baking soda

1

teaspoon

salt

1

cup

unsalted butter

(2 sticks), at room temperature

2

cups

sugar

1

Tablespoon

pure vanilla extract

4

large eggs

at room temperature

2

cups

buttermilk
Instructions
Put oven racks in the centre and upper third of the oven and preheat the oven to 300F. Grease and flour three 9-inch round baking pans. (Aimee's note: I used two 9-inch and three 5-inch pans)

In a medium bowl, whisk together the flour, baking powder, baking soda, and salt.

In the bowl of an electric mixer fitted with the paddle attachment, beat the butter and sugar on medium speed until light and fluffy, 3, to 4 minutes.

Add the eggs, one at a time, beating for 1 minute between each addition. Beat in the vanilla extract. Reduce the mixer speed to low, add half of the flour mixture, and beat well.

Add the buttermilk in a slow stream and beat well. Add the remaining flour mixture and beat until just combined. Finish stirring with a spatula.

Divide the batter among the prepared cake pans.

Bake until golden brown on top and a wooden pick inserted in the centre comes out clean, about 30 minutes.

Let cool in the pans for 20 minutes before inverting onto wire racks to cool completely before frosting.
Notes
1. Baking the cakes at a lower temperature helps them rise evenly, without peaks in the centre. This is better when preparing a naked cake. I still trimmed my top, but not by much
2. If you're not using right away, double-wrap the cake layers in plastic wrap, and freeze for up to 7 days. When ready to frost, remove from the freezer, unwrap, and frost frozen.
Nutrition
Rustic Lemon Layer Cake: filling and assembly
Once I had a recipe for Joy's yellow cake cooling in two 9-inch and three 6-inch pans, it was time to move on.
I knew I wanted to elevate the cake experience with a filling of sorts. I wanted to make a cake that didn't scream 'BABY', and even though my friend is expecting a boy, blue was out of the question. I wanted it neutral enough to be adaptable for a wedding shower or Easter Sunday, so lemon filling was the obvious choice.
For this, I went with a reliable recipe for lemon curd from the beautiful Butter Baked Goods
cookbook. I adore this book for many reasons, quaint Canadian bakery among them, but mainly because I know I can trust the results of my efforts.
Butter Baked Goods Lemon Curd
Recipe from
Butter Baked Goods
by Rosie Daykin. Reprinted with permission. Lovely as a cake filling, but try it in tart shells, spooned over meringues, or stirred with whipped cream and served over berries.
Print
Pin
Rate
Ingredients
1

cup

lemon juice

freshly squeezed (about 4 lemons)

6

large eggs

1

cup

granulated sugar

1/2

teaspoon

salt

1

cup

butter

chilled and cut into 1-inch cubes
Instructions
In a medium saucepan over medium heat, whisk together the lemon juice, eggs, sugar and salt. Measure the temperature with a candy thermometer and whisk until it reaches 180F. The eggs should be quite thick and pale in colour. Remove from the heat and allow to cool for a few moments.

Carefully pour the hot curd into the blender and securely affix the lid. Blend on medium to high speed and add the butter piece by piece. Make sure each piece is fully incorporated before adding the next. Once all the butter is incorporated, the curd should be thick and creamy.

Use a sieve to strain the curd into a glass or ceramic mixing bowl. The curd will be quite thick at this point, but still too loose to use.

Place a piece of plastic wrap directly on top of the curd and refrigerate overnight. Once set, the curd should be thick enough to spread with a knife.
Notes
1. This curd can be kept in the refrigerator, in a covered bowl or an airtight container, for up to 1 week.
2. Excerpted from Butter Baked Goods by Rosie Daykin. Recipes Copyright © 2013 Rosie Daykin, Photography copyright © 2013 Janis Nicolay. Excerpted by permission of Appetite by Random House, a Penguin Random House company. All rights reserved.
Nutrition
Once I had Joy's cake and Rosie's lemon curd, it was assembly time. I made a lemon cream cheese frosting to hold the layers together, which separated a little, so I'm not posting the recipe. In hindsight, a basic cream cheese or vanilla frosting would be best.
As depicted in the photos above, I piped a double circle of frosting around the layers and filled the centre in with lemon curd. Repeat x4, then frost the top cake. I garnished the end result with a dozen macarons.
Surprise!
It's a virtual Baby Shower for Jessica of How Sweet It Is! Naturally, I'm bringing my naked lemon layer cake. It's decked out with macarons that have been personalized with food decorator pens
. Simple and sweet.
Jessica, I'm so excited for you! Motherhood is absolutely the best adventure and you've never been one to shy away from adventure. You embrace everything with such enthusiasm, I know you'll be an incredibly special mama. Hugs to you!
(Apologies for the lighting in this photo, but by the time I had added the finishing touches, it was late in the evening in someone else's kitchen! That's just real life, people.)
Last but not least, here is the full round-up of brand new recipes from some of the best food bloggers in the biz! We're so thrilled to celebrate Jessica and the pending arrival of her little one with this virtual shower. A big thank you to Bev and Ashley for organizing all of us.
Now, who's hungry? 
Salads
Gimme Some Oven – Asian Broccoli Salad with Peanut Sauce
The Lemon Bowl – Brussels Slaw with Tahini Dressing and Za'atar Crostini
With Style & Grace – Kale Salad with Apple, Hazelnuts & Bacon
Cocktails
Dine & Dish – Hot Buttered Rum Cocktail
Food For My Family – Cranberry Orange Dark and Stormy Cocktail
Minimalist Baker – Bourbon Pumpkin Milkshakes
Stylish, Stealthy & (sometimes) Healthy – Apple Cider Shandy
A Spicy Perspective – Preggy Punch Mocktail
Girl vs. Dough – Boozy Maple Peanut Butter Cup Milkshake
Honestly Yum – Maple Bacon Pisco Sour
Cookin Canuck – Pink Grapefruit Margaritas
A Thought For Food – Mezcal Citrico Cocktail
A House in the Hills – Pomegranate Rosemary Spritzer
The Novice Chef – Ginger Bourbon Apple Cider
Bran Appetit – Citrus Cider Punch Floats
Burgers
Edible Perspective – Meatloaf Veggie Burgers with Mashed Potatoes + Gravy
The Little Kitchen – Salmon BLT Sliders with an Avocado Aioli & Brie
Daisy At Home – Balsamic Beef Burger with Mac and Cheese
Cookies & Cups – Candied Bacon Maple Cheddar Burger
Climbing Grier Mountain – Trashed-Up Steak Burger with Chicken Fried Bacon & Dijon Gravy
Dessert For Two – Bleu Cheese Burgers + Sweet Potato Fries
Country Clever – Fig Rosemary Roast Chicken Brie Panini
Foodie Crush – The Best Cheeseburger Soup
Lady and Pups – Spicy Sambal Chicken Meatball Sub with Eggs
Two Peas & Their Pod – Sweet Potato and Kale Grilled Cheese
Bake Your Day – Ultimate Breakfast Sandwich
Tacos
Pizza
Bev Cooks – Beer Battered Fried Calamari Pizza
Foodie With Family – Trashed Up Barbecue Turkey Pizza
Shutterbean – Pesto Potato Bacon Pizza
i am a food blog – Grilled Cheese Pizza
My Life as a Mrs – Chili Cheese Dog Pizza
The Beeroness – Beer Cheese Tater Tot Pizza
Yes I Want Cake – Roasted Pumpkin Pizza
Two Red Bowls – Bacon Mashed Potato Pizza
Dula Notes – Pork Bahn Mi Pizza
Weelicious – Trashed Up Mexican Pizza Pockets
Take a Megabite – Roasted Beet Pizza
Hungry Girl Por Vida – Hard Cider Braised Pork with Sour Cherries and Cheesy Polenta
Desserts
Hungry yet? Thanks for reading!