Spring is very much in the air. I can feel it, even if the garden still sleeps under a foot of snow.
The ice on the river near our place is breaking up and the tops of the trees in the yard have started to bud. Soon the sap will be flowing in the maples and we can tap their trunks for a new sugaring off season.
I'm anticipating the spring thaw as eagerly as my children awaiting their first batch of maple taffy on snow. It can't come soon enough. In the meantime, Clara built another snowman on the first day of spring.
I warmed one of these tarts for my lunch while watching her play – they are like a promise of good things to come: our own baby radishes, local asparagus and the warm winds of spring.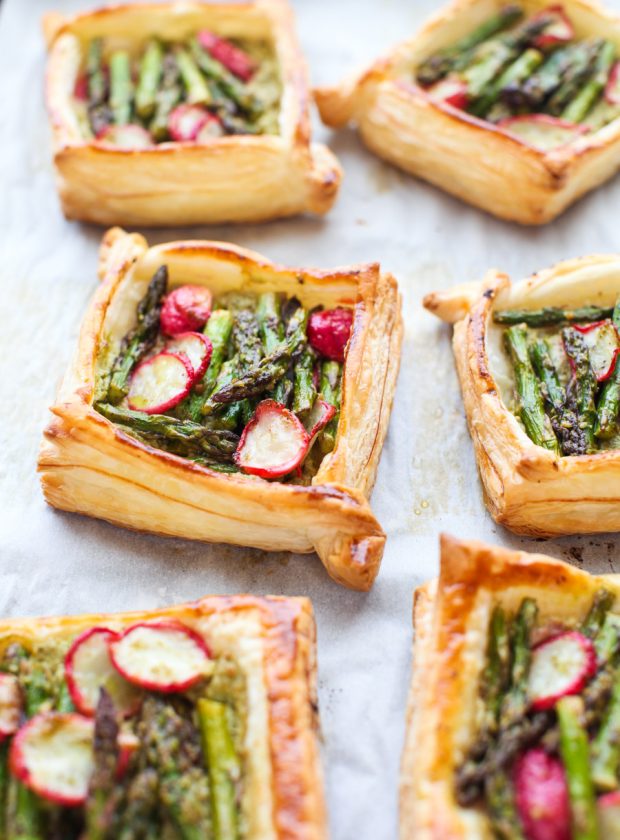 I suppose these tarts are a variation off of the very popular Asparagus Goat Cheese Galette from the archives. I've use ricotta instead, livened up with a generous spoonful of pesto from my fall stash in the freezer. A bit of Parmesan works as well, mixed into the pesto, as does the original goat cheese. Really, just use what you have on hand.
These Pesto & Ricotta-filled Asparagus and Radish Tarts are individual, which is always fun, and makes a very pretty plated appetizer or a light lunch with a side salad.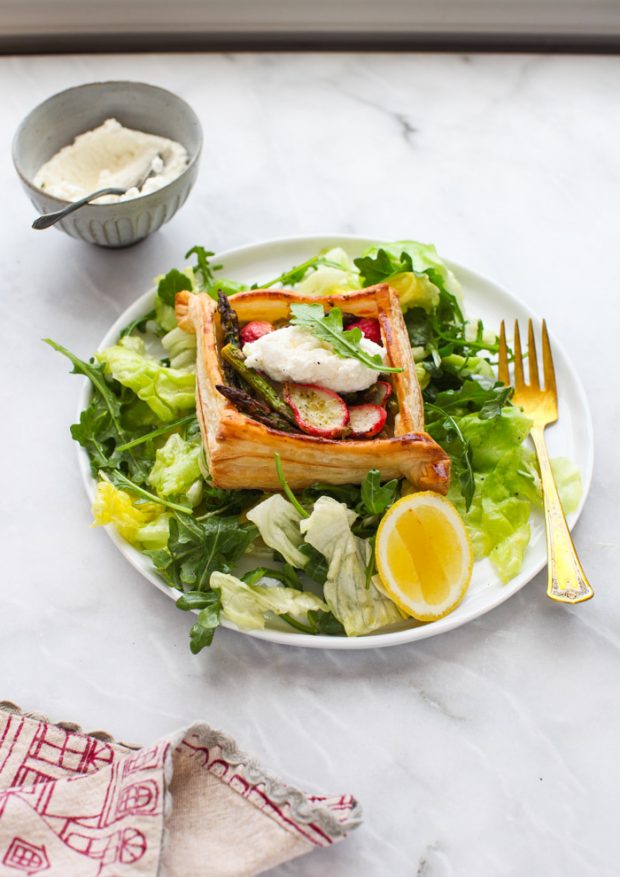 Every year around Easter I find myself making a version of a small asparagus tart for brunch and decided to finally share the method. This year I've added radishes for that pop of colour, and also because I adore asparagus and radishes paired together.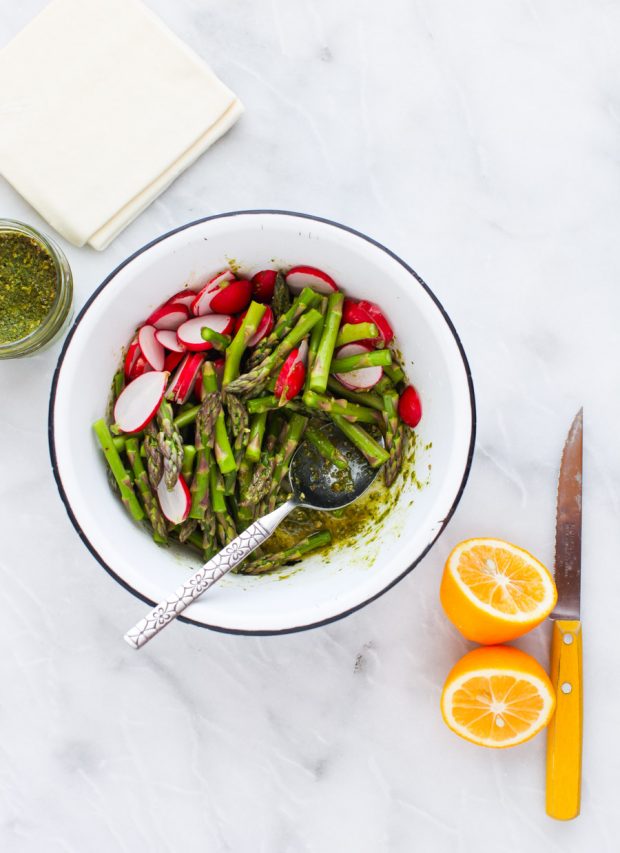 A local shop carries frozen puff pastry already rolled and cut into 'singles' (very much the size of Kraft cheese singles) and that makes this kitchen project go even faster.
I also don't cook the vegetables at all in advance as they roast up nicely in the oven. So now you are starting so see how quickly these tarts can come together. Open a jar of pesto, slice a few radishes, squeeze a lemon and we are on our way.
You can either make slits around the edges of the pastry squares and cross two corners over to make an edge OR just prick the square with a fork, leaving a 1/2-inch border (pictured below). Both sides will puff up nicely; the latter will look a bit more freeform and rustic.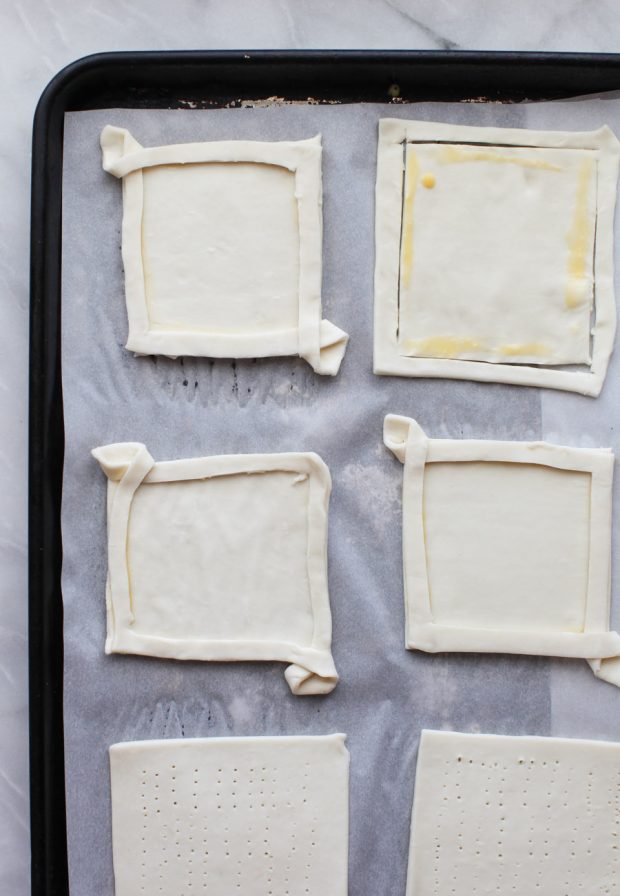 When shaping the tarts, I find it always easier to work with slightly frozen puff pastry. The cuts are a lot cleaner and the dough is less floppy. Don't worry if the pastry don't look perfect; the tarts always bake up nicely in the end.
A generous smear of the pesto and ricotta goes directly on the puff pastry. This helps to 'glue' the vegetables in place and adds a delicious creaminess to a tart that would otherwise be dry (and boring, if I'm being blunt).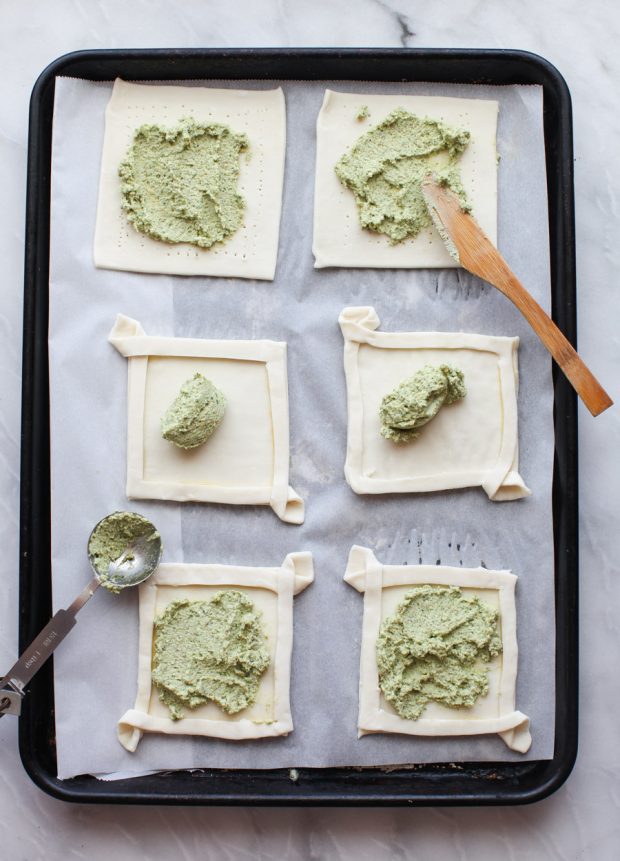 The spring vegetables are tossed with additional pesto, olive oil and lemon juice, for a touch of acidity. I then heap them up in the centre of the tarts and they are ready to bake.
I should note that the prepared tarts can go in the refrigerator at this stage and hold for up to 4 hours. This is helpful if you are entertaining for brunch, and want to bake them up hot for your guests.
I've made these tarts many times, and a very hot oven is the absolute best for achieving a flaky crust through and through. I bake them on a double lined sheet pan (merely two stacked on top of each other) to protect the bottoms from getting too dark.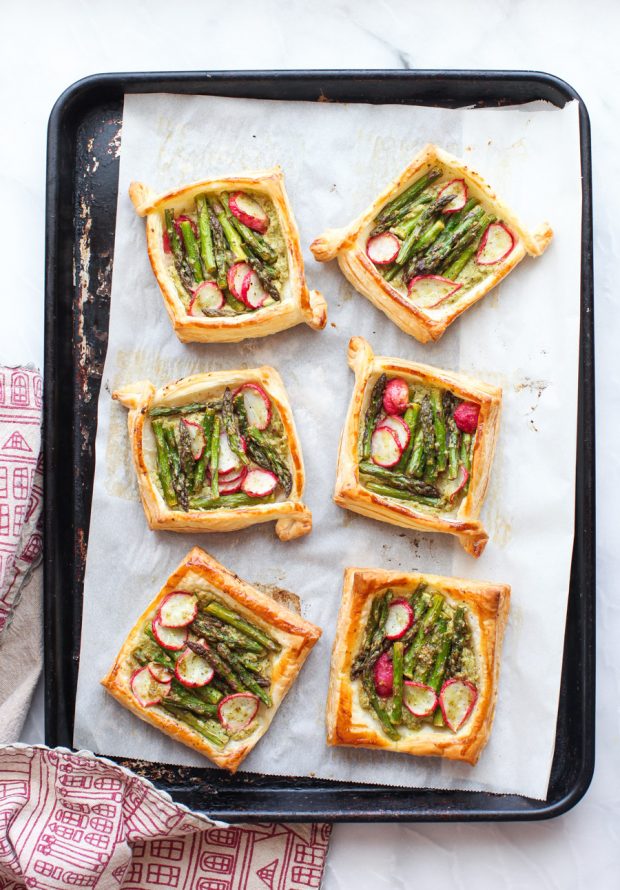 I recommend serving these savoury tarts straight from the oven, preferably with an additional spoonful of ricotta and a squeeze of lemon. Heaven!
Spring may be taking her sweet time, but in the Simple Bites kitchen, these tarts are a reminder that winter will not last forever.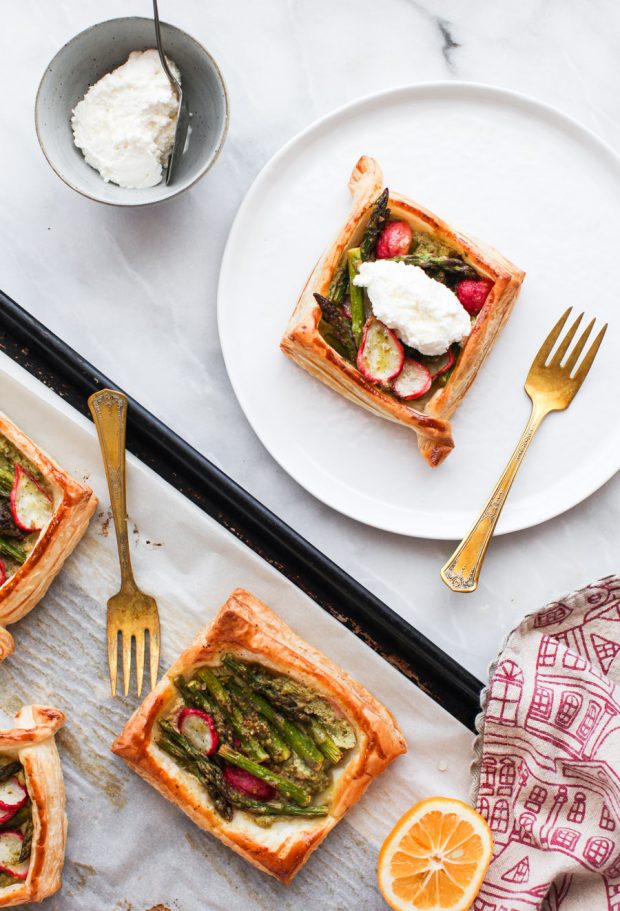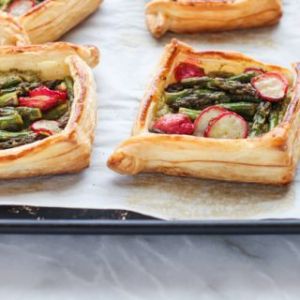 Pesto & Ricotta-filled Asparagus and Radish Tarts
Simple, savoury tarts that are perfect for the spring season.
Print
Pin
Rate
Ingredients
6

squares

puff pastry

4 1/2 inches square, 1/4-inch thick (about 1/2 pound)

1

egg

beaten

3

Tablespoons

pesto

divided

6

Tablespoons

ricotta

3

teaspoons

lemon juice

divided

sea salt and freshly ground black pepper

1

bunch

thin asparagus

trimmed and washed

6-8

small radishes

trimmed and washed

1

Tablespoon

extra virgin olive oil
Instructions
Line a baking sheet with parchment paper and place the 6 squares of puff pastry on the sheet. They should be approximately 4 1/2 inches square and about 1/4 inch thick.

Now if you want to keep things really simple, you can just prick the pastry with a fork, leaving a 1/2 inch rim around the edge, or carry on for directions for the pretty edges. I find it easiest to work with the pastry while it is still slightly frozen.

Fold one of the edges of the pastry square to the opposite edge to make a triangle. Leaving a 1/4-inch border, cut about 3/4 of the way from the bottom of the triangle to the tip on both sides, making sure the cuts do not touch. Unfold the square. Brush the inner edges with beaten egg. Take the top flap and fold it toward the 2 cuts near the bottom. Then take the bottom flap and fold it toward the top edge. You will have a diamond shape. (This

video

shows the method simply.) Repeat with all 6 squares.

Mix 2 tablespoons of pesto with the ricotta and 2 teaspoons of lemon juice. Season well with salt and pepper, then divide between the 6 tarts. Spread around the bottom of the tarts.

Cut the asparagus into 2-inch pieces. Thinly slice the radish. In a medium bowl, stir together the remaining tablespoon of pesto, teaspoon of lemon juice and olive oil. Mix well, then add vegetables and toss to coat. Season well, then divide among the tarts. Heap up the vegetables, pressing them into the ricotta.

Place the pan in the refrigerator and chill for 15 minutes (or may hold for up to 4 hours). Preheat oven to 400F.

Bake tarts, rotating the pan occasionally, until dark brown and crispy, about 25-30 minutes. Serve hot with additional ricotta if desired.