On the edge of our lawn, beyond the garden, and before the forest, tower two immense maple trees. They frame the yard and boldly announce the changing of each season by the coming and going of their lush plumage.
These maples shade us on sweltering July afternoons and have always been my favorite view, admired from the back patio with a coffee in hand. All summer long the boys swing from a tire swing I hung for them ages ago way up in the branches, and the two trees provide resilient anchors for Danny's slack line.
This week, those maples became infinitely more valuable to our property when, for the first time ever, we tapped into their veins of sweet sap.
The whole experience has been an exhilarating one for me. I guess I didn't expect our first attempt to be a success. Honestly, urban homesteading has a huge learning curve to it, and we have the gardening disasters and midnight chicken horror stories to prove it.
So, doubtful, I hammered in the first tap, and then the cool sap sprayed my face, tasting sweet on my lips. My stomach flip-flopped in anticipation. Noah hung a bucket under the tap, and the lyrical drip-drip of the sap dancing on the bottom of the bucket began.
"Listen, mom." he said, "It's like the forest is making music."
This. This was spring harvest; one more ingredient we were sourcing from our backyard. I don't know why I had let my reservations get the better of me.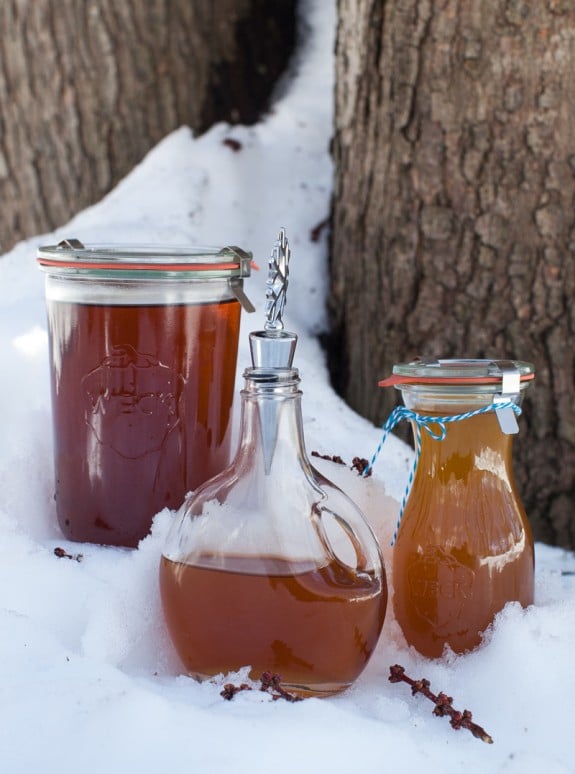 I haven't been able to contain my excitement since then. My texting history with Danny for the week is mostly all-caps and exclamation points, as I kept him regularly updated with sap hauls, syrup quality and recipe development through the days.
I'm sure my friends, Twitter and Instagram followers are sick of my maple-centric prattling, but I'm fiercely proud of what we've accomplished, regardless of how miniscule our operation is.
It didn't cost us a single penny and we've reaped two quarts of pure organic maple syrup, not to mention learned so much along the way. Our children were involved with the process from beginning to end, and we can chalk the sugaring off experience as one more way we are building our healthy family food culture.
Spring harvest: what we're making with our maple syrup
Danny's already covered what we've learned about making maple syrup, but I'll divulge a few of the goodies that I've been inspired to make and bake as a result of our surprise harvest.
Buckwheat Pancakes with Maple Whipped Cream
You know the first batch went to top pancakes. I had this homemade buckwheat pancake mix in the freezer, so all I had to do was whip a little cream by hand, drizzle in some maple syrup to sweeten it, and we had the perfect breakfast to showcase our homemade syrup. Waffles are up next.
Maple Taffy on the snow
At the age of three, my boys developed an affection for maple taffy on the snow, or as it is called here in Quebec, tire d'érable. The process is simple: boil maple syrup until it reaches the soft ball stage (115 °C /238 °F). Pour in onto packed snow. Roll it up with a stick. Enjoy. And how!
Thick-Cut Maple Gazed Bacon
Maple + bacon is a combination well worth exploring. In this simplest form, the syrup caramelizes in the oven and gives the bacon a sweet and sticky coating that is second to none. I bake my bacon on foil or parchment for easy clean up, and brush on the maple syrup in the last 5 minutes of baking. Any longer in the oven and you risk burning the bacon.
Double Maple Marshmallows
What do you get when you take a basic recipe for marshmallows, replace the water in the ingredient list with fresh maple sap, and substitute pure maple syrup instead of corn syrup? The softest pillows of double maple marshmallow puffs, with plenty of all natural maple flavor.
Just heavenly. We're going to be toasting these goodies over a bonfire this weekend.
Maple Baked Beans with Double Smoked Bacon
White navy beans, half an onion, a rasher of bacon, and a drizzle of maple syrup was all the effort that went into this bean pot. What really made them outstanding, however, was that I replaced the cooking water with freshly harvested maple sap. It's slightly sweet, and of course, as it reduces in the bean pot, it sweetens the dish in the most natural of ways.
I only wish you could smell how this little pot perfumed my home all afternoon long.
Looking ahead….
The goodness does not stop here! In fact we're heading into a long weekend, and I have more maple cooking and baking in the plans. I want to spoon fresh ricotta onto baguette slices and drizzle them with syrup. I'd like to test out a strawberry lemonade made with sap. And wouldn't a maple glaze be perfect on Hot Cross Buns for Easter morning?
Can you tell I'm inspired? Or perhaps just buzzed on maple syrup. I'm not telling.
What is your favorite way to cook with maple syrup?