Written by Danny.
Every year it seems like we get one step closer to being a modern version of the little house in the big woods. Our first spring here we constructed a compost pile and fire pit, and foraged for wild ramps from the woods.  The next year was chickens (semi-failed attempt). Last year it was raised beds, rain barrels and chickens (successfully).
This year, we tapped the maple trees, and it is the sweetest thing going. Although campfires and homemade marshmallows are hard to beat, I think that the kids are infinitely more excited about making maple syrup. Maybe a little too much so.
Let's just say that I'm glad they had the sweet/delicious/sticky/awesome syrup AFTER they wielded the power drill and hammer.
Maple syrup in my backyard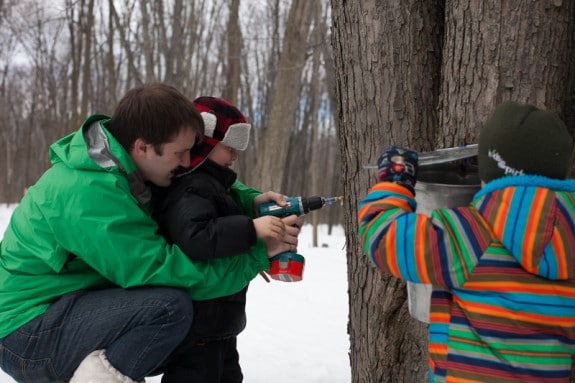 According to my friend Yannick, who recently bought the "Maple Grove of the Angels" (Erablière des Anges), you want to drill your tree on a slight upward slant – 17 degrees is apparently optimal.  This will allow the sap to drip down via gravity, but is also not too steep, as you will be hanging a 1.25 gallon bucket from it.
Unlike my experience with a protractor when building my first gingerbread house with Aimee, I let Noah do most of the work and turned a blind eye to the inaccuracies in the angle.  Mateo drilled one too.
I had only seen metal taps in the past, but I guess that they make nearly everything out of plastic these days (food-grade plastic, of course).  The only problem with the plastic was that it was a little bit bouncy, and both Noah and Mateo nearly took the wrong end of the hammer in their face.
Also, the tree started GUSHING sap right away, and when we hit it with the hammer, it would splash into our eyes.  Yet another reason to wear safety goggles when using a hammer, I guess.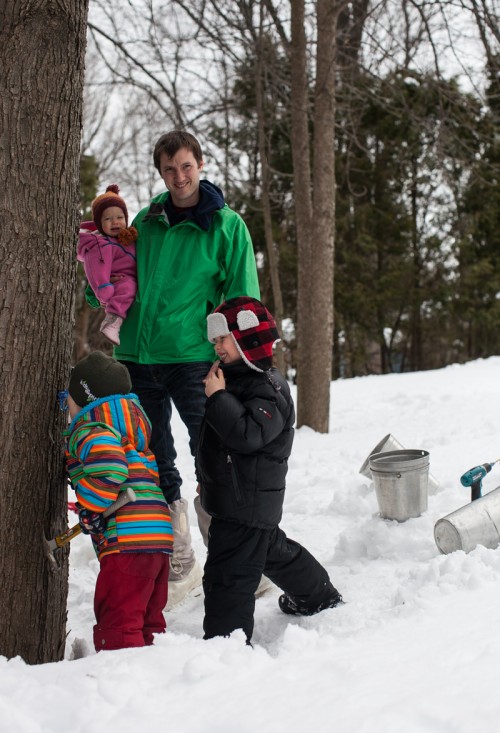 The sap is sweetish straight out of the tree, as is clearly evidenced in the photo of Mateo above, and that of Clara below.  If it weren't for the opportunity to eat maple taffy (or "tire" here in Quebec), the boys would still be attached to the tree.  Literally.
We forcibly weaned Clara from this tree. She was making all her favorite "happy eating sounds" and hand signals for more.  The poor thing had the cutest twinkle in her eye, and the saddest pout when we took her away.
We've been to our uncle's backyard sugarbush (over 200 buckets, I think) and can't believe that it has taken us 3 years to tap some of the trees on our yard, but we finally did it.  As Quebec produces some ridiculous statistic like over 70% of the world's maple syrup production, I guess it was a matter of time before we tried it.
I asked for buckets and taps at many hardware stores, but they all looked at me strangely, and told me there was surely some "out in the country". Thankfully, I was able to borrow a few that Yannick had "laying around" at his organic sugarbush. (He specializes in derivative organic maple products like candies and stuff, but also has lots of liquid gold on hand year-round).
I also called or texted him about, oh, 30-40 times for various reasons, like to ensure that the trees we were tapping were big enough (9-inch diameter minimum) and which side to tap (facing sun), and although he was probably crazy busy, he patiently and passionately answered each of my questions.
It didn't really make sense to have a snack of hot cocoa when we were drinking sugar straight from a tree, but the boy's didn't complain at all (Okay, maybe they complained a little more than usual later on, when the sugar rush died off.)
For some reason, we have a LOT of photos of our back yard, so were able to identify which trees were maples, and didn't end up tapping a birch tree, the weeping willow, or a telephone pole.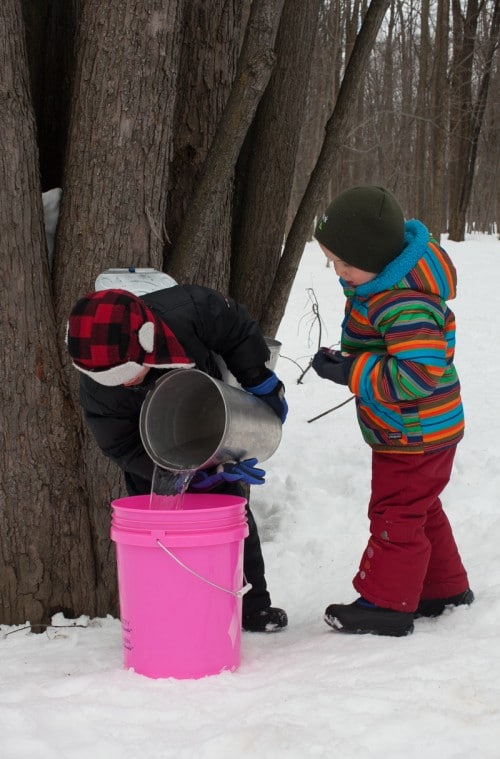 We've been collecting our sap since this Sunday, and have filled 3 of these so far.  It reduces down 40-t0-1 on high heat on our stove burner (kitchen hood on full speed to prevent our ceilings from becoming sticky with the steam), so each 5-Gallon bucket will yield just about a pint of pure organic maple syrup.
I've managed to borrow one of those outdoor propane burners that you typically see at corn boils from a coworker, and we'll do our next batch outside. Time to step up production! Aimee, of course, will tell you what we made with the syrup this Friday.  Tune in then!
And yes, I'm thinking about finding and tapping a spruce tree for beermaking – but that may be a few years from now.
We're only 3 days in and still exploring, but if you have any questions about what we did, I'll guarantee an answer in the comments.