Written by Danny.
This past week, Aimee's parents have been visiting from Northern British Columbia, visiting their newest granddaughter and hoping for some summer heat.  Unfortunately for them, the beginning of this week was cool and rainy.  Bad news for them, but good news for… our rain barrel!
Knowing that "we're into that thing", my dad had gotten us a pair of rain barrels about a month ago at a civic fair, and we installed them right away, wanting to get the spring rains stored up to get our gardens as lush as possible. This post discusses what we did to install ours, and some resources that I've pulled when trying to figure out what to do.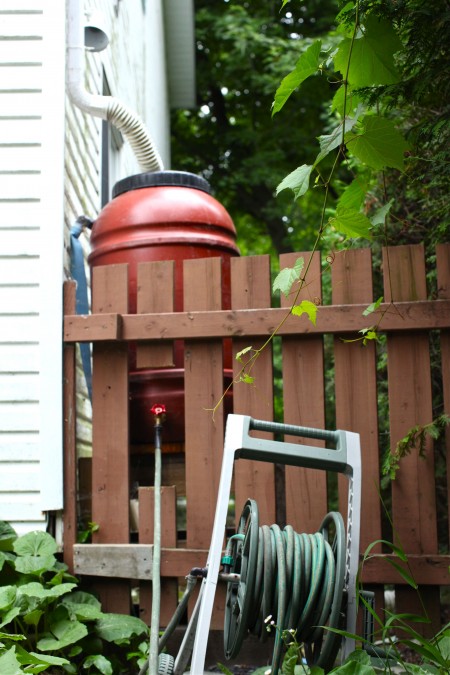 Method
The barrels that we got were old olive barrels.  I guess I could say they were from Greece, but I don't really know.  They're brick red, about 50 gallons or so and have some amazing characteristics:
Top Mesh: This is important to keep leaves from entering your barrel and making "tea", as well as preventing the barrel from becoming a mosquito farm.  It is quite fine meshed, and I think has done a great job so far.  It is unscrewable should we ever want to clean out the insides.
Integrated Spout: With our other outdoor water connection permanently attached to a hose – and the hose end wherever the kids have been playing with it last – I love having a second water connection for filling our chicken water dispenser.
Overflow: The night that we installed it, there was heavy rain, and the barrel filled within minutes.  The overflow connection allows you to direct the excess water away from your house and foundation – a really smart idea.
Because our barrel is gravity powered (I've seen some submerged types online that need a pump to empty), we needed a way to elevate it above the level of the back garden.  We still had lots of leftover wood from the raised garden project, so we made a small frame about 36″ high and then put some old deck stair treads on top as a surface for the barrel.  50 gallons x 8.35 lbs/gallon = 417 lbs should the barrel be full of water. with 3 children running around the house, I clearly wanted to ensure that it was secure and would not tip over.  So we angled the foundation of our support ever so slightly towards the house, so that if it were ever to slip, it would dent my siding, but not crush a kid.  I don't think I have to worry about this, though, because with all that weight, there is no way it is slipping.
Another concern was that our structure could be "kicked out" of place. So we put a bit of strapping to bind the pieces of wood together.  It's not as massively robust as my raised garden structure, but I have learned my lesson, and so went easy on the safety factor.

Impressions
So far so good.  As it is only just slightly above the level of the garden, gravity is not a massive force, and it would be impossible to put any kind of distribution hose on it.  In fact, we got rid of the hose roll you see in the pictures because there was no flow.  I wish there was a little more pressure coming from the end of the hose, but we're coping (of course) and just place the hose end by the first set of tomatoes, and work somewhere else for a while before moving it.
I would have liked to bury a perforated hose into each garden and then slowly bleed the water out, but I think all the water would come out of the first few holes, as there would not be enough pressure to get the water to the end of the hose.  At least we have it and use it.  We have the rest of our lives to "upgrade" our system.
Is a rain barrel good for you?  I guess we just jumped on the bandwagon before looking into what it would fully entail, but here are some things to put on your pro/con sheet if you are considering getting a rain barrel:
Use: Ours is strictly for garden use (and watering the chickens). If you plan on drinking your water, there are many other considerations, such as filtration, disinfection, as well as your roof composition to think about.
Size: We live in a relatively humid area, so are just using them to "top up" our garden if we have a dry week or 2.  If you want to be more rigorous and try to irrigate exclusively with rain water, you will have to analyze the historical rainfall for your area, as well as your usage requirements and become familiar with terms such as "evapotransipration rate".
Location: Aside from the buried or above ground, you have to consider WHERE you're going to put it. As per above, we chose above ground and gravity-fed, and put it right next to the house under a modified down-spout, but this could be a problem if you want to collect large amounts of rainwater or want to irrigate with devices that may need some extra power.  An underground cistern will certainly hold more – but cost more as well…. You also want to ensure that any overflow is routed far away from your foundation.
Maintenance: Because we get freezing temperatures in the winter, we'll have to prevent the barrel from expanding with ice and breaking.  I was hoping to just leave the spout open all winter (with no hose attached), but I've also read that people remove them, clean them out, invert them and then reattach their old downspouts and attachments to let the snow and ice melt stay far away from the house foundation. If your barrel is becoming infested with algae or mosquitoes, you'll need to maintain it more regularly, or find a way to prevent this from happening.
Web Resources for irrigation and water conservation in general:
Alliance for Water Efficiency
America Rainwater Catchment Systems Association
American Water Works Association, WaterWiser: The Water Efficiency Clearinghouse
CWWA Water Efficiency Experiences Database
City Farmer
Irrigation Association
Rocky Mountain Institute, Greywater Systems, Compost Toilets and Rain Collection
US EPA, Water Efficient Landscaping: Preventing Pollution and Using Resources Wisely (pdf)
Do you use rain barrels or other irrigation systems? Please provide any additional tips you might have in the comments!