Happy December! It's the last month of the decade, so let's wrap it up with a celebratory dessert or two, shall we?
I've been wanting to write this post for at least four Christmases now, but it never felt quite right. Last December we had just moved into a new home, but with most of my kitchen equipment still in boxes, my holiday baking was minimal.
However, we've just celebrated one terrific year in Nova Scotia and I am feeling very festive. On any given day in the Simple Bites kitchen there are oranges drying, lemons preserving, pie crusts chilling and gingerbread baking.
The holidays are a time to be a little extra … so make a splash and play in the kitchen. The Twelve Days of Holiday Baking Projects are meant to inspire you to tie on an apron, break out the cookie cutters and create a festive masterpiece.
The Twelve Days of Holiday Baking Projects
Today's dessert round up is twelve absolutely fantastic recipes that I've developed over the last decade of blogging, but have gotten buried over the years.
From a colourful winter fruits pavlova to a decadent chocolate hazelnut yule log, you're sure to find the perfect dessert to recreate. I've made sure to include an assortment of recipes that vary in degree of difficulty for everyone from the beginner to the experienced baker.
BTS photo by Lyndsay Doyle
Oh and everything you see in these photos was recently recreated by me and then styled as an epic dessert table in a special photoshoot with my friend Michelle, featuring original handmade ceramics by the talented Heather Waugh Pitts.
I envisioned a decadent holiday dessert table, like something the Sugar Plum Fairy would concoct in the Land of Sweets. We lit it softly with candles, dusted most everything in powdered sugar snow, and danced around with camera and spatula until it was captured for you. Oh what fun!
The Recipes
Here's a collection of my best winter baking recipes from Christmas cookies to festive cakes, delicious bars and decadent pie. Whether you're looking for a simple holiday dessert or something more elaborate, this recipe round-up has all the inspiration you need for your next gathering.
Chocolate Hazelnut Yule Log (Bûche de Noël)
Chocolate ganache, hazelnut spread and whipped cream all rolled into a delicate chocolate cake and frosted with more chocolate ganache – what could be better?
Add a few meringue mushrooms and you have a traditional Christmas dessert that's special enough for the centre of the sweet table. We're kicking things off with a real showstopper and it is such fun to make!
Christmas Stollen Madeleines with Preserved Lemon
Inspired by the traditional German bread, these madeleines are my way of enjoying all those festive flavours – citrus & almonds, rum & cardamom – but in quick bread form. They are a buttery, soft-spiced mini cake, studded with currants, slivers of almonds and a hint of candied orange peel.
These madeleines are an elegant holiday treat, perfect for breakfast, afternoon tea or dessert. I love to mix up the batter on Christmas Eve and bake up the madeleines hot the next morning. It makes the whole house smell like, well, Christmas morning!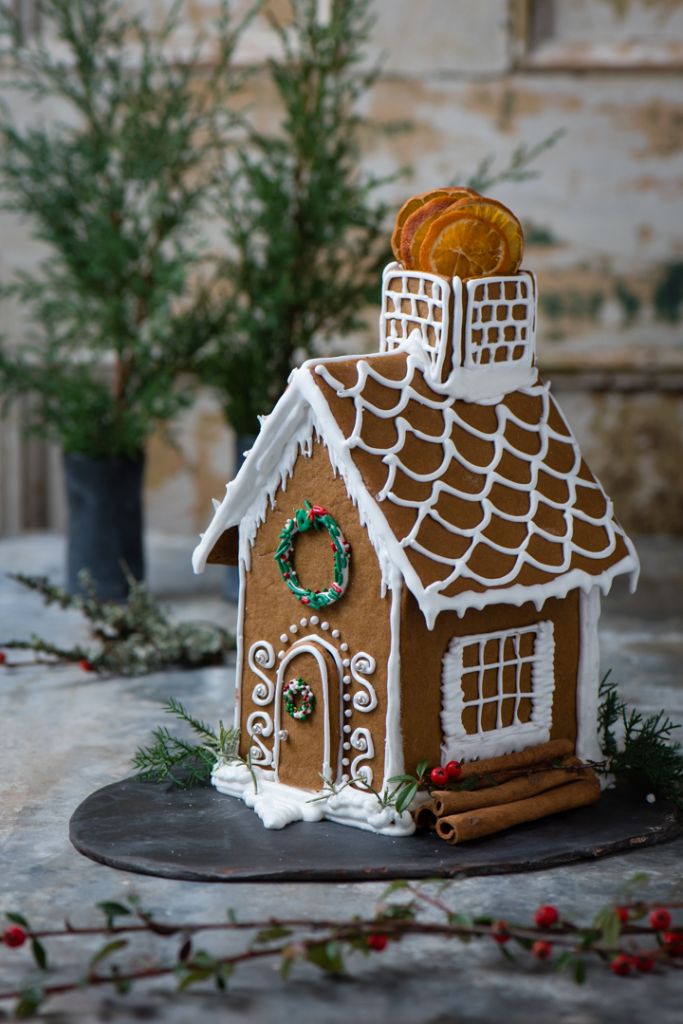 A Simple Gingerbread House
Don't scroll past! Once you see that I've broken down the tutorial for this gingerbread house into five easy steps, you'll be convinced you can do it too!
It started as an after-school gingerbread project, when I had a two tiny boys and a baby in arms. I designed the tutorial to be manageable – and it was! Thousands of you followed my steps and made your own beautiful creations….and continue to do so!
We also make the same, sweet little gingerbread house every Christmas, only now there are a few less kitchen escapades by my kids, and they can do the steps on their own. Talk about holiday magic!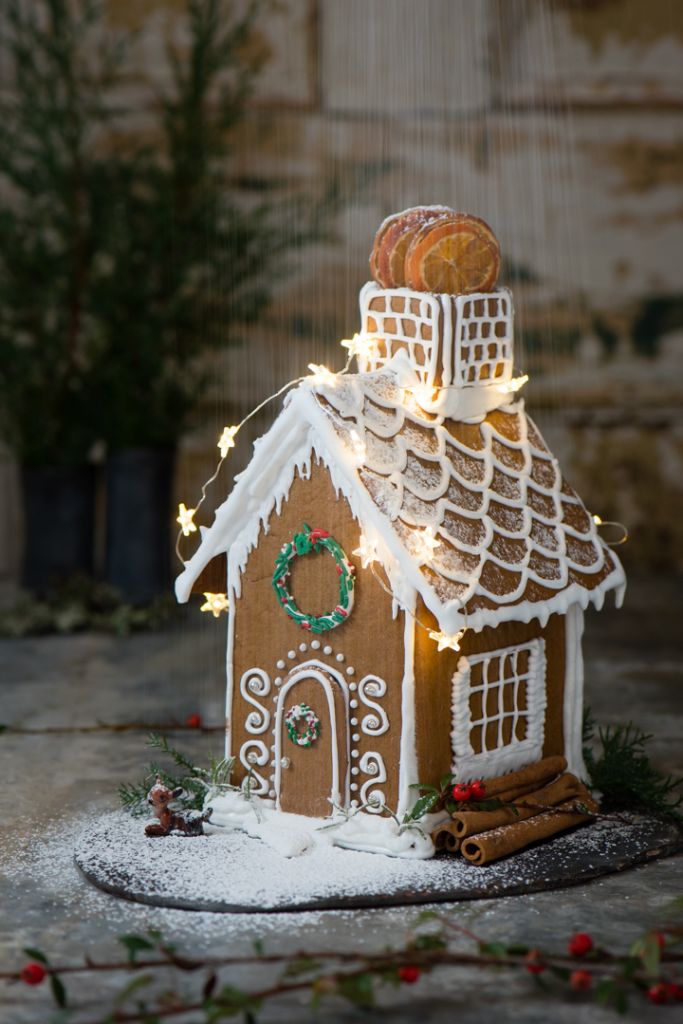 Cinnamon Shortbread Bars with Chocolate Ganache
Here's a straightforward two-layer bar, inspired by the classic chocolate-dipped shortbread but much faster to make. With a lightly-spiced, buttery base and rich, dark chocolate ganache topping, these bars typify what holiday baking should be: simple, sensational and completely irresistible.
These decadent bars are, without question, what you should bake and bring to a holiday cookie swap. I'm wiling to bet you have all of the ingredients in your kitchen right now.
Spiced Pear Gingerbread
Everyone needs a snacking cake for the holidays and this one it the most festive of them all. It's perfect for serving up following an afternoon of sledding or skating and is loved by young and old. It's boldly spiced, subtly sweet and best served with homemade applesauce and whipped cream.
Chocolate Pavlova with Winter Fruits
Pavlova is an elegant, yet simple dessert that will woo you with a killer combination of tart and sweet, creamy and crunchy. Variations of pavlova have been my Christmas Eve dessert of choice for years now, adorned with every winter fruit I can find, from tangy passion fruit to traditional kiwi.
Citrus fruits are so beautiful, and their tartness plays very well alongside the sweet meringue base. I've added dark cocoa powder and a splash of balsamic vinegar to my meringue, but you could also leave it plain for a crisp white base that is reminiscent of the frosty snowbanks outside.
Espresso Chocolate Cheesecake
Over 20 years in the making, this decadent cheesecake recipe is tested to perfection, scoring points for texture, flavour and presentation. It's not Christmas without an elegant mocha dessert and this one is spiked with espresso! Simply the best Espresso Chocolate Cheesecake you'll ever taste and a reliable recipe, too.
Simple Shortbread: One Recipe, Four Cookies
No matter how busy I am during the weeks leading up to the holidays, I always make time for classic homemade shortbread. If you are bored with the classic recipe, there are many variations that you can make on the standard.
Here are directions for making four different varieties of cookies using the same dough. This is one of my most popular tutorials, written an age ago, and yet, timeless recipes like these are the ones that are the most beloved during the holiday season.
Eton Mess-Topped Cranberry Curd Tart
One of my original recipes that I am most proud of, this gorgeous holiday tart is a celebration of winter fruits. It's an absolute showstopper, featuring sweet clementines, fresh cranberries and tiny little kumquats, not to mention mounds of cream and crispy, crumbled meringues.
Make. This. Tart. And thank me later!
Overnight Spiced Stollen Swirl Buns
No list of holiday baking projects is complete without a recipe for cinnamon rolls, sticky buns, or as I call them, swirl buns. This recipe is another one of our Christmas morning breakfast traditions, with the buns made the evening before and baked up fresh. Fragrant and delicate, comforting and familiar, they are absolute perfection with a cup of black coffee.
Marmalade Pecan Pie
Pie lovers, I didn't forget about you. This is an original twist on a classic pecan pie. It features ALL that is good and delicious in December desserts. Oranges! Chocolate! Bourbon! Coconut! And the star ingredient: Pecans.
These flavours come together in a well-balanced, deep-flavoured pie that is not overly sweet. Traditionalists may not love this one; it helps to be obsessed with marmalade.
Soft Maple Sugar Cookie Snowflakes
Last but not least, here's a melt-in-your-mouth cookie that tastes just as good as it looks. These soft cookies are maple-sweetened, cut out into snowflake shapes, topped with a maple syrup glaze and dusted with sparkling sugar. If you're making edible gifts, these would be a lovely addition to the cookie tin as each one feels special.
Happy Baking, friends!
All images by Michelle Doucette Photography, created in partnership with Aimée Bourque. Original handmade ceramics by Heather Waugh Pitts.