I'm delighted to introduce my friend Marie from Food Nouveau! Today she's bringing us a delightful recipe to bake with the kids. Make these simple financiers over spring break or bookmark the versatile recipe for your Easter weekend. I think I'll be making a batch for my Downton Abbey closing party next Sunday….
I love to bake, and usually, the more ambitious the project, the more I love carrying it off. But I love surprises too, such as when you discover that one of your favourite treats from the bakery is actually really easy to make at home.
I first tasted financiers as part of a mignardises plate at the end of a tasting meal at one of Quebec City's finest restaurants. Mignardises are tiny treats that are usually served after the main dessert, and they are meant to leave you with a sweet note—and maybe make you swallow the hefty check that follows more easily.
They can be fine chocolates, candies, macarons, or small cakes, such as madeleines and financiers. I loved the moist, nutty taste and crispy, sweet edges of financiers, and following that first encounter, I indulged whenever I spotted them in a bakery display.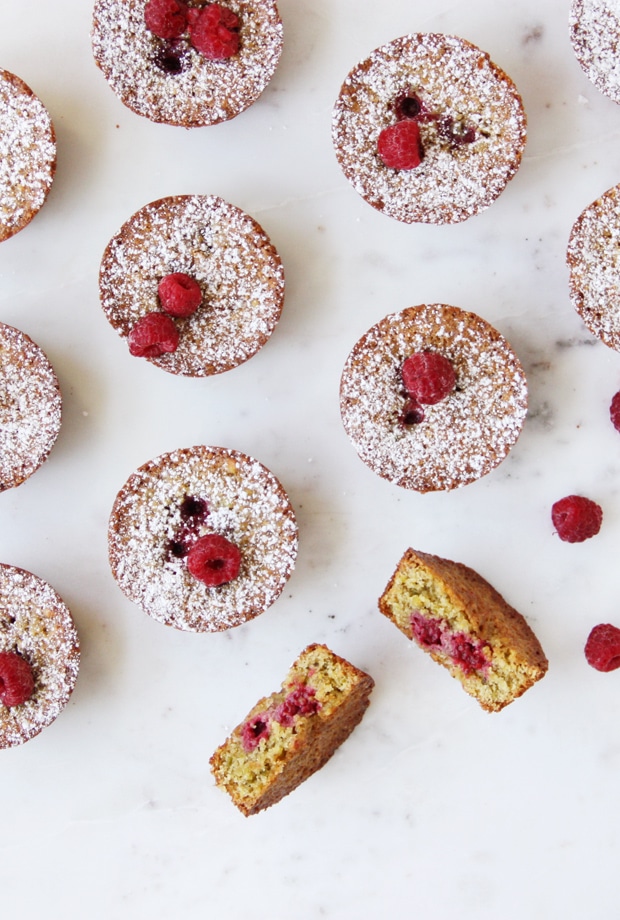 A few years ago, I remember bustling about the kitchen for a whole day, getting ready for a dinner party. When it came time to plan dessert, I knew that after the generous meal I would be serving, my guests wouldn't have much appetite left. I wanted to present a little something sweet "just to change the taste," like my grandma used to say.
I remembered mignardises, and I wondered whether financiers would be doable just an hour or two before dinner. I flipped through cookbooks and made my first financiers, and they became an instant classic.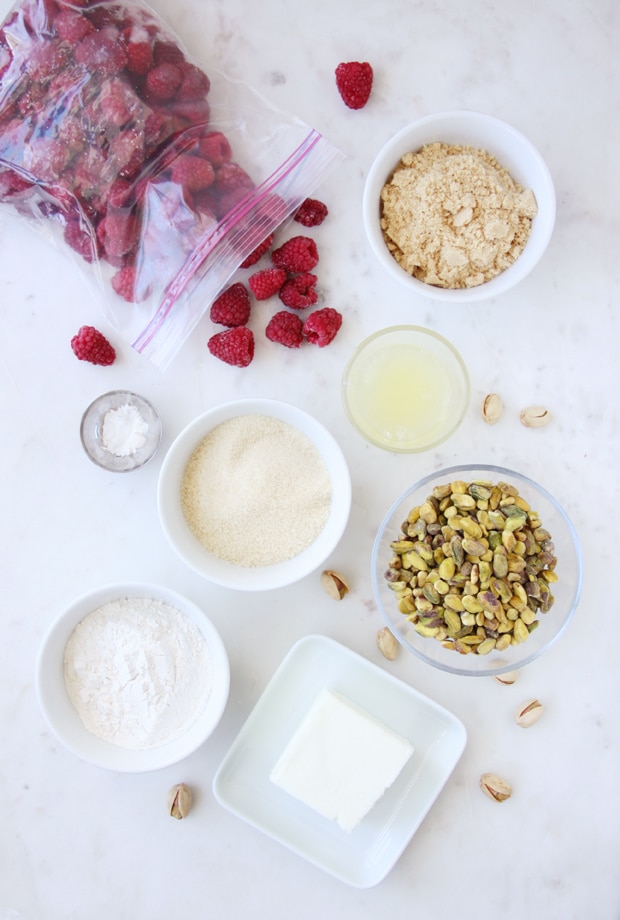 There are many great things about financiers. First, they're very versatile. My recipe uses pistachios, but you could make them the traditional way using ground almonds or switch things up by using hazelnuts or pecans instead.
They're also a great way to use seasonal fruits. You can use cherries, apricots, peaches, or any kind of berries or go for a more delicate taste and grate a bit of lemon, orange, or clementine zest into the batter.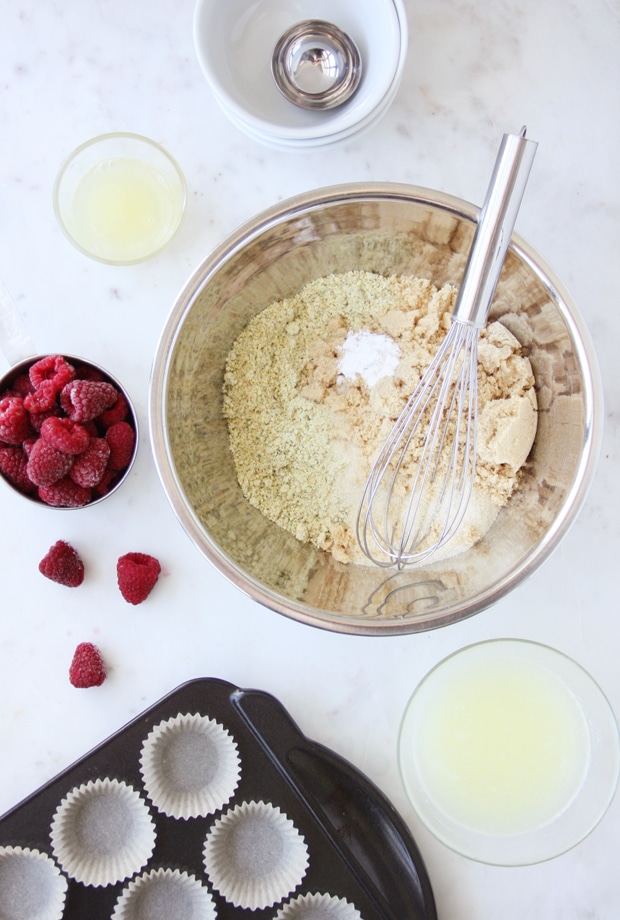 You can make them all year, too. I freeze bags of local raspberries and blueberries in the summer when they're at their tastiest—and cheapest!—and whip up colourful batches of financiers with these frozen gems during bleaker months. I challenge you to find a tastier way to brighten a meal served on a subzero winter night!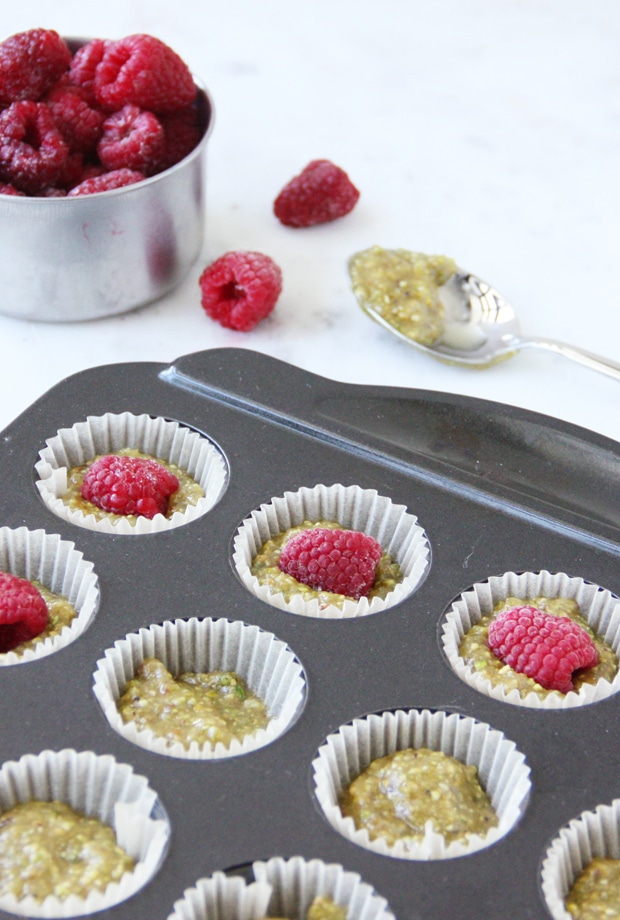 But the best thing about financiers is that they're quick and easy to make. The mix-all-the-ingredients-together-and-bake kind of easy. You can quickly make them last minute or ask the kids to help. You can even make the batter in advance and store it in the fridge for up to two days.
Financiers are at their best when they're freshly baked, so you can just pop a tray in the oven right before dinner and they'll be baked, cooled, and ready to impress by the time dessert o'clock comes around.
This recipe comes from my book, Sweet Spot: Modern, Better-for-You Dessert Recipes, with Clever Tips to Bake (Mostly) Dairy Free, which includes several versatile recipes that use healthy and natural ingredients to create better-for-you, mostly dairy-free desserts.
If you or anyone in your family suffer from intolerances, let me be the bearer of even more good news: you can make dairy-free, and even gluten-free, financiers in a snap. Please refer to the recipe notes for instructions to create these variations.
There's really no excuse not to make this treat at home! When your guests swoon over how elegant and delicious your financiers are, feel free to bask in the glory for a while, but make sure to share the recipe later. Financiers are delightful gems that deserve to be discovered.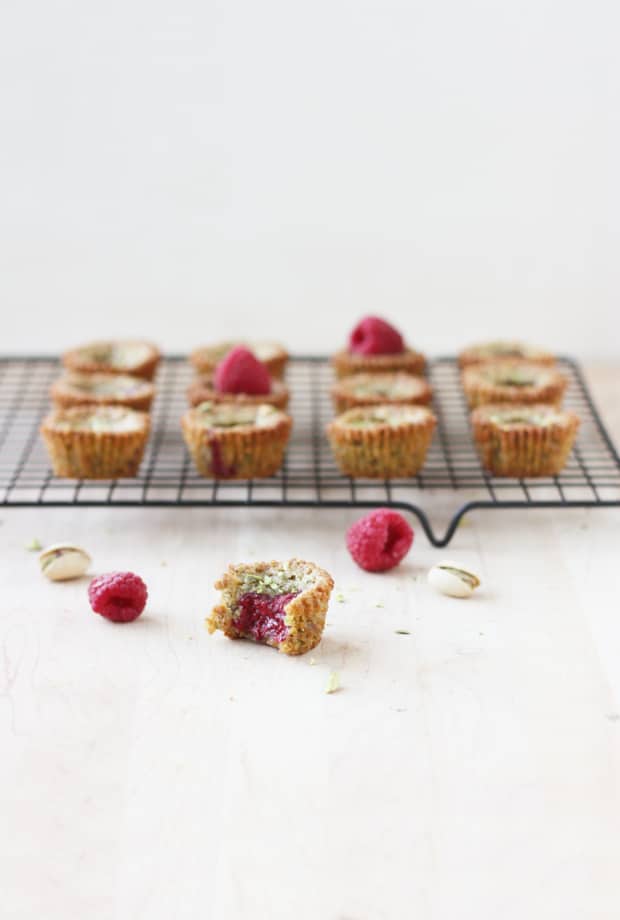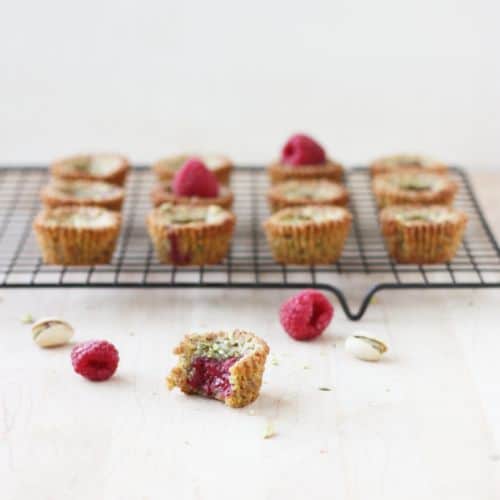 Pistachio and Raspberry Financiers
Elegant but easy financiers to bake with the kids.
Print
Pin
Rate
Servings:
36
mini-financiers, or 18 regular financiers
Ingredients
1/2

cup

unsalted butter

1 stick

1

cup

shelled pistachios

1/2

cup

unbleached all-purpose flour

1/2

cup

cane sugar

1/2

cup

brown sugar

packed

1/2

tsp

baking powder

4

egg whites

feel free to use liquid eggs whites

1

cup

raspberries

washed and thoroughly dried (or frozen raspberries, unthawed)
Instructions
Preheat the oven to 350°F. Grease mini muffin cups with cooking spray, or line with paper cups, and set aside.

Put the pistachios and flour in the bowl of a food processor and pulse until the mixture resembles a coarse powder. Transfer to a large mixing bowl. Add the cane sugar, brown sugar, and baking powder and whisk together. Add the egg whites and whisk until they are fully incorporated and the mixture is crumbly and somewhat sticky. Mix in the melted butter. At this point, the batter can be stored in an airtight container in the fridge for up to 2 days.

When ready to bake the financiers, drop a tablespoonful of dough in each muffin cup. Top each financier with a raspberry. Bake for about 15 minutes, rotating the pan halfway through, until the financiers are golden brown on the edges. Let cool for 10 minutes in the pan and then transfer to a cooling rack to cool completely.
SERVING
Serve the financiers sprinkled with powdered sugar, and topped with an extra fresh raspberry (or thawed frozen raspberry), if desired.
STORAGE
Financiers are at their very best eaten the day they are baked, though they can certainly bear an overnight stay in an airtight container. Or, if you don't plan to eat all the financier the day they're baked, keep the extra batter in an airtight container and use it within the next two days.
Notes
To Make it Dairy-free:
Use dairy-free buttery shortening instead of butter. I use <a href="http://earthbalancenatural.com/product/vegan-buttery-sticks/">Earth Balance's Vegan Buttery Sticks</a>.
To Make it Gluten-free:
Use <a href="http://www.bobsredmill.com/white-rice-flour.html">white rice flour</a> instead of unbleached all-purpose flour.
You can also use regular muffin pans. Grease with cooking spray, then fill each cup with two tablespoonfuls of batter. Top each financier with two to three raspberries, depending on their size, and bake for 20 to 22 minutes, rotating the pan halfway through, until the financiers are puffed and golden brown on the edges.
Aimee's note: This recipe comes from Marie Asselin's beautiful eCookbook Sweet Spot: Modern, Better-for-You Dessert Recipes, with Clever Tips to Bake (Mostly) Dairy Free. She says: "What if you could make sweet treats that are leaner and more nutritious, but still taste sumptuously indulgent? In Sweet Spot, you'll discover modern desserts your guests will swoon over, and only you will know that you actually made healthier choices for them. Enjoy 112 full color pages, more than 60 versatile recipes–all meticulously tested, mouthwatering photography, and clever tips for adopting a (mostly) dairy-free diet. The eCookbook is available in PDF and EPUB formats, and paper lovers can also order a print version of the book.See the official Sweet Spot page for details."
Now, here's an exclusive offer for Simple Bites readers!
Get 25% off the PDF and EPUB versions of Sweet Spot by entering the code SIMPLEBITES upon checkout. Offer valid until March 21, 2016.
Thank you, Marie. Now, Happy Baking and Happy Spring Break to all!