It is a known fact that things don't always go according to plan, and that includes gardening, weather and the seasons.
By now, early August, we should be hauling in tomatoes and cucumbers by the pounds, but the lack of heat has slowed everything down. My garden feels about a month behind; it's looking 'filled in' but not quite 'exploded'.
That's all okay; I'm in no rush for those Romas or striped zucchini, because local berries are still front and centre. U-picks up and down the lanes are broadcasting blueberries and raspberries for the harvesting, and Quebec strawberries abound in the markets. Seasonal eating for us right now means gorgeous, jewel-hued berries enjoyed every which way. From salads to focaccia, pancake syrups to pies — and these breakfast scones, enjoyed on a recent Sunday morning.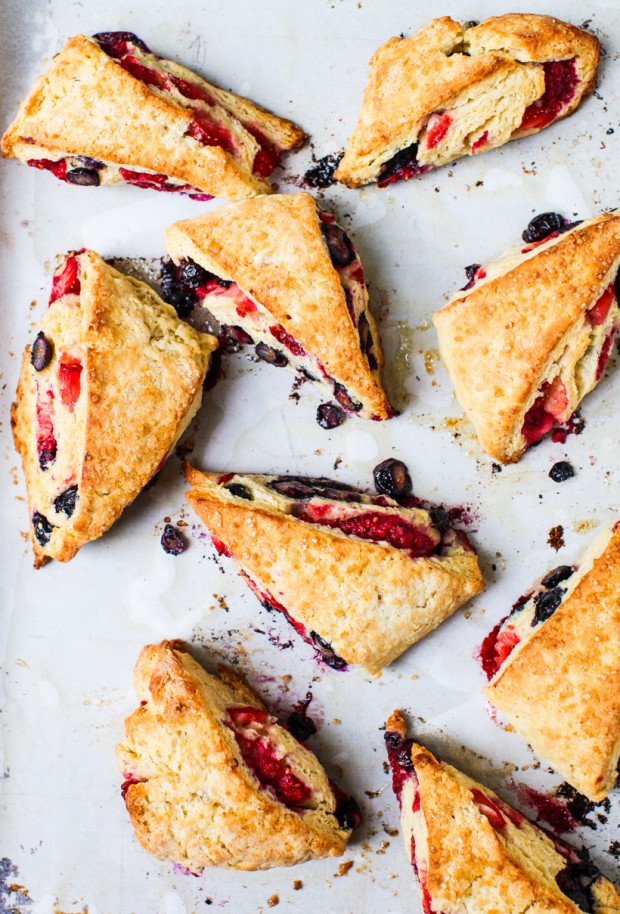 I may have laboured long over the cake, but my older sister, Haidi, woke up early on the morning of our younger sister's wedding and made wild blackberry spelt scones and coffee for about 25 people. Talk about a labor of love. Airy and bursting with the sweetest berries, they kept us going for the better part of the day.
Fresh berries in scones is always a pairing I've avoided for silly reasons. Perhaps I thought they would yield soggy baking? Anyway, I've just always leaned toward dried fruit, citrus zest, candied ginger, and that sort of thing. Totally delicious, as these Cranberry Orange Scones demonstrate, but decidedly not seasonal. My sister's blackberry scones inspired me to break out of a scone rut; well that and the beautiful berries sitting on my kitchen counter.
I've had this stunning recipe from Sarah bookmarked for a while as she is pretty much the expert on baking. Using what I had on hand, and leaving out a few specialty ingredients, I've adapted it into a simple scone that truly highlights those fresh berries.
Yes, it calls for white flour, and includes sugar, but we practice moderation in our home, and a little occasional weekend baking isn't going to send any one of us into some sort of health spiral. Most days we eat vegetables for breakfast or really hearty grains; we can stand some butter and carbs once in a while.
Sarah's recipe is based on a genius method from Cook's Illustrated, which instructs the baker to roll and fold the scone dough to create lovely flaky layers. It's well worth the trouble. Oh and if the whole shaping and adding berries is confusing to you, watch this video from ATC, which is a great visual aid for first-timers.
Triple Berry Scones
Full of fruit and light as air, these beautiful scones are a must for weekend breakfasts in summer.
Print
Pin
Rate
Ingredients
2

medium eggs

1/2

cup

sour cream

or crème fraîche

1/2

teaspoon

pure vanilla

2

cups

organic all-purpose flour

plus more for rolling

2 1/2

teaspoons

baking powder

1/4

cup

raw cane sugar

1/2

teaspoon

sea salt

3/4

cup

unsalted butter

chilled (1 1/2 sticks)

1/2

cup

fresh blueberries

1/2

cup

fresh raspberries

1/2

cup

sliced strawberries

1

egg

1

Tablespoon

milk

sugar

for sprinkling (I used demerara)
Instructions
Preheat the oven to 400F. Slip a sheet of parchment paper onto a rimmed baking sheet.

In a small bowl, beat the eggs with a fork. Add the sour cream and vanilla. Mix well.

In a large bowl, combine flour, baking powder, sugar and sea salt. Using the large side of a box grater, grate the butter into the flour. Use your fingertips to lightly toss the butter into the flour mixture. Add the egg mix to the flour. Fold lightly with a spatula until just combined.

Dust the counter with flour and empty the bowl into the surface. Gather the dough together, pressing it a bit, but not working it much. Dust with flour if needed and roll dough into a 12-inch square.

Fold the dough in thirds, then in thirds again to make a 4-inch square. Return to the bowl and freeze for 5 minutes.

Roll the dough into a 12-inch square. Scatter berries evenly onto the dough and then roll it into a cylinder. Press down gently on the roll to flatten slightly, then cut it into 10 wedges with a sharp knife.

Transfer the scones to the baking sheet. Whisk an egg with 1 tablespoon of milk for an egg wash and brush the tops of the scones (this helps them to brown nicely). Sprinkle with a little extra sugar if desired.

Place on the middle rack of the oven and bake for 20-25 minutes or until golden brown on top. Cool slightly before serving.
Notes
While these scones are best enjoyed on the same day they are made, the leftovers made for a spectacular strawberry shortcake on the second day.
Nutrition
Eat Seasonal: August
Happy seasonal eating in August!