Come with me, if you will, for an afternoon at a sprawling rental cottage on a remote Pacific Northwest island called Cortes. My extended family and I have gathered here for a reunion and the wedding of my younger sister; the last Wimbush sibling is to be married.
For the most part, this is to be a handmade wedding, made entirely possible by our family unit coming together out of love. (Well that, and pound after pound of strong coffee.) It's the day before the wedding and everywhere you look, people are preparing. In a shady patio, under the weave of kiwi vines, my brother and elder sister are hand painting wedding signs on smooth lengths of driftwood. On a nearby table, the bride is arranging sweet peas and foxglove into simple bouquets, rounded out with wild ivy and purple yarrow.
Down on the beach, my brother-in-law is gathering pearly white oyster shells to lay for an aisle and the groom is flexing his muscles while moving driftwood aside for a path. Over by the blackberry bushes that frame our ocean view, Danny is picking berries for the cake, a task only for the brave of heart. He gathers me a great big bowlful, and I simmer the berries with brown sugar and butter into a dark, jammy sauce to serve alongside the cake.
My mother is slicing eggplant, browning lamb, and whisking a bechamel for her famous moussaka, a dish that will feed us all at the end of this busy day. In a back bedroom, tucked away from sight, my mother-in-law is ironing a long white dress with lace and an elegant linen suit. My father is showing a few guests his favourite haunts around the island, and thus doing his bit to keep them out of our hair until dinnertime.
On the balcony overlooking the sea, my sister-in-law is plucking away at a ukulele and rehearsing "I Can't Help Falling In Love With You" for the intimate beach ceremony. A few children are hard at work on handmade cards for the bride and groom, and the rest are hovering around my workspace, hoping for a taste of cake batter. I've got some leftover, so I bake off ten cupcakes and hand them around, much to their delight. First taste of the wedding cake!
The spacious kitchen looks out over a calm ocean inlet, where a few fishing boats are anchored and the tide rises and falls to show off a world-class oyster bed. I've just beat a dozen pale blue and green eggs with sugar and vanilla bean, folded in the flour together with the buttermilk and placed 8 round cakes pans in the oven. I've crossed my fingers that they will bake evenly, and I am flapping my arms at the herd of children that want to run through the kitchen at top speed. "These cakes will fall with all this stomping!" I holler, and shoo them outdoors where they will climb trees for apples and play Duck, Duck Goose on the grounds.
Soon enough I join the cousins under the hot July sun, armed with a wide-brimmed hat and a sharp knife. I walk the gardens of our VRBO and discover enough fruit growing that I decided to garnish the wedding cake with the bounty. My sister and her fiancé are expecting a wee little one in January, and the fruit symbolizes that beautiful new life.
I won't leave you hanging: the cake was completed. It was layered and frosted, stacked and decorated. Over bumpy gravel roads it was transported, and arranged on a table overlooking the ocean. It was cut and fed by the bride and groom to each other. It was sliced and sauced with blackberry compote. It was utterly devoured by thirty or so guests and it was a complete success.
However, as with most of my personal projects, I had my doubts every step of the way.
For starters, there are many opportunities for mishaps when attempting a wedding cake, especially in a rental kitchen on the opposite side of the country. Will I find the right ingredients? For the most part, yes I did. Will they be new-to-me and thus weird? The baking powder was a little strange and over-leavened the cake slightly, so that it rose too high and dripped down into the bottom of the oven.
No, my dear, that smell is not your wedding cake burning……well, actually, it kind of is.
Will I be able to scrounge up enough equipment and tools for all the sifting, measuring, creaming and beating? No. Definitely not. I wasn't able to find a single dry measuring cup in the kitchen! I ended up using a 250mL mason jar and hoping for the best. Looking back, it's a wonder the ratios all worked out. Cake is such a finicky beast.
There was no stand mixer and no whisk. No whisk! There was an old and tired electric hand beater that worked on and off. At least it did the trick for getting my basic buttercream frosting fluffy and light. I think I ran it for 10 solid minutes.
I had the foresight to pack a few items from my own kitchen, though not nearly the tidy list that Bon Appetit recommends (genius!). Two 5″ cake pans, a rubber spatula, a microplane and a small offset spatula
 all came with me and were well used.
The rental did have 8″ cake pans, cooling racks and mixing bowls big enough to allow me to triple my cake recipe, so that redeemed it somewhat.
The offset spatula I brought came in handy for the rustic frosting decorations. I dragged it around and around the sides of the cake while Danny slowly turned the base. Teamwork!
I was originally going to decorate the cake with wildflowers, but I couldn't resist the beautiful local fruits. I skewered them with toothpicks first and then stuck them into the cake to hold them in place. All in all, it was quite sturdy.
My sister snapped this image of me, getting ready to serve the cake. It's really a frame of me at my happiest: dishing up the work of my hands to the people I love the most. Two of my nieces danced up to the table and offered to help, so they sauced the cake with the wild black berry compote and carried the plates around to wedding guests as evening fell on our outdoor celebrations.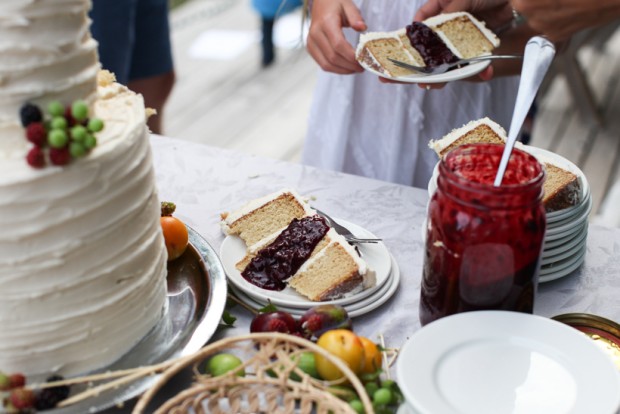 There's always a nagging "What if?" in the back of the cake baker's mind, at least until the creation is consumed and nothing but crumbs remain. Will it slide? Drip? Sag? Will the juice from the fruit leak out and stain the pristine frosting?  Oh, and how folks love to regale you with tales of "this one time" when a wedding cake crumbled/toppled/was decimated….anything can happen.
When the last sliced of cake was cut and served (seconds for many, and thirds for a few) I poured myself a coffee and sat down, the responsibility of THE CAKE now passed from my shoulders. I was so honoured my sister and brother-in-law entrusted this part of their perfect day to me.
I can't wait to do it all over again for the next loved one.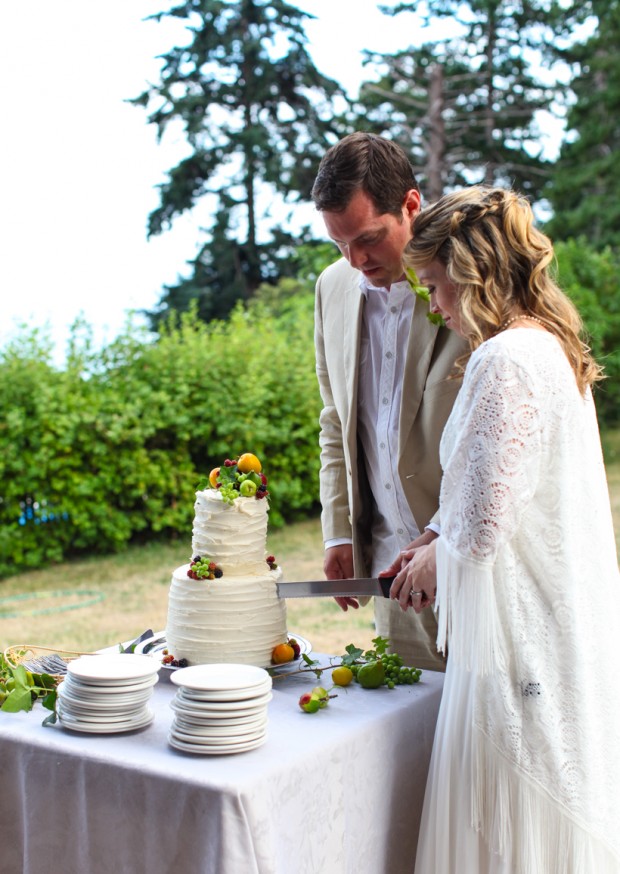 Wedding prep and play (from top left): picking blackberries, oyster aisle, apple picking, flower arranging, blackberry haul, island eggs, cake batter, mum's moussaka, painting signs.