As a child, I can remember my dad occasionally stirring a spoonful of Marmite and a splash of Tamari soy sauce into his morning bowl of oatmeal. At the time, such a combination was of no interest to me, so content was I with a drizzle of honey and a pour of goats milk in mine.
However, I now see the appeal, after a recent success – nay, revelation – with a bowl of savoury steel-cut oats. My dad was onto something, with his decidedly bold umami flavourings first thing in the morning. A man ahead of his time, as savoury oats, kasha, and all sorts of breakfast bowls are trendy right now.
Our family has always been a champion of oatmeal (cookies, muffins, bread, breakfast, cake, scones, baked, instant…) and we are continuing the obsession with today's Savoury Steel-Cut Oats with Ramps, Parmesan and Tamari.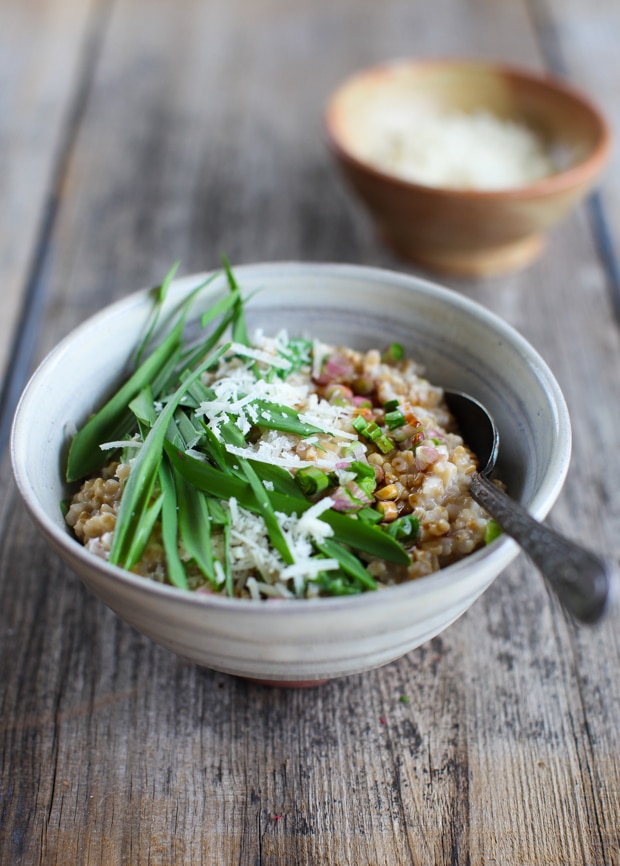 All week long I've been cooking from the oh-so-lovely cookbook Seven Spoons: My Favorite Recipes for Any and Every Day
, authored by my friend, and fellow Canadian mama, Tara. Each and every recipe has been life-altering in a small, but important way. Here I've been cooking ever day of my life for at least twenty years, and Tara is still schooling me. This is why I will forever buy, use and love cookbooks – to further a life-long education on food.
I'll try and briefly share in an upcoming 'weekend links' post about what I've been making, because for now we're going to focus on these savoury oats because they are worthy of our full attention. They are heavily inspired by Tara's recipe for Savory Steel-Cut Oats with Cheese and Spinach, which she tops with her Soused Tomatoes (in garlic, herbs and spices. oh my!).
I didn't have fresh tomatoes as I don't buy them out of season, but I did have ramps. The very first of the year. Clara and I donned slickers and rain boots and walked, oh about 50 paces into the back yard to what I call my 'wild garden'. It's a sizable patch of trilliums, edible trout lilies, and wild leeks or ramps that I semi-cultivate and have seen them thrive over the years.
A small handful of ramp greens (no bulbs, please) as all we needed. I wished for fresh spinach as I passed my raised garden beds, but I won't have it for at least another month. Patience! Back in the kitchen I simmered and stirred the oats, finishing with organic baby spinach (purchased) and freshly grated parmesan.
Just this trio would have been spectacular, but I chopped the ramps and added a splash of tamari on top. Absolutely the best thing I've had in a long time. The creamy, mild oats are the ideal vessel for the garlicky ramps and salty soy sauce. It satiates every comfort food craving – and remains relatively healthy to boot. Here's a dish that hits many of today's healthy buzz words – gluten-free, vegetarian, whole grain – and yet is utterly reputable as just darn good food.
So, I made these savoury oats twice. Once for a week-day lunch, when I shot these images, and then again the next day for breakfast, topped, as you can probably guess, with a fried egg. Oh my gosh. Even better. Danny later told me that the saddest part of his day was brushing his teeth before work because "then the flavour was all gone."
Savoury breakfast bowls are here to stay; I might even bust out the Marmite.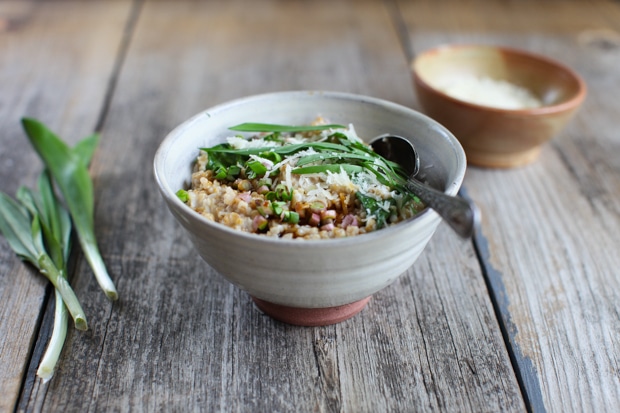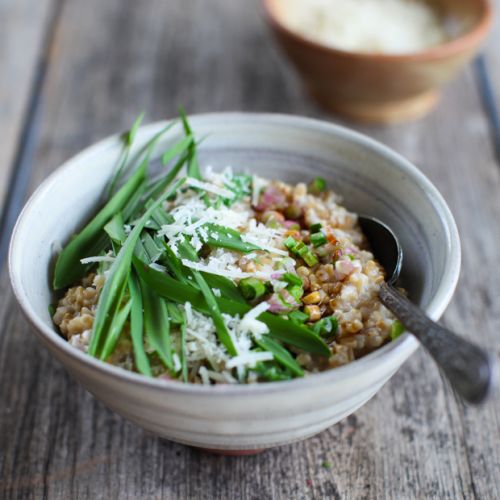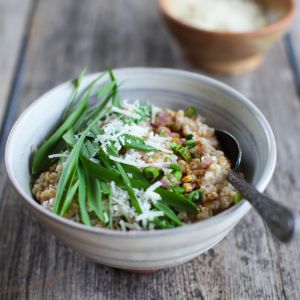 Savoury Steel-Cut Oats with Ramps, Parmesan and Tamari
Jump start the day with a healthy bowl of comfort food that satiates all your salty cravings. Adapted from Seven Spoons by Tara O'Brady.
Print
Pin
Rate
Ingredients
2

teaspoons

butter

or olive oil

1

cup

steel-cut oats

4

cups

water

1/2

teaspoon

sea salt

2

cups

fresh baby spinach leaves

or to taste

3

Tablespoons

freshly grated Parmesan cheese

1-2

teaspoons

Tamari soy sauce

or to taste

Freshly cracked black pepper

4-6

fresh ramp greens and stems

roughly chopped
Instructions
To make the oatmeal, in a heavy saucepan, melt the butter over medium heat. Add the oats and stir them around in the butter until they smell a bit nutty, 3 minutes or so. Carefully pour in the water (it will steam vehemently) and bring to a boil, stirring all the while.

When the oats start to bubble heavily at the edge, about 15 minutes or so, sprinkle in the salt. Keep stirring for 5 to 7 minutes more, until the oats are distinct but creamy and tender. (At this point you can serve up any plain oats for young eaters, because the savoury ingredients are going in next.)

Toss in the baby spinach and stir until it is wilted. Sprinkle in 2 tablespoons of Parmesan cheese and mix well.

Divide the oats among bowls. Top with a handful of ramps, fresh cracked pepper and a drizzle of Tamari. Finish with the remaining cheese and enjoy at once.
Notes
This recipe yields enough oats for four small bowls, and the savoury ingredients are all added at the end. My boys and maple syrup are inseparable, so I scoop out their plain portion first, and then doctor the rest up for Danny and I.
If you're cooking for two or few, make a full recipe of oats, only set aside half at the end of Step 2. Keep them refrigerated for up to 4 days and reheat in a pot with a splash more water.
Nutrition
Calories:
200
kcal
|
Carbohydrates:
29
g
|
Protein:
8
g
|
Fat:
5
g
|
Saturated Fat:
2
g
|
Cholesterol:
7
mg
|
Sodium:
476
mg
|
Potassium:
83
mg
|
Fiber:
5
g
|
Vitamin A:
1755
IU
|
Vitamin C:
6
mg
|
Calcium:
96
mg
|
Iron:
2.4
mg
What's your savoury breakfast go-to?