"Do you have anything I can chop?" When my nine-year-old Noah joins me in the kitchen, this is a question I can expect him to ask every time.
He likes to work on his knife skills, and I require him do so only when I'm right by his side. This is one of the many understandings between us that has been established over years of teamwork. And I mean years.
Noah was my very first sous chef, starting around 15 months, on a chair next to me as I cooked and baked. At four he was making his own sandwiches. At five he was rolling doughnuts and doing most everything on this list of tasks for 3-5 year-olds.
He's always been keen to learn in the kitchen, an in case you were wondering, he knows I'm writing this post and is okay with it. He's all for inspiring other kids to get cooking, too.
Kitchen Tasks for Kids 9 to 11
Now, I should mention that this is a list of tasks that follows up after Kitchen Tasks for 6-8 year-olds. If your child is nine and wants to begin cooking or baking, this list will be too advanced. It's best to back up the to beginning, really, and learn some basics first.
This seems like a good time to look back on one of my favourite posts from the archives: Reader's BEST tips on kids in the kitchen. It's helpful tips for bringing kids in the kitchen from folks like you who have emailed, commented or interacted with me on social media. I know you'll be encouraged as you relate to these honest parents and their experiences.
Breakfast
The boys have been teaming up to make our Saturday pancakes for some time and are actually so speedy, I let them mix and flip pancakes on occasional school mornings now, too. Noah is at the helm and stands at the stove.
He's very capable for stovetop cooking, but I haven't let him use the oven much, save for keeping pancakes warm. This is something we'll work on around age 10 or 11. The same goes for the blender.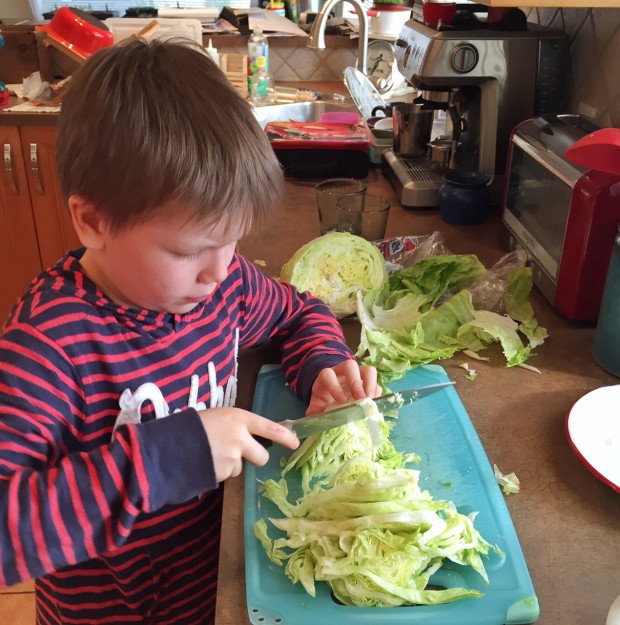 Lunch
Right now the boys are still in school, and although they pack their own lunches most days, there's not much cooking involved. During the summer months, things are different, however. We've got a running list of simple lunch ideas kids can make and make good use of our time in the kitchen.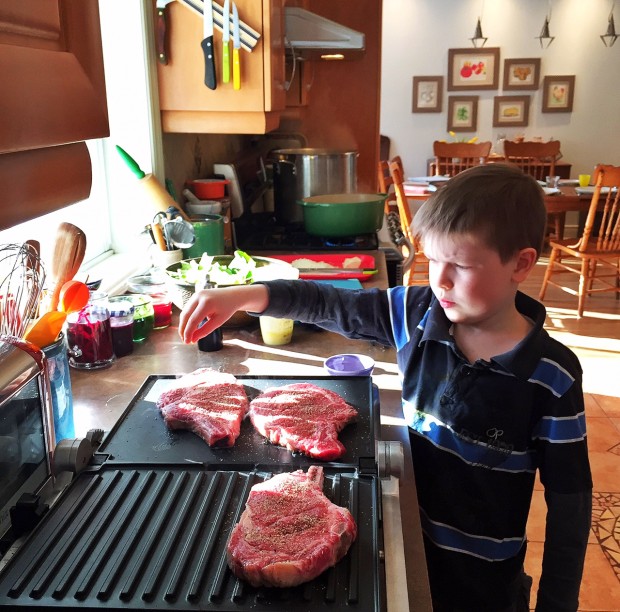 Dinner
It is a very special night indeed when Noah makes us dinner. We've learned that he can't be too tired starting out (say, Friday after a long week of school), or burns or cuts can happen. But a few Saturday's a month, he'll fry steaks and toss a Caesar salad – an absolute favourite of both boys – or prepare a pasta with a simple sauce. Whatever he makes, it is always served with enormous pride and I love that.
Around age 10, children are more than capable of putting together a simple meal. Here are Ten, 10-Minute Meals if you are looking for a good place to start. Alternately, walk your child through the steps of a family favourite and watch him/her memorize the recipe the first time around. Remember, kids are fast learners.
Below are more suggestions for the main meal of the day.
Baking
Treats like crackers to cookies are the gateway to a lifelong passion for baking. Kids gravitate toward baked goods they can shape with their hands (as opposed to things like quick bread) and become hooked on that just-baked, warm-from-the-oven magical taste.
Capture their interest with a project like Soft Whole Wheat Hot Dog Buns for a family camp out. It may take a few attempts to get perfectly proportioned results, but it's more about having fun along the way. Here are a few more ideas:
In case you missed them, here are Part 1 and Part 2 to this series.
What sort of things are your tweens cooking and baking in the kitchen?