When my children first started school, I learned a vital lesson in nutrition, communication, and well, Mothering 101.
Here's what happened: occasionally the boys would come home irritable; falling apart at the slightest grievance, snappy, and unable to focus. I'd power through those tough afternoons, admittedly breathing a sigh of relief when they were down for the night. As part of the evening kitchen clean-up, I'd tidy up their lunch boxes; often so tired or distracted that I hardly noticed what was left over.
Eventually, I connected the dots. On the difficult days, there was considerable leftover food in their lunch. Perhaps they had wasted time during their lunch hour or disliked what I had packed for them, but whatever the reason, their energy hadn't been sustained for the whole day. It was a humbling moment for me as a mother. Of course. I had blood sugar crashes, so why wouldn't they?
We started talking more about their preferences (how fortunate we are to have options). I encouraged them to help me prepare their lunch boxes in the morning and they had more of a say in fruits and vegetables. We baked together on weekends: chocolate chunk cookies, oatmeal muffins, and zucchini bread and froze the goodies for future lunches.
It broke my heart to think of them going hungry at school; I should have communicated better. Fortunately those crotchety after-school attitudes are now a thing of the past.
After that learning experience, I've had a heart for less privileged mothers who daily see the hunger signs in their own school children (oh, how they watch and ache) but are unable to provide even the most basic of lunch.
Today's post is a little unusual, but it is one I am proud to share. In short,  I've partnered with a group of food bloggers to help provide school lunches for South African children. It's really exciting! I'm also sharing a recipe for an absolute favourite (and totally simple) lunchbox staple, so please keep reading.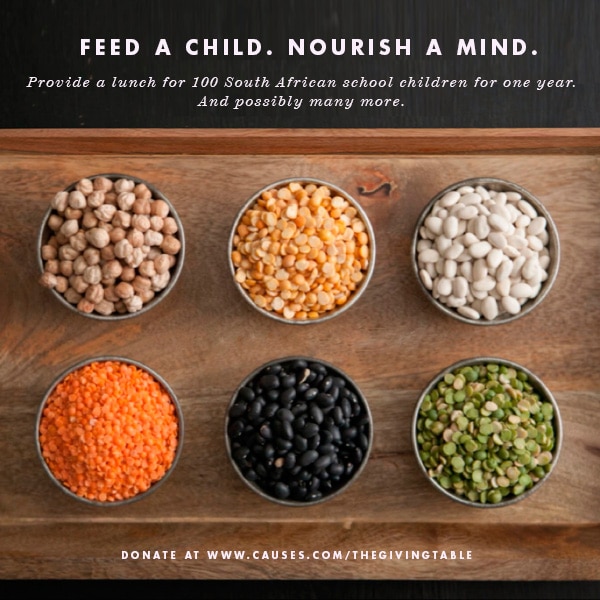 Feed a child. Nourish a mind.
Today I'm collaborating with The Lunchbox Fund, The Giving Table and a host of food bloggers to put lunch on the table for kids just like mine. Our goal is to raise $5,000 to provide a daily meal to 100 South African school children for an entire year. It's entirely possible, with your help.
Children who don't have enough to eat don't have the capacity to work towards a proper education.  I've seen how missing a solid mid-day meal can affect my own children, but these children have daily deficiencies.
The numbers are heartbreaking: 65% of all South African children live in poverty. However, receiving food encourages these children to stay in school and obtain their education. It's a step toward breaking the cycle of poverty.
Oh, and that meal we hope to provide? It's likely to be the only meal these children will receive in a day.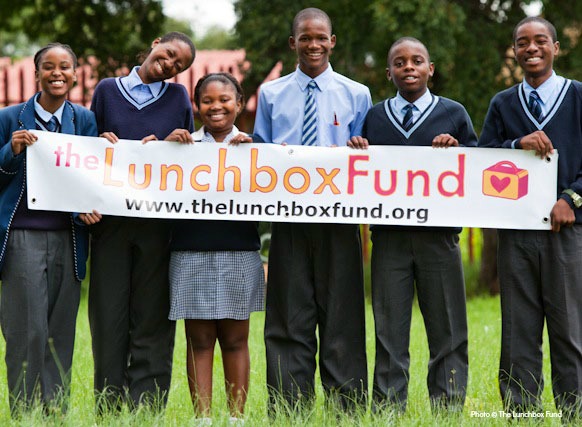 The LunchBox Fund
The Lunchbox Fund has been feeding impoverished and orphaned schoolchildren since 2005. It provides vulnerable students with healthy meals that nourish their bodies and minds. Awesomely, it forms partnerships with locally based NGOs or community organizations in order to evaluate and identify schools. It funds distributors to buy and deliver food, monitor the feeding scheme, implement a Project Manager, and deliver reports back to them for evaluation.
Their video is powerful; I encourage you to watch it and think about sharing it with your children as well. It can be humbling to learn how children halfway around the world live and grow despite their difficult environments.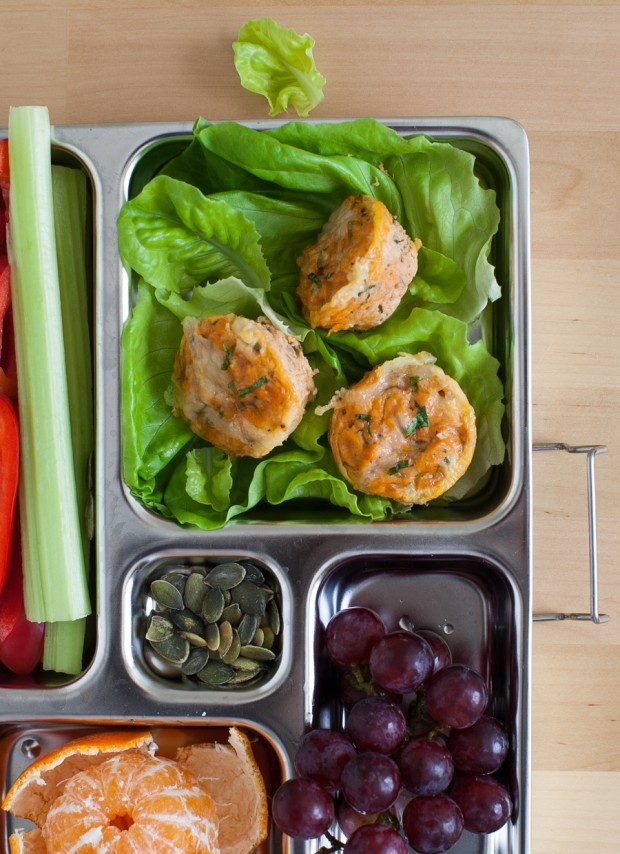 Why school lunch for hungry kids means more to us than Valentine's
Danny and I tend to sidestep most secular holidays, but we do tip our hat to Valentine's Day with a bottle of wine and a special cheese tray. However, this year we've decided to skip that tradition in favour of making a donation to The Lunchbox Fund.
I mean, really. How fortunate are we to be in a position to give when so many are in need? It's a small gesture, and I hope you will be inspired to do something similar. If not passing up a Valentine's dinner, what about a weeks worth of grande lattes? Or the equivalent of a movie pass?
Every little donation can help us reach our goal of providing a year's worth of lunches for these hungry children. You can donate HERE.
Thank you for reading and now onto our recipe!
Tuna Cheddar Lunchbox Bites
We've been getting weary of sandwiches and wraps in our repertoire, but these mini tuna and cheddar bouchés are saving the day, or at least, lunchtime. I've been re-reading Molly Wizenberg's memoir A Homemade Life and her recipe for Bouchons au Thon sparked a flurry of testing in my own kitchen for a kid-friendly, lunchbox version.
Molly's recipe (which I'll keep handy for date nights) features gruyère and creme fraîche, which make for a divine bouchon, no doubt, but they are ingredients that don't make the weekly budget. Instead I use cheddar (my children's' preferred cheese, anyway) and sour cream.
Similar in texture to a mini-quiche, these nourishing, gluten-free bites are filled with cheese, tuna and sweet onion. We love them hot with simple boiled potatoes, or at room temperature, perched on a green salad. We've even tucked them into lettuce wraps for a fast lunch, homemade tartar sauce optional.
They reheat beautifully, which means you can double up on a batch (recommended) and freeze half for quick lunch fixes. Just reheat them from frozen at 350F for 12-15 minutes.
Eggs and tuna not your thing? These lunchbox Baked Chicken Nuggets are another favourite of ours and a great alternative to sandwiches.
Tuna Cheddar Lunchbox Bites
A nourishing, gluten-free mini quiche filled with cheese, tuna and sweet onion. Simple to prepare and very freezer-friendly, these bites are sure to become a new lunch favourite.
Print
Pin
Rate
Ingredients
1

170g can

tuna

drained

1/3

cup

sour cream

3

Tablespoons

tomato paste

1/4

cup

minced sweet onion

2

Tablespoons

chopped Italian parsley

3

large eggs

1/4

teaspoon

salt

1

cup

grated cheddar cheese
Instructions
Preheat oven to 325F and lightly grease a 12-cup mini muffin tin.

Put the drained tuna into a bowl and use a wooden spoon to break it apart into very small flakes. Mix in the sour cream, tomato paste, sweet onion and parsley.

In a small bowl, beat together the eggs and the salt. Add them to the tuna mixture and stir to combine thoroughly. Add the cheese and mix.

Divide the mixture between the mini muffin cups; I used a 1 1/2 Tablespoon ice cream scoop. Bake tuna cheddar bites for 15-17 minutes or until they are set.

Remove bites from oven and let stand in the tins for 5 minutes. Use a sharp knife or offset spatula to loosen around the edges of the bites and remove them from the tin. Enjoy warm or at room temperature.
Notes
These bites reheat beautifully, which means you can double up on a batch and freeze half for quick lunch fixes. To reheat: bake from frozen at 350F for 12-15 minutes.
Nutrition
Calories:
212
kcal
|
Carbohydrates:
4
g
|
Protein:
12
g
|
Fat:
16
g
|
Saturated Fat:
9
g
|
Cholesterol:
162
mg
|
Sodium:
480
mg
|
Potassium:
244
mg
|
Sugar:
2
g
|
Vitamin A:
930
IU
|
Vitamin C:
5.8
mg
|
Calcium:
250
mg
|
Iron:
1.3
mg
What have you been cooking up for lunches these days?