Homemade edible gifts for my children's teachers are a sure thing to leave my kitchen come school's end. I feel like it is the least I can do after the educators have poured their energy into my children all year.
The goodies are our way of expressing our thanks and vary from year to year from chai spiced granola to honey whole wheat chocolate chip cookies. Now before you read on, please understand that I am playing to my strengths here. I'm not trying to make myself out to be some kind of perfectly pinteresting supermom. Making and assembling edible gifts is easy and fun for me, so I run with it whenever the opportunity arises. I couldn't be crafty like my friend Amy if I tried and I don't enjoy shopping, so I head to the kitchen and dream up something delicious.
It's important to me to have the boys get involved in making the gifts to teach them to give back and to show appreciation in a tangible way. This year I had thought about canning something, perhaps strawberry rhubarb jam or strawberry caramel sauce, but I tend to do most of my canning on my own, without three kids 'helping'. They are pretty proactive in the kitchen, but that vat of boiling water still makes me nervous.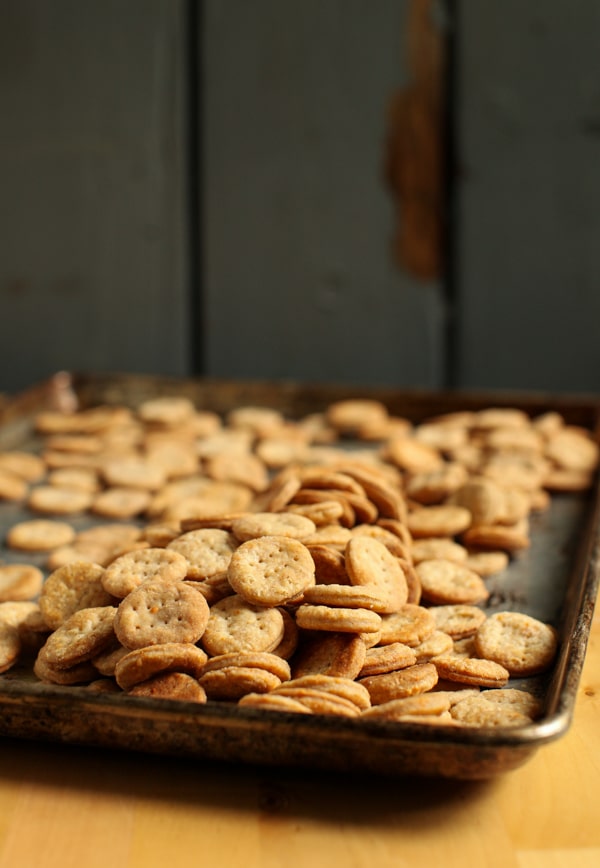 We settled on homemade crackers, a project I expected to be loads of work but well worth the effort. It turns out I was half right. Many hands made light work and we flew through the task, ending up with about 20 dozen absolutely delicious crackers. I even had time to snap a few photos as I knew I had to share both recipes here with you.
If you're into homemade pantry staples, then read on for two recipes: Everyday Wheat Thins and White Pepper Parmesan Coins.
Here's what you need to know about making crackers. First, the dough comes together in about 8.6 seconds in a food processor. Double batch? You bet. Two recipes, back-to-back without washing the processor? Totally. The first batch (the cheese coins) rests for about 30 minutes, while you get started with the Wheat Thins.
The second thing you need to know about making crackers is you have to roll and cut (or stamp) out every. single. one. It could take forever….or you could enlist little hands and then stand back and watch.
They boys had some practice rolling dough with the after school gingerbread project, so they were ready to get cracking, err, rolling. However, the more I think about it, crackers are a remarkably good project for beginner bakers. The cracker dough is quite soft and easy to roll, and each individual cracker must be poked with a fork to eliminate air bubbles when baking and keep them flat.
Mateo was a little jumpy, so I had Noah roll and cut while I handed Mateo a fork. He was able to focus on both transferring the wheat thins to the pan and pricking them with holes. I worked the oven and we had a great little system going.
Yes, we're cutting directly on the table, because we do everything on it from playing in dirt to constructing houses. You may want to roll on a large cutting board or marble slab, if you have one.
We flew through the wheat thins so fast, I decided to cut-out the cheese crackers into coins (note: cutting squares is much faster) since we had the time. I absolutely loved how they turned out. Noah picked up on my speedy trick for cutting out coins and we shared it via a super cute video posted to the Simple Bites Facebook page HERE.
Honestly, if I hadn't had these two helpers, I might be still baking crackers. We put on some music, opened a bag of M&M's (can you spot them?) and got the job done. The boys were so proud of their work on that rainy afternoon, and they still had time to re-watch Despicable Me before dinner time. I'd call that a success.
White Pepper Parmesan Coins
These are by far the better tasting cracker of the two, and only slightly more work. You could make them all cheddar or all Parmesan, but I like the combination of both. Adapted from Irish Pantry by Noel McMeel.
Print
Pin
Rate
Ingredients
1

cup

organic whole wheat flour

1

cup

organic all-purpose flour

1

teaspoon

sea salt

1/2

teaspoon

freshly ground white pepper

1/4

teaspoon

dry mustard powder

3/4

cup

unsalted butter

cold and cubed (1 1/2 sticks)

1/4

cup

freshly grated Parmesan cheese

1/4

cup

grated sharp cheddar cheese

6-8

Tablespoons

ice cold water
Instructions
In the bowl of a food processor fitted with the blade, measure in the flours, salt, pepper, and mustard powder. Pulse a couple of times to combine.

Add the cold butter cubes and process for about 10 seconds or until the mixture resembles coarse crumbs.

Toss in both cheeses and blitz the processor once or twice to combine. Pour in the water, a few tablespoons at a time and pulse the processor to form a dough. You may not need all the water.

Turn the dough onto a clean counter and press into a flattened ball. Wrap well with plastic and refrigerate for 30 minutes.

Preheat the oven to 375F. On a lightly floured surface, roll the dough into a large circle, abut 1/8th inch thick. Cut out small circles with a cookie cutter or a shot glass and place on a rimmed baking sheet about 1 inch apart. Stab each cracker twice with a fork.

Bake for 11-13 minutes (ovens will vary) or until they start to brown ever so slightly around the edges. Remove from oven and cool completely on a wire rack.

Store in an airtight container in a cool place for up to 2 weeks.
Nutrition
Calories:
385
kcal
|
Carbohydrates:
30
g
|
Protein:
7
g
|
Fat:
26
g
|
Saturated Fat:
16
g
|
Cholesterol:
69
mg
|
Sodium:
485
mg
|
Potassium:
101
mg
|
Fiber:
2
g
|
Vitamin A:
790
IU
|
Calcium:
97
mg
|
Iron:
1.8
mg
Everyday Wheat Thins
These crisps have a simple rustic charm to them. They are a little bland so go ahead and pair them with a bold cheese. Adapted from 'Everyday Crackers' recipe in the Irish Pantry cookbook by Noel McMeel.
Print
Pin
Rate
Servings:
3
dozen crackers
Ingredients
1

cup

organic whole wheat flour

1

cup

organic all-purpose flour

1/2

teaspoon

salt

2

Tablespoons

unsalted butter

1

cup

2% milk
Instructions
Preheat oven to 325F.

In a food processor, combine flours, salt and butter. Pulse untll the butter is incorporated.

Pour in the milk, a little at a time, and process until a dough comes together. It should be soft, but not sticky.

Turn the dough onto a floured surface and divide in half. Roll each portion of dough until very, very thin. Cut dough into 2-inch squares and transfer them to large, ungreased baking sheets. You can place them right next to each other.

Poke each cracker several times with a fork (great job for kids!), sprinkle with salt if desired, and place the pan in the oven.

Bake crackers for 18-20 minutes, until lightly browned and crisp. Cool completely on a wire rack.

Store in an airtight container for up to one week.
Is making edible gifts a chore or therapy for you?