I've been camping ever since I was about ten, when my sister and I would sling a backpack of food and blankets into a canoe and paddle off to spend the night on a nearby island.
We'd build beds out of moss, sleep under the stars and wake up early for a dip in the lake. It was completely magical – and I still can't believe my parents let us go! Nowadays, I camp with my young family, crash in a tent and stick to provincial campgrounds over wilderness, but our camping trips are every bit of an adventure as my childhood excursions.
This past weekend we invited a couple of the cousins and grand parents over for a backyard camp out on the summer solstice. It gave us a chance to test out our gear before we head next weekend for two nights of country camping with friends.
It's always a good idea to have a dry run of equipment at home before setting off into the deep woods. We found the tent to be still in fine shape, but discovered a multi-room mouse house in our rickety old camp stove which prompted us to add a stove to the 'replace' list. Ugh.
Left without a camp stove, I decided to cooked the beef patties for our sliders over an open fire, which added a delicious smoky flavour so desirable in camp food. It's not difficult to do, just let the wood cook down to coals, place a grate over top of them and cook on that.
I always brush a little oil on my burgers to prevent them from sticking, and a long handled spatula is best for flipping.
We gathered around the fire and I set up our dinner on the most rustic camp table in the neighbourhood. Remember the great weeping willow that fell last year? We turned the trunk into the base of a table and use our old deck planks for the table top. It's a bit of an eyesore, but it works and it was free.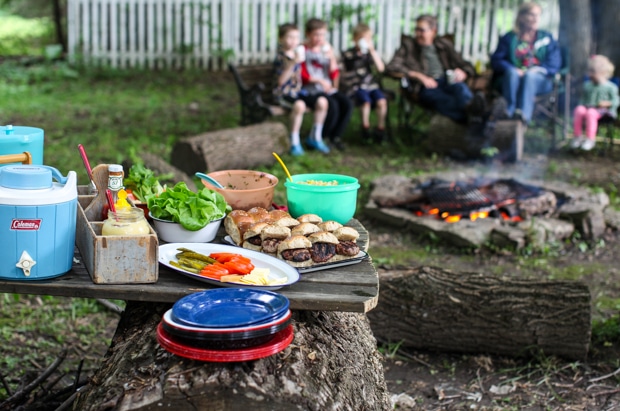 Our Backyard Camping Menu:
Whole Wheat Buttermilk Buns. This recipe, doubled, and baked side-by-side in a rimmed sheet pan.
Beef Sliders. This recipe, minus the blue cheese.
Assorted topping and condiments for the sliders.
Pasta Salad, my mother-in-laws, which is similar to this one.
Vegetables & Dip
S'mores Bar.
A S'mores bar is something we'll do once over the summer. Camping desserts for us are usually fresh fruit or bananas baked in the coals, but we do splurge on sweets once in a while. I made my Toasted Coconut Marshmallows as well as a pan of plain vanilla and we sandwiched them between gingerbread and graham crackers with slivers of dark chocolate.
We lingered around the fire until the chickens went groggily up to roost and the fireflies came out. The little girls went to bed first (indoors), while the boys had hot cocoa in their pajamas and then headed to the tent and threw themselves onto the mound of air mattresses, sleeping bags and pillows. (I'll skip over the following two hours of roughhousing and general tomfoolery.)
Morning comes early when you are camping. It's the birds, singing (or screeching) to high heavens, that rouse even the heaviest sleepers. Our boys tumbled out of the tent around 6:30 inquiring about breakfast, of course, Fortunately I was ready for them.
Cooking camp breakfast over an open fire is my strong suite. Equipped with a pair of tongs and a 10-inch cast iron skillet, I turned out bacon and eggs, hash browns and perogies while still in my PJ's. Coffee and fruit waited on the table and my sister in law, Melanie, contributed her delicious scones with lemon curd.
Everything was prepped the day before, which made it easy to cook for the 12 of us. Bacon was baked ahead of time, potatoes and perogies par-boiled, and the fruit platter assembled. We downed two pots of coffee and nearly 2 dozen eggs. The fresh air helps you work up an appetite, that is for sure.
I didn't eat all day after this feast, and our supper was a light green salad picked fresh from the garden. Balance is key, right?
We lingered over breakfast for nearly 2 hours, while the sun rose in the trees behind our campsite and the fire crackled merrily in the centre of our family circle. It was a delightful start to the summer and a good dry run at camping. Next weekend, we're on our own!
We've talked before about ideas and equipment for campfire cooking (a must-read) but I wanted to leave you with a recipe for the Smoky Sour Cream and Onion Potato Packets I prepared.
If you are truly camping in the bush, a substantial breakfast is a must to provide energy for the day. I prefer potatoes to bread (they don't go stale, for one thing), especially when paired with eggs.
Smoky Sour Cream & Onion Potato Packets
These potatoes can be prepped the day before and transported to your camp site. They are soft in the centre with crispy edges and delightfully smokey.
Print
Pin
Rate
Ingredients
1

lb

Yukon Gold potatoes

scrubbed

1/2

red onion

chopped

2

Tablespoons

olive oil

1/2

teaspoon

salt

1/2

teaspoon

freshly ground black pepper

3

green onions

sliced

1/2

cup

sour cream
Instructions
Dice potatoes into 1-inch chunks. Place in a pot and cover with cold water. Bring to a boil, cook for about a minute, then drain and cool completely.

In a bowl, toss potatoes and red onion together with the olive oil, salt and pepper. Transfer to two large squares of aluminium foil and wrap up into airtight packages.Refrigerate the foil packets until ready to cook.

Rake the coals of an open fire until they are flat with no flames. Place the packets on top and cook for about 10 minutes per side. Use tongs to flip the packets. Check on them occasionally to make sure the potatoes are not burning. If they are, move off the coals and onto the hot ashes.

Open the potato packets and sprinkle generously with chopped green onion. Serve at once with plenty of sour cream.
Nutrition
Calories:
295
kcal
|
Carbohydrates:
48
g
|
Protein:
9
g
|
Fat:
7
g
|
Saturated Fat:
4
g
|
Cholesterol:
19
mg
|
Sodium:
320
mg
|
Potassium:
224
mg
|
Fiber:
4
g
|
Sugar:
3
g
|
Vitamin A:
235
IU
|
Calcium:
86
mg
|
Iron:
2.5
mg
What is a camping meal you enjoy cooking?