It's the time of year when families are grabbing their blankets, packing their coolers and heading to their favorite picnic spot. Nothing says summer like an afternoon of picnic fun with family and friends.
Don't let your plans for the perfect picnic get overshadowed by unsafe food handling and storage. Armed with a few picnic food safety tips, you can keep the good times going while keeping food borne bacteria and illnesses at bay.
Simple Tips for Keeping Your Picnic Food Safe
Pack your food carefully. Picnic baskets are great for taking along dry goods such as crackers and breads. However, if you are taking along cold perishables, be certain to bring along a cooler filled with ice. Anything that you would keep in the refrigerator at home needs to be packed in a well-iced cooler until it is time to eat.
Pack your food in separate food storage containers with tight fitting, sealed lids. You don't want your dessert seeping out of its container and getting mixed up with your salad.
When you are done eating, put the food away. Once you are through eating, resist the temptation to leave the perishable items out for people to snack on the rest of the afternoon. Anything left out in the heat for longer than 2 hours needs to be tossed in the trash because of increased risk of spoiling and bacteria.
Wash your hands. It is important to wash your hands when you are handling food, but it is easier to forget this habit when you are outside at a picnic. Pack hand-sanitizer and wipes for a quick and effective hand cleaning before sitting down to eat your picnic food.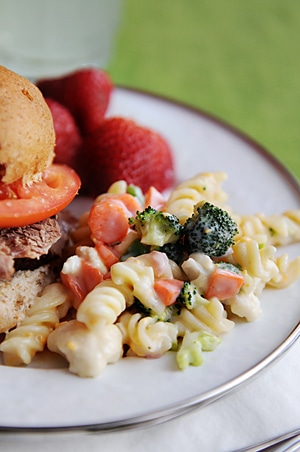 All photos by Kristen Doyle of Dine & Dish
Recipe: Garden Vegetable Pasta Salad
This pasta salad is one of our favorite picnic foods…fresh summer veggies, pasta and a delicious sweet dressing make this a popular dish wherever we go. As the salad is mayonnaise based, make sure to store out of the heat and keep the food safety tips recommended above in mind. Enjoy and happy picnicking!
Serves 10.
for the salad:
16 ounce Rotini pasta, cooked
1 small onion, diced
3 stalks of celery, diced
5 carrots, diced
2 cups fresh broccoli, chopped
2 cups fresh cauliflower, chopped
1 green bell pepper, chopped
1 cup cooked ham, cubed
1 cup shredded cheddar cheese
for the dressing:
1 cup sour cream
1 cup mayonnaise
1/2 cup Italian dressing
1/2 cup cider vinegar
2 Tbsp raw cane sugar
method:
Place salad ingredients in a medium sized bowl and toss.
Place dressing ingredients in a small bowl and whisk together.
Pour whisked dressing over pasta salad ingredients and toss.
Refrigerate overnight and serve chilled.
What is your favorite food to take on a picnic?