If you're just catching up, I've officially declared this the Summer of the Picnic.
Now that we live just a short drive away from the Atlantic Ocean, the coastline beckon to us on sunny days. I've always got a basket at the ready and a plan of action for transporting our meal.
I've always been a picnic enthusiast, no matter the season. When the kids were little we bundled up for snow picnics, complete with hot cocoa and warm cookies.  My backyard garden inspired many a vegetarian picnic, and I've always found a reason to plan a fall picnic. They are good, simple family fun and we make the best memories every time we adventure out of doors with our dinner.
Earlier this spring, I did a massive sorting of all of my picnic gear and found I had plenty to spare. I decided to put together a few baskets for sharing around my community – zero-waste, plastic free picnic baskets with everything required for an outdoor feast.
The Community Zero Waste Picnic Baskets
These fully-prepped baskets are my small attempt to enable folks who may not have all the gear to get outside with their friends or families. I've set them up to be completely plastic free and as eco-friendly as possible. This means cloth napkins instead of paper, melamine dishes instead of Styrofoam and enamelware cups instead of plastic – and that's just the start.
Once I had assembled the baskets, I share a few photos on my social media channels and offered them free of charge to my local community. The requests slowly started coming in and we were off!
I do require the borrowers to treat my picnic baskets as their own and return everything clean. So far, so good. I consider this a step in the right direction for sustainable community building.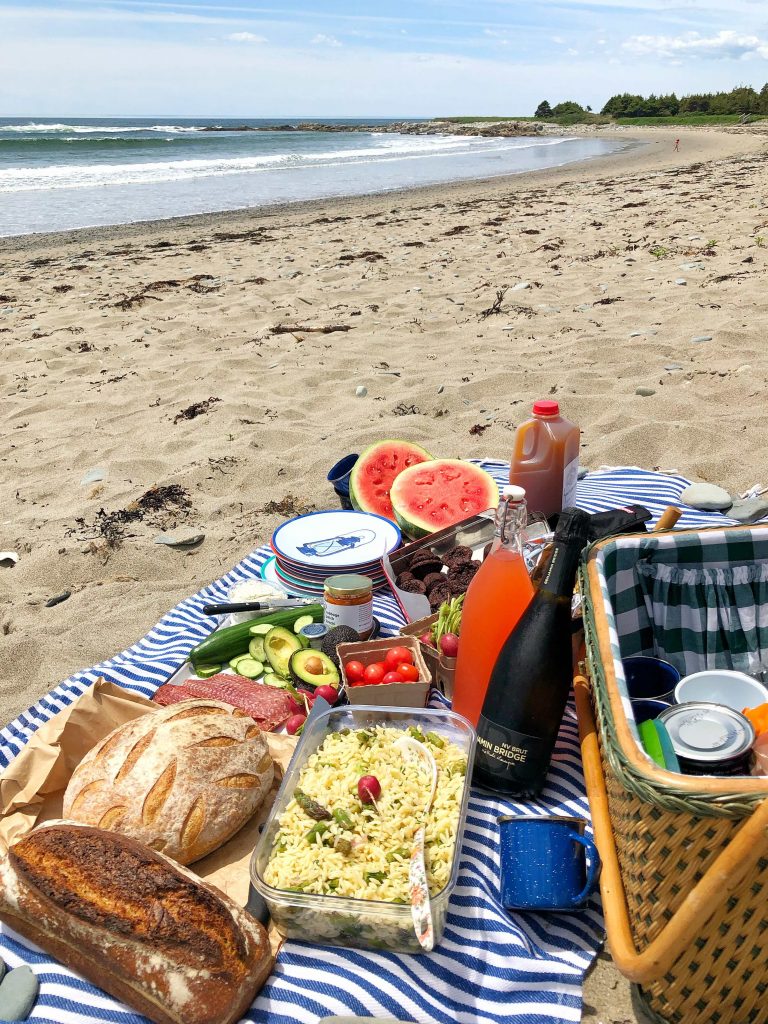 Here's what is in the baskets! Perhaps you'll borrow this idea and make your own zero-waste community picnic basket, too.
Picnic Set for 2 (photo below)
2 enamelware plates
2 bamboo utensil sets
2 cloth napkins
2 enamelware mugs
mini wooden cutting board/platter
Small thermos
berry baskets
small jars
pocketknife
Large Picnic Basket for 4+ (pictured below)
8 melamine plates
4 melamine bowls
6-8 enamel cups
6 cloth napkins
1 tablecloth (round)
roll of Coleman silverware (set of 4)
Berry baskets
Pie/cake server
serving spoon
corkscrew
compost bag
silicone cutting board
Large hot/cold thermos
few small jars jars
1 pop-top glass bottle
salt and pepper shaker
pocketknife
Nearly all of this lovely gear is thrifted or gifted. My baskets are from garage sales and the contents have accumulated over the years. It's so fun to have it out of boxes after a long winter – and an out-of-province move.
Here's to many more picnics and a summer spent exploring Nova Scotia from end to end.
Are you a picnic enthusiast? What do you think of a shared community picnic basket?