I count myself among those who have realized that the act of gathering is much more important than a styled table or fancy food.
When I take a close look at the modern dinner party these days, I feel like it is about embracing the simpler things in life and valuing relationship above all else. We're busy people, and getting together with friends is sacred in this digital age because face-to-face interaction is essential for true community.
My table – indoors and out – is going to be packed this summer; not only do we have a stream of family members coming to visit, but we're making friends here in our new province. Everyone is invited over, basically, beginning with my cookbook club in June. Hooray!
So with summer entertaining kicking off I thought we'd take a look at the modern dinner party here on the blog. Read on!
Nearly all photos by Tim Chin
How to Host a Modern Dinner Party
Hygge-style dinners have been on the rise for a while as people are embracing the Scandinavian-inspired comfy and cozy vibe over a stiff and formal setting. And thank goodness for that, especially for people like me who still don't own a matching set of wine glasses.
I love this shift from entertaining to hospitality, when the focus moves from you, the host (and that perfectly set table), to the guest, and their comforts. For me, this is the simple difference between entertaining and hospitality: less show and more soul.
Creating a hygge atmosphere in summer is just as fun as in winter. Think patio string lights, soft cloth napkins, a seasonal menu and a table full of friends.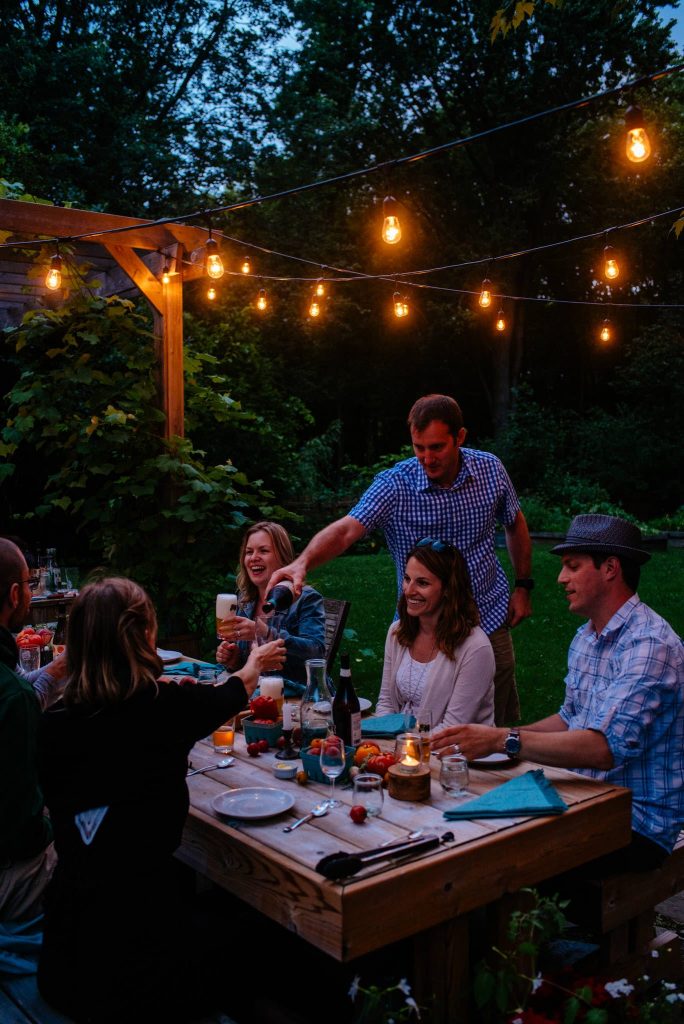 I remember when the popular website Kitchn defined a recent trend as the 'crappy dinner party'', a backlash to the Instagram-perfect parties showcased by lifestyle bloggers, and yes, food bloggers. The crappy dinner party is a low-key, come-as-you-are gathering, just friends connecting with friends over a plate of food and a drink or three.
Table dressings at these relaxed dinner parties are minimal, often mismatched plates and forks directly on the wooden table. The chairs are assorted, of course, because who has a dozen matching dining room chairs?
Zero waste is on the mind of the modern host, who avoids disposable dishes and uses the everyday stuff, along with thrifted cloth napkins and chilled tap water. They also aren't shy to speak up and ask for help doing those dishes, either. The party carries on in the kitchen, as plated are loaded into the dishwasher and wine glasses are polished.
Centerpieces often come together from items that the host already owns or has bought locally: small bunches of herbs as mini bouquets, tea lights in mason jars, branches or pinecones from the park or forest, seasonal fruits and vegetables (my favourite).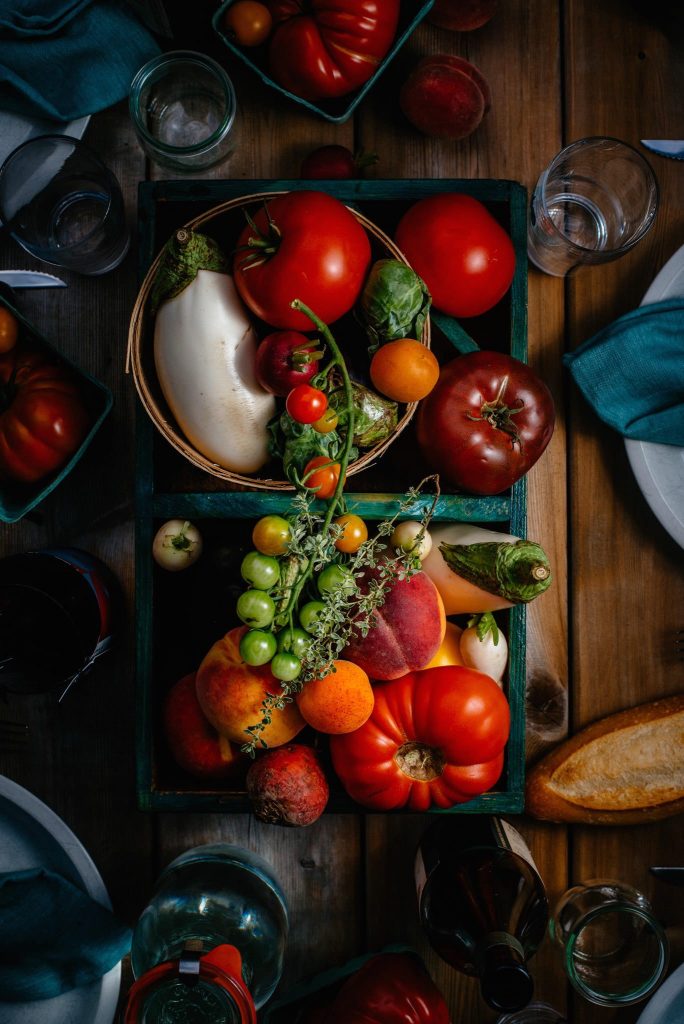 Foods are uncomplicated; it's often one-pot affairs, such as a simple seafood stew or sheet-pan supper. The host has wisely delegated aspects of the meal to willing guests and they show up with a pasta salad or summery sheet cake or a few wedges of cheese and a jar of nuts.
The modern host knows their way around the grill and isn't afraid to throw on piles of vegetables along side the meat, as they are eco and budget conscious, too. Food sustainability is a topic of conversation.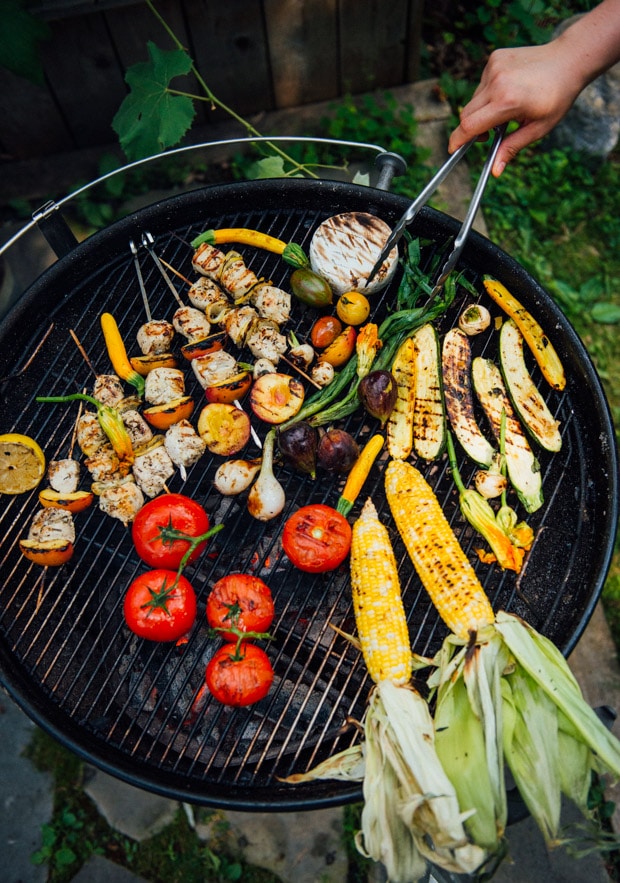 Fresh, local and seasonal eats are common themes throughout the modern dinner party menu, as they should be. The dishes are globally-inspired now, no longer merely variations on North American meat + potatoes.
I've seen a trend away from the bread basket filled with crusty baguette or soft rolls and instead an extra vegetable side dish or two is added in. This dish usually features seasonal produce, prepared simply, like this Fresh Tomato and Peach Caprese Salad.
This way of eating makes so much sense, especially in summer.
The dishes are placed in the centre of the table where folks gather around and help themselves, family-style. The meal is relaxed, slower, with young children coming and going.
From my experience, there's always a place for children around this table. Mothers bounce a baby on their lap or entreat a toddler to stick around long enough to warrant a bowl of ice cream.
The children learn the importance of these gatherings, mostly through the commitment their parents make to show up. Showing up speaks volumes about the crucial value of face-to-face connections in a digital world.
Music sets the tone of the modern dinner party. Cranking some tunes just might be the easiest way to warm up a room full of people – whether you're the type to plan a playlist in advance, or just read the room and pick a Spotify station.
This summer, I predict that there will be even more casual gatherings between friends to share a meal. The house won't always be clean and the food might night be fancy, but it is enough just to be together. In the busyness of life, a crappy dinner party, shared with the ones you love, is enough.
Pro tip: keep the gathering out of doors (such as an old fashioned pie social) and then there's no need to clean house.
My advice? Stress less. Let your dinner parties be spontaneous and simple, and leave the well-thought out affairs to a host who thrives on entertaining. Both events are equally valuable, as any effort that brings friends together for a meal is worthwhile.
Live in the moment and relish the community you've created by embracing the modern dinner party.
Friends! Leave a comment and tell me about your modern/crappy/casual dinners with friends. I'd love to hear about how you gather.