Today's recipe is everything you've been looking for in a summer cake: it's simple to make and spotlights the most beautiful fruits of the season.
If you've got an event to celebrate this month but you don't want to spend the whole afternoon in the kitchen, then you are going to love this Yogurt Sheet Cake with Summer Berries. Or perhaps you are looking for an original dessert to bring to a weekend pot-luck? This recipe is a guaranteed crowd-pleaser – and a bit of a show-stealer, too.
Best of all, you can get the kids involved in a little kitchen project, because anyone can decorate this cake. Bonus point for picking your own berries!

All images by Alison Slattery
Over the summer, I usually bake up a stream of crisps, cobblers, pies and galettes, all bursting with seasonal fruits and berries – so I don't end up making very many cakes. I think the last one I layered and frosted was my Lemon Berry Stripe Cake to mark the Royal wedding in May.
But a significant July birthday for a special someone (Danny!) called for a celebratory cake and so Clara and I decided to have some fun.
I chose a simple sheet cake that would hold up well in the heat; no buttercream frosting, thank you very much. This one sat outside in a heat wave for an hour, and was as pretty as when we started.
Adapted from an old Gourmet magazine recipe, this cake has been in my repertoire for years. I love it, not just for its simplicity, but for its tender crumb too. No doubt the cake's moistness is a result of the two cups of yogurt, and the addition of cake flour keeps it light as a feather.
A 9×13 cake offers a blank canvas for decorating and the possibilities are endless. Now sure, you can heap on the macarons and dust the whole thing with sprinkles, like my Perfect Chocolate Cake, but it's July, and we've got berries.
Thanks to the heat we've been having, our raspberry bushes are doubled over with the weight of their berries, and our neighbour has offered us his row of red currant bushes, ripe for the picking. The local u-pick still has strawberries and now the blueberries are ready, too.
At the markets, we also found blackberries and bright green gooseberries, so we gathered a bit of everything for this kitchen project.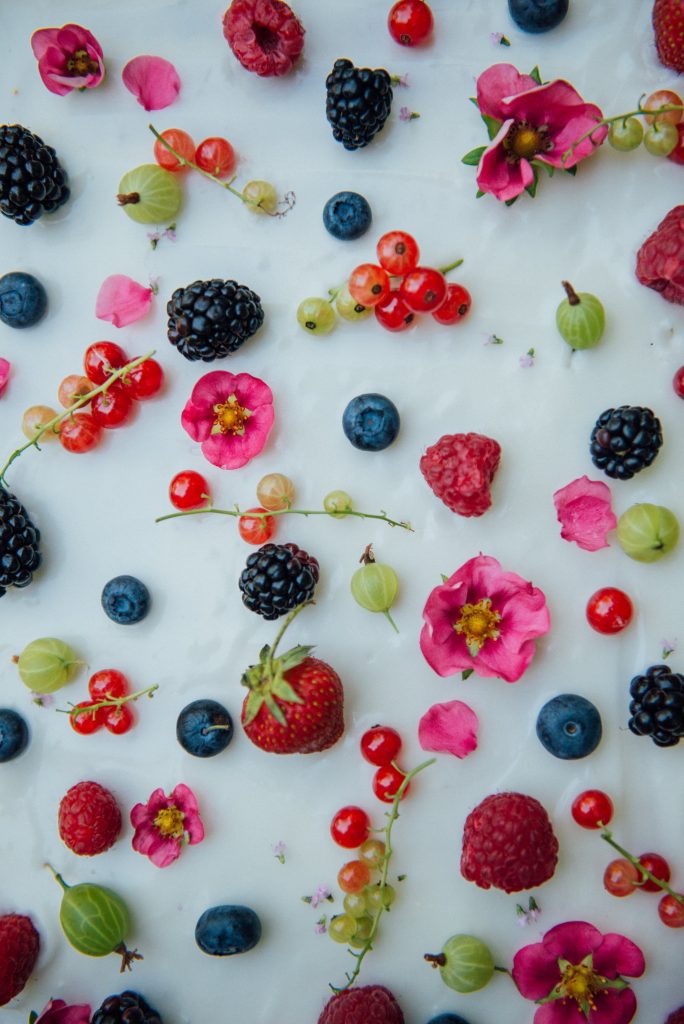 This cake beautifully showcased the gorgeous seasonal berries in the most simple way: presented like jewels on a glossy vanilla glaze. The glaze is whisked up in a bowl, poured over the top and left to run down the sides in the true unhurried fashion of lazy summer cooking.
Pair this cake with any berries or fresh fruit that you like; whatever is gorgeous and ripe at the market or in your backyard. Cherries, sliced peaches or ripe apricots would all be scrumptious, or just use every berry you can find, like me!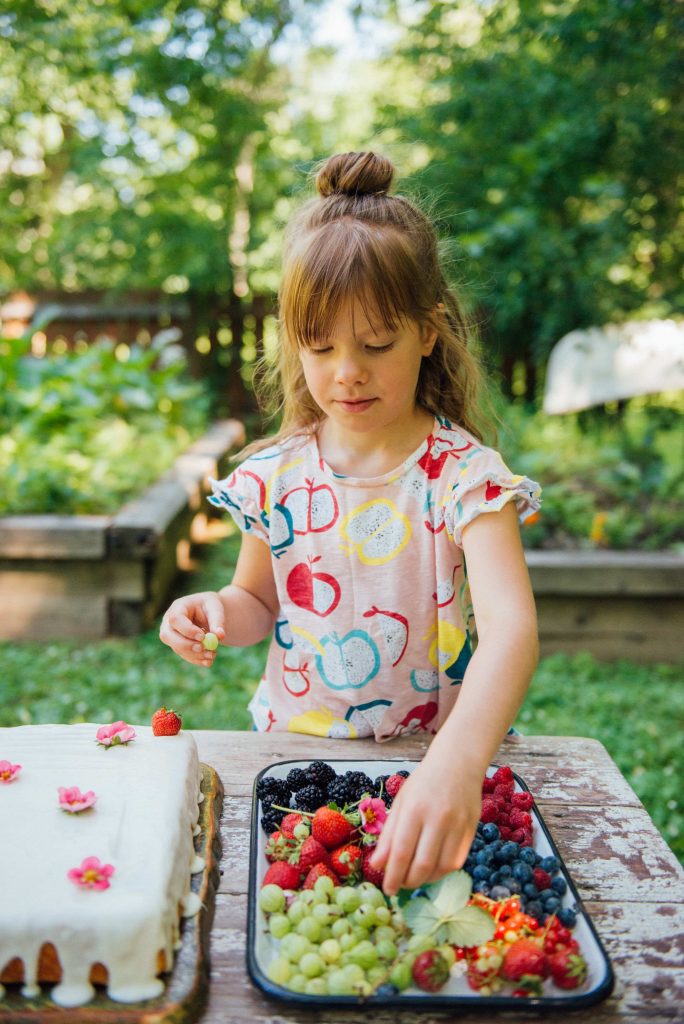 The children are home with me for the summer, so any time I can include them in a kitchen project, I will. Clara not only helped bake the cake, she also picked some of the berries and created the beautiful arrangement on top. I could see us making this again for a tea party with friends or bringing it with us on a picnic playdate.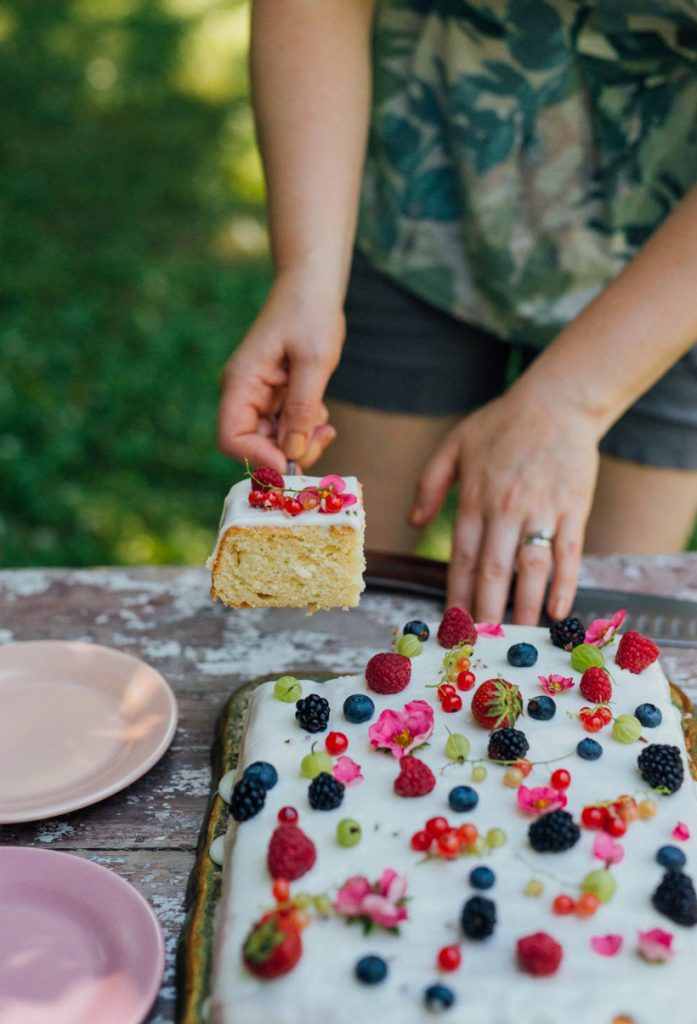 We restrained ourselves when decorating the top of the cake, as we wanted an artful presentation, but once the cake is cut and served, don't hold back. Heap those warm, sun-ripened berries onto the plates because our summers are short, and these gems don't last long.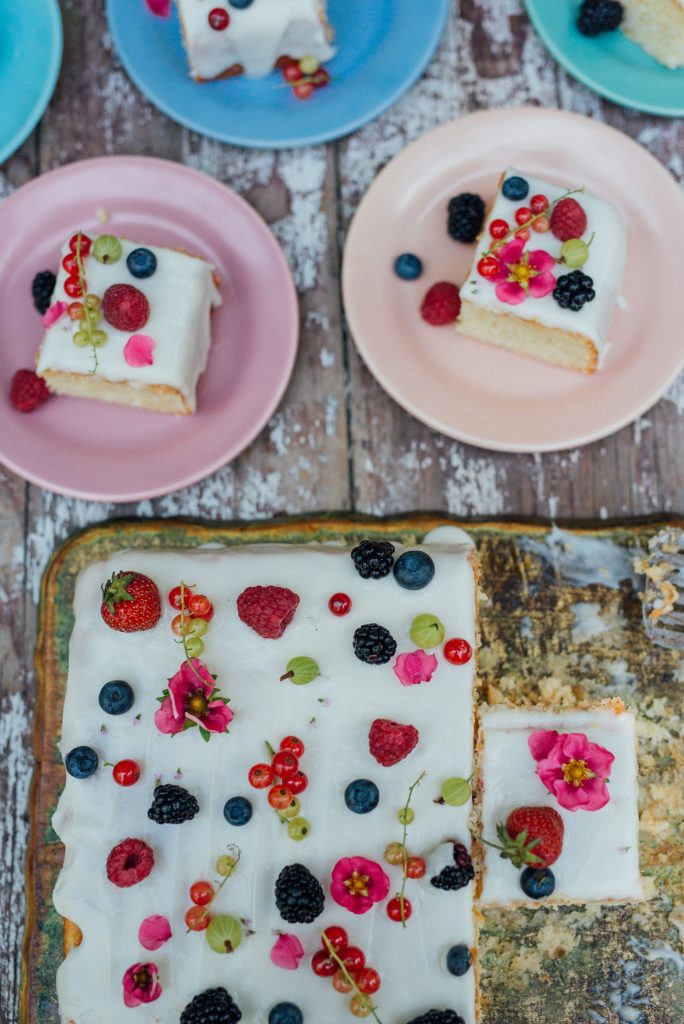 The yogurt cake feeds a good crowd – a dozen generous slices – but it's just as delicious on the second day. As with all cakes, let it come up to room temperature, berries and all, before serving.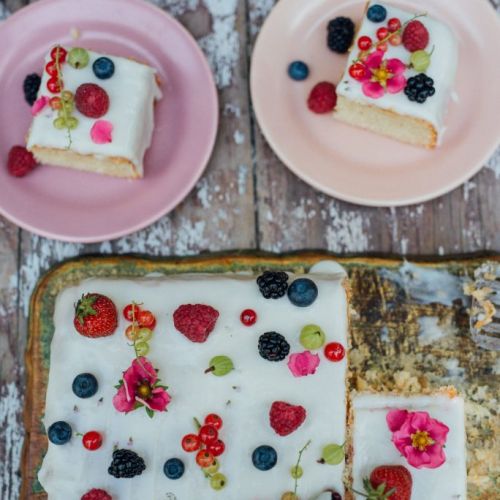 Yogurt Sheet Cake with Summer Berries
Celebrate summer without spending the whole afternoon in the kitchen. A simple and sensational vanilla cake.
Print
Pin
Rate
Ingredients
For the cake:
3

cups

sifted cake flour

not self-rising; sift before measuring

2

teaspoons

baking powder

1

teaspoon

baking soda

1/2

teaspoon

salt

1

cup

unsalted butter

softened

2

cups

granulated sugar

2

teaspoons

pure vanilla extract

1

grated zest of a grapefruit

3

large eggs

room temperature

2

cups

Liberté Classique Plain 2% yogurt

at room temperature
For the glaze
1

Tablespoon

creamy honey

2

Tablespoons

light corn syrup

1/2

cup

heavy cream

1/2

teaspoon

pure vanilla extract

3

cups

confectioner's sugar
Instructions
Method for Cake:
Preheat oven to 350°F with rack in middle. Butter a 9x13 cake pan, then line bottom with a rectangle of parchment paper and butter the parchment.

Sift together cake flour, baking powder, baking soda, and salt.

Beat together butter and sugar with an electric mixer at high speed until pale and fluffy, 3 to 5 minutes. Add vanilla and grapefruit zest.

Beat in eggs, 1 at a time, at medium speed. At low speed, mix in flour mixture in 3 batches, alternating with yogurt, beginning and ending with flour mixture, and mixing until just combined. Spread batter evenly in pan and rap pan on counter several times to eliminate air bubbles.

Bake until cake pulls away from sides of pan and a wooden pick inserted in center comes out clean, 40 to 50 minutes. Cool in pan 10 minutes, then run a knife around edge. Invert onto a rack and discard parchment. Cool completely, about 1 hour.
Method for Glaze:
In a medium bowl, whisk together honey, corn syrup, cream and vanilla. Add in the sifted icing sugar and whisk until smooth.

Place the sheet cake on a platter and pour the glaze over the top in a thick layer. Note: if icing is too thick to pour, add a few more teaspoons of cream. Spread the glaze all over the cake with a spatula, letting it run down sides. Let icing set at least 15 minutes.

Decorate cake with with plenty of fresh berries, edible flowers and seasonal fruits.
Notes
Do ahead: Cake can be made and iced 1 day in advance. Cover and keep cool.
Nutrition
Cake is served!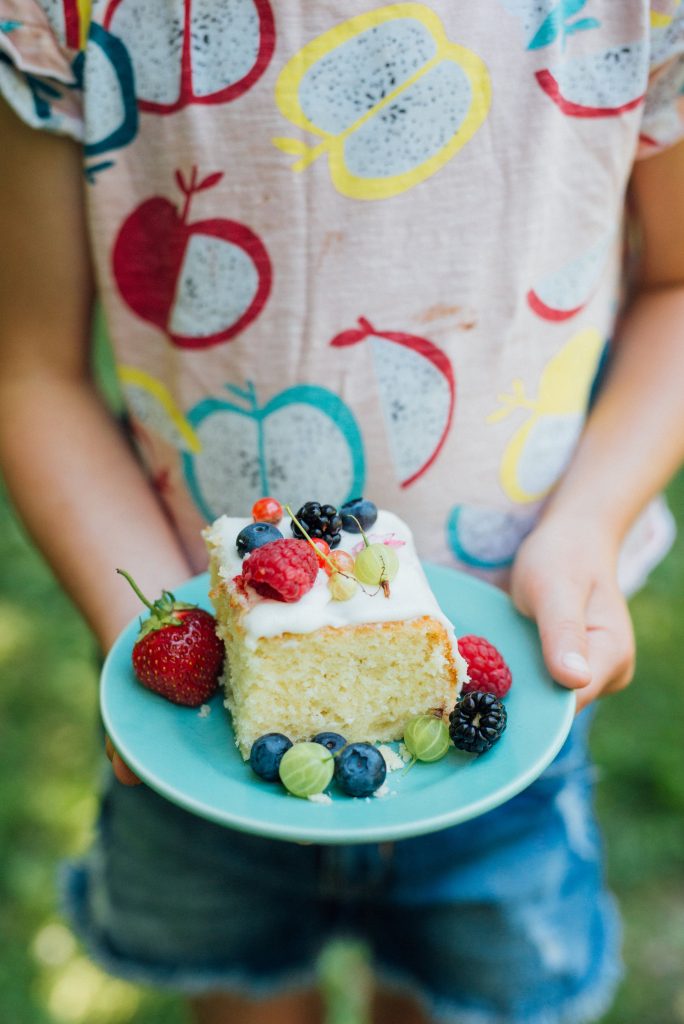 Images provided by my fellow cake-scarfing friend, Alison Slattery of Two Food Photographers. Thanks, Ali!