I hope you still have some rhubarb on hand, because we're baking with it today.
I wasn't originally going to share this galette with you as it is more of a hodge-podge of recipes than an original creation of my own, but it was so delicious, I knew I had to at least point you in the direction of my inspiration and hope that you are similarly compelled to bake.
As is the custom, it started with an over abundance of rhubarb in my garden and a not much time to fuss over a dessert. Rhubarb cornmeal muffins are delicious, as is my upside down cake, but I was contributing the sweet finish to a family dinner and wanted to contribute something light and pretty. Something that said "Spring!".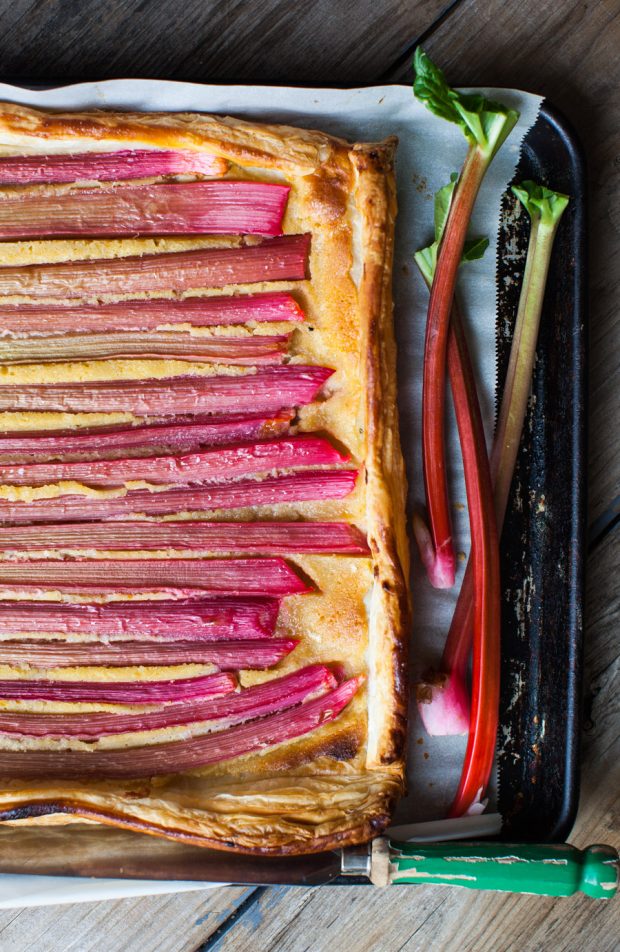 This seasonal galette smelled heavenly right out of the oven with its shattering puff pastry crust, buttery, orange-scented frangipane filling, and maple-glazed roasted rhubarb on the top. I'm telling you, topped with vanilla ice cream, it was a heavenly dessert.
So I tend to use puff pastry for all my summer fruit galettes, mostly because I am always short on time during those months that berries, cherries and rhubarb are ripe and plentiful. I keep several pounds of puff in the freezer, along with ground almonds (they stay fresh in a jar in the freezer) for frangipane and many an impromptu galette has been made as a result. If you really want to make a crust from scratch, use this recipe, which calls for both butter and Greek yogourt and yields a very flaky crust.
The beauty of the summer fruit galette is its versatility, as well as an acceptable 'rustic' appearance. This means that if your crust gets too dark, or the filling leaks out or the fruit puddles into a disfigured blob — you can still serve it with pride and celebrate the homemade look.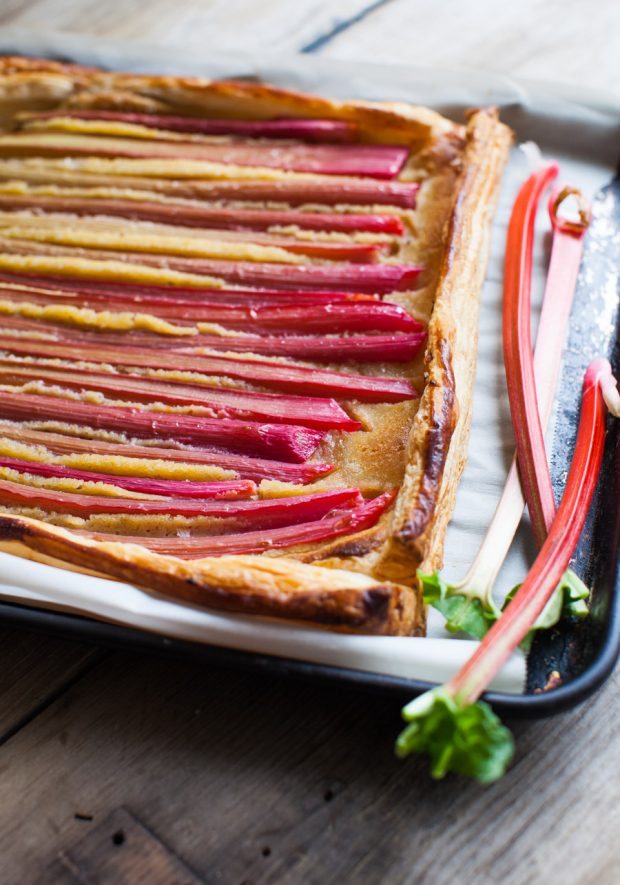 Luckily, this galette ended up quite pretty. I was inspired to use the whole stalks by Alanna's stunning rhubarb and honey tart. The effects is so lovely and again, simplistic. I also thought Laura's orange frangipane was a genius pairing with rhubarb and a it inspired my version below. When I have a bit more time, I'd like to try both Alanna and Laura's original recipes as they are so wonderfully creative.
Today's Rhubarb & Orange Frangipane Galette comes together so quickly, I hope you will stock the ingredients and try it soon. Be sure to read on after the recipe for our #EatSeasonal round-up of June recipes.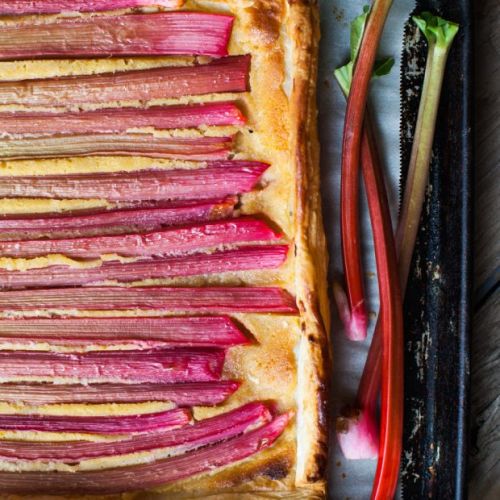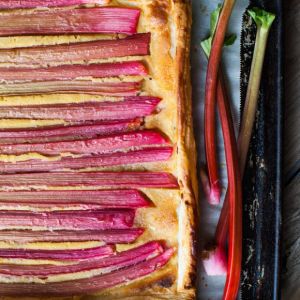 Ingredients
1

pounds

puff pastry

2

eggs

divided

1/4

cup

raw cane sugar

1

zest of 1 large orange

4

Tablespoons

unsalted butter

softened

1/4

teaspoon

almond extract

(orange will do too)

1/2

cup

finely ground almonds

2

Tablespoons

all-purpose flour

1/4

teaspoon

fine sea salt

2

Tablespoons

pure maple syrup

16

thin rhubarb stalks
Instructions
Roll the puff pastry into a rectangle about 1/4 inch thick. Slide it onto a baking sheet lined with parchment paper. Trim a 1/4 inch strip off of all the edges. Beat one egg with a few drops of water and brush a light egg wash around the edge of the pastry. Place the strips onto the egg wash, pressing gently to adhere. This makes a thin crust all the way around the galette. Refrigerate while you prepare the remainder of the recipe.

Preheat the oven to 425F. In a small bowl, rub the orange zest into the sugar. Add the softened butter and cream together with a wooden spoon. Crack in the remaining egg and the extract; beat this mixture until light and creamy. Add the almonds, flour and salt. Mix thoroughly.

Remove the pastry from the fridge and spread the frangipane evenly around the bottom. Arrange the rhubarb strips in a row on top, nestling them into the frangipane.

Brush the rhubarb with maple syrup, then place in the middle rack of the oven. bake for approximately 30-45 minutes. I find rhubarb varies with the water content, and ovens always vary. look for the crust to be dark golden and the franginape to take on a little colour.

Remove from oven, cool, and enjoy with sweetened whipped cream or ice cream.
Notes
This galette is on the tart side of things, so I recommend serving it with vanilla ice cream or sweetened whipped cream.
Eat Seasonal
Our group of produce-hungry bloggers have been busy creating all-new recipes for our round-up.
How I wish we could gather for a pot-luck just this once and share all of our dishes together. We've got salads, dips and desserts covered – just add barbecue and you're all set for seasonal eating in June.
Have a wonderful week, friends.