We've just come through our birthday season, celebrating both Clara and Mateo with two different events and enough cake from both parties to feed a small army. Honestly, with the size of our extended family, there's no such thing as too much cake.
I wasn't planning to share this recipe here, because, well, it's full of sugar and you, dear reader, tend to enjoy naturally sweetened recipes like the beloved Dark Chocolate Beet Bundt Cake, a Apple Spice Cake or this Banana Layer Cake.
But the practical side of me won out because this slab cake feeds a crowd with ease, and keeps them very, very happy. This is a recipe you only come across once in a lifetime, after far too many ho-hum chocolate cakes. This one makes you stop talking and pay attention to the slice on the plate in front of you. It makes your guests exclaim aloud – and when the party has dwindled, make a request for a piece to take home.
In short, it's perfect for your Easter long weekend entertaining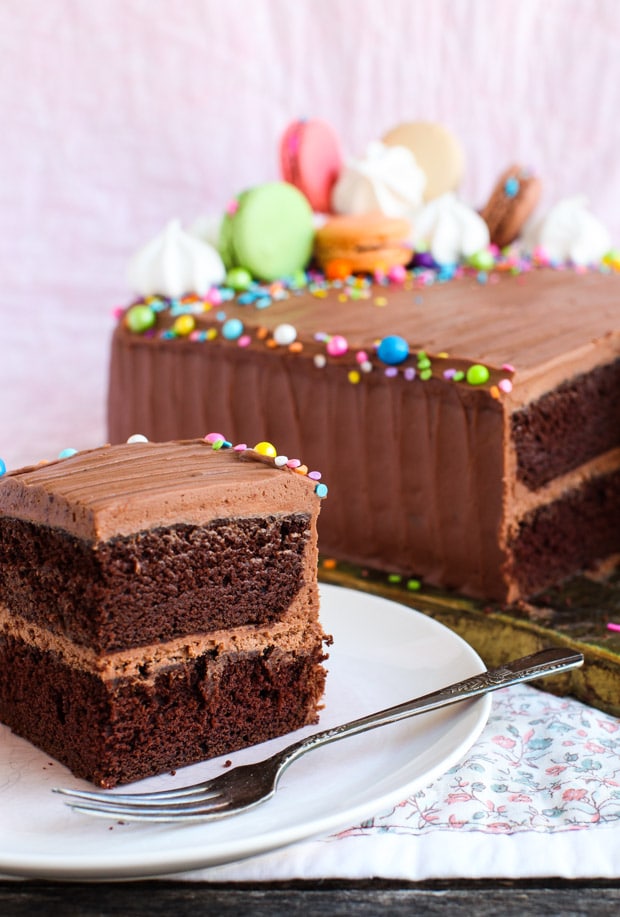 I certainly didn't develop this Feed-a-Crowd Perfect Chocolate Cake recipe myself, although I did tweak it from the original.  I first came across it in one of my favourite food memoirs, Ruth Reichl's Comfort Me with Apples
. In the story she makes ten times the recipe for a birthday cake for a man she was in love with, Michael…
"The cake took rivers of chocolate and dozens of eggs, and by the time it was finished I needed four men to help me lift it into the car. Michael blanched when he saw my creation coming toward him. It was more than a cake; it was a declaration of love in front of three hundred people, and we both knew it."
Now I don't want to give away any spoilers, but in a 2010 blog post, Ruth remakes the same cake, again for a certain Michael's birthday. I'll let you draw your own conclusions….but you should really read the book.
In her post, Ruth gives a little more history on the cake, stating that she developed it when she lived in Berkley and had a a little side business making wedding cakes. Could you imagine having Ruth Reichl bake your wedding cake?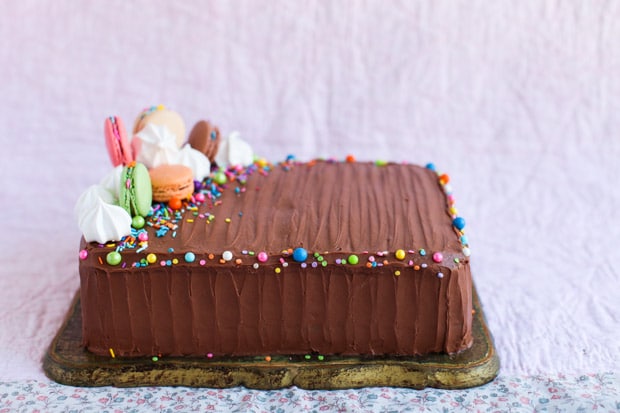 The recipe popped up again in Ruth's most recent book, the New York Times bestselling cookbook My Kitchen Year: 136 Recipes That Saved My Life
. She simply and unapologetically proclaims it  "The Cake That Cures Everything". Well then. And if that wasn't convincing enough (which somehow it wasn't), the Times ran the recipe and Melina Hammer's stunning photograph sold me in an instant.
Before getting down to business in the kitchen, I studied the comments on the cake over at NYT Food and paid close attention to what the savvy Serious Eats readers had to say about it, too. I learned that I should make the cake with all-purpose flour, use the best cocoa and chocolate I can find, make one-and-a-half times the frosting, and stick to whipped cream cheese.
This double layer, deep dark chocolate slab cake did the job so well, I'm calling it Feed-a-Crowd Perfect Chocolate Cake. I carved it up for our 20 or so birthday party attendees and there was enough to send a modest slice home with anyone who desired a piece – and that was every guest save one. Sufficient to say, it's a real crowd-pleaser.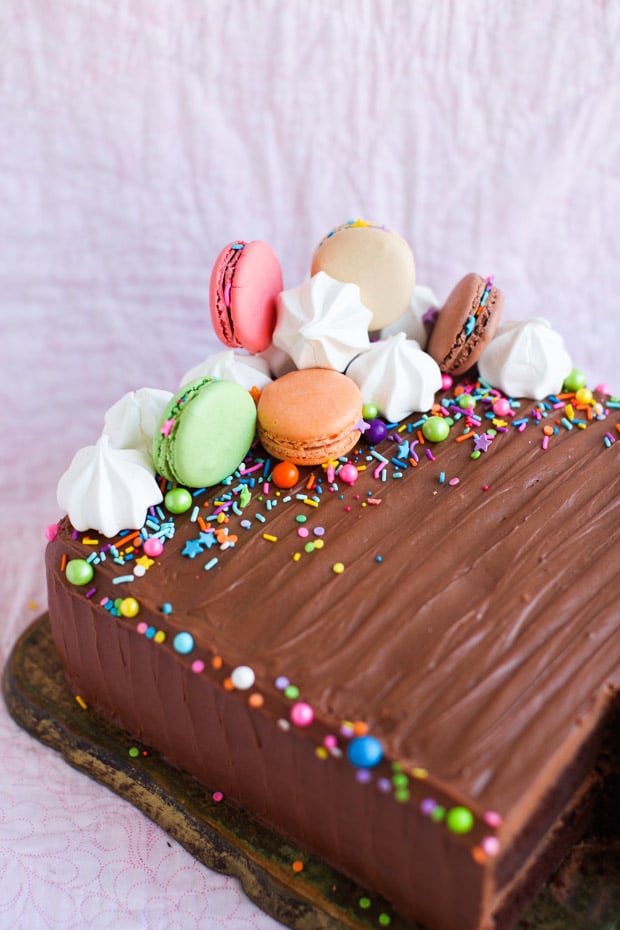 Now thanks to its sheer size, this cake is impressive on its own, but why not have a little fun with decorations? The cake in my photos was decorated for a four-year-old's birthday, but I don't have to tell you it would be perfect dressed up with pastel mini eggs or your favourite Easter candy (like this beauty!).
I'm not sure what has changed around here, but gone are the days of my elaborate cake decorating (like this cute robot). Pressed for time last week, I stopped off at a local bakery and picked up a half a dozen macarons and a small bag of meringue kisses. I stashed them in the freezer until the day of the party, when I arranged them on a corner of the cake.
My friend Rosie of Sweetapolia has a charming online sprinkles shop, which she ships worldwide from Canada. I used her 'Pinata' medley to add a finishing touch of whimsy to Clara's cake. All in all, the decorating took about five minutes – and she loved it!
If you follow food trends at all, you'll know we've been seeing macarons piled on cakes for a few years. Now cake toppings are getting even crazier, with marshmallows, meringues, popcorn and even mini doughnuts piled high. I say, have fun with it! If it makes you happy, go for it.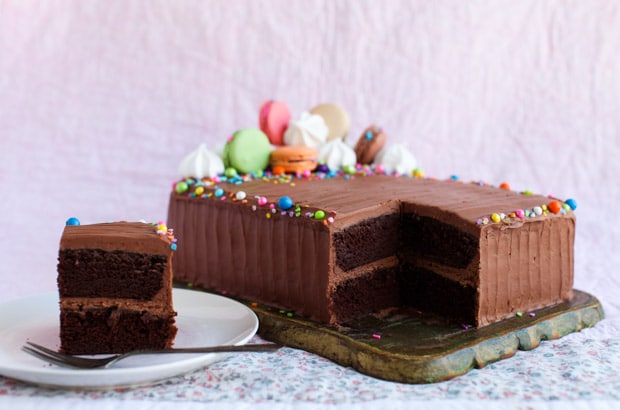 Lastly, it is the make-ahead-and-freeze-ability of this divine cake that brings me to share it with you. I made this beauty almost a week in advance, froze it – frosting and all – and then later thawed and served it up to my guests. It was just as fabulous as the day it was baked and it certainly made things easy for me on Party Day.
To freeze, place the tray with the frosted cake in the freezer until solid. Then wrap tightly in plastic wrap and store the cake for up to three months. Thaw it overnight in the refrigerator and then bring to room temperature before serving. My cake took at least five hours at room temperature to come the right serving temperature.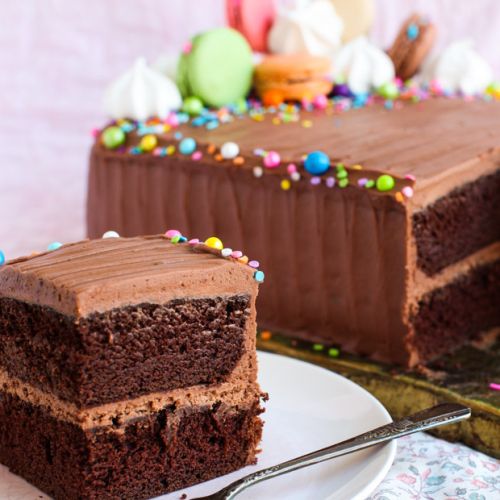 Feed-a-Crowd Perfect Chocolate Cake
A decadent dark chocolate cake, guaranteed to please young and old alike. This one really feeds a crowd and can be prepared in advance and kept frozen.
Print
Pin
Rate
Ingredients
3

cups

all-purpose flour

2

teaspoons

baking soda

3/4

teaspoon

salt

1

cup

cocoa powder

plus 2 tablespoons

1 1/2

cups

boiling water

3/4

cup

whole milk

2

teaspoons

vanilla

1 1/2

cups

unsalted butter

room temperature

1 1/2

cups

dark brown sugar

firmly packed

1 1/2

cups

granulated sugar

6

large eggs
Instructions
Preheat oven to 325F. Butter two 9x13 pans, and line them with waxed or parchment paper. Butter the paper and dust the pans lightly with cocoa powder or flour. Tap out excess.

In a medium bowl, sift together flour, baking soda and salt. In a small bowl, whisk together cocoa powder with the boiling water until quite smooth and glossy. Pour in the milk, followed by the vanilla and whisk gently to combine the liquids.

In the bowl of a stand mixer fitted with a paddle attachment, cream butter with the sugars until light and fluffy, at least 5 minutes. Stop the mixer a few times to scrape down the sides of the bowl and the paddle.

Stop the mixer and add the eggs, one at a time, beating well between each addition. Scrape down the sides of the bowl to ensure everything is well combined.

With the mixer on the lowest speed, add about a third of the flour, followed by half the cocoa mixture. Add another third of the flour and the remaining cocoa. Finally, finish with the last of the flour, mixing the batter only until just combined.

Stop the mixer and scrape down the paddle. Divide the batter evenly between the two prepared pans.

Place the pans side-by-side on the middle rack in the oven. Bake until a toothpick inserted into the center comes out clean, about 35-45 minutes. Cool cakes for 5 minutes in the pan, then loosen around the edges with a knife and invert the cakes onto wire cooling racks. Remove parchment paper and discard. Cool completely before frosting.

Place one cake on a serving plate or tray. Spread a 1/2 inch layer of frosting evenly over the top. Place the second cake on top. Frost the entire cake and sides, smoothing or swirling the frosting as desired.

Serve at once or refrigerate, loosely wrapped in plastic, for up to four days. To freeze, place the tray in the freezer until solid. Then wrap tightly in plastic wrap and store for up to three months. Thaw overnight in the refrigerator, then bring to room temperature before serving.
Notes
I highly recommend weighing the two 9x13 pans with batter in them so as to get the same amount in each. This gives you even thicknesses of cake layers when you slice into the cake.
I bake the cakes at a slightly lower temperature than the original recipe so that they don't dome in the middle.
Nutrition
Whipped Chocolate Cream Cheese Frosting
'Tis true, the recipe below is a double batch from what Ruth suggests in her original recipe, but I found the amount in no way excessive. The frosting is what really makes the cake special: oodles of best quality melted chocolate whipped with butter, just enough powdered sugar to lighten it and tangy cream cheese to balance out the sweetness.
I wanted to use less powdered sugar, so I used a 64% dark chocolate instead of unsweetened. I was able to cut back on the sugar and found the frosting still plenty sweet enough.
Note that the frosting does start to harden after about 30 minutes and is slightly more difficult to 'sculpt' on the cake. So be sure to have your cakes cooled completely and ready to cover before you begin making the frosting.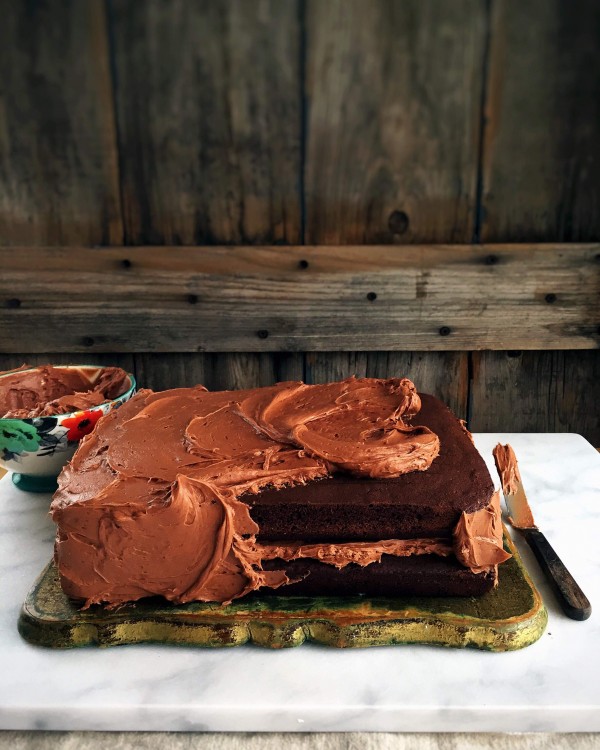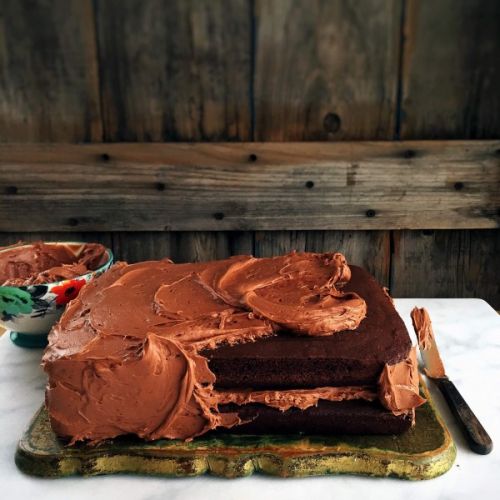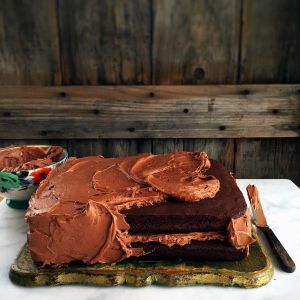 Whipped Chocolate Cream Cheese Frosting
Print
Pin
Rate
Servings:
1
Feed-a-Crowd Perfect Chocolate Cake
Ingredients
10

oz

Valrhona 'Manjari' feves

64% dark chocolate

1 1/2

cups

unsalted butter

(3/4 lb), cut into 1-inch cubes

2

227 g containers

whipped cream cheese

1

Tablespoon

pure vanilla extract

1/4

teaspoon

salt

3

cups

powdered sugar
Instructions
Roughly chop the chocolate into chunks. Place in a double boiler or in a bowl set over a pot of simmering water. Melt slowly, stirring occasionally.

Remove the bowl from the pot and cool the chocolate to room temperature.

In the bowl of a stand mixer fitted with the whisk attachment, beat together the butter and cream cheese until light and fluffy, at least 5 minutes. Stop the mixer and scrape down the sides of the bowl once or twice.

Add the cooled chocolate, vanilla and salt; beat until thoroughly combined.

Turn off the mixer and add the powdered sugar, one cup at a time. Beat on low speed until combined. Increase the speed to High and beat for one minute.
Notes
Frosting is best used within 30 minutes or so of making, when it is still easily spreadable. As the chocolate hardens, the frosting will stiffen somewhat.
Nutrition
Calories:
5527
kcal
|
Carbohydrates:
509
g
|
Protein:
20
g
|
Fat:
385
g
|
Saturated Fat:
237
g
|
Cholesterol:
751
mg
|
Sodium:
661
mg
|
Potassium:
1689
mg
|
Fiber:
22
g
|
Sugar:
458
g
|
Vitamin A:
8650
IU
|
Calcium:
258
mg
|
Iron:
18.1
mg
Have a wonderful Easter weekend, everyone!