There's nothing like a lingering, warm summer evening to inspire one to entertain. The children's bedtimes have long gone out the window, friends and family are in town, and the garden is flourishing – its fruit ready to take center stage on the dinner table.
A barbecue with the guys one week, a garden party with the ladies another week; there is no question that entertaining in summer can eat a chunk out of the monthly food budget. But not gathering with friends is entirely out of the question, as summer entreats us to fill the back patio to overflowing and let the laughter spill onto the neighboring yards.
So how do we receive guests (lots of them) and still have money at the end of the summer for school supplies? 
My solution to entertaining on a budget is simple: The Potluck. But not just any pot-luck. It must be an organized event, with plenty of communication between host and guests. Read on to learn how to plan a successful potluck, as well as how to be a gracious potluck attendee.



A potluck lends itself perfectly to summer entertaining because it sets a casual tone, allows you to have a break from all the cooking, and feeds a crowd easily with a myriad of food options. It allows for spontaneous gatherings of friends (often the best kind, won't you agree?) with a relaxed atmosphere, and minimal clean-up. It just has so much going for it.
However, before we go on, let's just clarify that the potluck is not a dinner party. The dinner party is a more formal affair, an evening out for your guests, and perhaps an opportunity to give another mom a night off of cooking. I don't ask dinner guests to contribute to the meal, and if they offer, I suggest a baguette or a bottle of wine.
How to Plan a Successful Potluck
The single best tip I can give for hosting a potluck is d.e.l.e.g.a.t.i.o.n. Or at least, communication. For those who don't like to 'micro-manage' a potluck, I give the example of my sister who once invited ten couples over with the vague request to 'bring something'. I do not exaggerate in the slightest when I relay that an incredible nine couples showed up with hummus and pita.
I don't know about you, but that doesn't sound like the kind of party I want to crash.
A potluck doesn't have to have the variety of a restaurant menu, but at the very least should include:
a few pre-dinner snacks
a main dish
2-3 salads
2-3 desserts
fresh fruit
beverages
As the host, you get first pick on what you want to make. You can go a few routes:
Make the main dish and have guests round out the menu.
Ask for an assortment of dishes, and fill in the menu gaps yourself.
Declare the event a BYOG – Bring Your Own Grillables – and make salad and dessert yourself.
In my experience, I have found it is far simpler to take care of the main dish and ask for side dishes, desserts and salads, as those are the items guests are most comfortable contributing.
Organizing it all
How exactly does one organize who brings what? Why, online, of course! I'm half kidding, but unless your group is half a dozen girlfriends who all communicate regularly, one of these options might be your best bet:
In this digital day and age, you might have better luck (and save time) organizing your event with one of these suggestions, rather than leaving messages on everyone's answering machines.
Main Dish Suggestions
So you've got someone bringing a basket of baby vegetables, another few signed up for salads, and your best friend is supplying cupcakes. Perfect! Now all you need is the main dish.
As we want to stay on budget as much as possible, T-bones for the guys and tuna for the girls is out of the question. Jessica lists some great budget-friendly potluck suggestions and Tammy offers tips on how to throw a barbecue on a budget. Love how those girls tick!
Other suggestions are:
TIP: Dessert Idea? Plan an Ice Cream Sundae Bar – everyone brings a topping and you supply the ice cream.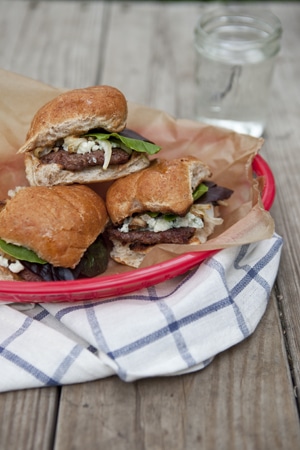 Photo by Shaina
How to Be a Gracious Pot-Luck Attendee
I'm going to use my husband as an example of a not-so-savvy pot-luck attendee. This was back in his university days, when money was scarce, but creativity abounded.
He has signed up to bring 'appetizers' to the family Thanksgiving dinner, but like yours or mine, his thoughts did not naturally lead toward tasty, bite-sized snacks, or even crackers and cheese, and he didn't want to "cop out" and bring chips. He arrived a little late (mistake number one) and his aunt greeted him at the door and ushered him into the kitchen.
"What did you bring?" she asked, obviously propelled by hungry mouths in the parlor. Danny lifted his arm and plunked a large shopping bag of Macintosh apples onto his appalled aunt's counter.  He still hears about it every year.
Yes, there are ways to be a gracious and accommodating potluck attendee. Here are a few of them:
Inquire as to what you can bring. This is the best possible move you can make. The second best move is if your host gives you a specific request, be sure to stick to it!
Show up on time. Especially if you are bringing appetizers. No one wants to see a salad arrive when they've already moved on to dessert.
Have your dish ready to serve. Don't assume you can show up to your host's kitchen and start prepping and cooking your dish. Your host may not have time to show you where the kitchen equipment is, nor appreciate the extra dirty dishes you are creating.
If you are arriving at the event straight from work and really have no choice, do call ahead and inquire if you can have a little corner of the kitchen. Your host will appreciate the head's up.
Wash and collect your own dishes. And, pretty please: leave the leftovers for your host (in her Tupperware). At least, always offer her/him first dibs, and if they insist they won't eat it or don't have fridge space, it's acceptable to bring the leftovers home.
TIP: Loads of Leftovers? Swap with other potluck attendees so everyone can bring home tomorrow's dinner.
What are your potluck politics? Anything to add?