We all want to know how we can trim our monthly grocery bill and yet feed our families real, wholesome food. Anyone who has shopped for organic ingredients, knows that there is a price to pay for bringing home pesticide-free, all-natural foods. So what can be done?
Fortunately, Slow Food Rhode Island leader Amy McCoy of Poor Girl Gourmet has some solutions for us. In her brand new cookbook, Poor Girl Gourmet: Eat in Style on a Bare-Bones Budget
, she takes us on a low-budget, high-quality food adventure, offering proven tips for eating wholesomely on the cheap, as well as providing reliable recipes to back the tips up. Her suggestions for frugal eating are one hundred percent applicable for every household and well worth reading about.
Here are ten money-saving tips that I gleaned from her cookbook, as well as a recipe that demonstrates how a less desirable (read: cheaper) cut of meat can be absolutely amazing.
1. Make a Weekly Menu Plan.
Sound familiar? Menu planning saves cash by helping us to buy only what we need and reducing the chance of having food go to waste. We've got 9 Tips to Successful Menu Planning here at Simple Bites.
2. Shop Super Smart.
Cut coupons
Shop sales
Buy in bulk
Shop at ethnic markets for specialty items like spices.
3. Buy Local and In Season.
Even better, grow it yourself. Here are tips on how to source food locally.
4. Establish a Relationship with Your Purveyors.
Be it the grocer, butcher, farmer or baker, form a relationship with the people who produce your food. These folks can give you money-saving tips on topics such as portion size, seasonal produce, menu planning, serving suggestions, and crop availability.
As Michael Pollan puts it in his book In Defense of Food
, "Shake the hand that feeds you."
5. Buy Meat on the Bone.
And don't overlook the inexpensive cuts of meat, either. They are often even tastier than the fancy cuts, as demonstrated in the recipe below.
6. Better Yet, Eat Less Meat.
Cutting food costs is helped by reducing the quantity of meat per serving, as well as the frequency with which you eat it. Try incorporating one meatless meal a week into your menu plan.
7. Purchase Fruits & Vegetables in Their Whole State.
Those pre-cut vegetables at the supermarket? You're likely paying a premium for them. Buy your produce whole and invest in a good knife!
8. Do Not Forsake Your Freezer.
This goes hand in hand with buying in bulk, for one would not be entirely possible without the other. Stock up during sales and store nuts, flours, seasonal produce and, of course, meats in the freezer.
9. Use Sauces and Garnishes to Enhance Food.
Amy McCoy claims there is no faster way to dress up a plain meal than by adding a sauce. In her cookbook, she skillfully demonstrates the versatility of the sauce and gives plenty of suggestions for affordable garnishes.
10. Do Not Waste Food.
It almost feels redundant to remind ourselves of this obvious statement, but it may be the most important tip to making ends meet.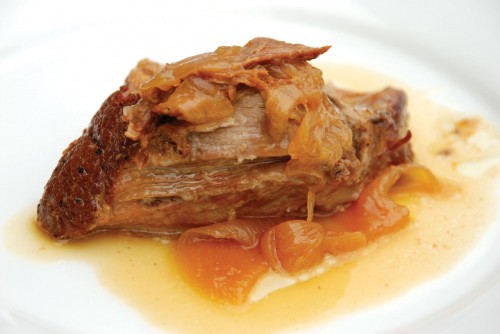 Photo by Poor Girl Gourmet
Recipe: Braised Pork Shoulder
—From Poor Girl Gourmet: Eat in Style on a Bare-Bones Budget

by Amy McCoy/Andrews McMeel Publishing
¼ cup extra virgin olive oil
Kosher salt
Freshly ground black pepper
1 (4- to 5-pound) pork shoulder (see Note)
2 medium yellow onions, cut crosswise into ¼-inch rounds
1 Tablespoon Dijon mustard
1 teaspoon dried thyme, or 1 tablespoon fresh
4 cups apple cider
Warm the olive oil over medium-high heat in a large Dutch oven or other large, heavy pot with a tight-fitting lid. Season the pork shoulder on all sides with salt and pepper. Brown the pork shoulder on all long sides (don't worry about the short ends, you'll be wrestling pork shoulder and oil, and it's not necessary), 3 to 5 minutes per side.
Remove the pork shoulder from the pot and transfer it to a plate. Reduce the heat to medium. Place the onions in the pot and cook until they are softened and translucent, 5 to 7 minutes. Add the mustard and thyme, stirring to combine. Return the pork shoulder and any accumulated juices to the pan, and add the apple cider.
Bring to a gentle simmer over medium heat, cover, and cook at a gentle simmer until the meat does what? Falls off the bone. That's right, people. At that point, the meat is also fork-tender, meaning it does not require a knife to be cut. To achieve this will take 3 to 3½ hours. Pull yourself some pork from the pot, put it on a plate, top with a bit of the cooking liquid or Tangy Barbecue Sauce (recipe below), and start thinking about pulled pork sandwiches, even as you enjoy the braised pork.
NOTE: Amy prefers a shoulder that is cut flat, rather than with a protruding leg bone. You want as small a bone as you can get your butcher to rustle up. Pork butt, also called Boston butt, would also work here.
Photo by Poor Girl Gourmet
Recipe: Tangy Barbecue Sauce
—From Poor Girl Gourmet: Eat in Style on a Bare-Bones Budget

by Amy McCoy
2 Tablespoons extra virgin olive oil
1 medium shallot, finely chopped
2 cloves garlic, peeled, very finely chopped
½ cup distilled white vinegar
3 Tablespoons packed brown sugar
2 Tablespoons honey
1 (6-ounce) can tomato paste
2 Tablespoons Dijon mustard
2 Tablespoons Worcestershire sauce
¼ teaspoon chili powder
¼ teaspoon kosher salt
Freshly ground black pepper
In a large saucepan over medium heat, heat the olive oil. Sauté the shallot and garlic until softened and the shallot is translucent, 2 to 3 minutes.
Add the vinegar, sugar, and honey, and stir until the sugar and honey are dissolved. Add the tomato paste, mustard, and Worcestershire sauce, stirring to combine. Add the chili powder, salt, and pepper, and give it a good stir.
Simmer on medium-low heat, stirring occasionally, until the sauce has thickened, 18 to 20 minutes. Okay, now, dole it out—first onto reheated pork shoulder leftovers, and then, later this week, onto any other protein that you want to jazz up with delicious barbecue taste.
[print_link]
How frugal are you? In what ways could you further conserve coin in your shopping?