A simple vegetarian red lentil lasagna for when you need a quick weeknight dinner.
Canadians from coast to coast are mourning the loss of half a junior hockey team and their crew after a tragic accident last Friday in rural Saskatchewan.
Geographically, we're the second largest country in the world but when in crisis, we're a small, tight-knit community.  
I lost two friends when I was in my twenties – one to cancer and one in a freak car accident. That pain of loss is impossible to put into words, but I have experienced it. Twice.
Embracing community is one way I've found it possible to heal from grief such as this. Reaching out. Finding connection. If I was in Humboldt right now, I know I would be cooking in some capacity for these families. How I wish I could. Sympathy food has long been a passion of mine; blessing someone with a meal is a small action, compared to such unimaginable loss, but it is love in action.
My connection to Northern Saskatchewan goes back a few generations, to the family farm that my grandparents owned near Melfort, SK.  Melfort is just one hour north of Humboldt, and close enough to the scene of the accident that the town's first responders were among those to assist. My mother was born and raised in Melfort, and we returned to visit the farm as kids. I remember rolling fields, huge skies, friendly people, tight-knit communities.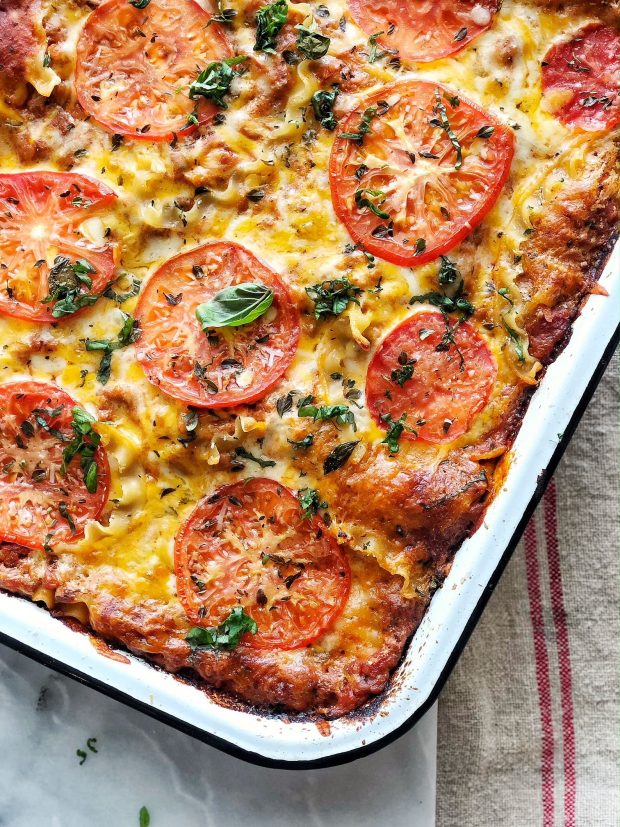 From the sky, the southern prairie half of Saskatchewan is a patchwork of meticulously farmed fields, stretching east and west across the province and down to the United States border. I was lucky enough to visit a lentil farm near Regina one June a few years ago, and it was a fantastic learning experience. I always associate places with food, and so when I think of Saskatchewan, I think of lentils.
Forgive me if associating a lentil lasagna recipe with a horrific accident is too much of a stretch for you, but writing helps me to process. I've already donated to the Go Fund Me account, and all of our hockey sticks are out on the front porch, but it's not enough. From where I am there's not much that I can do for the Humboldt Broncos community, and so I write this post, and share in their sadness.
If you can, bake a lasagna and share it with someone in your community – create an opportunity for togetherness. Invite someone over or drop it off for someone who could use a meal. For me, food bridges gaps between people. It has unique abilities to bring us together, because there is something about sitting around a table that invites connection, and intimacy.
And I believe that is true, no matter where you live.
Ricotta and Red Lentil Lasagna recipe
This vegetarian lasagna is no more complicated than stirring cooked red lentils into a marinara sauce and proceeding as usual with your favourite lasagna recipe. It hardly requires a recipe, but I snapped these iPhone photos while I was making the lasagna one night and so here we are.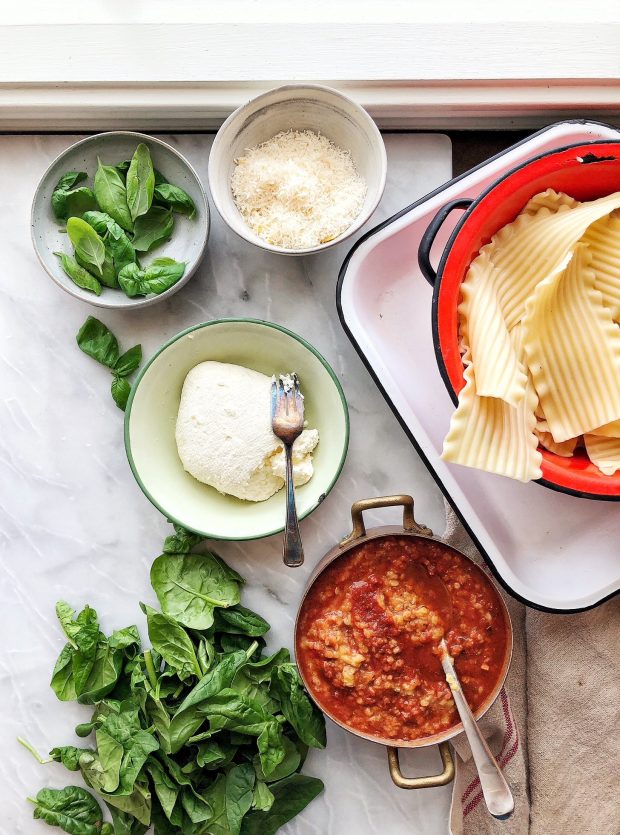 This lasagna feels like a special occasion meal, but really, it's a dressed up week-night meal. If I have time, I'll make many of the components from scratch, like my creamy ricotta in the photo above. I whip up a batch of my four-ingredient tomato sauce and maybe even make some pasta sheets.
But usually, I'm opening a jar of sauce and a tub of ricotta from the store. I grab pre-shredded cheese, because that is easy. It's a semi-homemade dinner and that is perfectly okay.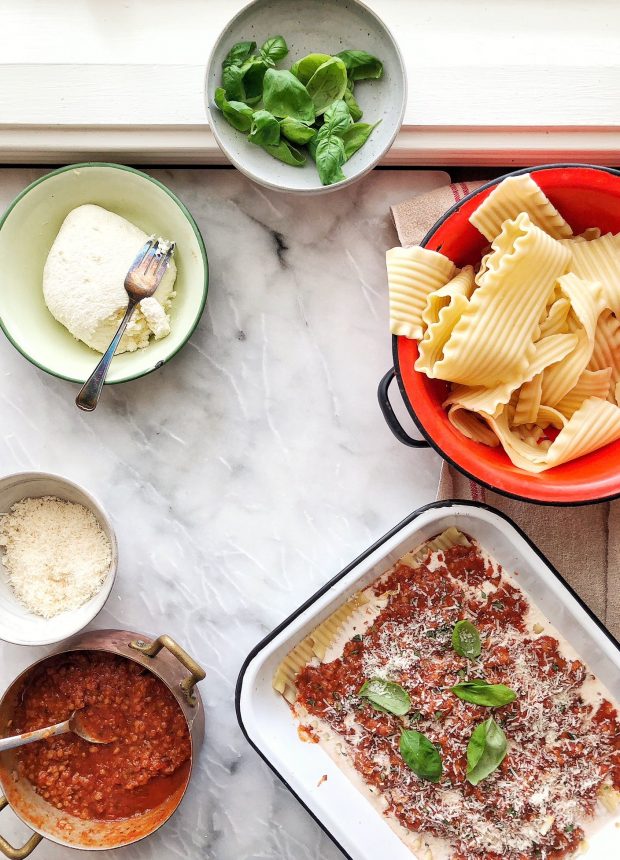 The red lentils are very simple to cook up from scratch, so I simmer a pot on the stove and stir them into my sauce once they are cooked. This two-ingredient sauce makes up my very uncomplicated 'lentil bolognese' and the base of the lasagna.
You can choose to add in wilted spinach or not. I'm always trying to incorporate more vegetables into our diet, so I will add thin slices of zucchini or aforementioned spinach in with the ricotta layer.
This lasagna was even better on the second day, after the flavours had a chance to mingle and mellow. It also freezes very well, both raw (after assembly, before baking) or when it has been cooked and cooled. Definitely add this recipe to your batch cooking roster and make two while you're at it next time.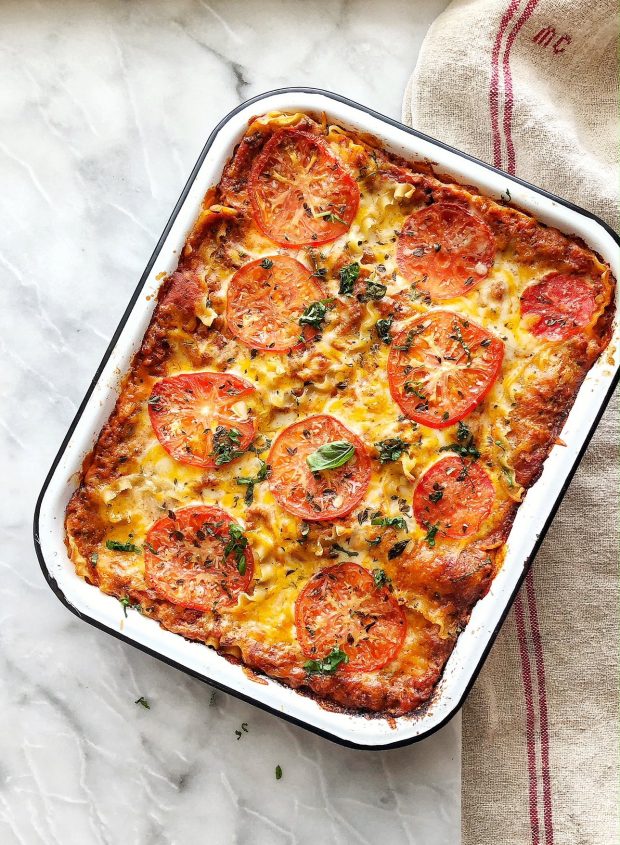 Ricotta and Red Lentil Lasagna
Lentils boost our fibre intake and are delicious in this vegetarian take on a comfort food classic. By combining cooked red lentils with Marinara sauce, I make an easy 'lentil Bolognese' for layering in the dish.
Print
Pin
Rate
Ingredients
1

package

lasagna noodles

4

cups

Marinara sauce

canned or homemade

1 1/2

cups

cooked red lentils

4

cups

fresh spinach

1

Tablespoon

butter

1 1/2

cups

Creamy Homemade Ricotta

1

egg

beaten

salt and pepper

to taste

1

cup

freshly grated Parmesan cheese

1/2

cup

grated cheddar cheese

1

tomato

sliced

1/2

cup

fresh basil
Instructions
Preheat oven to 375F. Lightly oil a 9x13 baking dish.

Bring a large pot of salted water to a boil and cook the lasagna noodles according to the package directions. Drain, rinse and cool the noodles.

Stir the red lentils into the Marinara sauce, then spread a cup of sauce on the base of the baking dish. Top with a quarter of the cooked lasagna noodles.

Wilt the spinach in a pan with the butter, then chop and add to the ricotta. Crack an egg into the mix and stir to combine. Season with salt and pepper.

Spread the ricotta mixture over the layer of lasagna noodles. Top with more noodles to cover. Add 2 cups of lentil bolognese, followed by the last of the noodles.

Top with the remaining lentil bolognese, spreading it evenly over the noodles. Sprinkle the parmesan and cheddar cheese over the top. Arrange the tomato slices on the cheese, then pop the pan in the oven.

Bake for 35-45 minutes or until the lasagna is bubbling around the edges and the cheese is melted and golden. Remove form oven. Let sit for 15 minutes before slicing and serving.
Nutrition