Our recent Q&A on sympathy meals received a tremendous response. Thank you to all who took the time to share your experiences with either giving or receiving meals. It was very, very interesting to read your comments and I took note of all the questions. I hope to answer them in this follow-up post.
We agreed that there are people in need all around us, and a small gesture like giving a meal can be a blessing both to giver and receiver. In fact, by the sounds of things, lives were very nearly saved just because a meal -or series of meals- was received during a time of need.
It was interesting that many more readers had given a meal than accepted one. Those who had been recipients spoke passionately about how touched they were and how helpful it was to be given a practical gift, in lieu of flowers. And there was another theme – the food that was brought is the best, or very near to the best, food that they had ever eaten. I'd have to agree with that one, too.
Plenty of questions also arose, all of them extremely pertinent. When is the best time to deliver a meal? What about allergies? Should a casserole be pre-baked or not? Hot or cold? Frozen or fresh?
This post will highlight the best tips, helpful suggestions, and friendly advice on bringing meals to others. Hopefully you will be encouraged to look around and reach out to people in your community through a hot meal.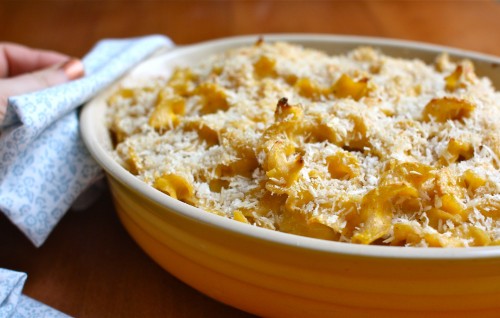 Get the recipe for Butternut Squash Mac & Cheese.
Make it a Main Meal
What is best to bring a family dealing with illness? A girlfriend on bedrest? The couple that moved in next door?  Well, cookies, muffins and other treats are all wonderful, but in most situations, what are really needed are nourishing main meals, especially if there are children in the family. Snacks can only go so far; a hearty stew, a comforting lasagna – these are the dishes that will benefit your recipient the most.
TIP 1: If you don't enjoy cooking or think you won't have the time, drop off a bag of groceries instead with some ready-to-eat foods such as bread & cheese, cut vegetables and fruit, or perhaps a nice meat pie from your favorite bakery.
TIP 2: Consider a dinner invitation to your home, instead of bringing over a meal. Perhaps good company and a break from the house is what some folks really need.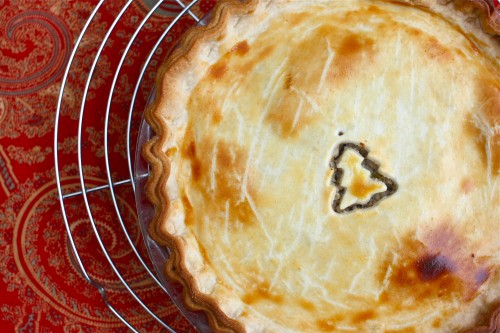 Get the recipe for Quebec Pork Pie
Practical advice for making & delivering meals
When I know of a family or individual who could benefit from a home cooked meal there is a natural progression of steps that I usually take to bring them food. Each home situation is unique, and my relationship with the person varies, so these are not hard and fast rules, but more suggestions to consider.
Communicating
If I feel the family can be disturbed, I'll call directly to communicate about meals. If I don't want to bother them, I'll speak to a close friend or relative.
First I let them know that food is on the way. I don't give them an option, because many times people will protest that they don't need it, even if they do. (We'll talk about rejection below.)
I inquire about allergies, strong aversions and special diets (especially if a family member is sick, or the mother is breastfeeding).
I ask about timing. When will they be home? Will they eat the meal that night? Freeze it?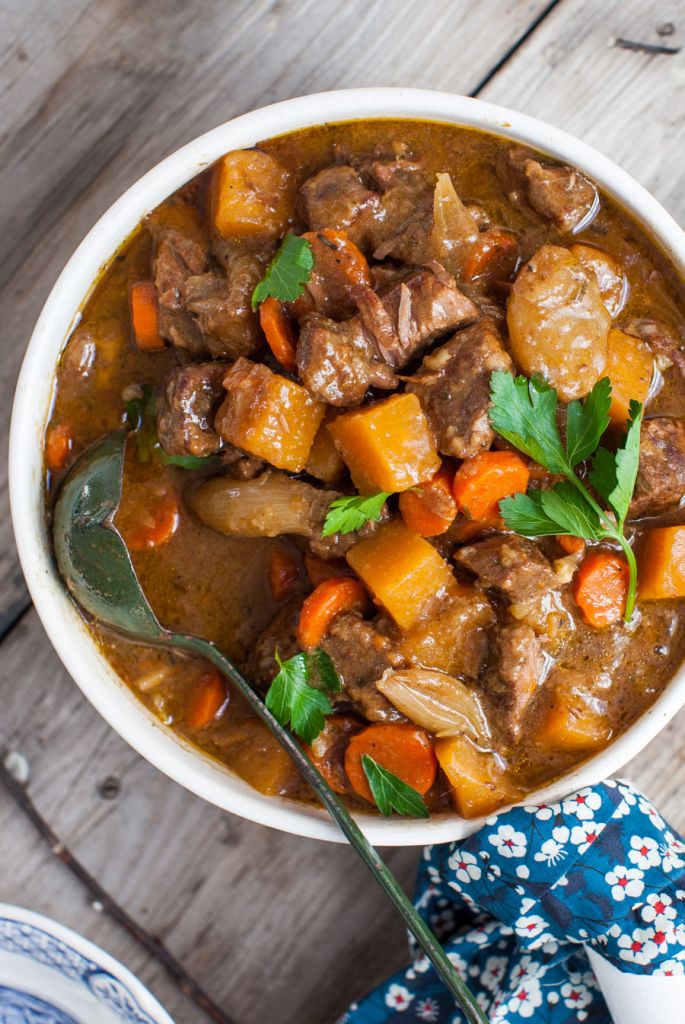 Cooking
It's important to put some thought into what you bring, but don't stress over it. Take note of what has been communicated from the family as you plan your dish.
Here are several more guidelines to consider:
avoid common or serious allergens (never peanuts, for example) and foods people have strong opinions about (such as olives, fish)
pack it in containers that don't need to be returned, and be sure to note that you don't need them back
make large servings of at least one thing that freezes well, in case they already have more than enough and want to save something for later
include a detailed menu that lists ingredients (again, a nod to dietary issues) and explains how to reheat and how to store extras, if necessary
include enough that would satisfy a somewhat fussy kid so the family hopefully won't need to prepare something else for wee ones
focus on fresh, healthy food with a modest sweet for dessert. I know some friends have felt inundated with cakes and pies!
Lastly, specific directions on how to heat and serve the meal are essential!
Caring
Just like any act of service, there are always small ways to show you care. Here are a few.
Call ahead to let them know you are coming, then leave the food on the step. Folks may not necessarily wish you to come in a chat (and see their temporarily chaotic home). Be sensitive to that.
Skip the flowers and desserts and offer babysitting services instead. A note with an offer to babysit or take the kids overnight can be a priceless gift.
Reader Alissa says: "I also try to include a couple "extras" – jar of apple sauce, gallon of milk, boxed mac n' cheese, box of crackers – to help stock the pantry/fridge." It's the small things that make the impact.
What are the best meals to bring?
Ideally, sympathy meals are:
easy to transport
easy to eat
hold well
freeze well
By hold well, I mean they can sit a day or two in the refrigerator without getting soggy, drying out or turning into something altogether nasty. They should require little to no assembly, shouldn't be overly complicated to eat (think, one-handed breastfeeding mama), and at the very least, need to survive the trip over.
Types of suitable dishes include:
Soups & Stews: Chili of all types, hot nourishing soups, hearty stews and chowders.
Crockpot/Slowcooker meals: Spaghetti sauce, Pulled pork (accompanied with slaw, and buns), butter chicken, chicken curry.
Savory Pies: Quebec meat pie, Chicken Pot Pie, Quiche, Steak Pie.
Casseroles: Lasagna, Macaroni & cheese, Tuna noodle casserole, Shepherd's pie – turkey, beef or vegetarian…
Sauced Meals: Chicken Parmesan, Meatballs & Sauce, Ribs, Meatloaf…
**Be sure to check out my recipe round-up: Weekend Links Cooking for Others Edition.**
Websites to help you cook for others
A Note about Rejection
Don't be discouraged if your meal is occasionally turned down, nit-picked, or unappreciated. You have done your part in expressing love and caring.
For whatever reason, some acts of kindness are not well received. Perhaps some folks have trouble accepting help.
On the flip side, please don't ever refuse a meal! Accept it graciously, even if for some reason you can't eat it. Accept the hug and the smile that comes with it, and appreciate that someone is thinking of you.
Still have questions? Leave them in the comments and we'll discuss.