Practical. Versatile. Classic. These are all words I have scribbled in the margins of my handwritten quiche recipe.
I grew up on this savoury tart, and I am determined to sell you on the wonderful simplicity of a well-made quiche. It's practical because it can be enjoyed at any temperature and it holds up well (even in the freezer). The adaptable fillings make it a versatile dinner option – just use up bits of leftover cooked vegetables and scraps of cheese.
And you already know this part – the quiche is a classic, beloved dish. It can make an appearance at an elegant brunch or show up in the basket of a rustic spring picnic. No matter where or when quiche is served, it's always a welcome addition to a meal and home cooks should have a solid recipe in their repertoire. That's where I come in today!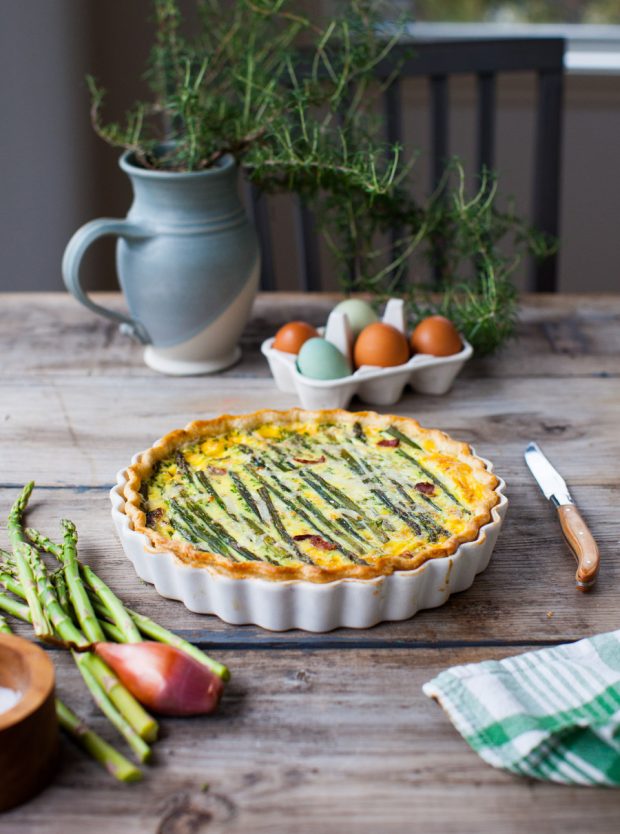 I can't believe it's taken me this long to share a quiche recipe with you. Neither of my cookbooks have a classic quiche recipe either, although in The Simple Bites Kitchen, there is an asparagus frittata as well as a quick crustless quiche, both respectable variations on the real deal.
In truth, I've been baking quiche ever since I started in the kitchen as a little girl. When I was around ten or eleven years old, my dad bought me a beautiful pie plate with a recipe for Quiche Lorraine on the bottom of the dish. The gift got plenty of use, and I still have it to this day, although I never understood the recipe on the bottom. As soon as you add the pie crust, the instructions get covered up!
My mum was a frugal cook, saving leftovers to be repurposed for another meal for our family of six. We always had a flock of hens, so eggs were plentiful, and thus a savoury tart frequently made its way to our dinner table. For me, it is is a nostalgic meal, and total comfort food.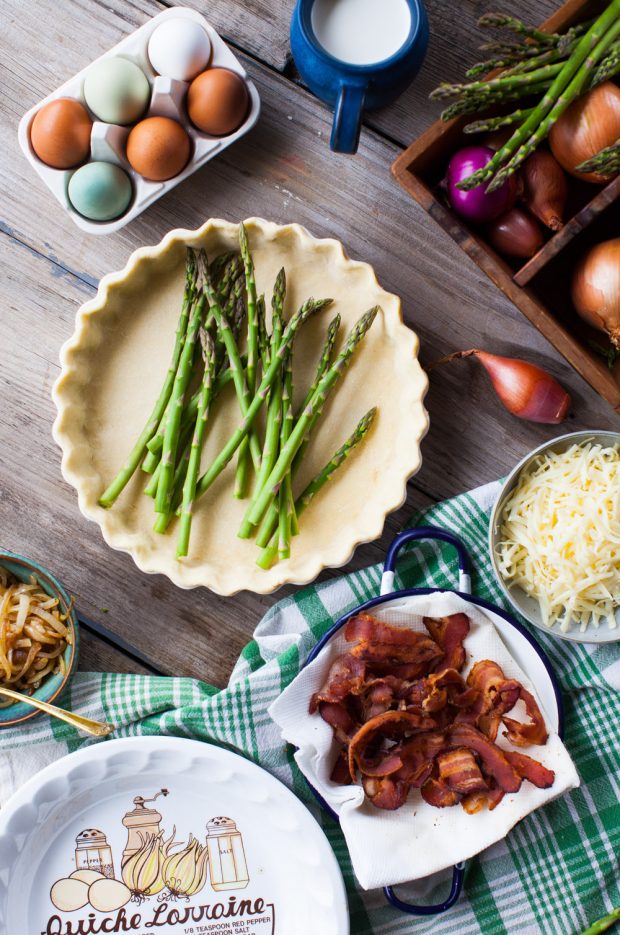 The Simple Quiche Tutorial
If making a quiche from scratch seems like too much work, let me share my method and perhaps that will make it seem more manageable. It's more of a formula, that I hope you will take and adapt to use up what you have on hand.
1. Crust. A pie crust in freezer guarantees a quick start to my quiche baking. Any time I make pie, I generally prepare one or two extra pie shells and freeze them in the pan. Then when I am planning quiche for dinner, I toss the filling ingredients straight into the frozen crust. Let's face it, if quiche for a weeknight dinner meant starting with pie crust from scratch, it would seldom happen.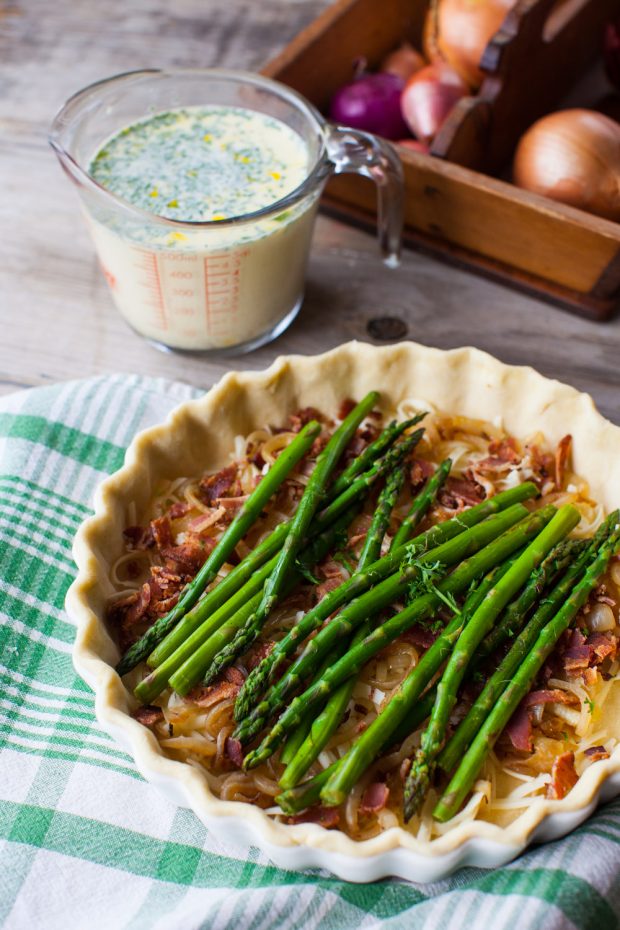 2. Filling. Cooked vegetables and meats make up the bulk of the filling and decide the flavour profile of the quiche. Broccoli and cheddar, ham and spinach, squash and parmesan, wild mushroom and herb…the combinations are endless. Cheese is an essential filling; use up what you have on hand from blue to cheddar.
I always have some sort of allium in my quiche – sautéed onions, wilted ramps, chopped chives – as well as fresh herbs. These are little flavour boosts that elevate the quiche into something truly special.
3. Custard. 4 eggs, 1 1/2 cups of cream (or whole milk, or buttermilk, or any combination of the three) and a pinch of salt make up the custard.
My friend Joy makes a pizza quiche that is the perfect example of how versatile this combination of crust + filling + custard can be.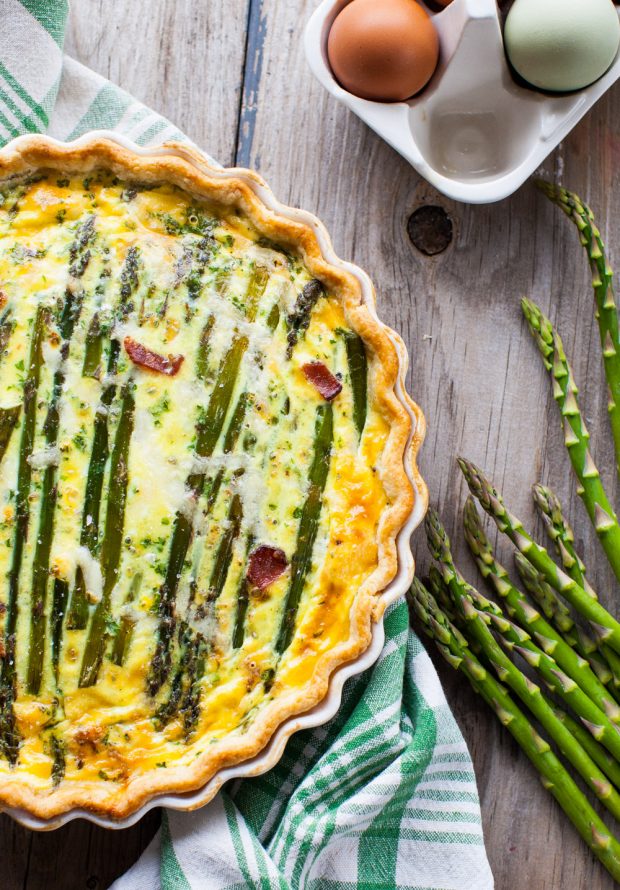 Recipe: Asparagus and Bacon Quiche
Today's recipe is a classic spring creation: a cheesy asparagus quiche, rounded out with crispy bacon and sautéed onions. It's hard to improve on this beloved dish.
You can serve it for a weeknight dinner or Mother's Day brunch. Slice it up for an early morning bite while watching the Royal wedding on May 19, or bring it outside and enjoy it cold on an excursion to the park. I serve mine with a simple green salad and a tray of oven fries for the kids.
Speaking of kids, homemade quiche is a fun dish to assemble together. Little hands can crack and beat eggs and grate the cheese, while older ones can roll the pie pastry or chop the filling ingredients.
And one last tip for baking a quiche – make two and freeze one for later! It's almost the same amount of work, the same oven time, and makes sense to batch cook this savoury tart. The quiche freezes very well, and needs only to be reheated in the oven for a quick Sunday lunch.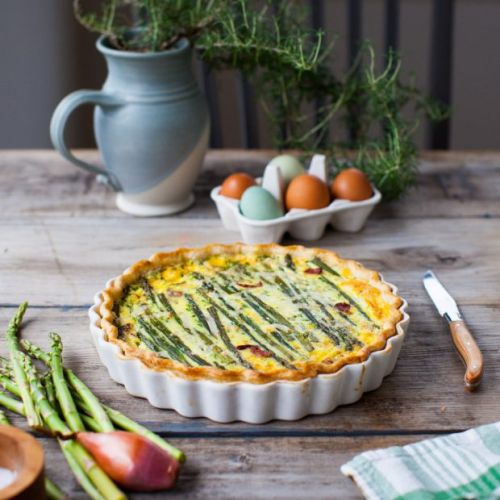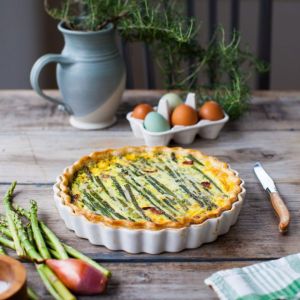 Asparagus and Bacon Quiche
Ideal for breakfast, brunch or lunch, this is the essential classic quiche, tested to perfection.
Print
Pin
Rate
Ingredients
1

9-inch pie shell

or enough dough from rich pie crust recipe

4

large eggs

1 1/2

cups

light cream

1/4

teaspoon

salt

1/8

teaspoon

black pepper

9

bacon strips

(or 1/2 cup cooked) crumbled

1

small onion

thinly sliced

1

small bunch

asparagus

ends trimmed

1

cup

grated cheddar cheese
Instructions
In advance: Roll the

rich pie crust

out on a well-floured work surface until it's approximately 11 to 12-inches in diameter. Transfer it to a 9-inch pie plate or tart pan. Press it into the bottom and sides of the pie plate. Trim off any excess, leaving about 1/2-inch overhanging, then fold and crimp the overhanging dough. Loosely cover the pie crust with plastic wrap and transfer it to your freezer for 1 hour or longer.

Preheat oven to 425F and place the oven rack on the lowest rung.

In a cast iron skillet fry the bacon until crispy. Drain on a paper towel. Pour off most of the fat from the pan, leaving about 2 teaspoons. Reheat the pan and add the onions. Cook, stirring often, until the onions are light brown and caramelized, about 10 minutes.. Remove onions from pan and cool completely.

Toss asparagus into the pan and cook quickly over high heat until bright green and the stems are tender, 5-6 minutes. Add a splash of water to the pan to create steam. Remove asparagus and drain on a paper towel.

Crack eggs into a medium bowl and whisk together with the cream. Add salt and pepper, and a spoonful of chopped herbs if you happen to have any on hand.

Remove the quiche crust from the freezer. Sprinkle the cheese on the bottom of the crust, followed by the caramelized onions. Chop the crispy bacon and add that as well. Arrange the asparagus over the top. Pour the egg custard over the filling.

Dip a pastry brush into the dregs on the bottom of the custard bowl and lightly brush the edges of the crust. This will give it a lovely golden brown colour when it bakes. Carefully place the quiche on the bottom rack in the oven and set a time for 10 minutes.

After 10 minutes, reduce the oven temperature to 350F and bake until the quiche is set in the center and the crust is golden brown. This will take anywhere from 30-50 minutes, depending on the filling and the oven. Let quiche cool for about 20 minutes before slicing and serving. Serve hot, warm or room temperature.
Notes
Always bake the quiche on the bottom rack of the oven. This helps to ensure a bottom crust that is baked properly and is not soggy.
Nutrition
What is your favourite quiche flavour combination?