Today is 'Pi Day' or 3.14, a fun play on the date that a few of my (geek) Facebook readers pointed out last week. It just so happens that I've been meaning to share my fail-safe pie crust recipe, and so, propelled by a mathematical symbol and a calendar date, here it is!
Everyone needs a reliable pie dough recipe in their repertoire, for where would we be without strawberry tarts, spinach quiche, or deep dish apple pie? Store-bought crusts just don't meet the mark in flavor or texture, not to mention they contain plenty of trans fats and preservatives. Nope, a pie crust should be made from scratch, and that's what we're going to take on in this post.
You already know that I've given you the best muffin ever, perfect roast chicken, and the best zucchini bread ever, so I hope that you find similar success with my favorite pie dough recipe.
I've always come back to this pure butter pie crust for a few reasons:
It holds up well. Whether it is supporting a jiggly quiche or runny fresh fruit pie, the bottom crust always cooks perfectly. Soggy crust is horrible; I like a nice browned bottom that holds together when a slice is transported from pan to plate. TIP: another key to a well-cooked underside is a Pyrex Pie Plate.
It freezes well. Raw crust can be frozen, in a well-wrapped ball, for up to five weeks. I also use this recipe for my meat pies and freeze the pies unbaked and whole. Pie crust in the freezer means an impromptu dessert is just around the corner!
It is rich and flavorful. Thanks to the addition of pure butter and egg yolk, this crust leaves all others behind. Forget about greasy and pale shortening-based pie crusts, this one colors beautifully, tastes buttery, and crisps just right.
It manages to remain flaky even after after manipulation. My boys love to get in on pie making, and goodness knows, they manhandle the dough to bits. Incredibly, it pulls through, and after a significant resting period, still comes out flaky.
If this is your first attempt at homemade pie dough, or whether you're a seasoned baker, I'm confident that the recipe and the steps below will guide you to a perfect pie crust, suitable for a wide variety of uses including tart shells, hand pies, free-form galettes and classic pie shells.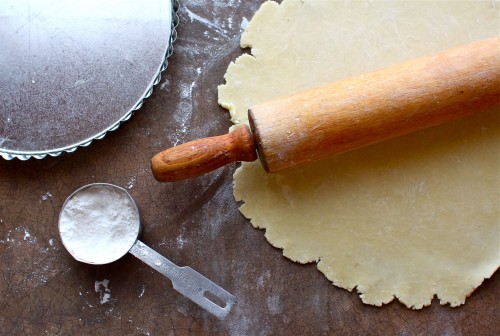 Tips to perfect pie crust
Use butter. Just do it. It imparts a superior flavor, results in a flaky crust without greasiness, and is better for you than dough made with shortening.
Use an acid. In this recipe, lemon juice is an acid that helps break down the gluten and results in a tender dough. You can also substitute white vinegar, but I prefer the bright flavor that the lemon imparts to the crust.
Keep it cold. Butter and ice water should be chilled before commencing the recipe. When the butter gets too soft, the dough becomes sticky and difficult to work with. More flour may be needed, resulting in a tough dough.
Rest the dough. This step happens after the dough is made, before it is rolled. A chilled dough will come together better, be easier to roll and produce a flakier crust.
Recipe: Rich Pie Crust
The addition of egg yolk makes this dough rich enough for a king and also helps it hold up better without getting tough. It is similar to the more traditional French method for pie dough called pâte brisée. This recipe is adapted from James Beard's recipe for Pâte Brisée.
Yields: pastry for two 9-inch pie crusts. One for today and one for the freezer.
Ingredients:
3 cups all-purpose flour, sifted
1 cup (2 sticks or 1/2 lb) unsalted butter, chilled, cut into 1/2-inch cubes
7-10 Tablespoons ice-cold water
2 egg yolks
2 Tablespoons lemon juice
1 teaspoon salt
(optional: 3 tablespoons sugar, for sweet dough)
Method
The directions below are for using a stand mixer to make the dough, which is how I make mine. A food processor also works well.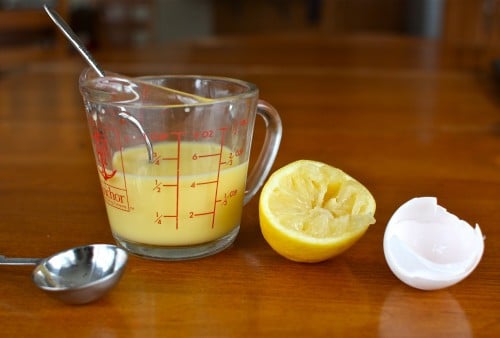 Pour water into a measuring cup and add egg yolks and lemon juice. Beat with a fork. Add salt and sugar, if using. Drop in an ice cube to chill the mixture while you prep your flour.
Sift flour into the bowl of a stand mixer and add butter cubes. Use the paddle attachment and beat for about a minute until butter and flour are partially smeared together. It's okay to have some lumps.
With the mixer on 'Stir', slowly drizzle the egg and water liquid into the flour and butter. Mix for another 60 seconds until the dough starts to come together. Stop the mixer, remove paddle, and using your hands, gather the dough together into a ball.
Remove pie dough from mixing bowl and place on a lightly floured counter. Divide dough into two and flatten each piece slightly. Wrap each disc tightly in plastic wrap. Don't worry if dough is slightly crumbly, it will come together in the chilling process.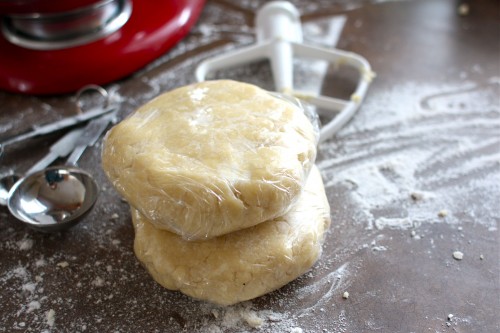 Chill dough for at least four hours and overnight if possible. Your pie dough is now ready to be used!
Dough discs may be frozen for up to five weeks.
Links
What was the last pie made from scratch that you enjoyed?