I've spent the past two weeks preparing myself for the upcoming holidays by stocking a sizeable portion of my deep freeze with an assortment of homemade chewy caramel candies, sugar and gingerbread cookie doughs, pie crusts, soups for quick and nourishing weeknight dinners, and no less than five different varieties of gougères ready for last-minute entertaining and party-going in the coming month.
Lest you think I'm hyper-organized (okay, maybe I am a little), most of it is due to the large amount of recipe testing I've been doing for my forthcoming book, and the fact that December is my busiest working month of the year, and there is simply no time to let myself fall behind when it comes to holiday preparations.
While all of the items I've stockpiled are essential sanity-savers, none are more important to me than the gougères I mentioned above. They are my secret weapon when it comes to holiday gatherings, and I always, always have a bag ready to be baked between December and January, when surprise visitors pop by or I'm in need of a last-minute party nibble.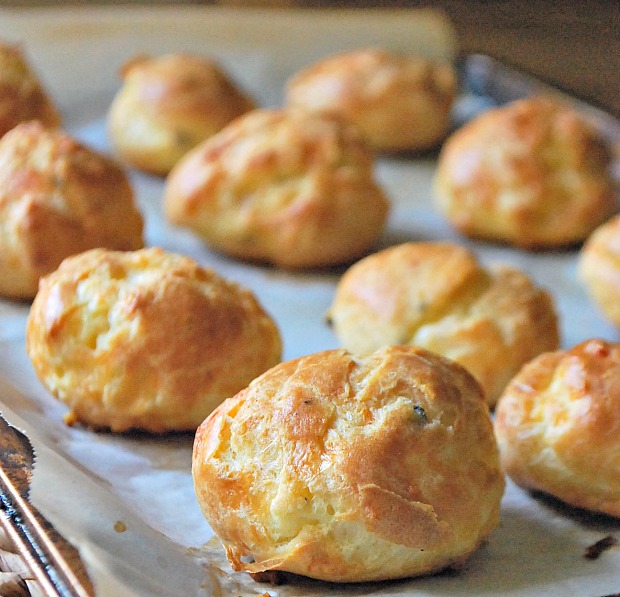 These golden, cheesy puffs just happen to be beloved by everyone (children included), can be made weeks in advance or an hour before you need them, transformed easily by using different cheeses, herbs and spices, and are made from everyday items you are certain to have on hand at all times.
Made from a simple French pastry known as pâte à choux, this lighter-than-air dough might sound complicated, but the method is far from difficult. With your ingredients measured and ready to go, the golden batter comes together effortlessly making this an ideal project for an afternoon when you have 20 minutes or so to spare.
I like to whip up a batch of dough whenever I have a little extra time, freezing the un-baked pastry pillows for future use. You can also bake, freeze and reheat just before serving, but I must confess I do prefer the former method when it comes to storing them.
While many recipes suggest using an electric mixer or food processor for incorporating the eggs, I prefer the method that uses the least amount of dishes so I make a one-pot version and stir vigorously with my hand and a large wooden spoon.
If you don't mind the extra clean up feel free to gain some assistance from your favorite small appliance… the end result will be the same.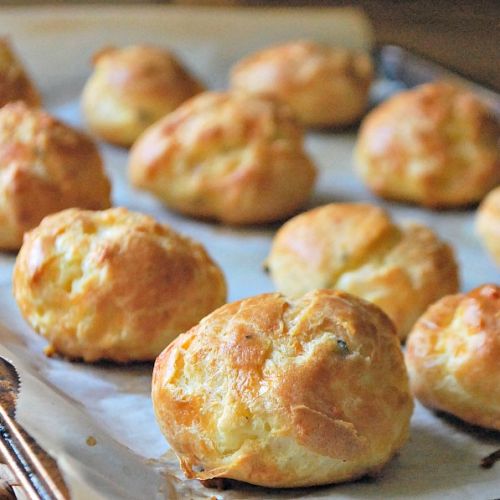 Classic Gruyère Gougères
A do-ahead appetizer made from everyday ingredients and beloved by all.
Print
Pin
Rate
Ingredients
1/2

cup

water

1/2

cup

milk

5

Tablespoons

unsalted butter

1/2

teaspoon

salt

1/2

teaspoon

black pepper

1/4

teaspoon

sugar

1

cup

all-purpose flour

4

large eggs

1 1/4

cup

grated gruyere cheese

Pinch

fresh ground nutmeg

optional
Instructions
Pre-heat the oven to 425 degrees and line two baking sheets with parchment paper.

Combine the water, milk, butter, salt, pepper and sugar in a medium saucepan set over medium heat and cook until the butter melts, 1-2 minutes.

Immediately add in the flour and stir until a dough ball forms and pulls away from the sides of the pot. Continue stirring vigorously until the dough is no longer sticky and a film forms on the bottom of the pan.

Stir enthusiastically for another minute or so, until the dough is smooth and glossy. This is an important step because if the batter is too loose when you begin incorporating the eggs, the dough will not puff properly come baking time.

Transfer to a bowl and allow the dough to cool for 1-2 minutes. Add the eggs, one a time, fully incorporating each one before adding another. Scrape down the bowl each time and check the consistency of the paste. It should be stiff enough to stand, but soft enough to spread. Add the cheese and nutmeg (if using) and stir to combine.

Using an ice cream scoop, two spoons, or piping bag fitted with a wide round tip, drop tablespoon-sized dollops of the paste onto prepared baking sheets. Using damp fingers, press down any irregularities in the shape and form a small ball.

Bake for 15 minutes; rotate the pans from front-to-back and top-to-bottom, then reduce the heat to 375 and cook for another 15 minutes, or until the puffs are golden and crisp (ovens may vary, so begin checking them after 10 minutes).

Turn off the heat and allow the pastry to stand in the closed oven for 15 minutes so the insides can thoroughly dry out.
Notes
Gougères can be or piped and frozen on a baking sheet before being stored in freezer bags for up to 2 months. Alternatively, you can bake them up to three hours in advance and then reheat in a 350 degrees oven for 3-5 minutes just before serving. Lastly, the dough can be piped, baked, cooled, frozen and stored in a freezer-friendly container. To reheat, warm gougères in a 350 degree oven until hot.
Nutrition
Calories:
65
kcal
|
Carbohydrates:
3
g
|
Protein:
2
g
|
Fat:
4
g
|
Saturated Fat:
2
g
|
Cholesterol:
33
mg
|
Sodium:
84
mg
|
Potassium:
22
mg
|
Vitamin A:
150
IU
|
Calcium:
65
mg
|
Iron:
0.3
mg
Tell me, what is your favorite go-to party snack for the winter holidays?