Were it not for the arrival of the vibrant pomegranate in winter, I might never temporarily release my affections for summer berries.
Fortunately, this fruit is bright and juicy, like my long lost raspberries and strawberries, and almost as versatile. It certainly has a spot in my refrigerator drawer and brings a welcome crunch and a pop of color to drab winter foods.
I don't buy into all the health claims and I don't drink POM frequently, due to the high sugar content, but I love, love sprinkling the fruit's arils (seeds) onto salads and sides.
Here are a few of my favorite recipes featuring pomegranate.
First, though, do you know how to de-seed a pomegranate? When I was just a girl, I would bring a pocket of change to the grocery store and buy myself a pomegranate, alongside my mothers' practical purchases. We lived in the Yukon, Canada's frozen north, so they were outrageously expensive, but I preferred them to candy.
Back then, I had all the time in the world to leisurely pull apart the pomegranate, and eat it, seed-by-seed. After all, I was savoring the experience. A taste of the exotic and a reminder of sunnier settings, when I was locked in with snow and ice for a good seven months.
Now? I'm often in a hurry. So here are two methods I used for de-seeding a pomegranate, depending on whether I want to keep really clean or get the seeds out rapidly:
The clean way: loosened in a bowl of water, as demonstrated in this (short) video from Kelly of Just a Taste.
The quick way: cut and tapped upside down, as demonstrated in this (long) video on LifeHacker.
Let me know which method you prefer in the comments.
Pomegranate recipe round-up (from the archives)
Citrus & Pomegranate Salad with Vanilla Syrup
During a season of extravagant eating, this festive salad is entirely guilt-free. It features an array of winter citrus and crimson pomegranate, presented prettily in a fresh take on a fruit salad.
Get the recipe: Citrus & Pomegranate Salad
Photo by Shaina
Apple Pomegranate Kale Salad with Lemon Vinaigrette
This particular salad pairs Lacinato kale with crisp apples, tangy pomegranate, slightly sweet shallots, and a good, salty feta. It's topped with a honey-sweetened champagne and lemon vinaigrette that brings all the flavors together seamlessly.
Get the recipe: Apple Pomegranate Kale Salad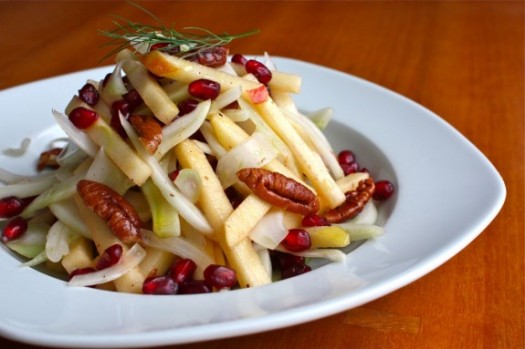 Fennel & Pomegranate Salad with Pecans
For the salad, the pomegranate arils, toasted pecans and vinaigrette can be prepared in advance, so when lunchtime rolls around, all you have to do is chop up an apple and fennel bulb and toss!
Get the recipe: Fennel & Pomegranate Salad with Pecans
A Christmas salad of winter greens & seasonal fruit
Not only does this slightly bitter, crunchy salad of winter greens boast the colors of Christmas, but it offers a welcome burst of acidity at a time when foods tend to be so rich. I think you're going to want to stock some kale and pomegranate in the refrigerator this week.
Get the recipe: A Christmas salad
Winter Sangria with Citrus & Pomegranate
This dark and delicious winter sangria rivals its summer counterpart. It's perfumed with clementines and sliced pears, and garnished prettily with fresh pomegranate arils. It's lovely served with a straw so you can sip and scoop up the wine-infused fruits, and makes a big batch – so perfect for entertaining.
Get the recipe: Winter Sangria
Pomegranate Sparklers
Toast the holidays or the coming new year with nonalcoholic drinks made with pomegranate, It's a simple and festive drink appropriate for celebrants of all ages.
Get the recipe: Pomegranate Sparklers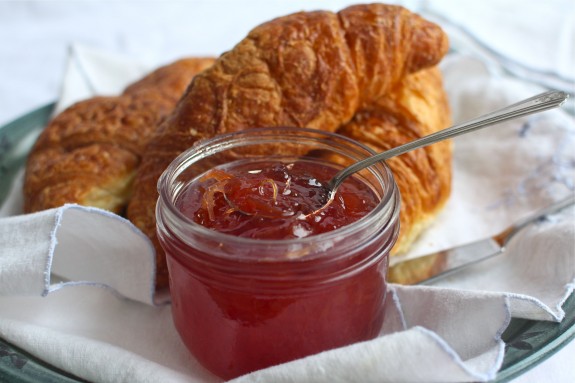 Pink Grapefruit & Pomegranate Marmalade
There are still plenty of fun preserving projects possible during the darker months of the year, and this festive marmalade is one of them! It would make an ideal homemade gift for handing out over the holidays, or keep it for yourself to open up on Christmas morning.
Get the recipe: Pomegranate Marmalade
Photo by Shaina
Honey Pomegranate Glazed Brussels Sprouts
Brussels sprouts are a quick and easy side to any family dinner. Adding a bit of pomegranate-laced honey, which can be made up in advance and saved in the refrigerator for up to two weeks, gives this dish extra flair without a lot of work. A sprinkling of pecans finishes the dish.
Get the recipe: Honey Pomegranate Glazed Brussels Sprouts
Chocolate Pavlova with Winter Fruits
This airy-fairy dessert will woo you with its combination of tart and sweet, creamy and crunchy. The chocolate meringue is completely decadent and provided the perfect 'bowl' for the pomegranate and cream.
Get the recipe: Chocolate Pavlova with Winter Fruits
But wait! Here are a few more ideas:
How do you like to eat pomegranates?