Things get really interesting behind the doors of a food bloggers' refrigerator, and so I have left the best part of the kitchen tour for our last day.
Back in my days as a culinary student and then later on when working in restaurants, it was not unusual to have regular inspections of our workspaces, including a detailed check up of our refrigerators. Items had to be clearly labelled, rotated regularly, and, above all, immaculate. It's safe to say all those years of vigilance left an impression on me and I continue to strive for an orderly fridge and freezer.
It's also safe to say that this attention to detail does not carry over to other parts of the house, say my coat closet or laundry room. So please don't compare the contents of your refrigerator to my photos below. I will have to subject you to Instagrams of my craft closet and boy, you don't want to see it.
I'm fortunate to have a beautiful platform to showcase my condiments and produce, juice jugs and brown eggs. It was well worth moving a cupboard over and reworking the kitchen cabinets somewhat to receive the 36-inch model, up from our old 30-incher.
"I've never felt this way about an appliance before."  I confessed to Danny, after the French door refrigerator from KitchenAid's Architect® Series II was installed in my kitchen. On the exterior it purred, gleamed and glowed from the LED screen above the water dispenser.
As for the interior, well, I kinda wanted to swing the double doors wide open and just stare into it.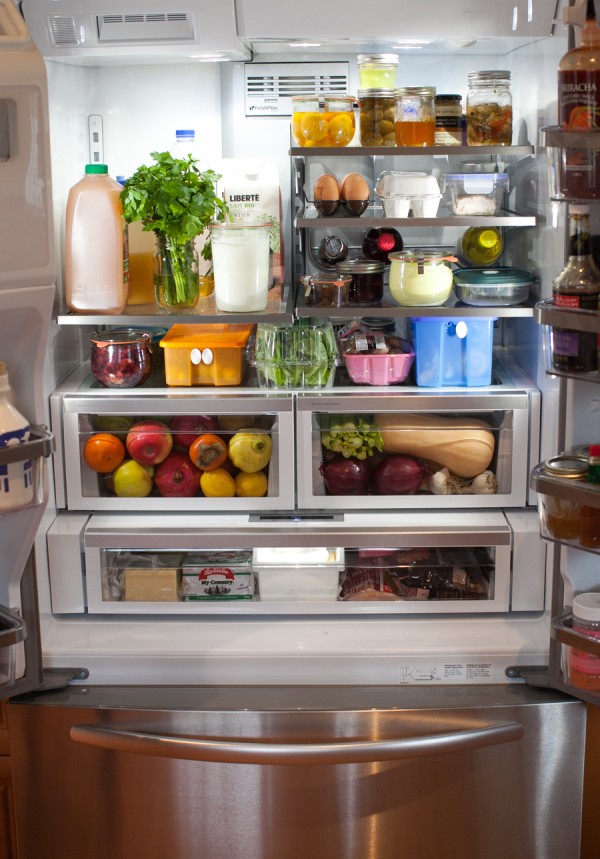 This fridge has so much going for it, particulars that I suggest you check out for yourself on the KitchenAid Canada website because they are too many for me to list here without making this post more epic than ever.
The engineer, Danny was pretty excited that it featured dual sequential evaporators (and I was all… whaaa? until he explained that means the freezer air does not mix with the fridge air) which are part of the Preserva® Food Care System. I'm all about keeping food fresher for longer and less waste.  More on that below.
Sufficient to say, I love it.
Two deep crisper drawers have an ethylene-absorption cartridge that helps extend the freshness of produce. So far, so good. And below, the electronic temperature controlled pantry – already so handy for lunch items. I have yet to fill it as there is a ton of space in there.
Tip: Store your blocks of Parmesan wrapped in tin foil in the fridge. It maintains the correct moisture level so the cheese neither "sweats" nor dries out. For a reasonable time, of course.
Tip: I prefer to store things in glass jars instead of plastic so I can see what is inside, and decide at a glance if it needs to be used up. I use canning jars, Weck jars (pictured above), and  most any recycled jar from the kitchen.
One more favorite feature from this model? The ice and water dispenser. This is a first for us and naturally, the boys love it – we're all drinking more water as a result. The ice dispenser feels like such a luxury, although I am putting it to good use in day-to-day cooking with cooling blanched vegetables, boiled eggs, and so on.
The Freezer
Once you realize that I have moved from a life of digging through the jumbles of a top-mounted freezer to the ease of a pull-out bottom freezer, I think you'll understand my enthusiasm for this 3-tiered freezer drawer with storage dividers.
This level of organization would be difficult were it not for the drawers, the top two of which stay tucked in and cold unless needed. Here are the three levels of freezer utopia.
1. Preserved Produce.
Here is a selection (there is more in the chest freezer) of fruits and vegetables from the summer that I have preserved in one way or another for our use all winter long.
Vacuum sealed produce (from the top of the image) is: rhubarb, strawberries, raspberries, blueberries, peaches and cranberries. There are also some roasted tomatoes and basil pesto. Fruits are frozen on a tray, then transferred to bags and sealed with my Sous Vide vacuum sealer
.
The small jars hold raspberry butter, ramp pesto and barbecue sauce. The larger plastic containers are filled with roasted strawberries, pumpkin purée,  parsley pesto, coulis and pizza sauce.
It's a colorful harvest, no?
2. Baking Supplies
All of my ground spices are stored in the freezer to maintain freshness, and they are stashed in a drawer dedicated to baking. Phyllo, puff pastry, and pie dough all hang out here, as well as a log of basic shortbread, plenty of butter, and nuts.
3. Stock, Flours, and bulky items
This larger bottom drawer is the catch-all for the larger items, mainly liter jars of homemade stock and the bulk of my flours. A handy divider holds frozen sweet corn and more ground spices.
Tips for freezing in jars: Leave 2 inches of headspace to allow for expansion. Cool overnight in the fridge. Place on a flat surface in freezer. Freeze with lids off. Add lids when stock is solid and label with the date. Try to only use the straight side jars not the jars with shoulders ( I don't always do this as you can see!)
All of these items are fully visible and fully within reach for my daily cooking and baking. 

Fresh Facts Survey:
KitchenAid Canada has created this interesting infographic on food waste  – some of the facts may surprise you!
I was surprised at the top five produce items that Canadians throw out! My three kids plow through bananas like nobody's business, and we seldom buy grapes as they are so full of pesticide residue, so that isn't a problem.
Lettuce, however? Its spoiling can sneak up on you quickly. The Preserva® Food Care System in this KitchenAid refrigerator should help us keep lettuce crisp longer.
In addition,  here are three of my favorite ways to use up lettuce before it goes slimy or wilts:
Jar it:  Make-Ahead Mason Jar Salads
Wrap it:  Avocado Egg Salad Lettuce Wraps with Bacon
Grill it:  Grilled Caesar Salad
Disclosure:
KitchenAid Canada has compensated me for my services and my posts, but all posts represent my own opinion.
Questions?  I'll be around to chat in the comments. Thanks for reading!