Welcome to my kitchen; let me pour you a cup of tea.
Take care, you may step on a stray toy and I can't guarantee we won't be interrupted by an ever inquisitive toddler, but I'd love to show you around. After all, this is the heart of the home, my office, work zone, test kitchen, and absolute favorite place to be, ever.
There is no better time for a warm kitchen tour than the quiet, dark days of November. We've come in from the cold, the homestead is battened down for the long winter, and the bustle of the holidays is not quite upon us yet. We can take the time to talk shop on subjects like organizing the freezer, storing home preserves, controlling pantry sprawl, and the best home appliances for a kitchen that sees a ton of action.
This visit is long overdue, but we're going to do it up proper. Every day this week, I'll post a virtual walk-through my kitchen space and share a few tips for things that really make it work.
But first…the 'before': the second-hand appliances to which we happily bid adieu.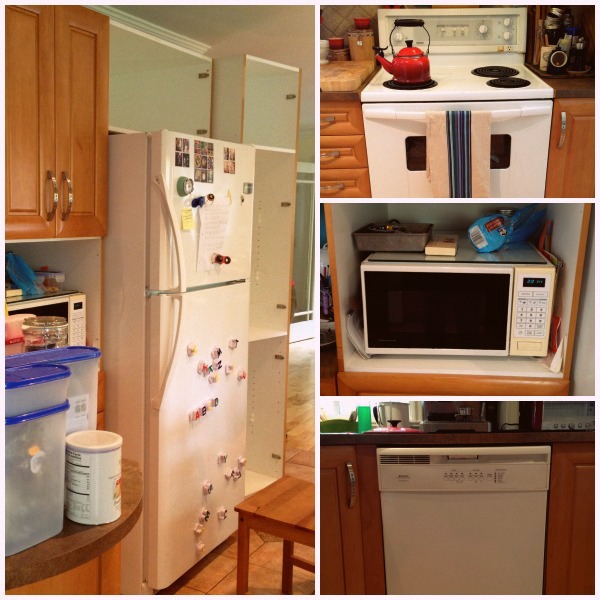 I burned countless trays of cookies in that oven and the refrigerator always froze the edges of my produce. In a recent development, the dishwasher door had to be closed with a hip check, and that microwave wasn't big enough for a casserole dish. Now any dishwasher is better than none, I acknowledge that, but these old appliances had served their term.
I'm now working in a freshly updated space with top of the line appliances generously provided by KitchenAid Canada.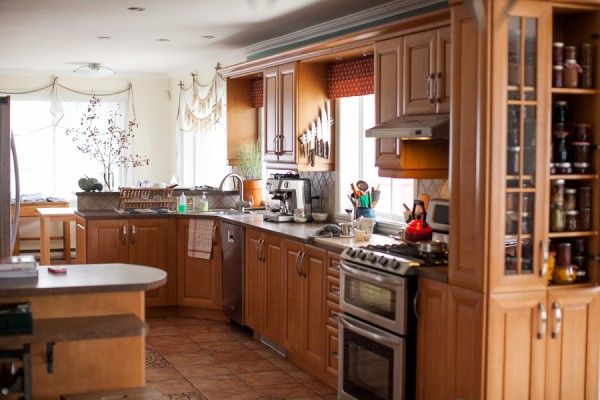 We renovated two areas in the kitchen to accommodate the shiny new appliances – over the Thanksgiving long weekend, no less. I'll share more about what we did in two upcoming posts featuring the free-standing range and the French door refrigerator.
I was thankful we didn't have to renovate anything major, as I am up to my ears in recipe testing for the Brown Eggs and Jam Jars cookbook. I love my kitchen, with its double windows, thoroughfare center, and bookended by a jam pantry and a bar. Well, let's look some more.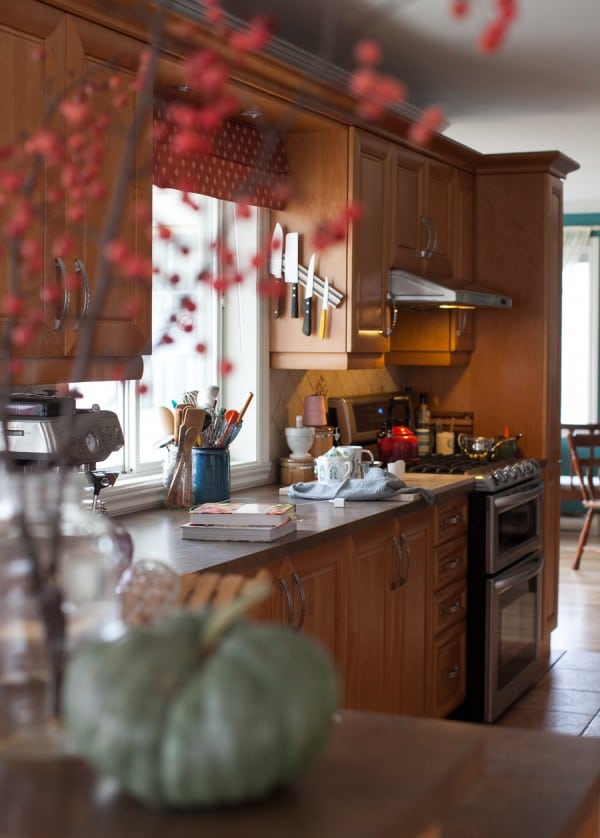 Believe it or not, I still run out of counter space. This bar is on the left as you enter the kitchen from the main door. It's my favorite spot to put out a punch bowl and finger food at parties because it keeps people away from the stove, where I am working!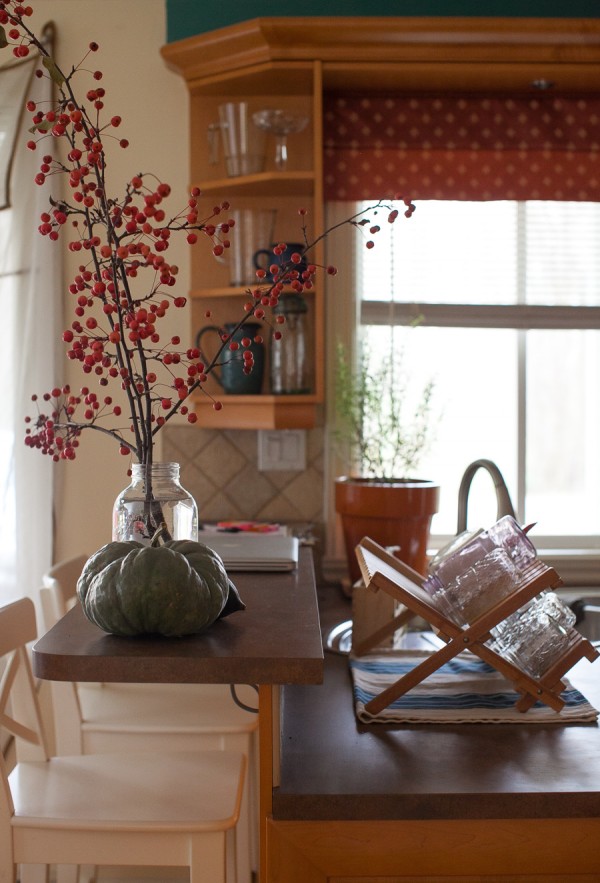 That same, sunny bar is also my morning work zone, where I perch with a coffee and answer emails chat on Twitter. One con?  It's such a handy drop spot, it is forever cluttered.
Near to my beloved corner sink, is the hardest working appliance in the kitchen. You can probably guess.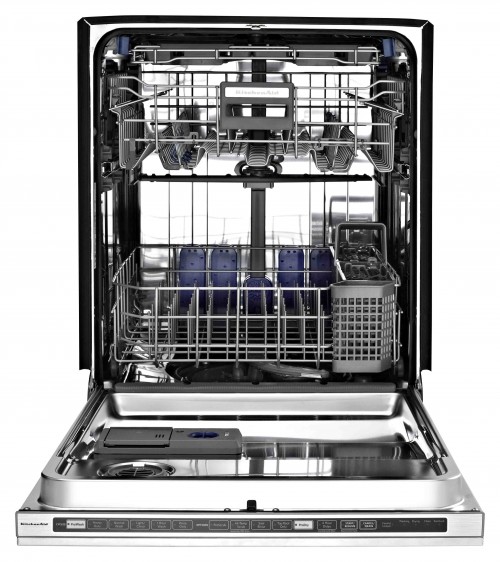 The new KitchenAid Superba® Series EQ Dishwasher is up for the task of keeping up with my output of dirty dishes, and thank goodness it is, because I fill it twice daily and sometimes more. I could go on and on about its unique features (So. QUIET!)  but my one of favorites has to be the third level Culinary Tool Rack  that I make good use of. It's been fantastic for canning rings, which I dislike washing by hand.
Also? I love that the button panel disappears when the door closes; Clara used to walk by our old dishwasher and turn it on! Yikes.
All right, at the end of the long counter under the window, is where things really heat up….finally, I'm cooking with gas!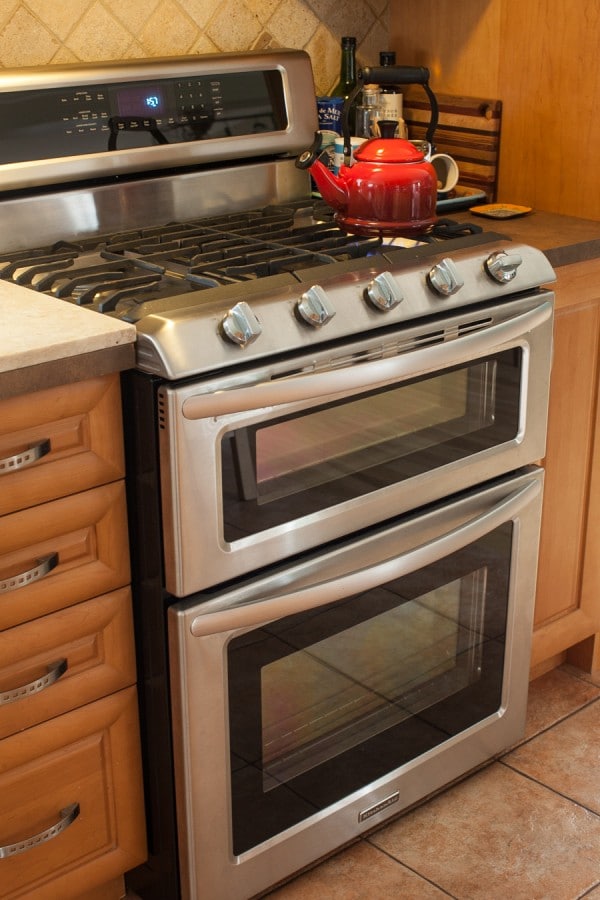 Look for a post tomorrow with all the details on this KitchenAid, 5-Burner Freestanding Double Oven Range. It feels like it was built specifically for my space and my needs. I am already making good use of the double ovens for all my recipe testing and the fifth oval burner has been exceedingly handy for late fall canning projects.
The range is a beauty, but more importantly, its performance meets my daily demands with no complaints. I think this is the beginning of a beautiful friendship (name that movie!).
Spin around 180 degrees from the stove and I have a peninsula counter, handy KitchenAid countertop microwave and…my new best friend.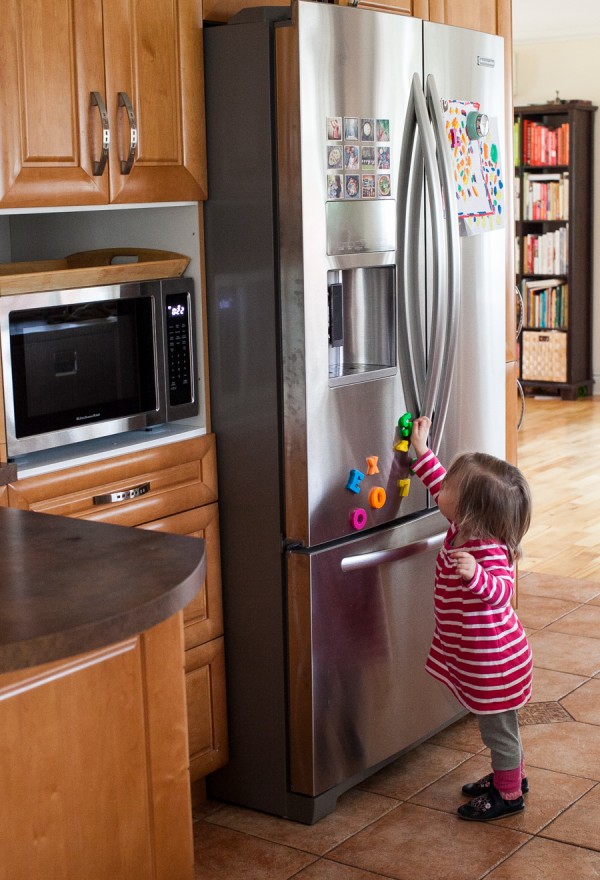 I'm trying to remain calm and walk you through my kitchen without using words like 'obsessed' and terms such as 'in love', but it is really hard to hold back when talking about this wonderful (here I go…) refrigerator that I still can't believe is occupying my kitchen.
This 29 cu. ft. standard-depth French door refrigerator is KitchenAid's Architect® Series II. Yep, that's quite a title, but this fridge does it all from instantly grinding ice for margaritas (dangerously enabling, I tell you) to its Preserva® Food Care System that noticeably keeps produce fresher for longer.
And then there is the freezer.
After managing with a top door freezer for forever, I am *loving* the pull out freezer with three drawers on the refrigerator. My preserved summer produce and baking supplies are now super handy to reach. No digging with frozen fingers required .
Get the full fridge and freezer tour on Thursday when I am swinging open those doors and drawers!
This side of the kitchen opens on to the dining room (which we'll tour on Wednesday) and is a hub of all sorts. The children frequently push up chairs to assist in mixing up baked goods with our KitchenAid stand mixer, so the counter is usually dusted in flour.
When I entertain, I set up the self-serve coffee bar on the lower level counter, again, to keep folks from congregating right in the kitchen!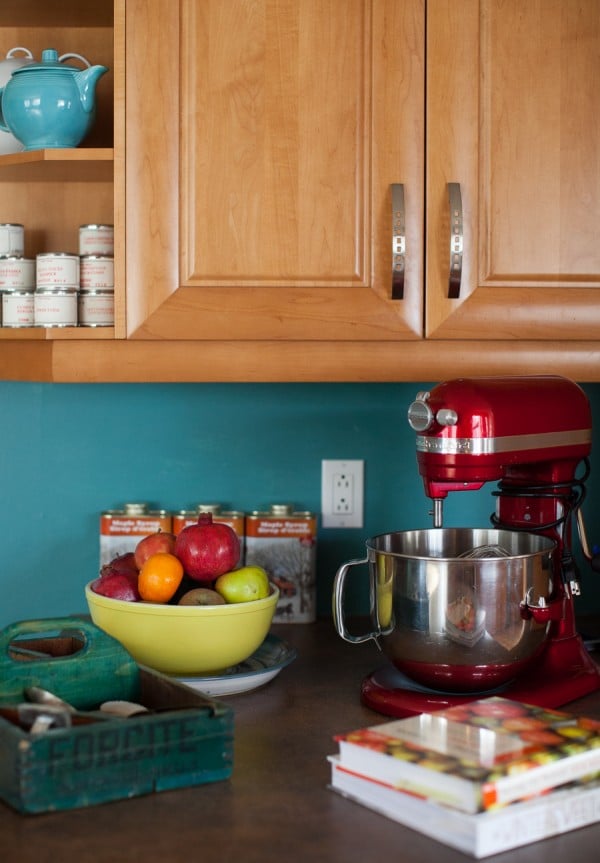 It's also a sweet spot to browse cookbooks and get inspired. I usually have two or three within reach, and the rest take up residence on the living room bookshelf. Color coordinated, of course.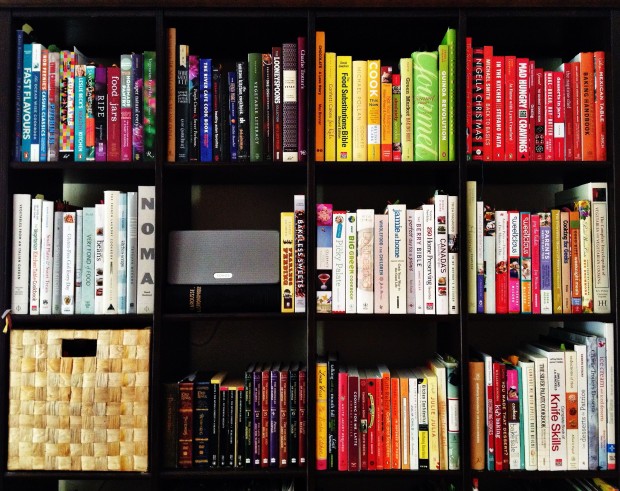 Just two storage spaces and we will wrap up this part of the kitchen tour. I couldn't leave out my beloved preserves pantry. It was designed, I imagine, to hold delicate stemware and Royal Doulton figurines, but I prefer it like this.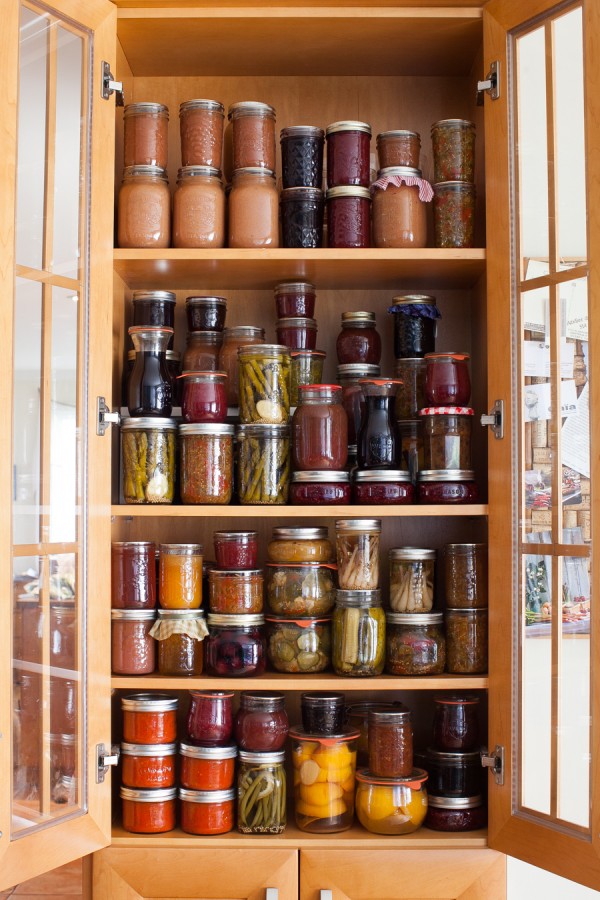 Pickles, jam, fruit butter, pizza sauce, salsa, relish, chutney….it's going to be a sweet, tangy and tantalizing winter.
Below are what I am calling my 'Homesteading Shelves'. A blocked off, unused entrance was always an awkward corner of empty space until I picked up an industrial shelf from Costco, attached it to the wall for safety, and loaded it up with all the useful items that were cluttering up my kitchen counters and contributing to cupboard sprawl.
Canning jars and pot, small appliances, egg cartons, bulky pans and even a few food photography backgrounds now have their very own space. I find I am using everything far more now that it is readily accessible…and my kids are happy about more waffles.
So concludes the first instalment of the kitchen tour! Thanks for sticking around to the end. As you can see, a lot happens in this space, so this visit was bound to go into overtime.
See you tomorrow when we will heat things up with a closer look at that dual-fuel range and all its bells and whistles.
Disclosure:
KitchenAid Canada has compensated me for my services and my posts, but all posts represent my own opinion.
Questions?  I'll be around to chat in the comments. Thanks for reading!