Today's post is written by my sister-in-law, Laura, who is partnered with my brother, Josh, on their own homesteading journey. From raising wild boars to constructing artful greenhouses, they have inspired me many a time with their projects. Their latest DIY undertaking was to build a most impressive cider press and I asked Laura to contribute an article about how it came to be and the rewards it brought. Take it away, Laura!
The last time Josh and I were graced upon the pages of a food blog it was about how bad our car smelled, all for good reason of course – it was because it was full of fish from our trip to Haida Gwaii.  Well, I'm at the point again where my car smells, but this time it smells good, really good. That's because on any given day I've got between 1 and 6 boxes of apples in the back.
These apples, I'd like to point out, are free, foraged from both rural and urban spaces where they are going to waste.  I think I'm actually addicted to it, as in, "Where can I get more free apples, please?"  I have to confess I sometimes drive around the back alleys in town in search for fruit to forage.  "  'Where are we going Mom?'  Uhhh, I'm just looking for apples.'"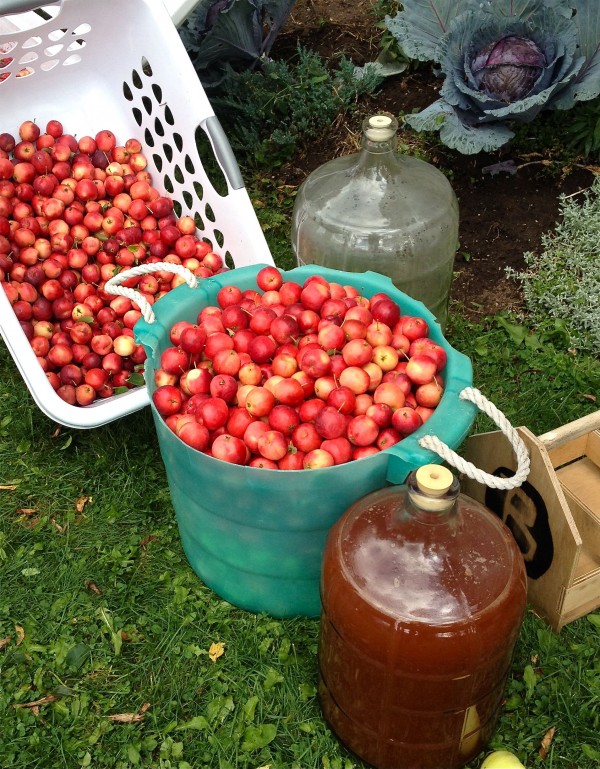 The amount of fruit trees in our country that go about un-noticed, neglected and lonely is incredible! You'd think they'd evolve into emotionally unstable creatures… if these trees were in Narnia they would tell us that they need more love…. But I digress, this isn't a blog about talking trees or the emotional state of a depressed deciduous.  The point is that there are many, many fruit trees that go unharvested year after year.
So, I've got all these apples, now what?  I canned a dozen or so jars of applesauce, but what I've always wanted to do is build an apple cider press, and this year it happened.
How to build a cider press
I've been dreaming of building an apple cider press for quite some time. Over the years, our workshop had become cluttered with little piles of free hard wood from free-cycle, faded papers of building plans and a huge cast iron fruit grinder in a box.
It was a similar desire for harvesting homemade cider that brought my brother, Jeff, into the picture. Thanks to having a few weeks off work and being very great with tools, he was the winning ticket to make this project come to life.
Jeff loaded up his truck with all the odd and ends I'd been saving, and on his own time, did a very meticulous job of bringing all these parts together. What he presented a few days later was a beautiful old world-looking cider press that, I have a feeling, will last for a few generations to come.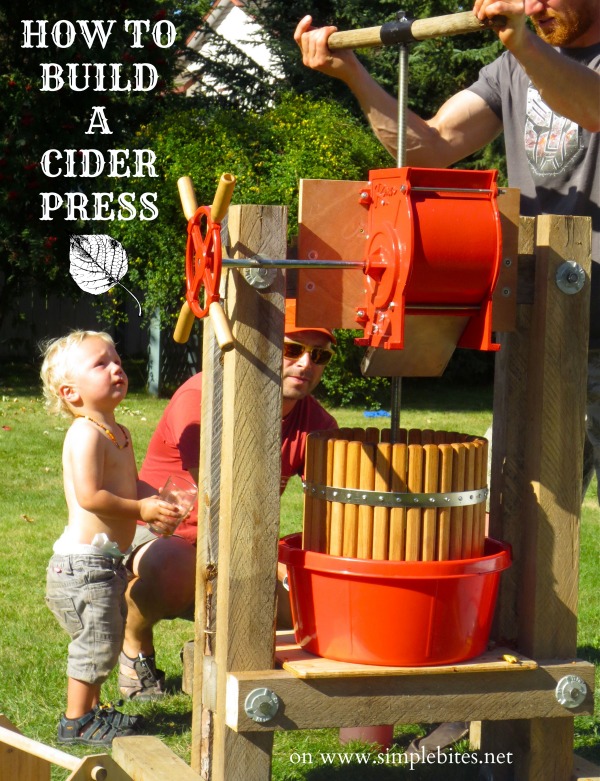 What comprised our homemade cider press?
a basic, but very solid, rectangular frame that can support the pressing process.
an apple & fruit crusher mounted to the side of it (the only item which Jeff didn't make and which I bought from Amazon),
an oak slatted barrel held together with stainless steel (this has to be very strong),
a mesh bag to keep the apple pulp tidy inside the barrel and easy to clean out.
a long piece of threaded rebar to act as a screw within the press and threaded through a large nut in the frame of the press.
a thick and round wood piece that fits snug in the oak barrel that does the job of pressing,
a clean base for it to drain into (which was a large new plastic basin with a funnel end pressed through)
Those are the components for building your own cider press. Each carpenter/handyman will have their own method for assembling the parts, but when it is complete and put to work, it will look something like this:
 Pressing the Cider
Wash the apples that you've been collecting.  Some of ours sat for a few weeks to sweeten up. Don't fret about what kind of apples you have, just be aware that some make more juice than others and some are more sweet and others more tart. We blended many varieties with great success.
Next, grind up your apples to allow the juice to flow out of them the best you can. Do cut off any bad spots from bugs before grinding , it's Ok if they are a bit bruised in spots.
Once your oak slatted barrel is full of apple pulp, place your thick pressing round in the barrel and start pressing. Essentially you are just squishing the juice out of the apple.
Now pour yourself a cider, and everyone else one too for that matter!
Yield: Our barrel would take about 1 laundry basket full of apples and make around 6-10 litres of juice- depending on the apple.
TIP: An important factor to remember is to make sure everything is really clean before you start; you don't need weird bacteria in your juice.
Now I'm sure I've skipped some details, but if you look up "apple pressing" there are many great sites on how to build a press and juice apples. (Editor's note: See resources linked at the bottom of the post.)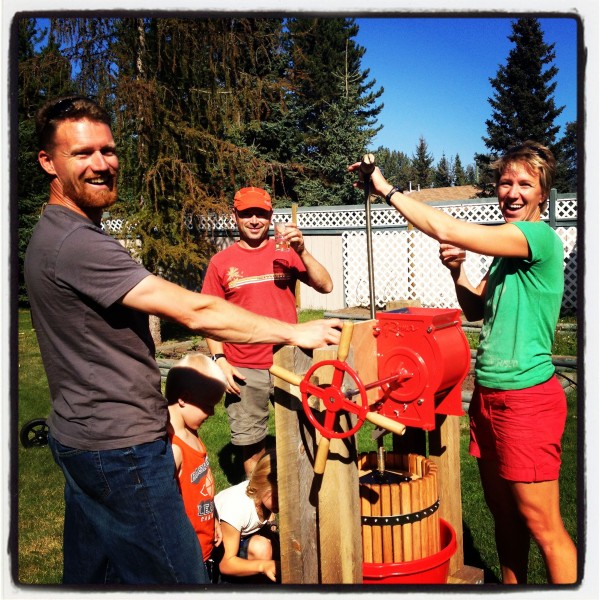 ALL photos in the post courtesy of Laura Hols-Wimbush (cute girl in green!).
Our first day using the cider press was everything I imagined it to be, with children running around  in the late summer sun, munching apples to their heart's content. We feasted from a table laden with food in the corner of the lawn and friends drank apple cider from previous years (or from the local liquor store).
Together we pressed communal boxes of apples, we laughed, and we swatted bees, a lot of bees actually.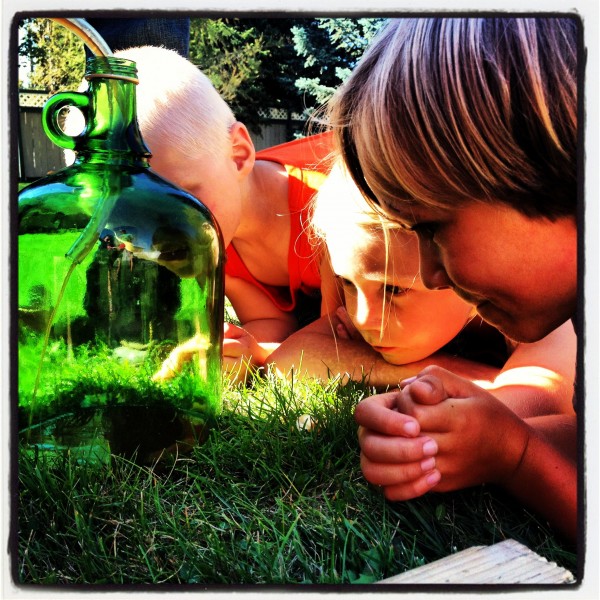 At the end of the day 1 we made around 50 liters of fresh apple cider, and proceeded to make the same amount the following week.
Fresh juice has been on the table at most breakfasts these days, but I have also frozen some for later enjoyment. We used large glass flip-top bottles for freezing, remembering to keep the tops off and leaving headspace for expansion.
And, of course, I've got about 30 liters of cider happily bubbling away in the basement for a true apple cider beverage.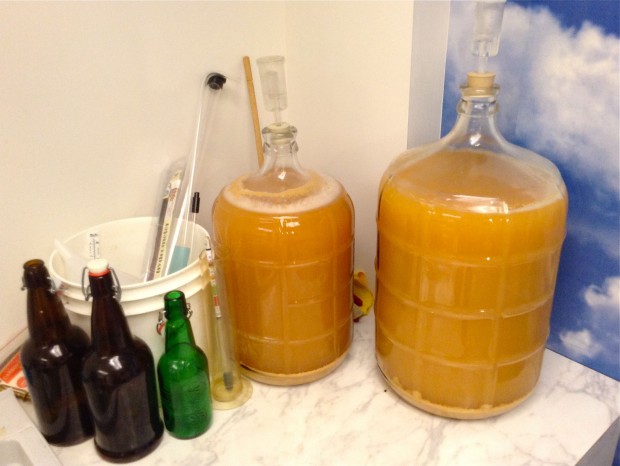 Benefits of foraging
I've met some of the most amazing people when asking if I could pick their apples.  Last week, my apple inquiry led to an invitation to tea from a beautiful lady in her late 80's. Happy to have some company (and someone to clean her apple tree for her), she told me story after story about life in Canada in the 1950's.
She reminisced about teaching in the school house before she had children, and how on summer nights while doing dishes, she would watch from her kitchen window as her 5 year old daughter would sneak out of the house. Clad in only her nightgown and bare feet, the small girl would quietly ride her new horse around the yard, only to sneak back into bed afterward. A beautiful secret between mother and daughter.
The elderly lady's warm hand on my arm as I said goodbye reminded me that this isn't really just about the apples, but about community, and carrying on the traditions of our forefathers.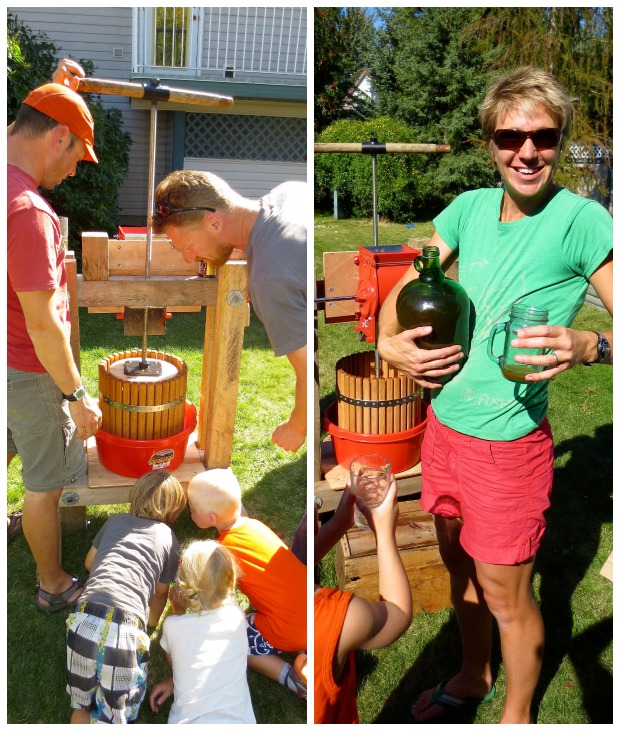 Helpful links and resources:
Have you ever pressed cider? Do you have any tips for our readers?