Easy, gorgeous and frugal: make this DIY spring centrepiece for the Easter table or just a splash of everyday beauty.
We Canadians have to wait for spring just a bit longer than seems fair. So if you're like me, and itching to see tiny greens sprouting from the earth, then you're going to love this idea for a pretty (and economical) spring centrepiece.
The concept is simple: just put your vegetable trimmings – like carrot tops or celery stumps – in water and watch them sprout and grow.
After a few days, tuck the vibrant green shoots into thrifted tea cups or other cute bowls and group them in the centre of your table. Voila, a touch of springtime beauty from what would have been compost.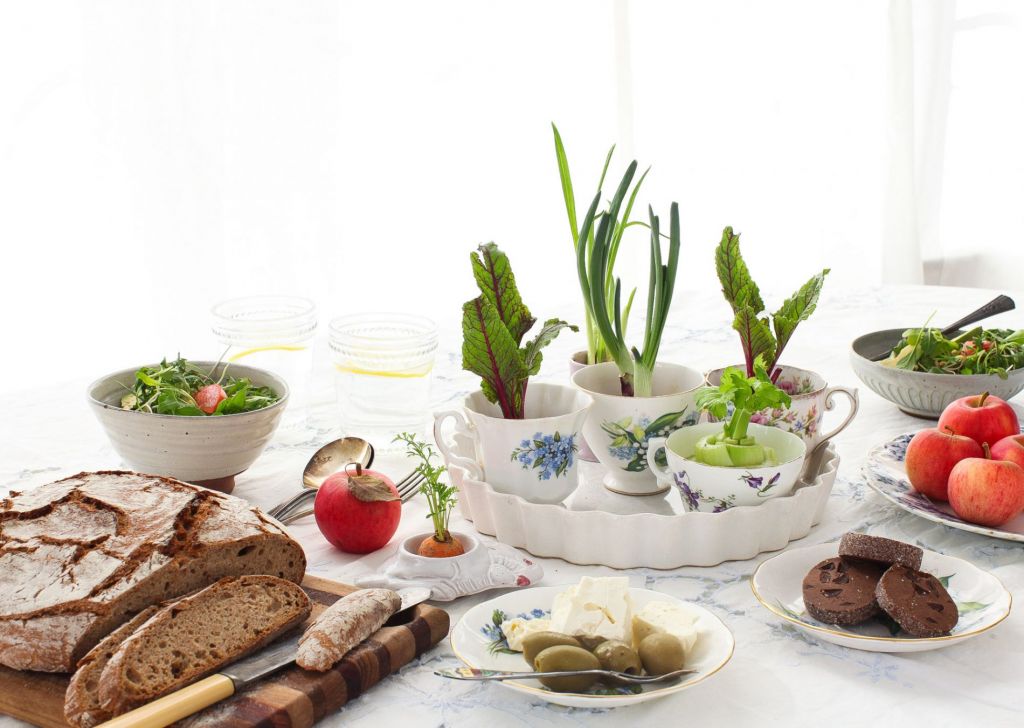 Your charming spring centrepiece will be the talk of the table, not just because of its originality, but because it's also one heck of a zero-waste kitchen hack.
Now I know this has kids' science experiment written all over it (and they do get a kick out of watching the greens sprout up), but this project has a strong practical side.
Your vegetables' regrowth can be "harvested" for cooking! Young beet greens are delicious raw in salads and slaw, and carrot tops can be whizzed into a bright and flavourful pesto.
Green onions and garlic shoots can be tossed into a stir-fry or garnish a platter of fried rice. And baby lettuce can be turned right back into salad.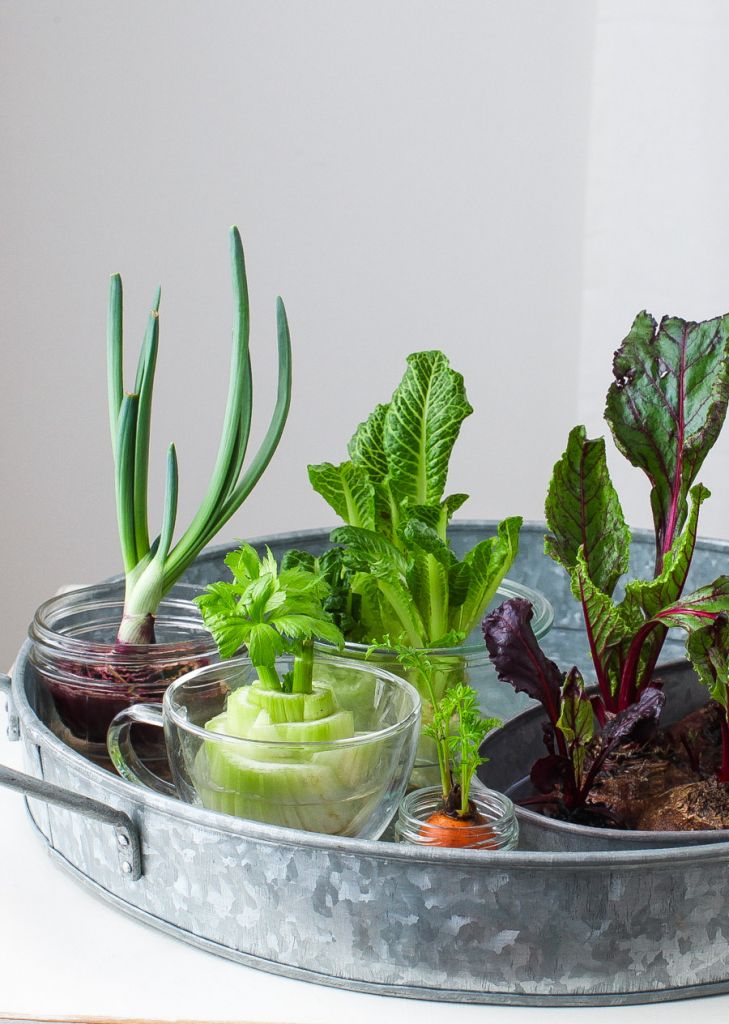 How to Regrow Vegetable Scraps
I'd recommend sprouting your vegetable scraps about three weeks before making your DIY Spring Centrepiece. Here's how to get started:
Step 1: Gather your vegetable scraps
Beet tops – 1 inch
Carrot tops – 1 inch
Celery stump – 2 inches
Garlic cloves, starting to sprout green
Onion end (root side) – about an inch with roots attached
Romaine lettuce stump – about 1 ½ inch
Green onion – 2 inches of white parts with roots attached
Step 2: Place scraps in water
Place them in a tray or collection of small kitchen bowls – any vessel that will hold a bit of water and isn't tippy. Add 1 inch of cool tap water around the vegetables, taking care not to submerge them. Taller vegetables like green onions can go into a mason jar.
Step 3: Place in a partially sunny spot
Set out your vegetable scraps where they will get some natural daylight. Keep them away from any direct heat source such as a baseboard heater.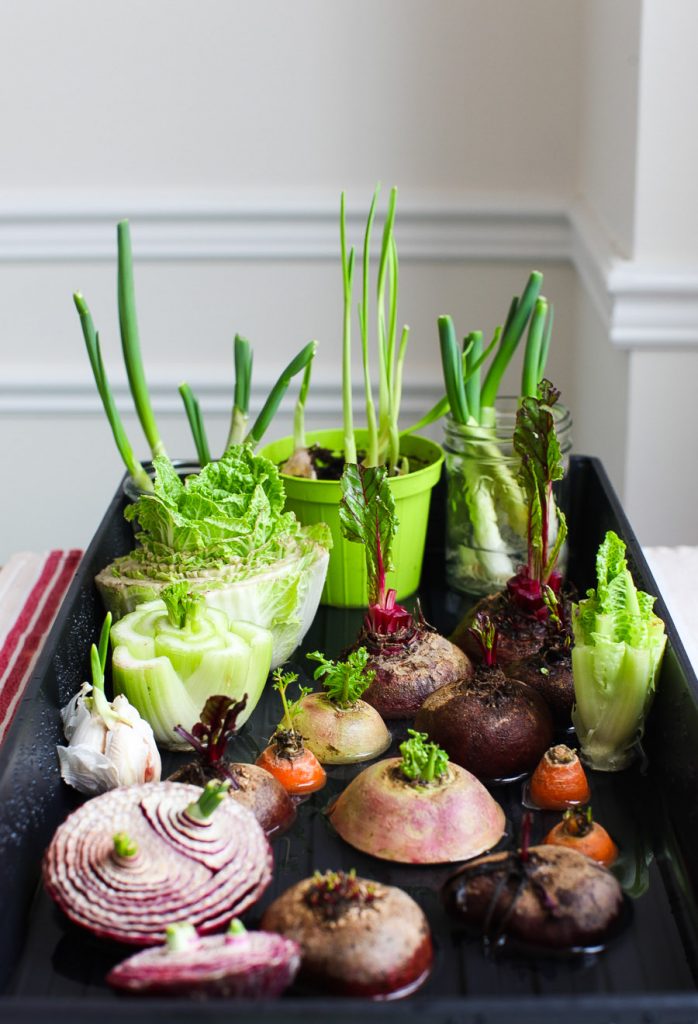 Step 4: Change the water every day
Refresh with cool, clean water. I remove the vegetables and scrub off any scum skin or grime that may have accumulated on the bottom of the dish.
Step 5: Wait and watch them sprout
Regrowth will start after about 4-5 days, depending on the vegetable. Green onion and garlic sprout up quickly, while others, such as carrots or celery, take their time. Now you can make your spring centrepiece!
TIP: For a full tutorial and all your questions answered, read How to Regrow Vegetable Scraps. I've listed many more vegetable that I have successfully sprouted as well as tricks I've learned along the way.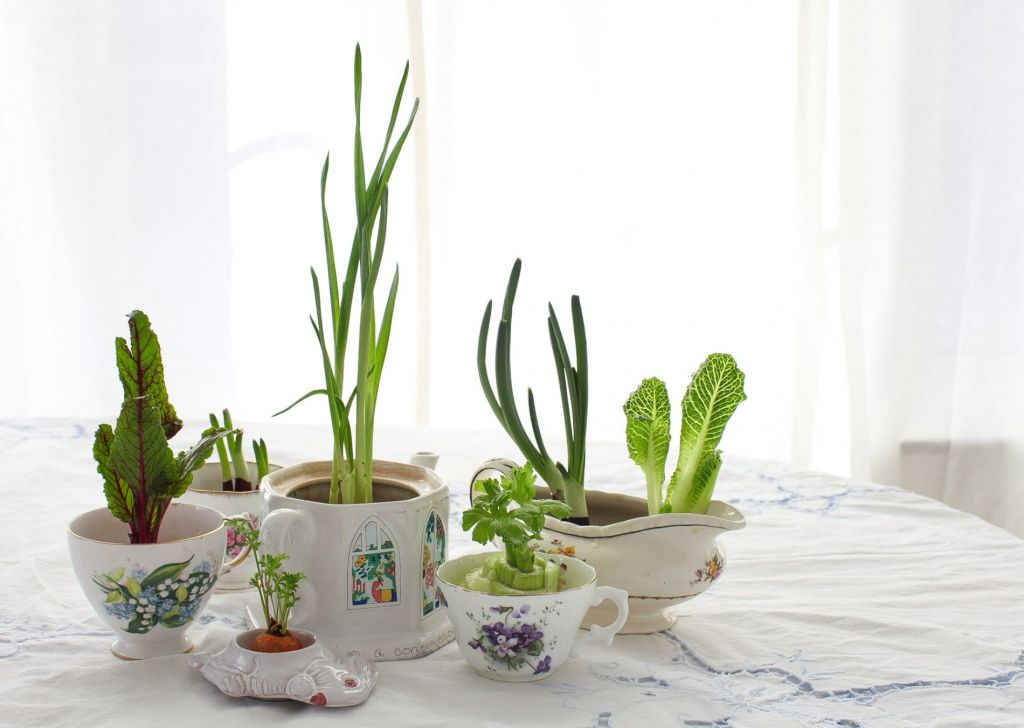 Make a DIY Spring Centrepiece
Here's how to make your spring centrepiece and add a touch of natural beauty to your table – at zero cost.
Gather a collection of dishes
Use mismatched china dishes, such as bowls, mugs…whatever you have that makes you happy. I used thrifted tea cups from Value Village, an antique gravy boat, eggcups and a mini teapot. Small mason jars would also work.
'Plant' sprouts
Tip a bit of water into each piece of china and divide the sprouting vegetable ends among the dishes.
If you want the arrangement to last 3-5 days longer, use potting soil in the teacups, then 'plant' your vegetable sprouts. Keep the soil damp with frequent waterings.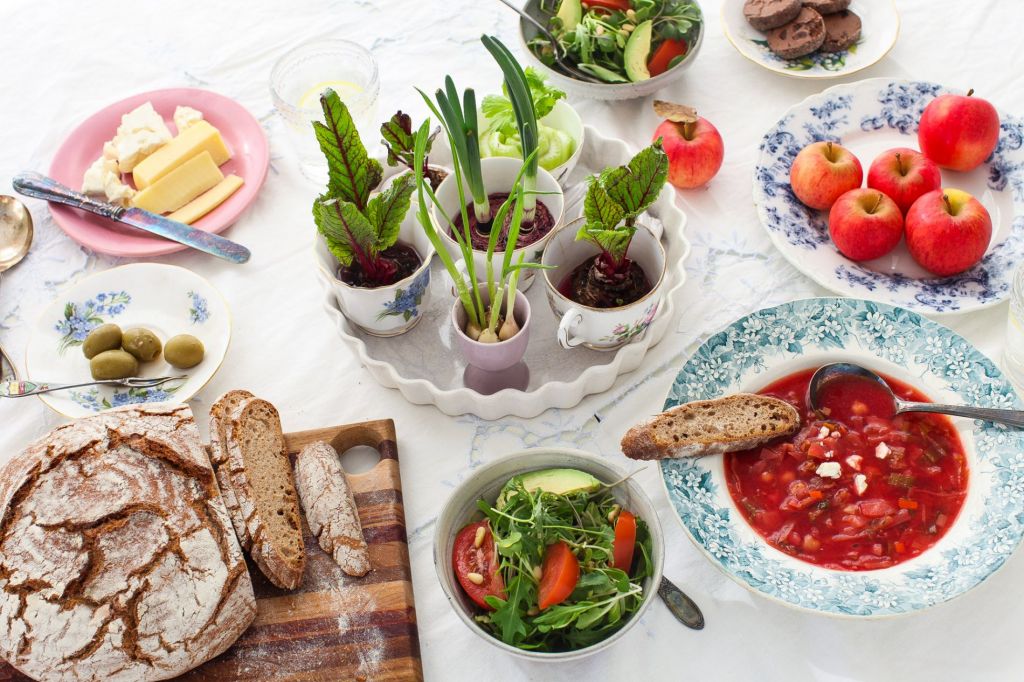 Arrange a 'garden' grouping
Arrange the little mini garden in the centre of the table, either on a tray or just grouped together. And there you have it!
This unique spring centrepiece is a frugal and fun way to welcome a new season. It's also a great way to model a no-waste lifestyle to the next generation.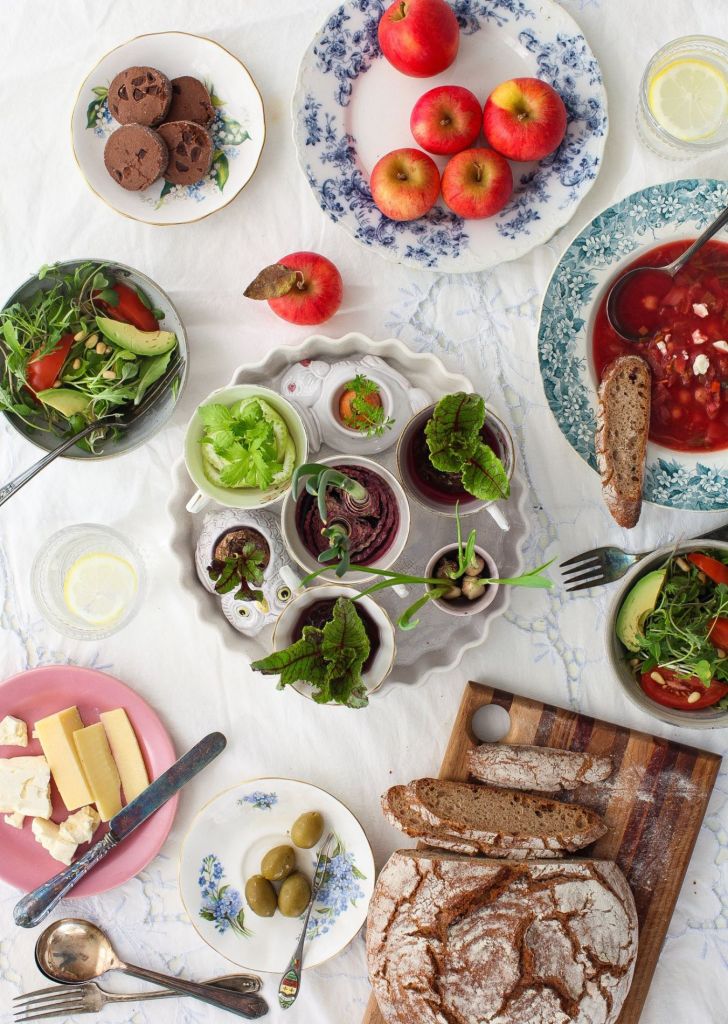 How do you decorate for Springtime?