A vegetarian main dish of hearty ancient grains and nutritious winter greens; a recipe designed to minimize food waste and maximize the use of leftovers.
We tend to need a boost of vitamins in the darker months, so that's when hearty ancient grains and nutritious winter greens come to play on the plate.
I'm obsessed with the bolder flavours of winter: earthy squash, bitter greens and tart apples. Today's recipe uses all of these ingredients in a nearly vegan (hold the dollop of yogourt) main dish that is as beautiful as it is nourishing.
Zero Waste Cooking
I'm renewing my commitment to a zero-waste kitchen in 2020, and this recipe is a perfect example of zero waste cooking.
Food waste is the single biggest problem in our current food system. Around 30% of what we buy will either spoil or get tossed, so why not keep things interesting and cook with those scraps?
Grains and Greens-Stuffed Squash with Herb Salsa is designed to minimize food waste and maximize leftover usage, so throw open the door of the refrigerator and get in there up to your elbows.
You can toss in most any hearty grain and winter green interchangeably, so now is your chance to use up that half a cup of cooked farro, brown rice, quinoa, millet or bulgur.
You can cook all those grains in advance and freeze them (How to Freeze Grains). So next time, cook a little extra and freeze in 1-cup portions to make this recipe over and over again. Spring is still a long way off, my friends.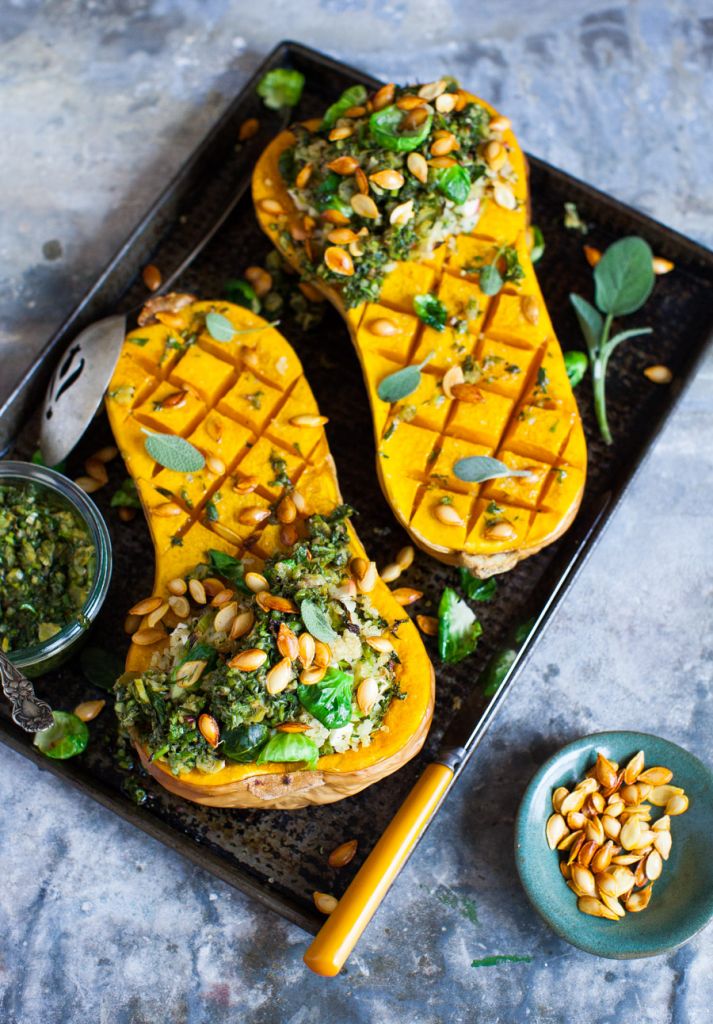 Additionally, substitute any winter squash variety you like for this dish, and be they Acorn or Delicata, you can enjoy the skin as well – less waste!
As a garnish for this roast squash, I've turned wilting herbs and their leftover stems into a vibrant salsa topping, punched up with a good hit of vinegar and seasoned with a hit of paprika.
You can make the herb salsa ahead of time and keep it in the fridge. It's also SO delicious on roast vegetables, quiche and frittatas, and stirred into winter soups and stews.
Incorporating leftover food scraps into your meals begins one dish at a time, one home cook at a time, so let this recipe to inspire your journey to zero waste cooking.
Grains and Greens-Stuffed Squash with Herb Salsa
Hearty ancient grains and nutritious winter greens come to play in this recipe which is designed to minimize food waste and maximize leftover usage.
Print
Pin
Rate
Ingredients
1

small

butternut squash

2/3

cups

extra virgin olive oil

divided

fine sea salt

freshly ground black pepper

3/4

cup

finely chopped soft herb stems and leaves

mix of any parsley, oregano, mint, dill,
tarragon, cilantro, thyme

1/4

cup

red wine vinegar

1

large

garlic clove

minced

1

pinch

smoked paprika

1

cup

cooked grains

farro, brown rice, quinoa, millet, bulgur or other

1

cup

shredded winter greens

kale and stems, Brussels sprouts, cabbage, fennel, beet stems, etc

1

small

Russet apple

could also use pears, dried cranberries

1

Tablespoon

pure maple syrup

1

cup

plain Greek yogurt

full-fat
Instructions
Step 1 – Roast the Squash
Preheat the oven to 400°F. Using a sharp chef's knife, carefully cut the squash in half from bottom to top (I find it's easier to start at the base where the seeds are). Scoop out the seeds and set aside.

Place the squash in a roasting tin or tray. Make a few crisscross cuts in the top third of the squash; this helps it to cook faster. Brush all over with 1 Tablespoon of olive oil and sprinkle with 1/4 teaspoon salt. Roast for about 1 hour, or until the squash is tender when pricked with a fork. Time will vary depending on the size of the squash. While the squash is roasting, prepare Steps 2-4.
Step 2 – Toast the seeds
Using your hands, pinch away the squash seeds from the pulp – you can save the pulp for smoothies. Soak the seeds for 10 minutes in warm water, then drain well. Pat dry with a tea towel. Toss the seeds with 1 teaspoon of olive oil and sprinkle with 1/4 teaspoon salt. Spread out in a single layer on a parchment-lined baking tray and roast alongside the squash for about 12-15 minutes, or until golden. Remove and cool.
Step 3 – Mix the Salsa
In a small bowl or jar, mix together the finely chopped herbs, red wine vinegar, minced garlic and 1/2 cup olive oil. Season generously to taste with salt and pepper, finishing with the smoked paprika.
Step 4 – Prep the Stuffing
In a medium bowl, combine whole grains, shredded greens and diced apple. Toss in a tablespoon of the herb salsa, a tablespoon of olive oil and a 1/2 teaspoon of salt. Mix well. When roasted squash is tender, remove from oven and brush with maple syrup. Pack a 1-cup measuring cup with the grains & greens stuffing, then invert it into the butternut squash seed cavity, filling both to heaping. Return squash to the oven and roast for a final 30 minutes.
To Serve
Drizzle the herb salsa generously all over the roasted stuffed squash. Sprinkle with toasted seeds and finish with a dusting of flaky sea salt. Serve with a bowl of Greek-style yogurt (sour cream, crumbled goat cheese or feta are also delicious toppings).
Nutrition
Serving:
50
g
|
Calories:
530
kcal
|
Carbohydrates:
46
g
|
Protein:
9
g
|
Fat:
37
g
|
Saturated Fat:
5
g
|
Cholesterol:
3
mg
|
Sodium:
42
mg
|
Potassium:
963
mg
|
Fiber:
7
g
|
Sugar:
13
g
|
Vitamin A:
22696
IU
|
Vitamin C:
76
mg
|
Calcium:
195
mg
|
Iron:
3
mg