Simple tips for going zero-waste in the kitchen – with a goal of progress, not perfection.
Happy Earth Day!
Is anyone else watching Our Planet on Netflix? Each episode is equally inspiring and sobering. It is so important to be informed about the impact that our daily habits have on the environment.
As the snow melts in our yards and new life sprouts forth, let's motivate each other to make more eco-friendly choices in the kitchen. I know you're already doing a fantastic job, but there's always room for improvement, right?
From energy-saving ideas to zero waste tips, here's what I'm specifically doing in the Simple Bites kitchen. There are a hundred other directions we could take this topic, but I'm choosing to only list what I put into practice every single day.
So if you're wondering how to move towards a zero-waste kitchen, begin with the small steps listed below and work up to the big ones.

How to Move Towards a Zero-Waste Kitchen
For starters, our goal here is progress, not perfection. Going completely zero-waste in the kitchen is a daunting thought, but with mindfulness it is not such a stretch from what we're already doing. In this post I'm choosing to focus on zero waste efforts around food, however for the rest of the home, I recommend Bea's book, Zero Waste Home.
Each day we eat three meals and that's three opportunities to make food choices that are better for the planet. I hope the lists below inspire you to take a few steps toward decreasing your environmental impact. I've included links wherever I think is helpful. Please feel free to share your tips in the comments.
Zero-Waste Shopping:
For me, this is where mindfulness starts. It's about ditching the single serving packages and buying in bulk. But I'm getting ahead of myself!
Make a menu plan. This way you're shopping only for what you need and can avoid unnecessary food waste.
Make a list, stick to it. See above regarding avoiding food waste.
Buy in Bulk. This only applies for pantry staples that you know you use in large quantities (for us: oatmeal, rice, flour, pulses, etc). You'll save money and avoid packaging. How to Shop in Bulk via The Faux Martha.

Photo by Tim Chin
Shop the Farmer's Market. As much as possible, avoid plastic-wrapped and bagged produce.
Use reusable bags. Canvas/cloth/collapsable bags for groceries and cloth or nylon bags for produce. I keep mine in my car.
Bring containers and go package-free. Zero-waste grocery shops and co-ops are becoming more popular as consumers are increasingly conscious of the toll plastic has on the environment. Here in Halifax, I frequent The Tare Shop and Bulk Barn, as well as many markets around the city.
Shop in season/eat local. I feel like I've been banging the drum for seasonal eating for a decade around here. It's simple: the the shorter the distance that your food has to travel, the less of an impact it has on the environment.
Food for thought via SDG2 Advocacy Hub: What we eat and how we produce it is damaging our planet. Eating lesser-known, highly nutritious foods such as purple yams or adzuki beans helps to protect biodiversity and climate resistance in our food systems.
Zero-Waste Cooking:
Store foods in the fridge properly. Use regular rotation, clean frequently, use up the old foods first. Don't overstock!
Use glass jars for pantry staples. It doesn't just look pretty, but this keeps food airtight and preserves it longer.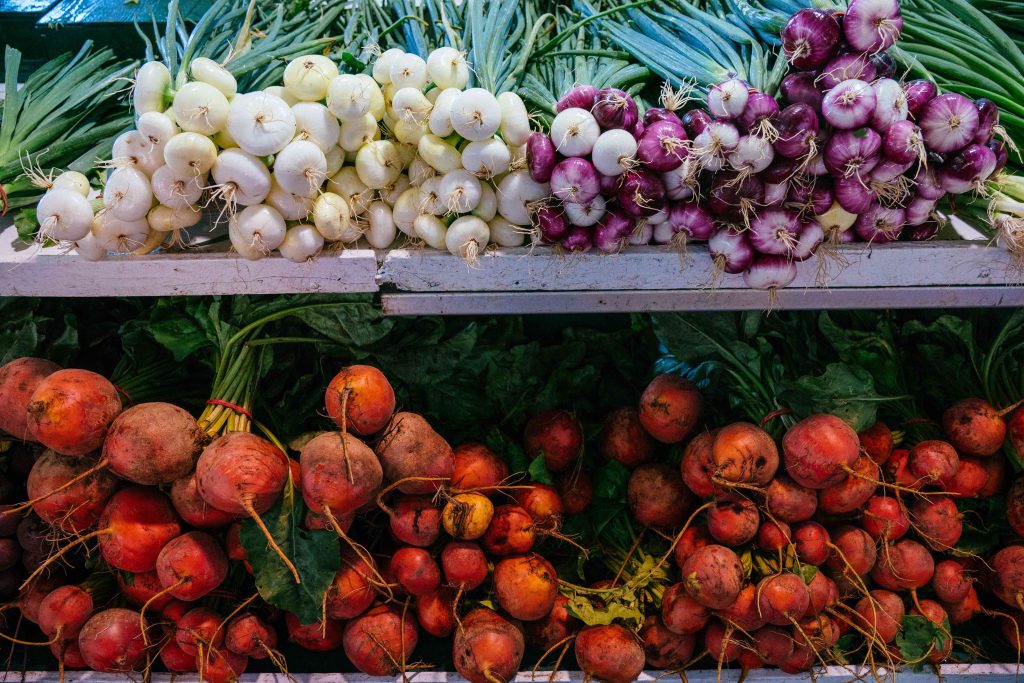 Photo by Tim Chin
Save food scraps. Save them for smoothies, soups, or stock like vegetable broth or chicken broth. Bake up a batch of Coffee Grounds Biscotti. If you're getting really serious, I recommend the cookbook Scraps, Wilt & Weeds.
Buy whole meats, instead of pre-portioned. Cook the whole chicken, using every part and making stock with the bones.
Buy whole vegetables instead of pre-cut and use every bit. I use a Redecker Hard and Soft Side Vegetable Brush to scrub veggies without bruising them, and I cook them skin and all.
Home Preservation: As much as possible, preserve the harvest and can your own foods in jars. If you've never canned your own food, here are 12 ways to preserve the harvest (without canning).
Zero-Waste Kitchen
Repurpose when possible. My new kitchen needed a bit more cupboard and counter space. Instead of building new, I found an old hoosier kitchen piece and added it to a corner of my kitchen (it's featured in a few of these photos!).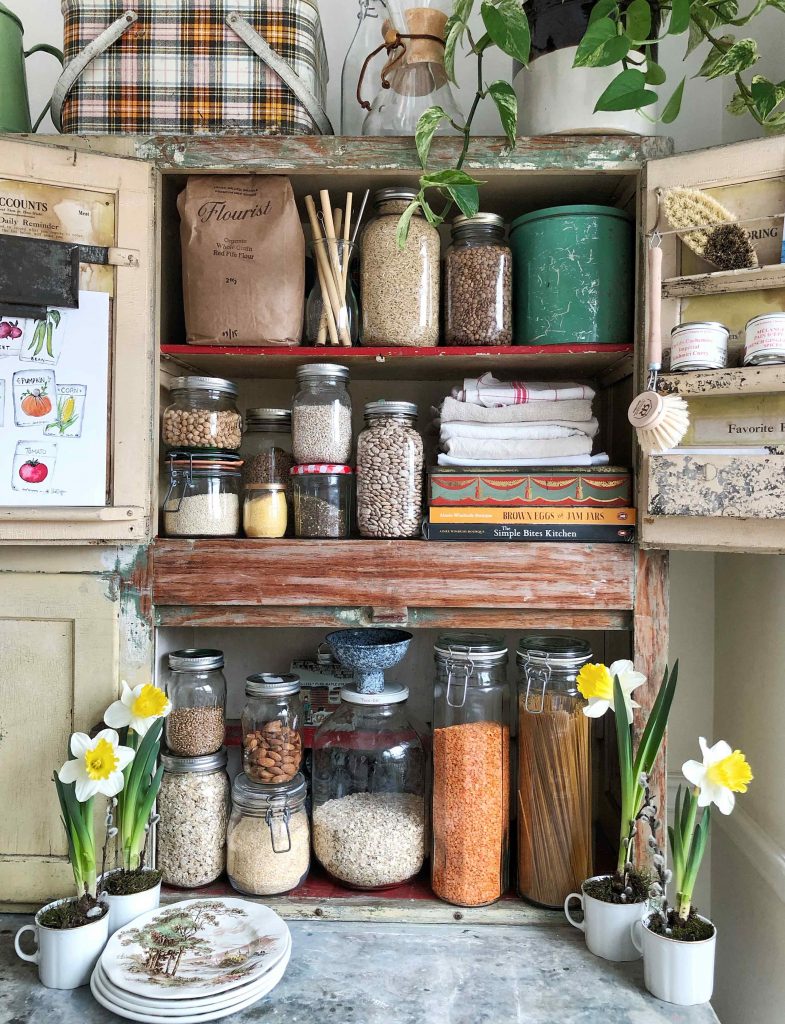 Compost. For those food scraps that you are unable to repurpose.
Reuse Glass Jars: My collection of jars is varied and mismatched, but it holds everything from dried pantry staples to homemade stock in the freezer.
Go gadget-less, or at least think good and hard before you buy another small appliance that you may not use. If you're convinced you need an Instant Pot (I don't), borrow one from a friend for a week and see how you like it before you buy.
Use cleaning rags instead of paper towel. Paper towel is too expensive for restaurant kitchens – we always used rags and washed them.
Ditch plastic scrubbers, steel wool and sponges. I use a combination of soft cotton dishrags, a loofah pot scrubber and this Redecker Soft Horsehair Bristle Dish Brush with interchangable heads.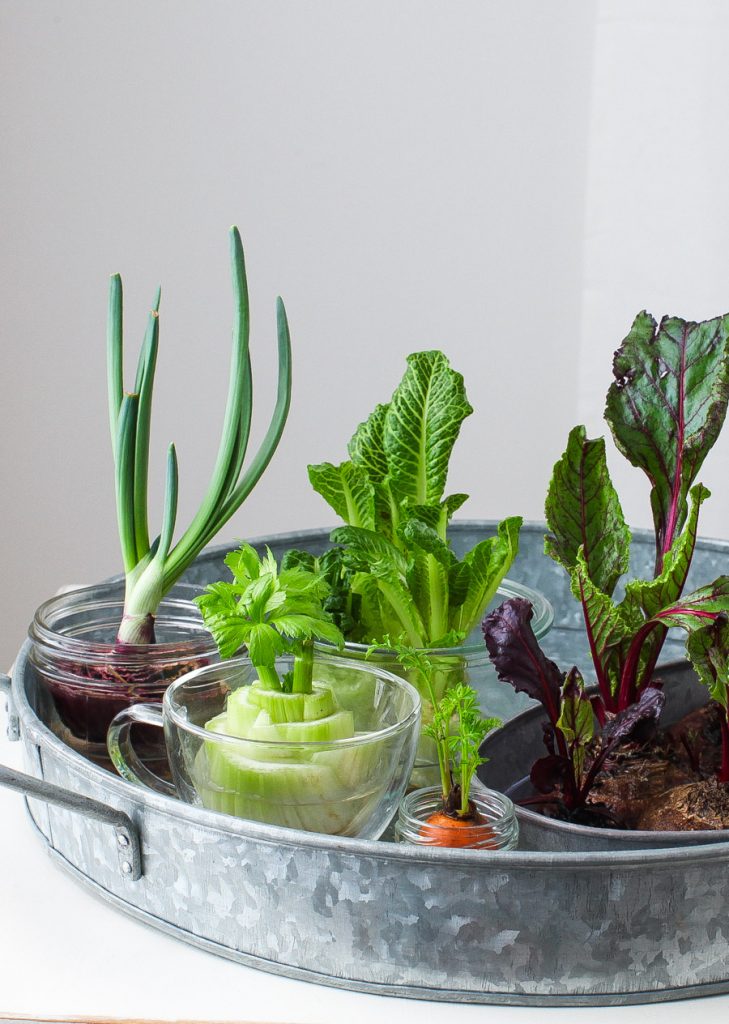 Regrow vegetable scraps: Sprout a windowsill mini-garden and use the greens for salads  – I wrote a whole post about how to regrow vegetable scraps.
Grow your own herbs. Start with a few planters on the front or back stoop or Grow Your Own Indoor Culinary Herb Garden.
Repurpose cans: You can recycle tin cans into little herb planters and they look quite cute. Here's the tutorial.
Replace plastic wrap with bees wax wrap. I have a collection of bees wax wraps in various sizes and I use these for covering bowls of food and wrapping sandwiches, etc.
Zero-Waste Table
Ditch the disposables: Invest in enamelware or melamine dishes for picnics and outdoor eating. Try thrift stores or junk shops and reuse.
Cloth napkins. We have a few sets that we cycle through during a week.
Become a thrifter – use thrifted second-hand dishes and stemware instead of buying new when you can.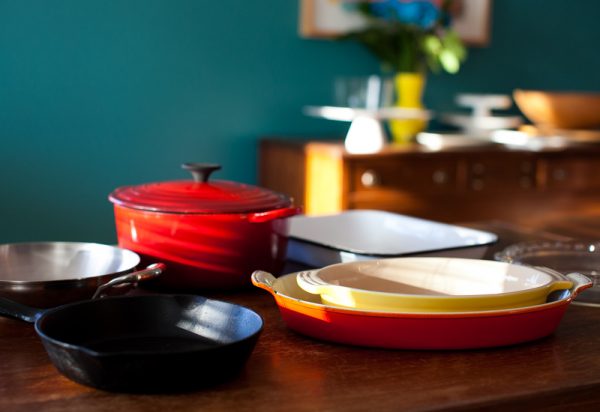 Embrace Oven-to-Table cooking – When you cook with fewer dishes, there's less washing up and you use less water. Here are my favourite oven-to-table cookware and Jan's Oven to Table cookbook is fantastic.
Choose live flowers over cut. When you can, use living, potted plants for table decoration. I love small pots of herbs or a grouping of bulbs.
Give your coffee routine a greenover: Be it a Chemex with reusable filter, French Press or Aeropress with the metal disk – there are many options for great coffee that don't include single serve pods.
Ditch Single Use Tea Bags: Choose a reusable tea globe infuser and go looseleaf.
Zero-Waste Lunches:
I wrote a post on this topic! Tried 'n True Gear for the Zero Waste Lunchbox is a guide for packing a zero-waste lunch, with tips for reliable gear.
Happy Earth Day 2019! Remember, "We don't need a handful of people doing zero-waste perfectly. We need millions of people doing it imperfectly." ~ Anne-Marie Bonneau
Have you got a zero-waste kitchen tip? Share it with us in the comments!