My father has always been an avid 'dumpster diver'. Not quite literally, but as far back as I can remember, he's always eyed other people's end-of-driveway trash and scouted for reusable items. Call it resourceful, frugal or 'green', he's made some surprisingly good finds in his time.
Naturally, he passed on a similar love of upcycling to my sisters and I, as this post is proof. On a recent morning I swerved and stopped the car in front of two garbage cans, hopped out,  and opened my hatchback. A distressed, paint-splotched wooden step ladder was tiredly leaning up against one of the bins, awaiting crunch time in the garbage truck.
Thinking of the obvious potential of this find, I quickly loaded the ladder into the car, and sped away. On the way home, I recalled a few projects I had seen on Pinterest. There was this bookshelf, which isn't one bit safe for my house with small children, and this garden planter, minus the moldy boots. (It's just my opinion, but workboots are one thing of which world needs less upcycling…)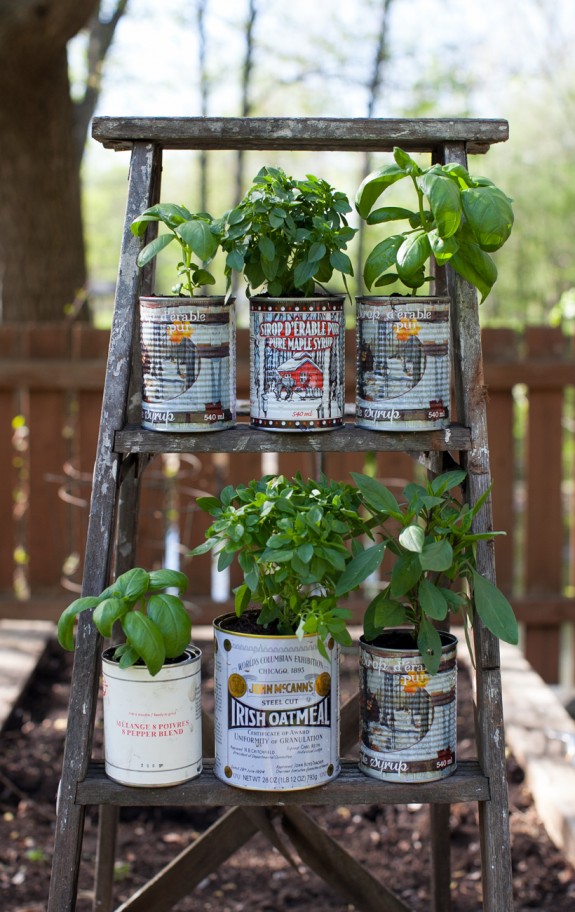 An upcycled wooden ladder garden display
When I got home, I 'planted' the ladder in one of my raised beds, and decided to use it as a climbing trellis of sorts for cucumbers. Or tomatoes, once it is warm enough to plant them in the garden.
At any rate, someone else's junk has been given a new purpose in life.
For now, the old wooden ladder holds my potted herbs, safe out of the baby's reach, and angled for maximum sunlight. What do you think? I kind of love it and it fits well into the rustic style of our urban homestead.
This could be a permanent display, with potted flowers instead of herbs, and would look cute in a corner of the yard. Perhaps when my children are a little older, and I don't have to  worry about them pulling it down onto themselves.
Now lets talk about another green project: using cans from the kitchen to grow herbs or flowers.
How to make herb planters from recycled kitchen tin cans
You don't have to purchase pots or planters for your kitchen herbs this spring, not as long as you have a few empty cans around to recycle.
Here's how:
Use a can opener to cut a few holes around the bottom of a tin can to allow for drainage.
Add a few pebbles at the bottom, also for drainage.
Fill cans half way up with rich soil or compost.
Place small herbs in and fill around with soil. Don't pack it too tight.
Water and place in a sunny spot. If kept indoors, store them on a tray.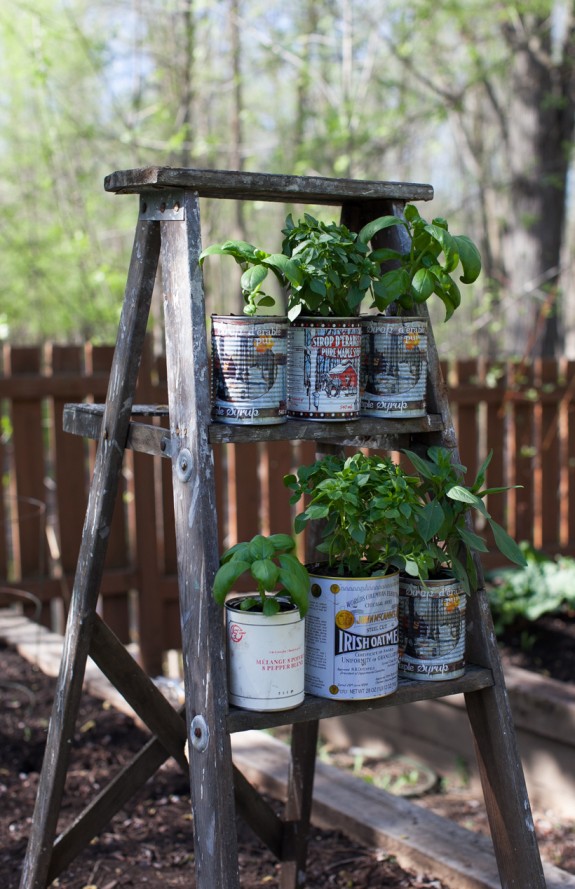 These varieties of basil will be going in the ground in just a few weeks, once the danger of frost has passed. But for now they are very happy to hang out in my old maple syrup cans.
Want to grow your own? Here's a list of common culinary herbs and their uses, plus instructions on growing your own indoor herb garden.
Got loads of herbs? Read How to Use and Preserve Summer Herbs.
Have you upcycled anything recently?