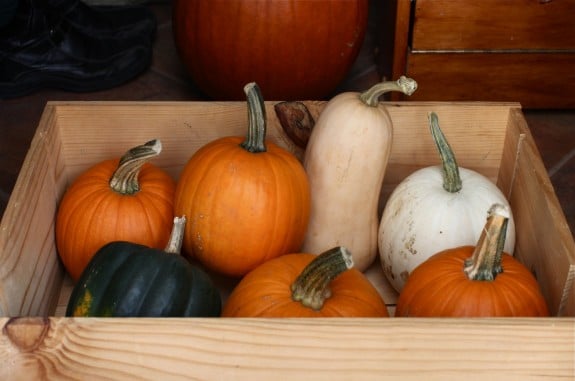 Written by Danny.
When I grew up, almost everyone had a basement in their house.  Where Aimee grew up, basements were anomalies.  Our current house doesn't have one, and so I pine from time to time and wax poetic about the virtues and benefits of having a basement.  Aimee disagrees (strongly), and sees them primarily as "dank caves" or glorified storage rooms. Most of the time, we agree to disagree.
What we both agree on, though, is that having a cool, dank storage room underneath your house can be particularly useful come harvest time when you want to be storing and preserving much of the season's bounty.  Of course in this case, I'm not talking about a basement room with pool tables and dart boards, or ones with mini-bar, karaoke stage complete with disco ball and orange shag carpet on the floor, walls and ceiling (yes, we did see one of these when house hunting!) – I'm talking about root cellars.
When I think of "root cellar", my thoughts immediately go to the first one I ever remember (first impressions…).  It was the quintessential setting for a horror movie: creaky door that didn't quite sit on its hinges; no light; moldy smell; roots (fingers?) sticking out of the earthen ceiling and grabbing at my hair; the back part was condemned because it had caved in and we were warned to not go in too deep… in case another section of roof were to give way. *Shudder*.  Our family was visiting a farm, and I was asked to go get some carrots or something.  I just remember standing outside, about 20-30 feet away from the entrance and trying to drum up the nerve to go and pry open the door.  Mercifully, one of the farmers came to give me a hand with the door, so I didn't have to enter alone.
Aside from the bravery and character-building that root cellars bring to small children, there are many other useful reasons to have a root cellar, whether as a separate structure to your house, or part of a cool room in your basement.  Because our garden is small, I haven't had to dredge up those old memories and start digging a hole in the ground for a DIY on building our root cellar. However, given that it is time to be storing some of the amazing deals on produce that we've been getting from our local farms at the market, I'll let you in on where we are storing our goods, and some of what you should be considering if you are looking for a cellaring solution.
Cool
Before people had refrigerators, they had root cellars and basement storage.  Or if you lived at Downton Abbey, maybe the "cellars" were for wine only, and they stored their food in the "larder".  Whatever. You want your root cellar/cold storage area to be cool enough to slow the chemical processes that age food. This has to do with slowing the release rate of xylene gases (Ok, this is from what I read – it's not like I discovered this or measure the xylene release rate of my fruit at different temperatures), which accelerates ripening and turns it into spoiling. You don't want stuff to freeze, though. Between 34F and 50F (1 to 10C) is best.
Humid
If you keep a carrot or potato unwrapped in your fridge, what happens?  It goes limp and dries up. This is because cool air has much less total humidity in it, and your cheese, or any other food containing moisture, will lose its moisture to the ambient conditions inside your fridge by transpiration.  If the relative humidity level is around 85-90%, it will keep those vegetables crisper for much longer.  You do have to watch out, though, as high relative humidity can contribute to mold growth on walls and food, although keeping the temperature low should help mitigate that potential problem. (This part I am good at – or much better than xylene gas analysis anyways).
Ventilated
Those xylene gases that are emitted need to be kept away from your food.  Diluting them with outdoor ventilation is an excellent way to do this.  If you have some recirculation from your house, this could do, but you risk bringing air in to your cold room that is too warm or humid and this could cause problems.  In these seasons, it's supposed to be colder out anyways, so if you can manage to bring some cold air directly from outside, this would work well.  If you live in Texas or Columbia – this ain't going to work for you, regardless of season.
What we are doing
Our house has no basement.  It has a concrete slab poured over a perimeter foundation wall with a bunch of insulation underneath.  So a basement storage room is pretty much out of the question, unless I get simultaneously really rich and really bored, and decide to dig down and punch a hole in either our foundation wall or floor to store a couple of hundred dollars of vegetables each year.  But I can assure you that it would be amazing.
Our house has a wrap-around porch that had a vestibule added to it.  That floor gets crazy cold in the winter, because no insulation was added when the vestibule was added, so it is essentially bare concrete sitting on the ground.  We do have a space heater that keeps the air moving around and prevents snow and ice from staying on your boots, but it's decidedly cooler than the rest of the house in the winter. Our coat closet is even colder, so… we have a root closet, which will have to do until I get rich and bored.  Through the winter, it will stay cool and well ventilated anytime someone opens the door.  The humidity may be an issue, but we'll update you on that in due time.
Editor's note: this makeshift cold storage works for more than just roots, as you can see from the photo above. Cabbage, onions, and assorted squash live here too. Just keep the apples elsewhere – they emit a special gas (I never said I was the scientific one!) that rots other vegetables.
What you can do
Research. Our climate is such that you can usually find a corner of a basement or closet that will be cold enough in winter (when you want to be storing your veggies). As I said above, your climate may not permit such a solution, or if you live in a condo, you don't have space to make a passively-cooled room.
Read up on it. Find out what others in your area are doing. With a surging interest in farmer's markets and CSAs, many people are realizing that they have to do something with all their produce or it will go bad, so there is lots of new literature being published on it – you don't need to find a Farmer's Almanac from 1902 for tips or guidelines .
I've even read of people digging a small hole and putting in a metal garbage can. I wonder if community gardens would permit such an installation.
Do you have a root cellar or cold room project in the works?