Written by Katie of GoodLife Eats.
I'm going to tell you a little secret. When I saw that this month's Simple Bites theme was organization and productivity in the kitchen I kind of cringed a little. Because I'm so not feeling organized in my kitchen or productive right now.
I procrastinated and procrastinated submitting my post topic until Aimee and I had a conversation that went something like this:
Aimee: Just a quick reminder…I kinda need a topic from you for your next SB post!

Katie: I'm sorry! I have been trying to think of something….I'll let you know tomorrow. I am just not feeling very organized or productive in the kitchen at the moment.

Aimee: So write about it. No, for real. How are you coping? Pushing through?

Katie: More like feeling sorry for myself.

Aimee: Hey we've all been there. And I think this end-of-winter, cusp of spring really triggers it.
[lightbulb moment happens and I think "oh. duh."]
The last couple of weeks I've been feeling like I've totally lost my groove in the kitchen. But instead of doing something about it I've been doing nothing.
It's been a busy month. We had spring break and that was….fun. Or not. My kids don't quite appreciate being off from school for a week yet. Eric was out of town for work. Then really sick two weekends in a row.
Ever since then things have been a little off here. The weather is nasty. Crazy windy. Bad allergies which make me feel like I'm half asleep all day long. A couple of failed recipes. Yes, failed recipes and that never does much for self confidence.
Instead of doing nothing, I should be following my own advice.
Find Some Inspiration
Photo by GoodLife Eats
Browse Foodgawker.
Check out Meal Plan Monday.
Buy a new recipe magazine, preferably one with lots of pictures.
Revisit an old favorite. Something that's proven to be a success with your family.
Flip through a cookbook you haven't looked at in a while or check something out at the library.
Look up one of your favorite ingredients, something in the fridge, or an ingredient you've been meaning to try in The Flavor Bible.
Find the menu for your favorite restaurant. See if you can recreate a dish at home. (Or even make it better!)
Organize Other Areas in Your Home
When the rest of my life is feeling a bit unorganized my cooking suffers too. Nothing puts a damper on my creativity for me like piles of laundry, a toy strewn living room, or a cluttered pantry.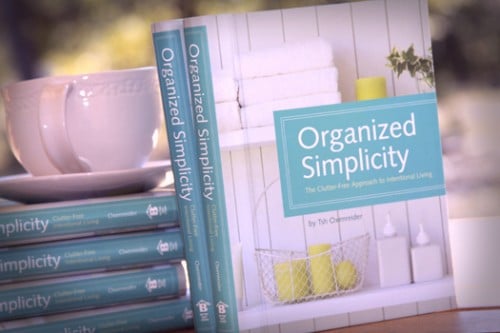 Photo by Tsh
Freshening up other areas of my daily life does wonders to my creativity in the kitchen. Tsh's book Organized Simplicity is great resource if you aren't sure where to get started. She's also posted about a reader challenge: Art of Simple's Project Simplify.
Make a Meal Plan – And Stick to It!
Sometimes the pressure of 5 pm coming just around the corner is enough to slap me into gear, other times I shut down when I don't have a plan and dinner is quickly approaching. It's those times that I freeze, procrastinate, and we end up eating something rather boring instead.
Photo by Kate
When I'm doing well in the kitchen it's because I've planned out our week of meals before the new week starts, let's say Saturday, and done the grocery shopping. I map the week out on the calendar based on what recipes will work best time-wise for which days and what days of the week we'd benefit by eating leftovers.
Keep a Well Stocked Pantry
And there's nothing more discouraging than trying to make dinner when you don't have the ingredients you need or want. Sometimes when I'm not inspired I realize that it's because I'm running low or out of several of my favorite pantry ingredients.
Photo by Schwartz and Architecture
But if I have a well stocked pantry I'm often able to throw delicious recipes together without thinking about it. In the past some of our favorite family meals have come from pantry items combined with the pressure of the clock ticking it's way towards 5 pm.
For some pantry stocking ideas check out:
Give Yourself a Break from the Kitchen
Maybe you've just been working a little bit too hard lately. It's okay to admit that you need a break.
I took off two whole weeks from blogging, food photography, and any new recipe development at the end of last year. When January hit I was ready to get back to it. A breath of fresh air might be all you need.
Is there another family member who could cook instead? Or a friend who's offered a helping hand? Don't be afraid to take them up on the offer. Consider serving a few Non-Suppers once in a while to avoid burnout.
Photo by GoodLife Eats
Recipes for Getting your Groove Back
Start with something not-so-complicated or easily adaptable as you ease back into your happy place. But make sure that it has flavors you and your family will love. May I suggest one of these?
What do you do to get out of a cooking rut?