It's no secret that I believe a solid knowledge of spices is essential to great cooking. Proper cooking with spices can elevate the flavour with little effort and minimal cost; that alone is reason to learn how to use spices and incorporate them into daily cooking.
However, cooking with spices doesn't start with popping a lid and adding the required amount. This post is a good starting point; it is a summary of a Spices 101 series I wrote last spring and is well worth a refresher. At the bottom of each section you can click through to read the full post on each topic.
As I fully believe cooking with spices is one of the simplest way you can transform a forgettable dish into something memorable, I hope you'll begin your journey with the exotic here.
Buying Spices 101
Learning to source and purchase fresh, quality products is paramount when learning to cook well with spices. Here are my top five tips:
1. Avoid Supermarket Spices
Products on the shelves of your average grocery chain my have been there for a year or more, and they likely sat in a warehouse up to a year before that. Since the average shelf life of ground spices is six months, chances are you're buying stale spices.
2. Purchase Whole Spices
Purchase whole spices and grind them yourself to retain maximum potency and ensure a fuller flavor.
Whole spices will stay fresher, longer.
You know what you are getting with whole spices. Ground spices may have other ingredients such as salt, rice or flour mixed in. Also, ground spices are not required to be free of contaminants.
3. Buy the Best Spices You Can Afford
Cheap spices are cheap for a reason; it's no secret that many contain foreign matter. What kind? I go into more detail here.
Shop at International markets.
Source a local spice merchant.
Shop at a reputable online source.
4. Buy Small Amounts of Spices at a Time
Spices stale quickly, so don't by them in bulk. Remember, if you're buying good quality spices, you won't need to use as much for cooking as they will be much more potent than standard grocery store fare.
5. Whenever Possible, Grow your Own
The best solution for sourcing dried herbs is to grow your own, or purchase from a friend or family member who has a garden.
Read the full post: Spices 101: What You Need to Know About Buying Spices.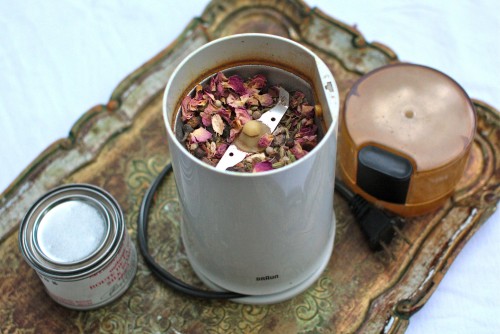 Three Options for Grinding Spices
Now that you understand the benefits of buying whole spices, you need to figure out the best way to break them down. As with most kitchen equipment, a simple tool is best for grinding spices; here are my recommendations for three types, each with different benefits.
1. Mortar & Pestle
This ancient, yet effective tool is ideal for crushing small amounts of spices, bruising herbs, and also works well for pestos, curry pastes, or sauces or dips with the mortar taking the place of a mixing bowl.
Pros: Offers instant results, a fast clean, and a perfumed kitchen.
Cons: Requires a bit more elbow grease. Not ideal for large amounts.
I get by with this 4-Inch Marble Mortar and Pestle,
however, I may need to upgrade to something much larger soon.
2. Electric Coffee Grinder
If you do a lot of cooking, I recommended you purchase an inexpensive coffee grinder and dedicate it to a lifetime of spices. It's an affordable investment that will simplify your cooking with its fast results.
Pros: Efficient, effective with tough, stringy spices.
Cons: Requires some effort to clean, but there are a few tricks that can be learned.
This Krups Fast Touch Coffee Grinder
will do the trick perfectly.
3. Microplane
This kitchen tool is useful for spices such as nutmeg, tonka bean and some types of cinnamon. A gourmet's best friend, it is also handy for grating ginger, garlic, chocolate, citrus rind and many other ingredients.
I use this Microplane
for spices and other aromatics.
Read the full post: Spices 101: Three Options for Grinding Spices (Recipe: Quick Mojo Sauce)
Storing Spices 101
When storing spices, your biggest enemies are: air, light, heat, and humidity, so a decorative spice rack conveniently situated above the stove is not doing your spices any favors.
Instead try:
The freezer
Inside a cabinet door
In a drawer
On a pantry shelf
Open storage can also work if spices are sealed in tins, and counter-top storage is fine, as long it is not near a direct heat source or window.
It's important to know how to store your quality spices properly so that they'll maintain their maximum freshness and potency.
Read the full post and learn about the best types of storage containers: Spices 101: Storing Spices (Recipe: Black Pepper Shrimp)
Cooking with Spices
Lydia of The Perfect Pantry shared with us Ten Ingredients You Absolutely, Positively, Must Have on Your Spice Rack. It's an excellent place to start when building a spice pantry. Remember though, spice varieties appeal to individuals in different ways and that is why the best spices for your kitchen  are the ones that makes your senses dance.
Final thought: Be bold. Experiment. And taste, taste, taste. There are few mistakes when it comes to cooking with spices the greatest being under-seasoning.
Does your spice cabinet need a little spring cleaning?