Written by Jennifer Murch.
There are as many ways to make homemade pizza sauce as there are people. Ask two (or two hundred) home cooks how they make their pizza sauce and I can guarantee every single answer will be different. Even I can't settle on just one method/recipe—it all depends on the season, what's in my kitchen cupboards, and my mood.
In this post I will explain some of the different tomato-to-sauce processes, as well as share several of my favorite recipes for pizza sauce. I hope you'll find something that works for you!
Step One: Saucing the Tomatoes
Paste tomatoes work best for sauce—they have more flesh and less juice so less time and energy is required to extract the extra liquid. Juice tomatoes (as long as they are still high-acid) may be used in place of paste tomatoes, but more time and energy will be required to reach sauce-consistency.

Method #1: No seeds, no skins (simmered)
Wash, blanch, peel, and core the tomatoes (as instructed HERE).
Chop them up and run them through a food mill.
Pour the tomato juice into a heavy-bottomed kettle and simmer, stirring frequently, until a bunch of the liquid has boiled away and the sauce has thickened to your specifications.
Method #2: No skins (simmered)
Wash, blanch, peel, and core the tomatoes.
Roughly chop them with a knife (or smoosh them with your fingers) and then use an immersion blender, or a regular stand blender, to puree them the rest of the way.
Pour the tomatoes into a heavy-bottomed kettle and simmer, stirring frequently, until a bunch of the liquid has boiled away and the sauce has thickened to your specifications.
Note: If you want a chunkier sauce, skip the mechanized puréeing.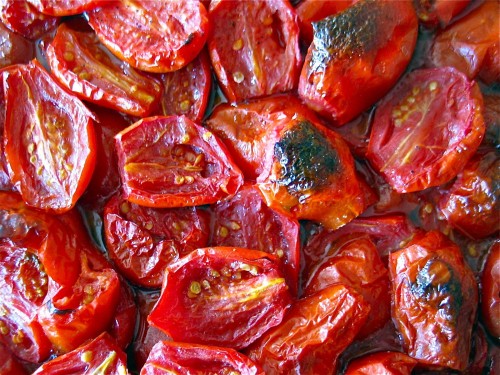 All photos by Jennifer Murch
Method #3: The whole shebang (roasted, then simmered)
Wash and core the tomatoes.
Cut them in half and roast on baking sheets in the oven for an hour before blending them.
Simmer the sauce on the stove top if the sauce needs to be reduced further. If the sauce isn't as smooth as you'd like, pass it through a fine-mesh strainer or food mill.
Even with the extra step of straining, this method still takes less time than the first two methods. (Editor's note: this is my preferred method!)
Step Two: Seasoning & Recipes
This is the fun part. The sauce is your canvas. Play! Be creative! Have fun!
I hope the wide variety of methods and recipes presented here serves to inspire rather than to confuse or overwhelm. When it comes to pizza sauce (and pizza dough and canning and parenting and loving, and pretty much everything else in life) the bottom line is: there's no single right way.
If you have a basket of tomatoes, a sharp knife, and a few hours to play, you are certain to find a delicious pizza sauce recipe. And that's a promise.
Notes on Acidity & Quantities
While tomatoes are quite acidic, certain additions such as olive oil, fresh herbs, and other vegetables will neutralize the sauce. So don't get too carried away. Think proportionally: about 8 parts acidic tomatoes to 3 parts non-acidic additions, plus a shot of extra acid to keep it safe.
For extra acid, simply add 2 tablespoons vinegar or bottled lemon juice, or ½ teaspoon citric acid (found in the canning section of most grocery stores), to each quart. To pints, reduce those amounts by half.
Count on one cup of sauce for one large pizza, and head to my site for my favorite recipe for pizza dough.
Be sure to refer to our post on Canning Basics for step-by-step instructions on how to sterilize, fill and lid jars, plus the low-down on processing, before you can your sauce.
Simplest Pizza Sauce, a formula
This recipe comes from my Aunt Valerie, the Canning Queen.
There is no need to add more acid to this recipe as there are no fresh veggies and the herbs are dried.
To 1 quart of thickened tomato sauce add:
1 teaspoon each onion salt (or 1 teaspoon onion powder and 1 teaspoon table salt), parsley, basil, and oregano
1/4 teaspoon black pepper
1 tablespoon white sugar
½ teaspoon garlic powder
Combine and can according to these instructions.
Pizza Sauce with Fresh Herbs and Vegetables
This recipe comes from my cousin Amber, who just so happens to be my Aunt Valerie's younger sister. (Don't ask me to explain how we're all related because I can't. But rest assured, it's totally legal.)
If no fresh herbs are available, substitute 3 tablespoons dried for each half cup of fresh.
½ bushel (about 40 cups chopped) tomatoes turned into sauce via any of the three methods (but don't do the final thickening just yet)
4 medium (or 4-5 cups chopped) green peppers
1-2 jalapenos, minced
3 large (or 6 cups chopped) onions
2-3 tablespoons olive oil
4 tablespoons garlic salt
½ cup each white sugar and brown sugar
6 bay leaves
½ packed cup each of chopped fresh parsley, fresh basil, and fresh oregano
½ teaspoon each black pepper and red pepper flakes
citric acid, bottled lemon juice, or vinegar, for canning
Sauté the peppers and onions in the olive oil until they are tender and translucent. Add them to the still-runny sauce. (If you want a smooth sauce, blend them in using an immersion blender.)
Add the remaining ingredients (minus the citric acid) and simmer for an hour, uncovered, stirring frequently.
When the sauce is as thick as you want it, remove the bay leaves, ladle it into sterilized jars, and add acid.
Top with lids, and process the jars in a hot water bath for 20 minutes at a gentle rolling boil.
Yield: approximately 14 pints
Roasted Tomato and Garlic Pizza Sauce
This sauce is musky, gentle, yet robust.
Print
Pin
Rate
Ingredients
12

pounds

paste tomatoes

2

teaspoons

salt

maybe more

1/2

teaspoon

black pepper

1/2

cup

olive oil

plus 2 tablespoons, divided

1

head

garlic

3/4

cup

green pepper

rough dice

1

cup

onion

rough dice

1

jalepeno

rough mince

1

Tablespoon

dried oregano

1

Tablespoon

dried basil

2

Tablespoons

sugar

lemon juice

or citric acid, or vinegar
Instructions
Cut the top off a head of garlic making sure the tip of each clove of garlic has been decapitated. Set the head of garlic on a piece of foil, drizzle the top with a smige of olive oil, and wrap it up tightly.

Wash, core, and halve the tomatoes. Toss them with 1/2 cup olive oil, 2 teaspoons salt, and the black pepper. Divide the tomatoes between two large, sided baking sheets. Nestle the foil-wrapped head of garlic on one of the trays.

Roast the tomatoes at 400 degrees for about an hour, rotating the trays as necessary. Some of the tomatoes will blister a bit—this is good.

While the tomatoes are roasting, sauté the green pepper, onion, and jalapeno in 2 tablespoons olive oil until tender and translucent.

Dump the roasted tomatoes into a large stockpot.

Unwrap the garlic and squeeze out all the yummy mush. Add the garlic and sautéed veggies to the roasted tomatoes. Purée the mixture.

Add the spices and sugar. Simmer the sauce to thicken, if necessary. Taste to correct seasonings.

Ladle the sauce into pint jars, add acid, and process the jars in a hot water bath for 20 minutes at a gentle rolling boil.
Notes
Variations:
Sauté a peeled, diced carrot (or two) with the onions and peppers and when very tender, proceed as normal. The carrot thickens the sauce even more, adds extra nutrients and natural sweetness (you can completely omit the refined sugars), and turns the sauce a bright orange-red.
Add a couple cups of zucchini when sautéeing the onions.
Other fun seasonings: marjoram, fennel, smoked salt, thyme, etc.
Nutrition
Calories:
437
kcal
|
Carbohydrates:
54
g
|
Protein:
11
g
|
Fat:
24
g
|
Saturated Fat:
3
g
|
Sodium:
989
mg
|
Potassium:
2722
mg
|
Fiber:
15
g
|
Sugar:
36
g
|
Vitamin A:
9200
IU
|
Vitamin C:
174.6
mg
|
Calcium:
163
mg
|
Iron:
4.4
mg
So now, tell me, 'cause I know I'm not the only one going about this saucing business: how do YOU make pizza sauce? What are YOUR tried and true secrets?