To my mind, caramel sauce is truly one of life's greatest edible pleasures. As a canner, it's long been a great disappointment to me that there's no way to safely preserve homemade caramel sauce so that it can be shelf staple and given as gifts.
All that changed when I discovered fruit-based caramel sauces. I first learned of this magical concoction from a piece on Gilt Taste (sadly, the piece is no longer available).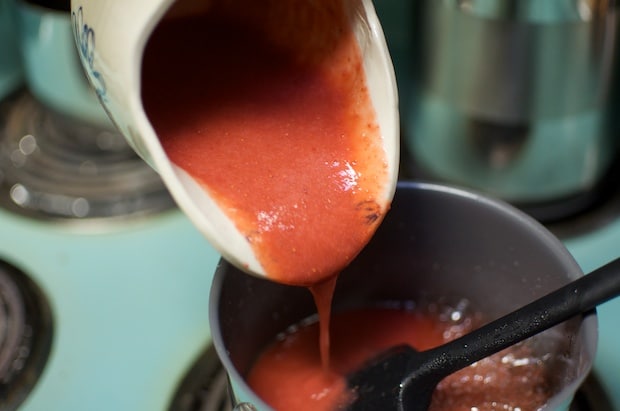 In that story, the author wrote about how one could start a batch of caramel sauce but then, instead of using cream to finish the sauce, you poured in a fruit puree. Absolutely genius.
The first time I tried it, I was completely sold. The flavor is amazing, it's easy to make, and the ingredients are nearly identical to jam, so it is perfectly safe for canning.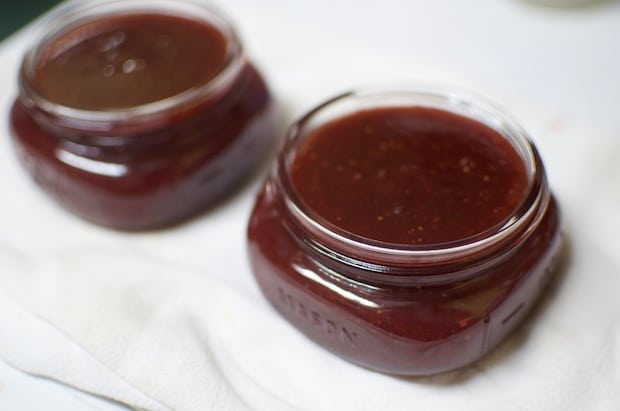 Since that first batch, I've made a number of different variations on the fruit caramel sauce. I have a recipe for pear caramel in my new cookbook, Preserving by the Pint
, and I've also made a banana version to great success.
However, I keep coming back to the version that was featured in that original Gilt Taste piece. Strawberry caramel. It is amazing drizzled over ice cream and would make a fabulous topping on a slice of pound cake. With gorgeous strawberries coming into season, it's impossible to resist!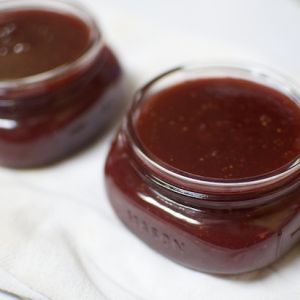 Ingredients
1

pound

strawberries

1 1/2

cups

granulated sugar

3/4

cup

water

1

juice of 1 lemon
Instructions
Prepare a boiling water bath canner and two half pint jars.

Remove leaves and hulls from strawberries. Place the berries in a blender and puree until smooth. Set aside.

Combine sugar with water in a small sauce pan. Place over medium-high heat and simmer for 10-15 minutes, until the sugar reaches 250°F and darkens to the color of a tarnished copper penny.

Do not stir the cooking syrup, instead hold the handle of the pot and gently swirl it to move things around.

Once the syrup has reached 250°F, remove the pot from the heat and stir in the strawberry puree and the lemon juice. It will bubble, spatter, and appear to seize up, so take care.

Stir puree into the sugar until it is a smooth sauce and return the pot to the heat. Continue stirring and cooking, until the sauce reaches 218°F.

Remove caramel from heat and funnel into prepared jars, leaving 1/2 inch headspace. Wipe rims, apply lids and rings and process in a boiling water bath canner for 10 minutes.
Nutrition
Calories:
668
kcal
|
Carbohydrates:
172
g
|
Protein:
2
g
|
Sodium:
9
mg
|
Potassium:
421
mg
|
Fiber:
6
g
|
Sugar:
162
g
|
Vitamin A:
25
IU
|
Vitamin C:
161.9
mg
|
Calcium:
50
mg
|
Iron:
1.3
mg