A versatile flavour-bomb condiment, delicious on both plant and meat-based meals. Dragon sauce is an essential power bowl ingredient.
Happy New Year!
January seems like a fitting time to share our favourite homemade condiment for topping power bowls, although we certainly don't limit it to this month.
This sauce is my inspiration for healthy meals when I'm feeling uninspired. Just knowing I have jar in the fridge is the impetus for many a 'real food' dish. You need this recipe for your repertoire!
Any Season Dragon Sauce is just that, a condiment that I keep on hand all year long. We drizzle it on everything from summery grilled chicken salads to comforting fall vegetable bowls.
This sauce is inspired by a popular vegan restaurant in Montreal that used to serve up my favourite 'Dragon Bowl' years ago. My version includes the highly nutritious hemp hearts for their nutty and creamy texture, Black Chinese Vinegar, and a few other 'twists' that make it irresistible!
It never fails to elicit a reaction when I serve it, rapidly followed by a request for the recipe. So here here is it is, my first published recipe of 2022…
Any Season Dragon Sauce
The sauce features bold umami flavours like soy sauce and nutritional yeast, balanced out with sweet maple syrup. Cashews provide a creamy texture and a hint of garlic brings a touch of heat.
You really have to try this sauce for yourself to truly understand how the flavours work so well together! Fortunately it comes together quickly in a blender, and keeps for up to one week in the refrigerator. It really is simple.
Dragon Sauce is the perfect condiment for your next meal prep session, so check your pantry ASAP for the ingredients.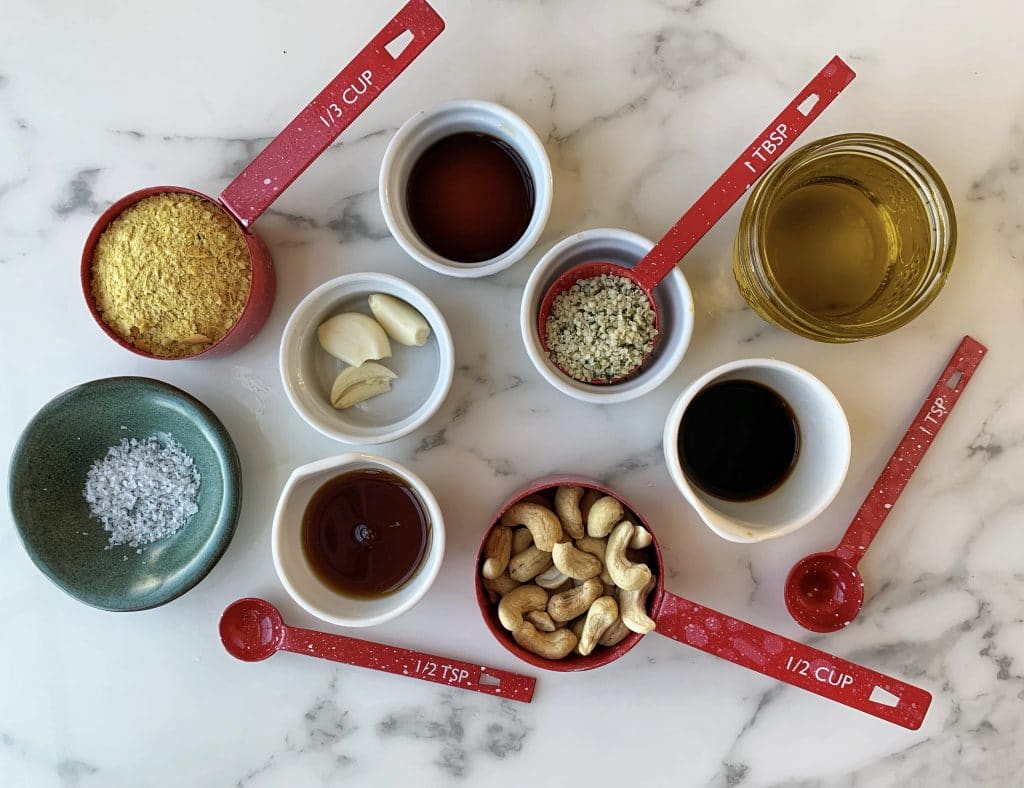 Ingredients and dishes that pair well with this recipe
Dragon sauce is my Number 1 condiment for building a power bowl. It never fails to liven up the ingredients, even a simple bowl of rice and roasted vegetables.
The Power Bowl Magic Formula is Grains + Proteins + Vegetables + Condiments + Garnish — and this condiment tops the list!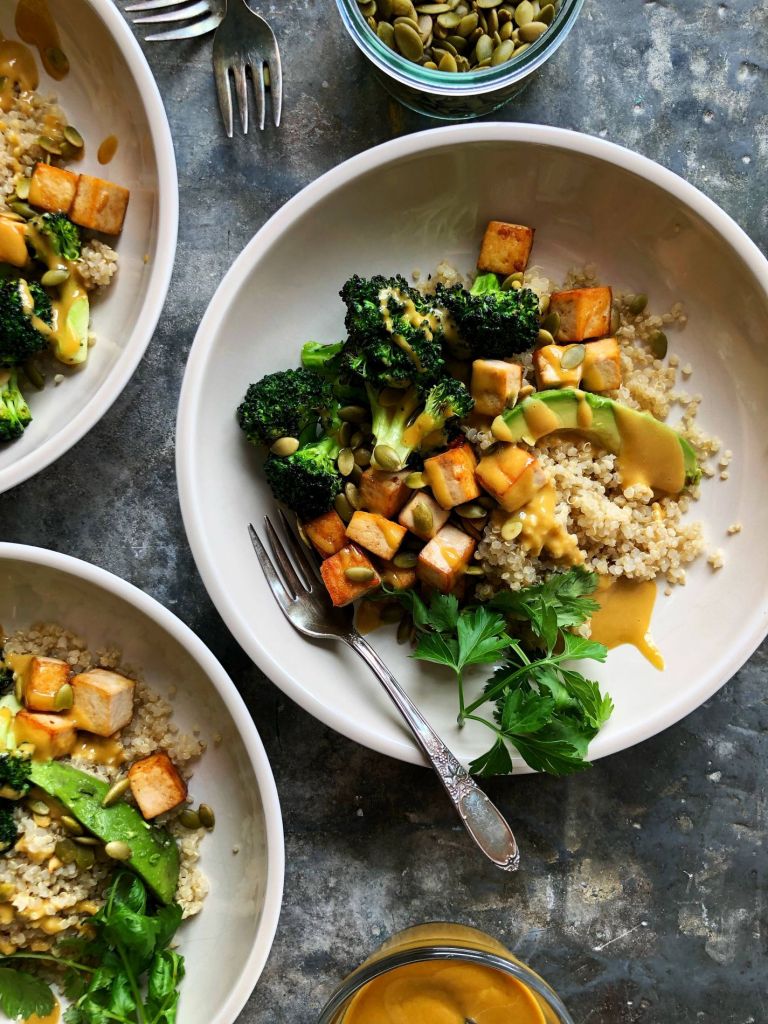 Here's what I love to serve with Dragon Sauce:
Tofu. Crispy sesame stir-fried tofu is our favourite.
Any roasted or grilled vegetables.
Noodles. Specifically Asian-style, such as rice vermicelli, soba noodles and glass noodles.
Lentils, and pulses of all kinds.
Winter squash, simply roasted or stuffed.
Steamed or sautéed greens vegetables, such as broccoli, chard, spinach or green beans.
Crunchy raw vegetables and sprouts such as red cabbage, grated carrot and bean sprouts.
TIP: Serve the sauce at room temperature for maximum umami flavour. Never cold!
Add this crazy delicious umami sauce and my Quinoa Power Bowl Base to your cooking repertoire and you'll be set for healthy eating in any season. Don't forget to serve a jar of quick-pickled red onions and a variety of seeds on the side.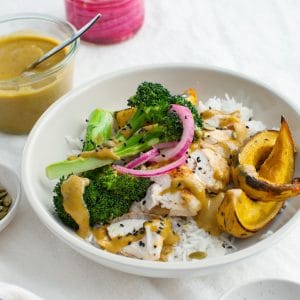 Any Season Dragon Sauce
A versatile flavour-bomb of a sauce, delicious on both plant and meat-based meals, in any season.
Print
Pin
Rate
Ingredients
1/3

cup

raw, unsalted cashews

1

Tablespoon

hemp hearts

1/3

cup

nutritional yeast

1

teaspoon

black Chinese vinegar

or apple cider vinegar

2

Tablespoons

Tamari soy sauce

1

Tablespoon

pure maple syrup

1

clove

garlic

chopped

1/2

teaspoon

flaky sea salt

1/4

teaspoon

freshly ground black pepper

1/2

cup

extra virgin olive oil
Instructions
In a small bowl, combine the cashews and hemp hearts. Pour hot water to cover and soak for 10 minutes.

In the meantime, combine the following ingredients in a blender: yeast, vinegar, soy sauce, maple syrup, garlic, salt and pepper. Add 2 Tablespoons of lukewarm water.

Drain the cashews and hemp hearts in a fine-mesh sieve, discarding the soaking liquid. Add them to the blender.

Blend the ingredients until smooth. You will need to stop the blender and scrape down the sides a few times.

With the blender running on low, drizzle in the olive oil. The mixture will thicken slightly. This is your dragon sauce!

Scrape the sauce into a pint jar. Use immediately or refrigerate for up to one week. Bring to room temperature before using.